Early drawings by Daniel Libeskind, Zaha Hadid, Rem Koolhaas, Bernard Tschumi, and Peter Eisenman will soon make their debut in Manhattan.
From Oct. 13 - Nov. 25, an exhibition called Drawing Ambience: Alvin Boyarsky and the Architectural Association will open at The Cooper Union. The exhibition will mark the first time in New York that drawings from the private collection of Boyarsky, one of the most influential figures in 20th-century architectural education, will be on view.
About 43 works created in the 1970s and '80s will be on display.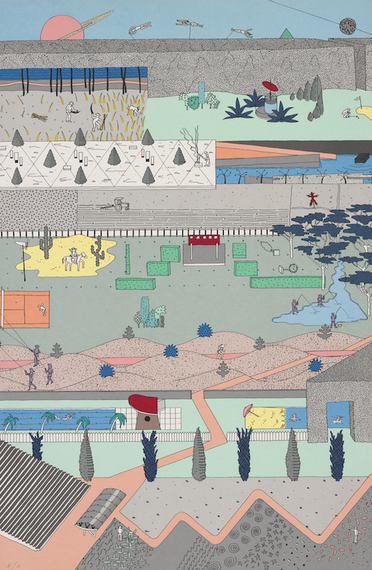 Office for Metropolitan Architecture, The Pleasure of
Architecture, ca. 1984. © Office for Metropolitan Architecture.
From the Collection of the Alvin Boyarsky Archive.
Boyarsky was chair of the Architectural Association (AA) in London from 1971 to 1990. His approach to teaching architecture was similar to The Cooper Union's John Hejduk, who was one of the New York Five - with Michael Graves, Richard Meier, Charles Gwathmey, and Peter Eisenman.
Both, at their respective schools, were thinking of a radical approach to the discipline - one that was more experimental and much more poetic, according to Steven Hillyer, director of The Irwin S. Chanin School of Architecture Archive. "It was a very important concept and part of it was making publications and exhibitions available to a larger community, for the formative years of the architects being represented," he says.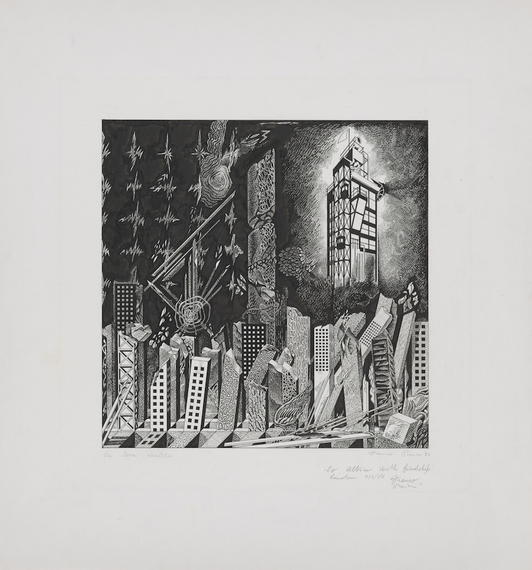 Franco Purini, The Waste Land (La terra desolata), 1984. © Franco Purini. From the Collection of the Alvin Boyarsky Archive.
Nicholas Boyarsky, Alvin's son, and an AA graduate is now sharing his father's collection of drawings. "When you were a student, you gave Alvin one of your drawings," Hillyer says. "They hung in his office and in his home. And Nicholas now wants to share them - for us to be inspired by architecture in that window of time."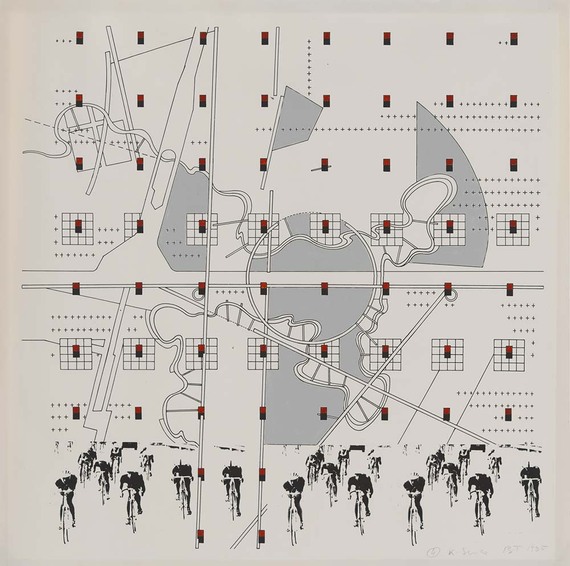 Bernard Tschumi, Study for the folio La Case Vide, La Villette, #3 from the K Series, 1985. © Bernard Tschumi. From the Collection of the Alvin Boyarsky Archive.

All were created in the pre-digital era, yielding a rich palette of different techniques - collages, washes, reliefs, graphite, and acrylic, to visualize and imagine. "They were speculative, as the students were working out their own language and using whatever they felt most comfortable with," Nicholas Boyarsky says.
The drawings were made on a variety of papers, which made framing them something of a challenge . "They were not necessarily made to be kept forever," Boyarsky says. "Some are on trace, some are on copy paper - and some are on cigarette paper."
Which makes them all the more of the moment.
Drawing Ambience: Alvin Boyarsky and the Architectural Association was co-organized by the RISD Museum and the Mildred Lane Kemper Art Museum, part of the Sam Fox School of Design & Visual Arts at Washington University in St. Louis. The exhibition was on view at the Kemper Art Museum in fall 2014 and at the RISD Museum in spring 2015. The exhibition was co-curated by Jan Howard, Chief Curator and Houghton P. Metcalf Jr. Curator of Prints, Drawings, and Photographs at the RISD Museum, and Igor Marjanović, Associate Professor of Architecture at the Sam Fox School of Design & Visual Arts, Washington University. An exhibition catalogue of the same title is currently being distributed by the University of Chicago Press. For more, go here.
J. Michael Welton writes about architecture, art and design for national and international publications, and edits a digital design magazine at www.architectsandartisans.com, where portions of this post first appeared. He is the author of "Drawing from Practice: Architects and the Meaning of Freehand," from Routledge Press.