Earthcasting, he calls it.
Raleigh, N.C.-based sculptor Thomas Sayre creates large-scale works of art by digging into the earth and pouring in concrete, then extracting a resonant form for display in rural or urban settings.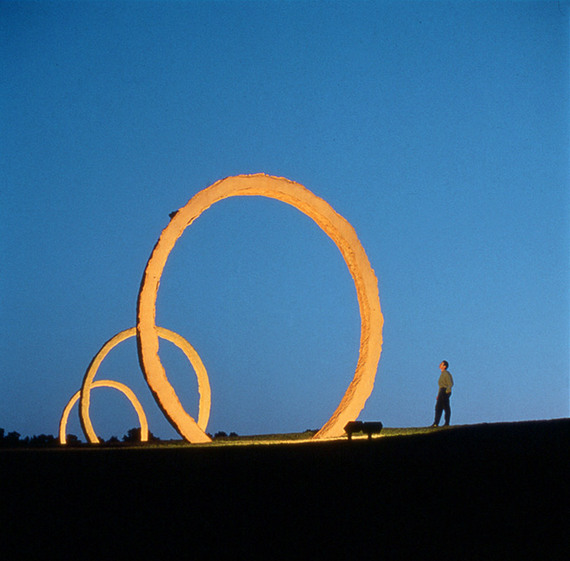 Gyre, Thomas Sayre
"It's an interaction between humans and machines and engineering and willpower and what lives in the earth itself," he says. "That balance is important to our culture - because deep down we realize we are creatures walking around on this globe that's made of dirt, water and air."
Sayre draws on his roots - growing up as the son of the dean of the Washington Cathedral, on the cathedral grounds. There, he got to know the sculptors, the stonemasons and the artisans as they worked to finish that structure in the nation's capitol. And he got to know the nature of the building itself; it influences his work today.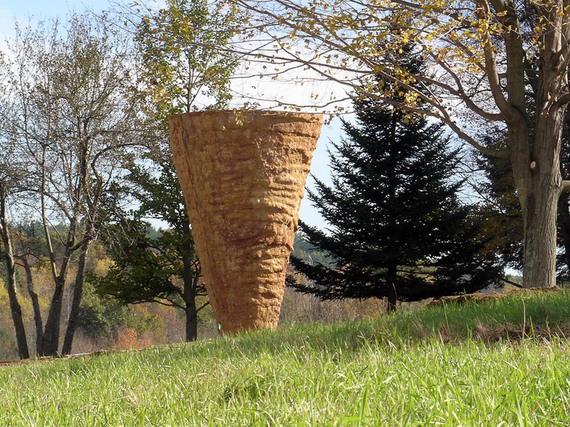 Jar, Thomas Sayre
"The work nudges up against the realm of the spirit - when I walk into the Washington Cathedral I rub up against things way beyond me," he says. "Not in the Biblical narrative that's embedded there, but in the way the light comes in through the windows and skates across the floor, or the music and the sounds, and the complexity of the space."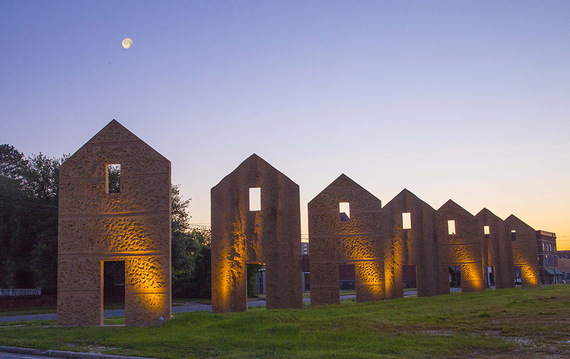 Flue: Kinston, Thomas Sayre
In Baltimore, where he created a cloister of eight earthcast arches - cast in North Carolina, trucked to the University of Maryland and lowered onto site by crane - a pair of filmmakers recognized a thread of similarity between his childhood and his sculpture.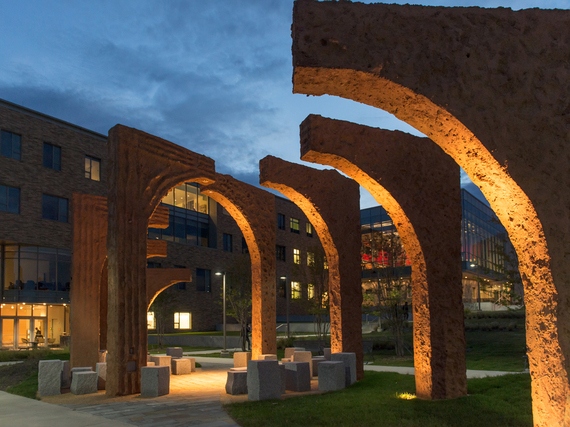 Forum UMBC, Thomas Sayre
"I realized it was like the cloister in the cathedral - it was obvious to the filmmakers but less obvious to me," he says.
The Emmy-winning filmmakers - Donna Campbell and Georgann Eubanks of Minnow Media - were on hand to record the installation as part of their new documentary on Sayre's life and works. It records the artist's collaboration with nature as he digs down into the earth to balance human intention with the grain of nature.
It's a fascinating process - and it can be witnessed tonight on WUNC - when Earthcaster - a 56-minute film - airs for the first time.
For more, go here.
J. Michael Welton writes about architecture, art and design for national and international publications, and edits www.architectsandartisans.com, where portions of this post first appeared. He is architecture critic for the News & Observer in Raleigh, N.C., and the author of "Drawing from Practice: Architects and the Meaning of Freehand" (Routledge, 2015).