The assignment was nothing if not formidable:
Create a new restaurant inside Frank Lloyd Wright's crowning achievement on Fifth Avenue in New York.
"There was nowhere to hide," says architect Andre Kikoski. "It was either going to be great -- or a disaster."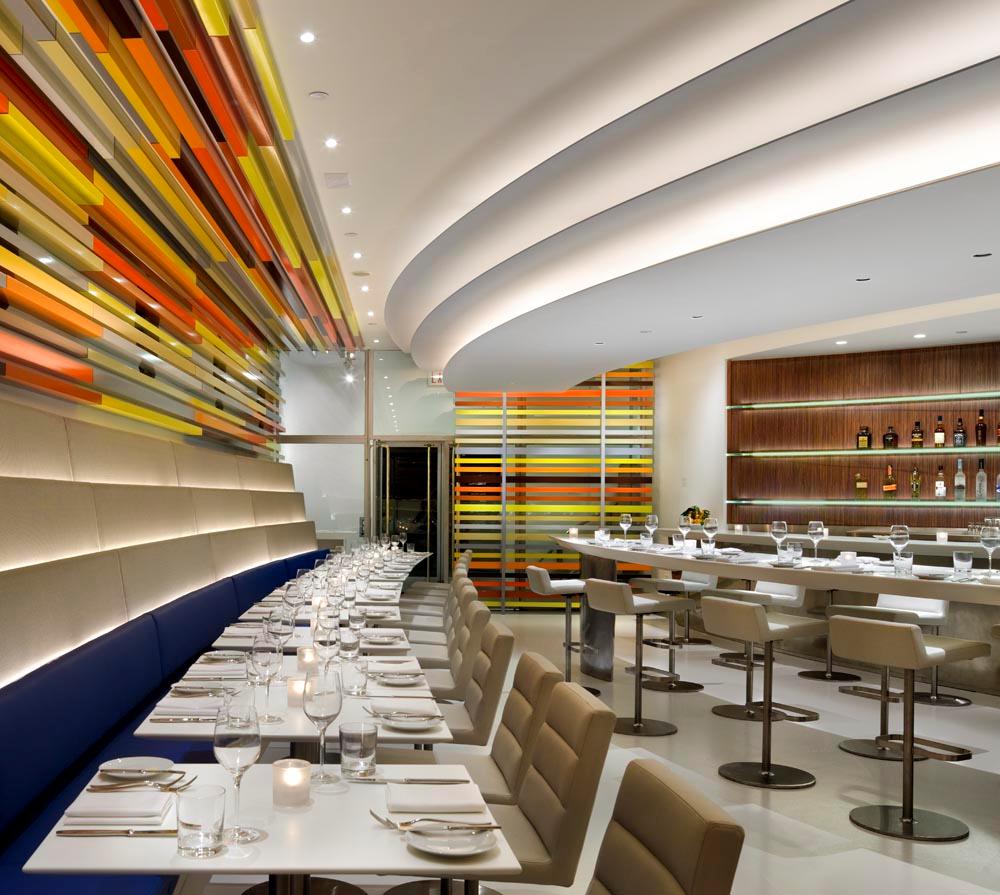 His eight-person firm had to give its all -- to make The Wright a thoughtful, legitimate and meaningful response to the 20th-century master's design for the Guggenheim Museum.
They dove headfirst into the archives, trying to dig up what Wright was thinking and writing about during the 30-year gestation period for his museum.
They arrived fortuitously at a football shape -- a key form used by the architect throughout the structure for columns, fountains and art pedestals. "He called it a primitive initial, a seed pod of all beauty," Kikoski says. "We said: 'Okay, great -- if that's it, let's try to take him on his own terms."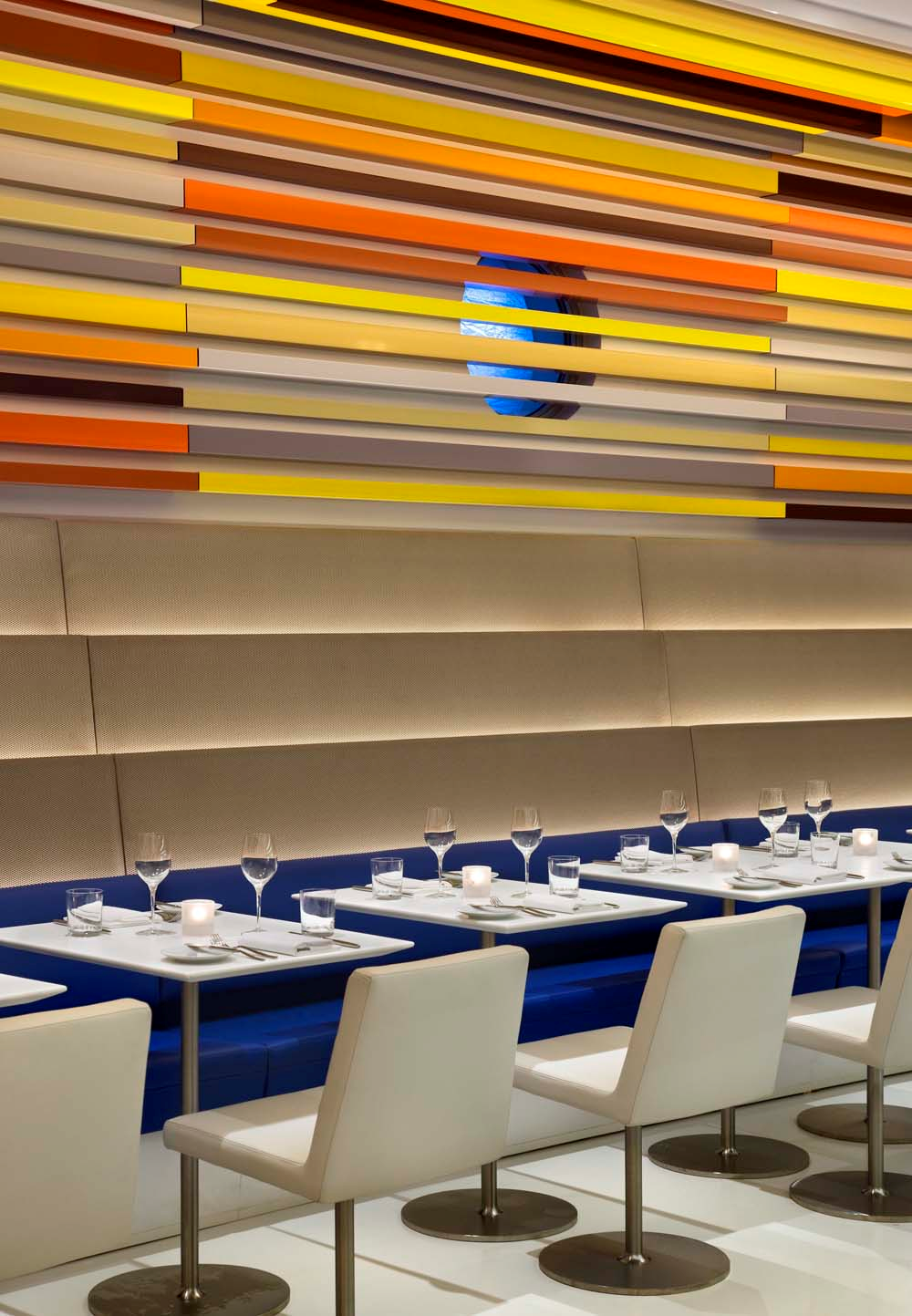 The idea was to push forward and be true to Wright's ideas and to his non-objective views of art -- as though they were young Wrights of the 21st century.
They took his geometric seed pod and found ways to implement it across all facets of the 1,500 square-foot former cafeteria. "We brought the curvilinear language of the building to a square area," he says.
Undulating walls, sculptural forms and a flared ceiling play off fiber-optic, layered walnut and a glowing white canopy of layered membranes.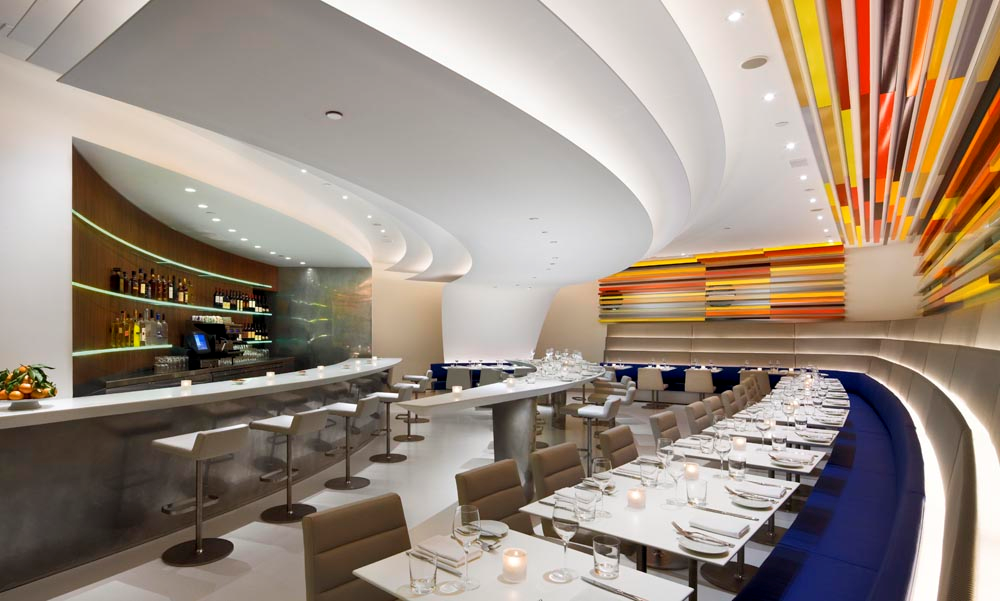 They brought in British conceptual artist Liam Gillick to contrast the denseness of Wright's concrete with the thinness of modern materials. Gillick provided the architects with two-dimensional drawings; they'd interpret them in three dimensions, and return them with comments. A dialog ensued.
That collaboration brought vibrant and shimmering color to the space that now seats 58 people, juxtaposing the architects' language of sinewy curves and torqued ellipses against the artist's language of extruded aluminum in three different rectangular shapes, each powder-coated in a bright, warm palette.
"It's so awesome in the space," Kikoski says. "I'm so honored by it."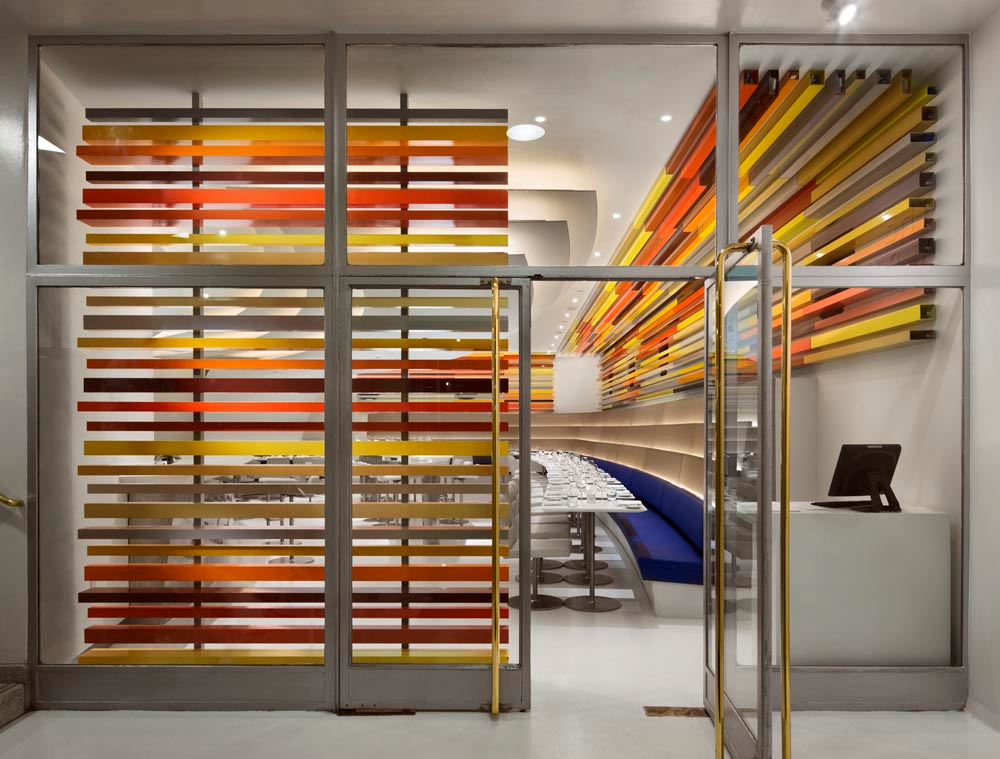 Their work has not gone unnoticed. Last week Andre Kikoski Architect received the American Institute of Architect's Institute Honor Award for the project. It's one of only three firms in the past decade to win that award for restaurant design.
And the only firm to follow in Wright's footsteps inside the museum.
For more information, go to http://www.akarch.com/
For more by J. Michael Welton, go to http://architectsandartisans.com