Mystery and intrigue may be synonymous with the city of Venice, but the latest imbroglio between politicians and preservationists there seems a little more ham-handed.
"Why have you banned this photo exhibit," tweeted Venetophile and publisher JoAnn Locktov to Luigi Brugnaro, mayor of Venice, on August 14. "Are you so scared of the truth?"
"Yes, it is true, we are afraid of how you know how to mystify reality," shot back the mayor in Italian.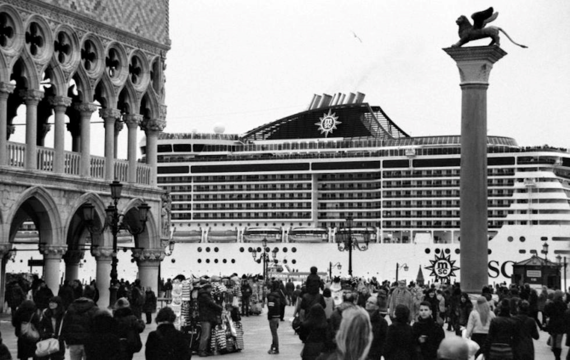 Photograph by Gianni Berengo Gardin, Venice
At issue is an exhibition, postponed by the mayor, of photographs depicting cruise ships that grotesquely dwarf the architecture of St. Mark's Square and other Venetian landmarks. More than 500 ships dock there annually, flooding the city's streets and canals with tourists. And there's talk of dredging the city's canals to accommodate even more.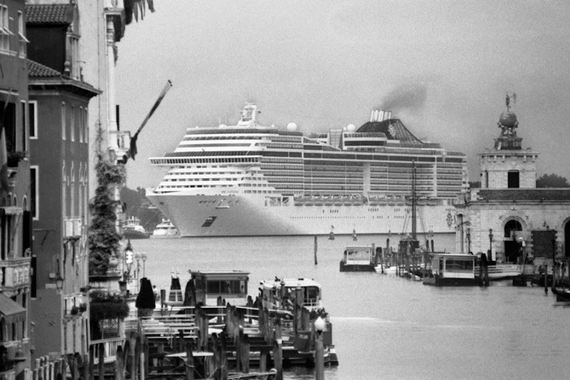 Photograph by Gianni Berengo Gardin, Venice
"On some days, there are seven to 10 cruises that can easily mean more than 20,000 visitors in a day for seven to eight months," says Venice-based photographer Marco Secchi. "Venice has a major issue with mass tourism -- last year there were 27 million visitors."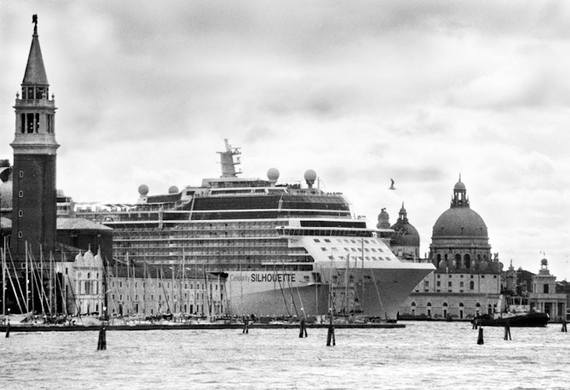 Photograph by Gianni Berengo Gardin, Venice
The new mayor, elected in June on a platform to keep the port in Venice, canceled the photo exhibition at a gallery in the venerated Doge's Palace. It was to feature works by Gianni Berengo Gardin, who's been hailed by the U.K.'s Telegraph as Italy's greatest photographer. Brugnaro evidently intends to display them later, together with an exhibit of his own plans for dredging the city's lagoon and canals. It's caused quite the outcry.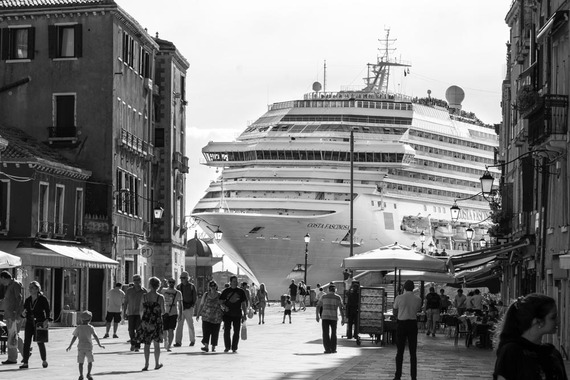 Marco Secchi, Photographer, Venice
"If the photos do not represent your reality, let the people decide," tweeted the San Francisco-based Locktov.
"You aren't the people," replied the mayor. "You see only yourself and your friends."
"Friends" seems a near-Freudian slip in wording. The city's port comes under control of the Venice Port Authority (VPA), with former Mayor of Venice Costa Paolo its president. In 1997, the VPA set up the Venezia Terminal Passeggeri, a commercial enterprise dedicated to managing cruise ship traffic in the port. VPA, Marco Polo Airport and the local chamber of commerce all have shares in the initiative.
Preservationists and lovers of the city's mystique would like to see the ships dock elsewhere. "The 'No Big Ship Committee' is asking not to ban the cruises, but to stop them at the Lido, creating a new tourism port," Secchi says.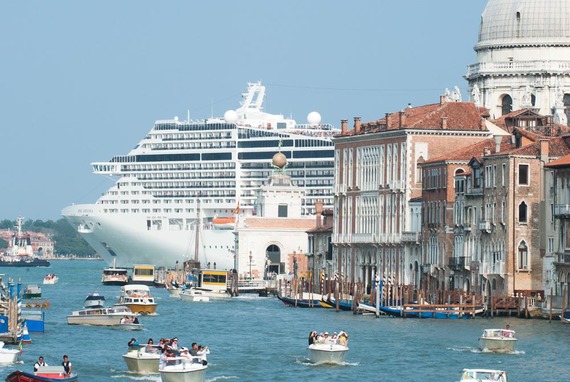 Marco Secchi, Photographer, Venice
The institutions responsible for finding alternative routes or strategies for cruise ships are many, while the decision-making pathways are tangled and muddled, adds Jane Da Mosto, author of The Science of Saving Venice. "What's clear are the strong economic pressures of the cruise lobby," she adds.
And "the last thing they (VPA) want is for ships to dock somewhere else, because of money," says Anna Somers Cocks, CEO of The Art Newspaper in London and former head of the 'Venice in Peril' fund, which has raised 10 million pounds for the preservation of the city.
Fears of another Costa Concordia disaster in the lagoon surrounding Venice run high. But there's more: dredging the canals to accommodate more and larger ships runs the risk of stirring up detritus from a 1960s petrochemical operation. "Ships would come into the petrochemical trench, then turn into a deeper trench into the port -- they want to dig it 10 meters deep from six, and 100 meters wide from 50," Cocks says.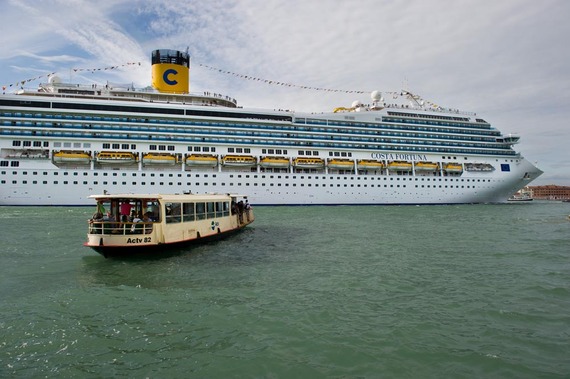 Marco Secchi, Photographer, Venice
Heavy metal waste from the petrochemical industry lies at the bottom of the lagoon -- it's highly toxic, but resting quietly for the moment. "There are particles of extremely poisonous chemicals" she says. "As soon as you start digging around, you release them into the lagoon."
The photography exhibition might have served as a catalyst for change -- but the mayor's delay unveils a different scenario. "It all has to do with what's going to happen to the port," she says. "People are lobbying for the protection of the city, and then there are those who say 'You're living in cuckoo-land -- let's make as much money as we can.'"
Which may result in some unintended consequences for a city that's increasingly dependent economically on tourists, rather than its dwindling tax base of shops and residents.
As Locktov tweeted the mayor, it's "not a good idea to insult the people who fill your coffers with euro."
Not to mention unleashing deadly toxins into your lagoon.
J. Michael Welton writes about architecture, art and design for national and international publications, and edits a digital design magazine at www.architectsandartisans.com, where portions of this post first appeared. He is also the author of "Drawing from Practice: Architects and the Meaning of Freehand," from Routledge Press.