Spartan is the first word that first comes to mind here.
Five cottages in Marlboro, Vermont -- a tiny town near the Green Mountains that's home to the equally tiny, 200-student Marlboro College -- take their cues from the 18th-century farmhouses that make up the campus.
"We took the proportions of a 400-year-old typology," says HGA Design Principal Joan Soranno. "We religiously studied the Cape Cod."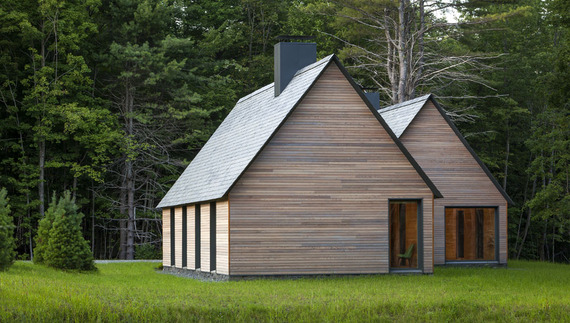 Musician Cottages, Marlboro, Vt., by HGA; Photo credit - Paul Crosby
They did it without an intent to copy it. Known for more modern work, Soranno's team at HGA elected instead to reinterpret its classic form and materials.
"When we started, we thought we'd do something very contemporary, and then realized that it would be a very awkward approach," she says.
Their efforts have yielded a series of cottages built from slate, cedar and white pine. They adhere to the Cape's standard footprint and roof pitch. But they've been stripped of ornament, color and interior walls -- and opened up with an expanded fenestration.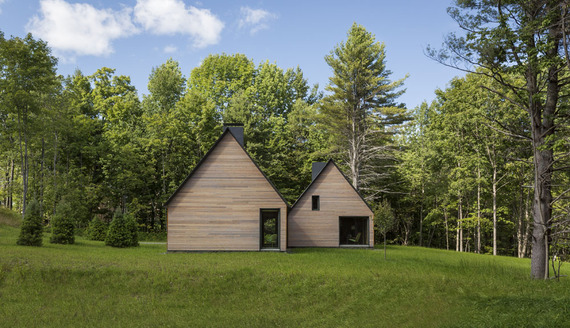 Musician Cottages, Marlboro, Vt., by HGA; Photo credit - Paul Crosby
"Capes traditionally have very small windows to keep out the elements," she says. "But here we put a priority on larger windows for natural light and for people inside connecting with the environment."
The cottages have been designed for senior musicians who flock to the college from around the world for six weeks each summer, to participate in the Marlboro Music Festival.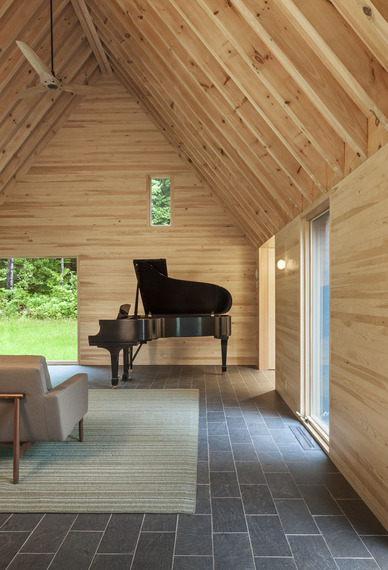 Musician Cottages, Marlboro, Vt., by HGA; Photo credit - Paul Crosby
Meals are taken with junior colleagues in the college dining hall, a easy eight-minute walk. That means less emphasis for kitchens in the cottages, but plenty of sleeping and common areas in the two-bedroom, three bedroom and dorm-style four bedroom units.
To create the form and space was something of a turnaround for Soranno, a modernist trained in the 1980s at the University of Notre Dame, before it turned classical. "This was my first residential project -- I'd never done anything with a wood stud in 30 years," she says. "My partner, John Cook, was instrumental in understanding the residential process."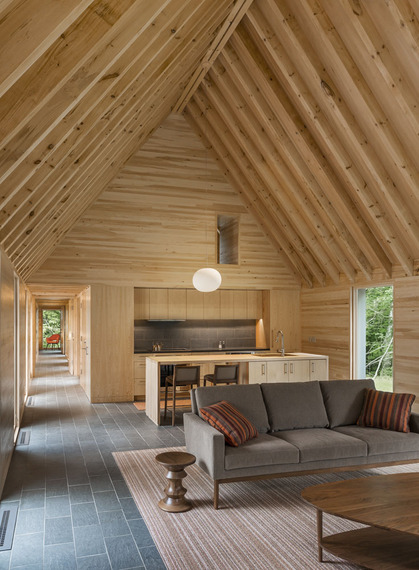 Musician Cottages, Marlboro, Vt., by HGA; Photo credit - Paul Crosby
They display here a mastery of homebuilding, using local materials and artisans, within a Spartan budget:
These cottages came in at about $264 per square foot.
J. Michael Welton writes about architecture, art and design for national and international publications. He edits and publishes a digital design magazine at www.architectsandartisans.com, where portions of this post first appeared. He is also the author of "Drawing from Practice: Architects and the Meaning of Freehand," due out this spring from Routledge Press.