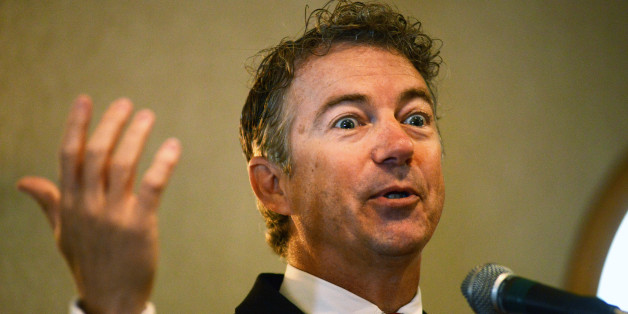 Fifteen years ago, then-Senate Majority Leader Trent Lott found himself in hot water when it was revealed that he had addressed the racist Council of Conservative Citizens (CCC) on at least five occasions.
U.S. Rep. Bob Barr of Georgia was also engulfed in the controversy, because he had given the keynote speech at the white supremacist group's national convention in 1998.
Once the group's racism became known, GOP Chair Jim Nicholson did the only responsible thing: He asked party members to resign from the CCC. Following his plea, senior members of Congress shunned the group. Both Lott and Barr said they had been unaware of the group's racism.
Which leads us to today. If racism is anathema to the GOP, why isn't overt anti-LGBT bigotry equally repellent?
Why do politicians like Kentucky Sen. Rand Paul, Texas Sen. Ted Cruz and Louisiana Gov. Bobby Jindal still think it's OK to speak to groups that vilify the LGBT community with outrageous propaganda and demonizing falsehoods?
All three are among the speakers at the Values Voter Summit that begins today in Washington.
The summit is hosted by the Family Research Council (FRC), an extreme religious-right outfit that seems to be irrationally fixated on the LGBT community, making opposition to equality the centerpiece of its very existence. Its president, Tony Perkins, has called the "It Gets Better" campaign -- designed to give LGBT students hope for a better tomorrow -- "disgusting" and a "concerted effort" to "recruit" children into the gay "lifestyle."
Oh, and Perkins recently suggested that LGBT rights activists would soon be rounding up Christians in "boxcars."
One of the summit co-sponsors is the American Family Association (AFA), whose chief spokesman, Bryan Fischer, makes one insanely bigoted comment after another. His classic from 2010: "Homosexuality gave us Adolph Hitler, and homosexuals in the military gave us the Brown Shirts, the Nazi war machine and six million dead Jews." Fischer has recently said the United States needs to "be more like Russia," which enacted a law criminalizing the distribution of LGBT "propaganda."
Then there's the Liberty Counsel, another co-sponsor, one that's associated with the late Jerry Falwell's Liberty University Law School. Its president, Mat Staver, recently compared those who do not denounce same-sex marriage to those who remained silent during the Holocaust. Marriage equality, he has said, is the "beginning of the end of Western civilization."
This week, the Southern Poverty Law Center and a coalition of civil rights groups published an open letter in The Washington Post and The Hill urging GOP Chair Reince Priebus to do what his predecessor did in 1999: Tell party members to stop associating with bigoted groups that defame entire groups of people simply because of who they are.
Our letter asks a simple question: Will the GOP condemn anti-LGBT bigotry as vigorously as it opposed racism 15 years ago?"