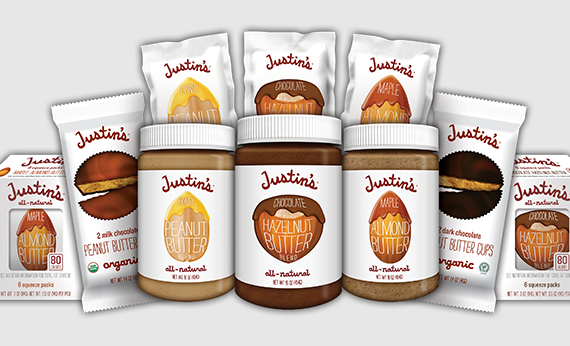 In celebration of the Entrepreneurial Freedom we enjoy in the United States, I have dedicated this month's articles to recognizing Socially Conscious Businesses and Entrepreneurs who have built their companies with a model that combines making profits with a greater purpose of making the world a better place.
We are nearing the end of July, and as the summer season hits full stride it seems that our calendars and our lives are more active than any other time of the year. This is hustle-and-bustle, and the difficulty it creates in finding and enjoying healthy, all-natural food while on the go is the problem Justin Gold was having in 2004.
Justin was living in Boulder, Colorado, and described himself as a very active vegetarian with an affinity for peanut butter, and a problem finding the best brand. Creating the perfect batch of nut-butter was the idea. Combine that with his ambition and love of local natural ingredients then throw it all in a food processor and Justins.com was born.
Justin's creates nut butters and peanut butter cups. Each of their products and flavors is created in small, individual batches and made using a super-secret grinding process to get that perfect flavor and optimum consistency.
But how is Justin's approach conscious? The company values integrity and transparency in everything they do, and that is evident in their sustainable practices: sourcing the highest-quality, local ingredients; keeping the supply chain simple; and initiating an environmentally friendly office culture.
"With humble beginnings at the Boulder Farmers' Market, he is now the CO-CEO of one of the country's fastest growing natural product companies. Justin's has received numerous local and national accolades and ranked in the Top 15 on the Inc. 500/5000 Fastest Growing Companies list in the Food and Beverage category two years in a row. Most recently, Justin was recognized as the 2013 Ernst & Young Entrepreneur Of The Year in the Mountain Desert Region."
At the core of Conscious Millionaire, and my personal mission is the idea that as an entrepreneur, your business should provide value to you, your clients and society as a whole. Justin's exemplifies that belief by building a great business that provides customers with healthy products and doing community work.
As a company they are a healthy and optimal food source for impoverished communities; that said, they have chosen to reach out and support a local organization whose impact is far reaching. Their answer is The Conscious Alliance.
"The ConsciousAlliance.org is a grass-roots organization that provides youth awareness programs on severe hunger issues through its "Art that Feeds" program and other outreach initiatives. Through these programs, Conscious Alliance has collected and distributed over one million pounds of non-perishable food donations to domestic food pantries and global disaster relief programs over the past six years."
Justin's has donated thousands of pounds of product and volunteered countless hours of time in support of Conscious Alliance efforts. For all of this, I would like to recognize Justin's founder, Justin Gold as a business (and entrepreneur) who is making a difference in the world!
--
J V Crum III is the founder of ConsciousMillionaire.com; as a business coach and speaker, he is sought after for his unique ability to help entrepreneurs and executives integrate their strengths and passions into a well-defined strategy for creating high profits and making a big difference in the world. J V holds an MBA, JD and a MS in Psychology; his best-selling book, "Conscious Millionaire: Grow Your Business by Making a Difference" is available now: http://www.amazon.com/Conscious-Millionaire-Business-Making-Difference/dp/0976719223/ref=tmm_pap_title_0