Lush green coffee plantations, snow-capped volcanoes, game-rich safari plains and the rainforest wilderness are just some of the extraordinary destinations just waiting to be traversed on horseback. Finding the opportunity in these incredible destinations isn't always easy though, so we've come up with 10 exceptional horse riding opportunities at lodges and resorts in undeniably beautiful regions of the world.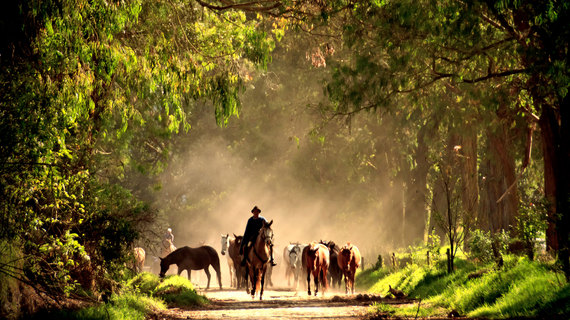 Hacienda Zuleta, Ecuador
In the highlands, tucked between snow-capped volcanoes, the town of Otavalo is best known for its traditional Ecuadorian culture and the popular artisans' market. Close by, in the Otavalo countryside, Hacienda Zuleta is a grand seventeenth century former presidential residence, surrounded by 2,000 hectares of pastureland with resident stables, trout farm, cheese production and condor rehabilitation. From the hacienda, you can ride along the winding Andean trails that start from 9,000 feet above sea level.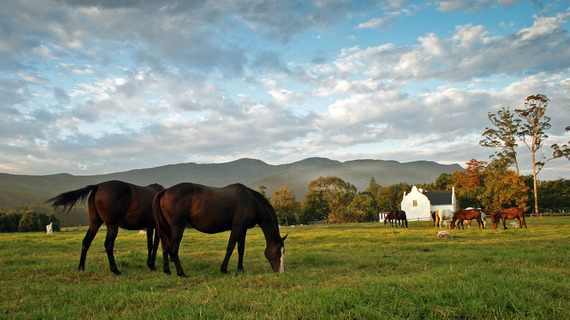 Kurland, South Africa
On South Africa's Garden Route, a coastal stretch of forested mountainside, lagoons, salt lakes and sandy bays, Kurland, a 700-acre private country estate is in a fine location for exploration by horse. The luxe boutique hotel, with 12 elegantly designed suites, offers horse riding excursions, as well as the opportunity to play polo assisted by Kurland's instructors.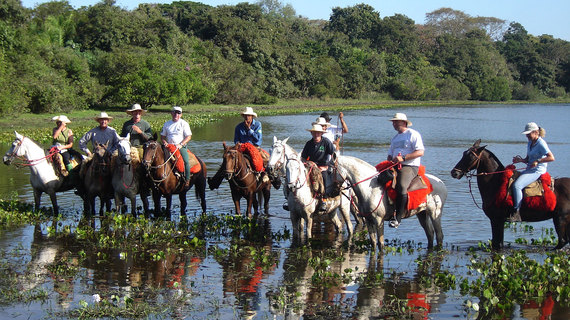 Barra Mansa, Brazil
The world's largest wetland, The Pantanal in Brazil, is rich in tropical flora and abundant in wildlife such as macaws, toucans, anteaters, otters and jaguar. In a protected spot, on a stretch of the Rio Negro, you'll find Barra Mansa lodge, a five-room hotel which is situated on a typical Pantanal farm. Here, guests have the option of taking part in farm activities, such as navigating the wetlands on horseback.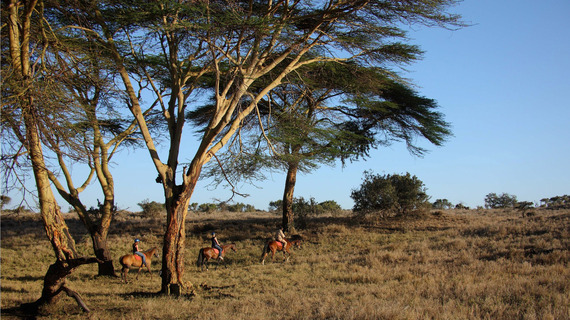 Lewa Safari Camp, Kenya
Grassland plains, forest, wetland and rolling hills are all encompassed in Kenya's Lewa Wilderness Conservancy, which is home to the endangered black rhino and Grevy's zebra, and closely connected to the Maasai community. With Mount Kenya to the south, Lewa Safari Camp is in an especially scenic spot, with just 12 thatched safari tents that each have their own verandahs, surrounded by gardens and a pool. This camp offers the unique chance to get up close to the plains game by going out on horseback, although you do need to be an experienced rider.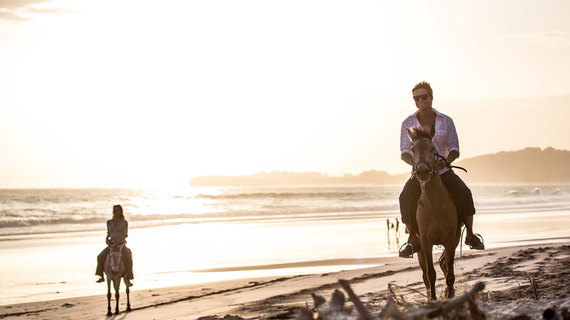 Nihiwatu, Indonesia
A short flight from Bali, the lesser visited Indonesian island of Sumba is covered in pristine rainforest and traditional rice paddies, fringed with white sand beaches and dotted with thatched bamboo houses, while the island's inhabitants still prefer to follow the traditions of their ancestors and resist modern development. On the remote west coast, Nihiwatu Luxury Retreat offers even more seclusion with its own private beach, in ultimate luxury and undeniable style. You can explore the surrounding countryside and visit nearby villages on horseback, or canter along the sand of the private beach.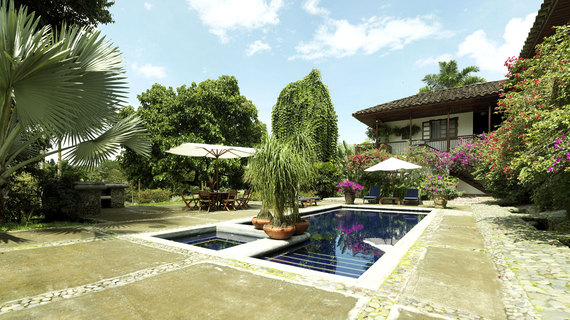 Hacienda San Jose, Colombia
Lush green coffee plantations across the Colombian hills is the setting for Hacienda San Jose, a colonial home that dates back as far as 1888. Still with its traditional furnishings and design, with bougainvillea-filled balconies and terraces, this peaceful spot is an ideal base from which to explore the surrounding countryside on horse back, with the additional option of riding through the characterful town of Salento and between the soaring palms of Valle de Cocora.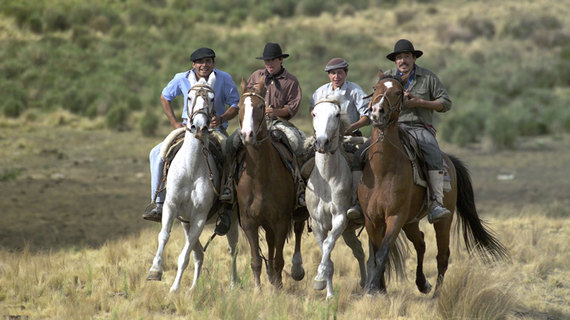 Estancia los Potreros, Argentina
Ride, western style, through the long grass of the Cordoba hills in Argentina, passing by rural homesteads, churches and schools, before stopping off at a swimming hole, or learn how to lasso and help the ranch's gauchos round up their young horses. In the hills close to Cordoba city, this homely boutique hotel is an authentic, family-run estancia, taking guests out on trail rides and hosting local and European style dinners with their own label wines.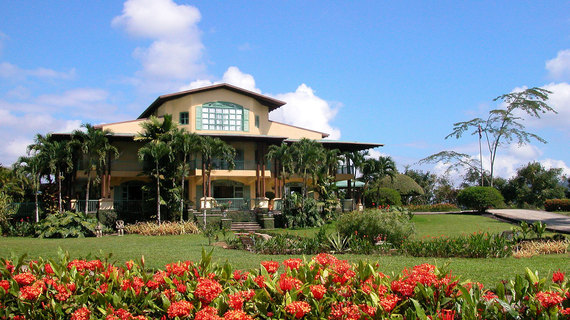 Casa Turire, Costa Rica
The grand colonial house and gardens of Casa Turire are situated in the Turrialba Valley near Costa Rica's capital San Jose. From the hotel, guests can set out on horseback to explore the surrounding landscape of coffee plantations and mountainside, sugar and macadamia farms, and Angostura Lake, with a local vaquero to guide the way.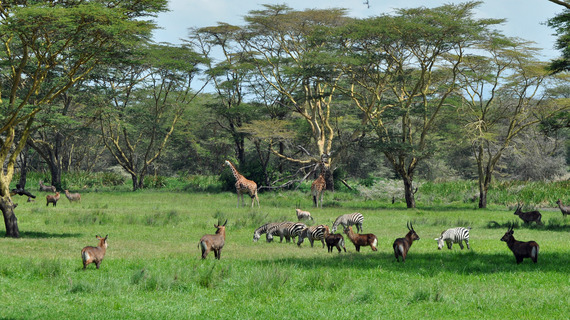 Solio Lodge, Kenya
The 45,000-acre Solio Private Reserve in Kenya lies between the peaks of the Aberdares Mountains and the slopes of Mount Kenya, with a unique landscape of forest glade, open plain, swamp and lakes. It's also home to a population of the rare white and black rhino, as well as leopard, cheetah, lion, zebra and giraffe. As the only lodge in the reserve, Solio Lodge is certainly well positioned, and while staying in the luxe individual cottages, guests have the option of seeing the terrain on horseback.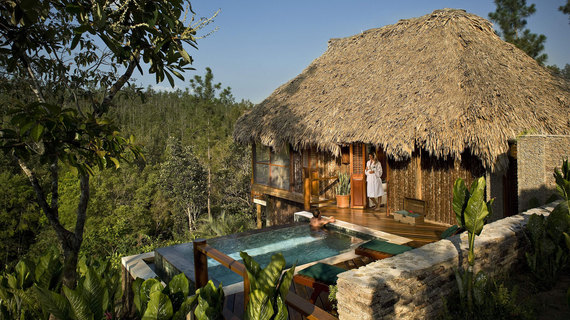 Blancaneaux, Belize
In Belize's Maya mountains, the protected Caribbean forest of Mountain Pine Ridge is rich in flora and fauna. It's here that you'll find Blancaneaux, Francis Ford Coppola's ultra luxe Balinese-style mountain lodge - well positioned, close to Caracol Mayan site and overlooking a small river and waterfall. As well as a spa and pool, the resort has stables from which you can arrange sunrise rides through the rainforest, trail rides that take you from pine to rainforest while seeking out hidden waterfalls, and sunset rides to the nearby national park.