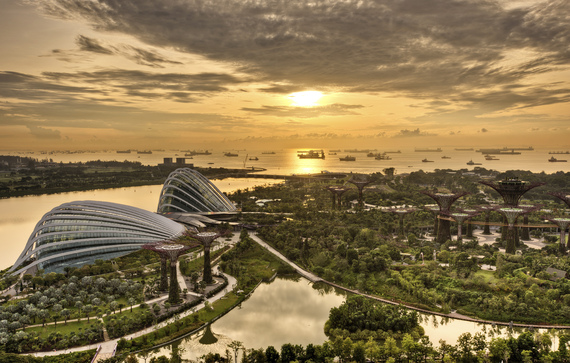 From futuristic vertical gardens to lush primary rainforest, find out why Singapore is also named 'the Garden City' by visiting the city-state's most captivating green spaces.
1. GARDENS BY THE BAY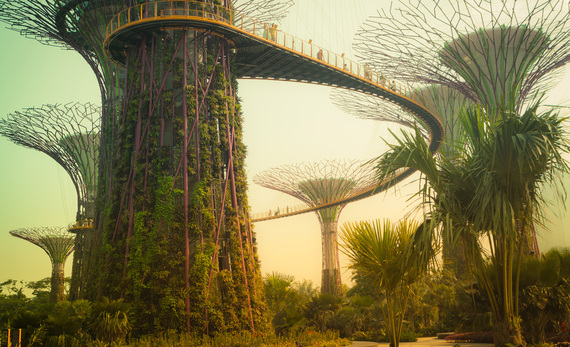 Image by Jirka Matousek
Wander along a suspended walkway between vertical gardens and through a misty cloud forest.
These sprawling gardens by Marina Bay span 101 hectares of reclaimed land with two main areas, Bay South Garden and Bay East Garden. Bay South is the one with the iconic Supertrees - nine to 16-storey high vertical gardens that look even more impressive lit up at night - which you can walk between via a suspended walkway. Bay East mainly comprises lawns to while away an afternoon under the towering palms. Don't miss out on the gardens' Cloud Forest dome, complete with thundering waterfalls. Cafes and restaurants are dotted throughout the gardens.
2. SINGAPORE BOTANIC GARDENS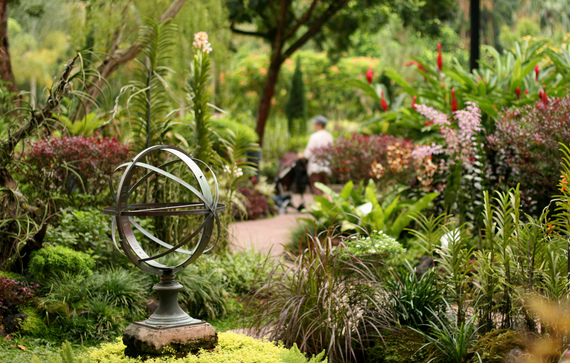 Image by Christopher Yardin
Spend the day getting lost in the maze of gardens and see an orchestral performance.
Established back in 1859, this 60-acre green space was transformed from disused plantation into the landscaped botanic gardens it is today. Explore themed areas like the evolution garden, healing garden, and orchid garden, which has the world's largest display of orchids with more than 16,000 plants. Wander along the maze of pathways to stumble across waterfalls, lakes, a bandstand, and palm valley where picnickers spend the day by the symphony lake stage, which occasionally has orchestral performances. The gardens have some outstanding eateries, including the high-end, open-sided restaurant Halia.
3. BUKIT TIMAH NATURE RESERVE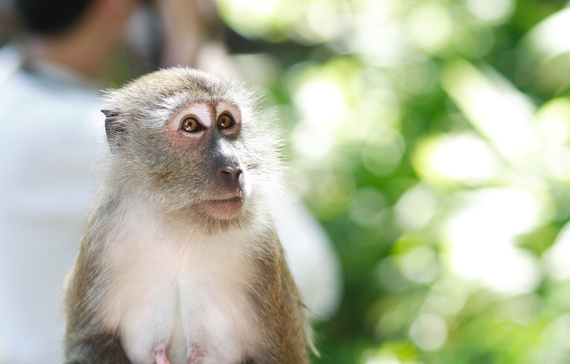 Image by Kelvin Chen
Hike around Singapore's biodiverse primary rainforest.
Covering 3,043 hectares, Bukit Timah Nature Reserve is a vast wilderness of primary rainforest with great biodiversity; More than 500 species of animals and over 840 flowering plants are said to have been recorded within the reserve. Before setting off on a hike around the reserve, take a look in the visitor centre, which has displays on the history of Bukit Timah, as well as on the flora and fauna there. Cycling and hiking trails lead visitors around the reserve.
4. FORT CANNING PARK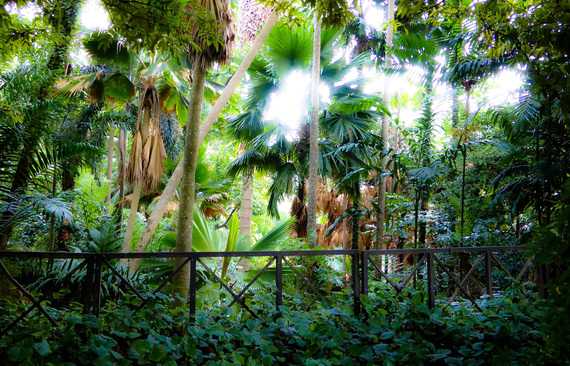 Image by Bryn Pinzgauer
Visit historic sites and catch an outdoor performance.
Situated on a hill close to the popular hub Orchard Road, this park comprises forest, lawns and flourishing displays of tropical flowering plants. Regular events are also hosted here, including outdoor concerts and open-air Shakespeare performances. The historic sites within the park are another great draw, with monuments dating back to both medieval times and the second world war. A spice garden, sculpture garden and underground military complex are all on-site points of interest.
5. THE KRANJI COUNTRYSIDE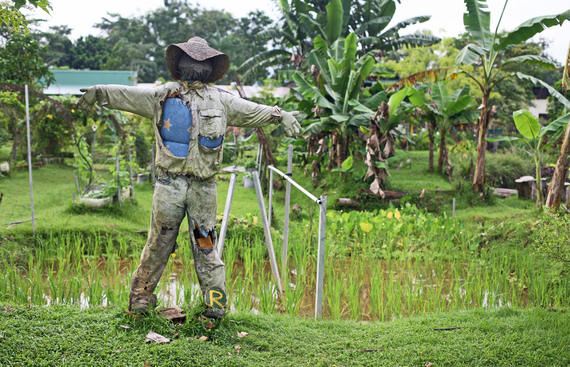 Image by Lauren Hill
Explore Singapore's remaining farmland and buy the local produce.
In the northwest of Singapore this rural area has managed to resist development with a network of farmers who champion the cultivation of organic produce and promote the countryside lifestyle. Visitors can explore a number of the farms and buy the produce that's grown there. Bollywood Veggies is a popular spot to spend a few hours exploring the land and having a bite to eat at Poison Ivy Bistro. The farm has a cooking school too, making the most of the fruit, vegetables and herbs that are grown there.
6. EAST COAST PARK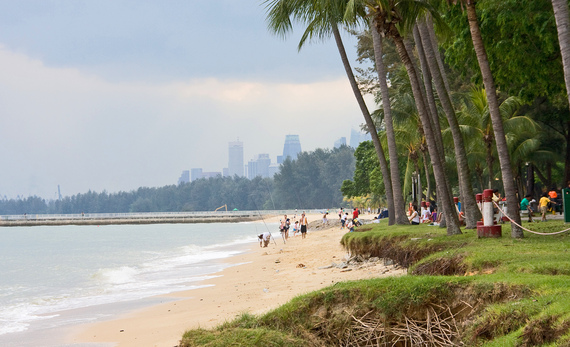 Image by Philip Hayward
Cycle and skate along the coastal parkland.
Along this 15-kilometre stretch of sandy coastline, backed by swaying palms and greenery, people gather to cycle, rollerblade, picnic and people-watch. Plus, the long strip of parkland is dotted with eateries that are renowned throughout Singapore, with restaurants serving up classic Singaporean dishes like chilli crab.
7. PULAU UBIN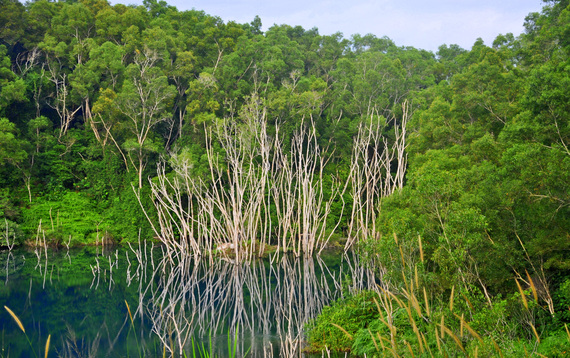 Image by Eustaquio Santimano
Cycle around a rural island off Singapore's northeast coast.
This small island off the northeastern corner of the mainland is said to be Singapore of the 1960s, with gravel roads, lush forest and plenty of resident wildlife, including marine life like octopuses and starfish in the coral reef of Chek Jawa Wetlands. Many people visit to cycle around the island, so bike hire shops are set up close to the island's jetty, while the restaurants in the village serve up an exceptional offering of seafood. The island is a 10-minute boat ride from Changi Point Ferry Terminal.
8. THE CHINESE AND JAPANESE GARDENS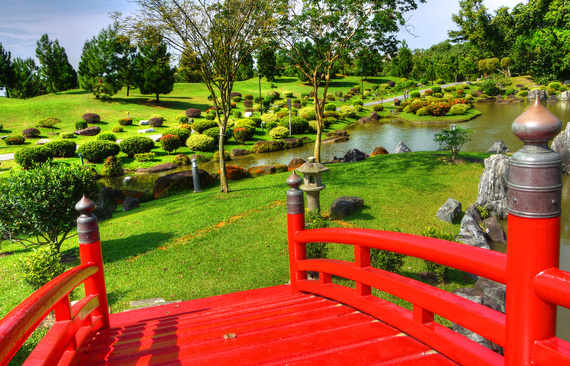 Image by xsnowdog
Wander between pagodas and meditative landscaped gardens.
Situated on two islands of Jurong Lake in the west of Singapore and connected by The Bridge of Double Beauty, the Chinese and Japanese Gardens are a tranquil retreat from the city. The 13.5-hectare Chinese Garden is the main attraction with stone bridges, a bonsai garden, pagodas and a teahouse that were modelled on northern China's imperial architecture and landscape. Cross the bridge to wander through the meditative Japanese garden and to visit a turtle and tortoise centre.
9. THE SOUTHERN RIDGES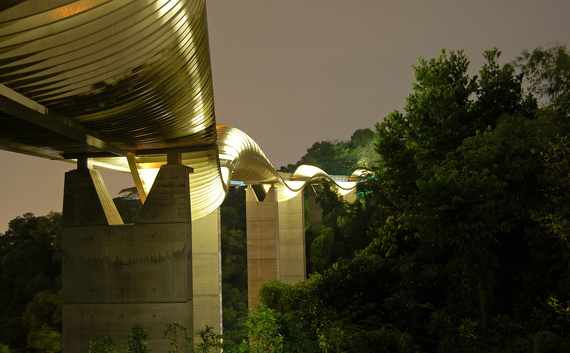 Image by Edwin Lee
Walk along futuristic walkways for views over the forest and parkland.
Walk or cycle between a number of Singapore's parks and wilderness spots by traversing the Southern Ridges. Stretching across 10 kilometres, this raised walkway - which incorporates a canopy walkway and the 63-metre high Henderson Waves [pictured above] - connects the parks of Mount Faber, Telok Blangah Hill, Hort and Kent Ridge, as well as Labrador Nature Reserve. As you pass through the island's secondary rainforest, look out for the resident wildlife.