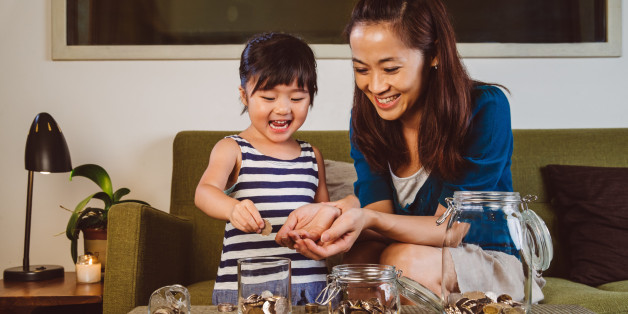 As a parent, I am frequently reminded of the sometimes differing views that my children and I hold about how we manage money. When my kids were small, they would ask me to buy them toys, with little regard for the cost -- which was completely understandable, given their age. As they got older, the "toys" got more expensive -- cars, college and weddings. While we didn't always see eye-to-eye on money, I am happy to say that all four of my kids have graduated from college and have fulfilling lives as financially responsible adults. As I reflect on how much our society has changed, even in the decade since my kids were living at home, I am in awe of the challenges that today's parents of teens face daily.
Some of these challenges are highlighted in a new, national study from Junior Achievement and The Allstate Foundation. This new research provides surprising insights into how parents' and teens' views of managing money differ. The Teens and Personal Finance Survey, now in its 16th year, gauges teens' attitudes and behaviors around money. For the first time in the survey's history, we surveyed parents as well, to compare and contrast their responses to those of teens.
For example, we found that that nearly half (48 percent) of teens think their parents will help pay for college. However, only 16 percent of parents report that they plan to pay for their child's post-secondary education. This finding emphasizes the need for parents and their kids to have regular, age-appropriate conversations about money, especially when planning for major expenses such as college.
Many young people want to learn about managing money from their parents. A significant majority of teens we surveyed (84 percent) say they look to their parents for information about how to manage money.
Conversations about money are tough, and parents may feel ill-equipped to handle them. Some parents may feel uncomfortable talking about money matters with their kids, because they are uncomfortable with the subject, or because of their own financial missteps. This is where school-based programs can come in, to provide students with important personal finance education.
I encourage parents to work with their child's school to provide students with programs that teach real-world money management skills, such as those provided by Junior Achievement (JA). Students learn how to prioritize needs and wants, how to create and stick to a budget, and about the importance of saving.
Parents today may face more -- or at least different -- challenges than parents in previous years, but thankfully, there are resources available to help today's young people face their future ready to manage their finances with skill and confidence. Visit www.ja.org to learn more.
PHOTO GALLERY
Top 8 Benefits of Financial Education