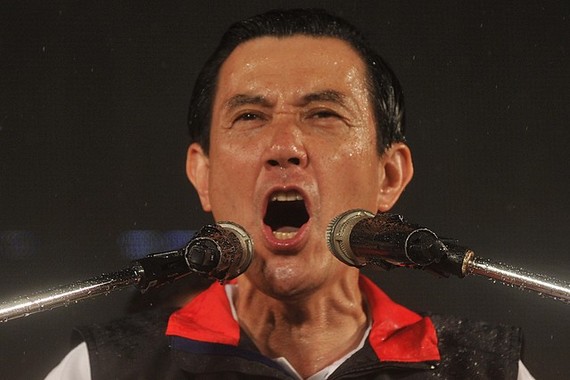 Once again, it's time to look at Taiwan. Unfortunately, there is still a need to call for freedom from prison for Chen Shui-bian and a need to call out Ma Ying-jeou (the most unpopular president in Taiwan's history) to stop abusing human rights principles for shameful political hunts. For those of you who have been following, this call has been made for far too long and has seen deaf ears. For those new and old, let's look at some of the why. Following the latest findings in Taiwan's judicial system, the need is stronger than ever: a free Taiwan needs a free Chen Shui-bian. With a deeply problematic trial process, a failure to provide adequate medical care, and a dangerous message to a new multiparty democracy, Ma Ying-jeou's quest to continue to jail the first and only politician outside the Kuomintang (KMT) to hold highest office is a bad and faithless move. It is indicative of an attempt, with the complicity of the rest of the KMT for failing to speak out and dissent, to beat back the human rights that Taiwan's people have fought with their lives to acquire. The rights enshrined in the Universal Declaration of Human Rights (UDHR) deserve durable and complete respect, not the sort of abuse heaped upon them in the actions of a hapless president who's single-digit approval ratings suggest an intent to forgo the beauty of rights in an effort to grab the ugliness of raw power.
Taiwan has a long history in the history books of the West. When the Portuguese sailed by in 1544, they named the main island Ilha Formosa, or "Beautiful Island" by the Portuguese when they sailed by in 1544, though indigenous peoples who'd already been there for at least five thousand years already had names for it. In the following three and a half centuries China, Spain, and the Netherlands all juggled claims of sovereignty, settlement, and trading rights before the Qing Dynasty ceded the area to Japan in the late nineteenth century. After WWII, the Republic of China was established by the Kuomintang (KMT) in retreat from the Chinese civil war and took possession after Japan's surrender.
The "Republic of China" (ROC) had a rocky start under the KMT. With the status as the sole legal party and as puppet prop of Chiang Kai-shek's dictatorship (followed by his son's), the KMT established an authoritarian state replete with human rights abuse and little freedom accorded to the island. With the White Terror beginning with the 228 Incident ini 1949 and initiating martial law that was the world's longest when eliminated in 1987 (currently only human rights horrorshow Syria has a longer record), the KMT has a grim record as caretaker of the rights of Taiwan's residents. Only in the last decade of the twentieth century was there any legal opposition party and only in the last five years of it was the first direct presidential election, with the 1996 term of incumbent, Lee Teng-hui, serving his final term as president. In the next election, the Democratic Progressive Party (DPP) saw Chen Shui-bian and Annette Lu become the president/vice-president in the first non-KMT administration in the ROC. The duo won a second term in 2004 and were precluded from another term in 2008, when the KMT returned to power with the election of Ma Ying-jeou (fifty eight percent and reelected in 2012 with fifty one percent). Disturbingly after Ma took office, a vendetta has been pursued against Chen.
Rather than engage in a peaceful transfer of power, which might have helped burnish the KMT image showing them to be gracious winners rather than sore losers, the Ma administration pursued any and every wisp of possible allegation in a set of legal proceedings that were deeply disturbing and violated the international legal norms that we take for granted in the developed and democratic world. Shifting charges, witness intimidation, costumed harassment, and a public relations smear campaign did not speak highly of the motivations of the prosecution (directed by Ma's Special Prosecutor and only answerable to him) nor of any evidence as being other than gauzily thin hearsay. It served to indict Ma himself as incapable of reconciling an island that could only be called "polarized" in the most charitable and expansive use of the term. On innumerable charges, and with the KMT incapable of producing any definitive list of pending cases to us in nearly three years of requests by us nor to even define in law the supposed "inability" of Ma to offer better relief to a former president and the only one from the opposition, Chen was sentenced to nineteen years and has served over a third of his sentence.
Chen was jailed with considerable prejudice and with clearly premeditated intent to silence dissent from the KMT agenda. His conditions of detention were below those of an international standard of prison conditions and his treatment was depressingly disregardful of his position and state. While we firmly believe that all peoples should receive equal treatment under the law, we also believe that it is a deeply dangerous message to treat Chen so despicably for charges that appear to us (and increasingly to the public and opinion leaders) to be trumped up and based on accusations of nonviolent behaviors. As the first and only opposition leader in the highest political office, Chen's supporters of all stripes both past and current, and any who would deviate from a programmatically KMT-dictated agenda, have been warned off with a hideous message. Ma has certainly shown his willingness to attack any who deviate from his orthodoxy, including the KMT members who happened to be Minister of Justice and the widely respected Speaker of the Legislative Yuan (Taiwan's single-house legislative House). Additionally, his treatment during incarceration has, once again we state, created new medical conditions that are serious and have made others worse (in some cases permanent). This experience is another systematic attack on his basic human rights.
What's new? What's new is that a panel of special prosecutors have now dismissed any possibility of added money-laundering charges against Chen after five years of his time in prison with sinking hope. After the conviction of an earlier special prosecutor, there should be serious suspicion renewed and increased about the legitimacy, motivation, and impartiality of this set of cases. Once again, Chen appears innocent of the array of charges against him while his medically-verified ill-health has been caused, aggravated, and made permanent because of the conditions of his incarceration. Chen should be freed immediately and a special prosecutor might open an investigation into Ma Ying-jeou himself.
Americans could use hearing more about Taiwan's history, politics, and culture. Given that we spent decades declaring that Taipei was the legitimate government of China only to suddenly lurch such recognition to Beijing in an effort to contain and counter the Soviet Union, you'd think we'd know more. You'd especially think we'd know more since we continued to be the guarantor of Taiwan's autonomy with military exercises, arms sales, and implied willingness to intervene on behalf of Taipei in the event that Beijing were to use force. Moreover, as perhaps the standard-bearer of East Asia's quickest shift from authoritarian rule to multiparty democracy and a society as wired and hip as Tokyo (or Portland), you'd think we'd be at least aware of the stakes at hand. As the de facto guardians of Taiwan's freedom when it comes to the threats from Beijing, we are morally bound to speak up for Taiwan's human rights protections and to withdraw support from those elements who would eliminate them or apply them selectively.
Taiwan has seen tectonic changes in only the last thirty years, mostly forward. But the last six years have seen attempts to reverse the gains made, and it must cease so Taiwan can move forward again. The people of Taiwan deserve the human rights gains they have fought for, and for those gains to both continue and to be durable. It is time to free Chen Shui-bian and to dump Ma Ying-jeou. Take a moment to contact your Senators and Representatives in Congress (once again, see www.contactingthecongress.com for details on how) and ask them to speak up on behalf of Chen Shui-bian and to watch carefully the rabidly vengeful Ma Ying-jeou. There should most certainly be a resolution to prevent or deprive Ma from obtaining a United States passport to use to flee with ill-gotten gains after the end of his disastrous second term, but it is the freedom of Chen, and the hope of the pluralist rights-loving Taiwanese themselves that is the most important goal. Don't let the ugliness of Ma destroy the beautiful island.
The UDHR and other human rights documents and standards affirms that human rights be available to everyone. It shouldn't matter what party people belong to or whether they have a different view than another party. It is time for all Taiwan to come to the defense of hard-won principles and to not stand idly by while Ma lies and Chen dies. It is time for Americans to speak up for what is right with a full-throated defense of rights requested of their representatives. Chen's death (or even continued demise of declining health) is an affront to the ideals of multiparty democracy, impartial justice systems, and the imperative for peaceful transfers of power between political parties.