The tech sector in New York City is on the rise. A new study pegs the number of tech workers in the Big Apple at more than 290,000 representing 7% of the workforce. About half of those - 150,000 - work in big companies in tech roles. The other half are in startups.
There are more than 1,200 companies in NY that have received angel or venture funding and most are looking to hire more staff. Check out this interactive map of NY tech companies with links to those in hiring mode.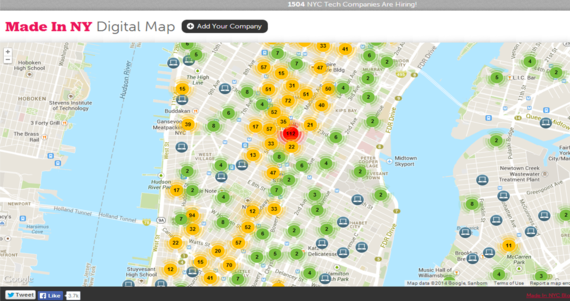 NY Tech Meetup now has more than 38,000 members with sold out monthly meetings of 1000+ people .Andrew Rasiej, co-founder of NY Tech Meetup has said that tech is no longer just a slice of the economic pie. "It is the pan that holds the pie together."
NY now also has a strong set of angel and venture funders including Lehrer Ventures, Union Square Ventures, First Round Capital, RRE, Firstmark, Greycroft, Gotham VC, and others. Bay area funders including Google Ventures and 500 Startups are increasingly willing to fund NYC startups as well.
Key to the rise of startups in NYC has been the shared startup space. These range from open spaces for rent to structured incubator and accelerator programs. There are more than 100 shared office and incubator spaces in NYC today -- each with its own flavor. Techstars, Betaworks, ERA, AlleyNYC, WeWork are just a few of the many programs around the city. These spaces have enabled startups to quickly get up and running without putting down six months security and signing a five or ten year lease.
But major challenges are still ahead of us. First, there is still not a critical mass of larger tech companies in NYC to acquire the talent and innovation of the startups. Two recent sales of NY companies were done by West Coast firms -- Yahoo bought Tumblr and Salesforce.com bought Buddy Media. The successful sale of this site, Hufington Post, to AOL, was a good example of the kind of acquisitions we want to see happen more frequently.
NYC also needs a bigger base of tech companies to acquire those firms that will not make it to scale. Most startups do not make it - that is a fact in any startup ecosystem. But in locations such as Silicon Valley, there are plenty of opportunities to merge such companies into the larger ecosystem. Oracle, HP, eBay, Google and others regularly scout for talented teams from startups that are foundering and bring them in house.
Lack of diversity continues to be a challenge in many startup communities and particularly in NYC. We need to do a better job onramping individuals from a diverse set of backgrounds into the community. The NYPL is currently working on a set of programs that will bring tech training to many low-income areas. That is a good step but we must do even more. NY Tech is still male-dominated and must do a better job attracting more women. Making NYC tech more inclusive will enable startups to be even more innovative and serve a wider set of users.
These are heady times in NY Tech. There is much opportunity and we can realize even greater heights by meeting the challenges head on.