Startups are back big time in NYC, and to seed even more job-growth engines we need even more angel investors.
NYC has always been open to entrepreneurs of all kinds. From pushcarts on the lower East Side to Bloomberg Media, this is a place where capital and ideas can fuse together in atomic reactions.
During the 90's, NY had its share of tech startups, but many did not last through the crash. New startups are now emerging across Manhattan and Brooklyn in numbers we have not seen in a decade.
Some, like Gilt, have already scaled to hundreds of millions of dollars in revenue. Others like Foursquare are exploding in user numbers while revenue is just building.
A recent article highlighted a few of these companies in
Business Insider, but there are hundreds more such blooms across the city.
One factor holding back NY startups is the lack of angel money. While we have plenty of venture capital firms now, most high net worths in NYC did not make their money being entrepreneurs. Many were partners at law firms, banks or other service companies. They are not as familiar with angel investing as many of their counterparts in silicon valley.
Ron Conway and others in the valley have pioneered the era of superangels, who invest in more than 50 startups each. We need to build more of an angel investing culture in NYC. New York Angels does a good job corralling a number of investors in NYC, but we need an additional crop of angels to join their ranks. I have invested in a few startups here and hope to do more.
Mike Bloomberg has brought on a former Wachovia CEO - Robert Steel - to head economic development. Steel should be able to bring increased focus on the entrepreneurial sector that is driving a good part of the job growth and attractiveness to the city.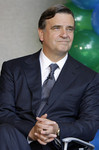 NYC can thrive even in this economic climate if we connect capital to ideas in the way that only NYC knows how to do.
Are you trying to start a company in NYC? What is your experience?