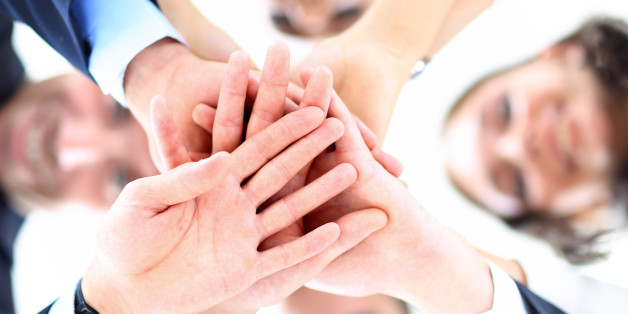 "You can't live a perfect day without doing something for someone who will never be able to repay you." -- John Wooden
When people hear the word philanthropy, what usually comes to mind are wealthy donors and seven-figure donations. However, any contributions of time, energy or money, whether large or small, belong under the umbrella of philanthropy. The word itself derives from ancient Greek and means a love for humanity and a desire to improve the human condition.
I credit my mother with teaching me my first lesson in philanthropy. I was a child during the Great Depression, and I remember watching her make two pots of soup some evenings. I asked why she was making so much, as we could not possibly eat that quantity for dinner. Her reply was simple, yet it made a profound impression on me: "The second pot of soup is for the Raboy family next door. You know, they are poorer than we." My mother's message was clear. No matter how difficult you think your life is, there is always someone else who must deal with greater challenges. When I was older, I realized her generosity helped more than just one family. It benefited our whole neighborhood.
In essence, when you give to others, you are really helping yourself, and often in ways you cannot imagine. This is a lesson all entrepreneurs should take to heart. Even if you are at the beginning of your business career, you should think about ways to give back to your community. Complex webs of relationships sustain societies, and we are all given a helping hand at many points in our lives. Frequently, we are not even aware of the assistance. Yet it is precisely this kind of communal support that allows our economy to grow. If we do not continually replenish this giving, then growth in society will diminish.
Everyone should assume that he or she has been helped, directly or indirectly, many times in the past. Ethically, we have a responsibility to repay these debts. Moreover, when we give, we are not only helping today, we are inspiring and instilling the importance of giving in the next generation. The latest research, as outlined in an earlier Huffington Post article, indicates that humans are not born with selfish instincts, and it is incumbent on our mentors to demonstrate for us the power and the joy of giving.
From a more practical standpoint, there are several reasons why businesses can benefit from giving, as cited in an Entrepreneur magazine article. The article said, "According to a May 2013 study by Cone Communications and Echo Research, 82 percent of U.S. consumers consider corporate social responsibility (CSR) when deciding which products or services to buy and where to shop."
In addition to valuable publicity, business philanthropy strengthens community relationships that almost always pay long-term dividends. Also, job seekers want to work for companies that care.
"Giving back makes jobs more engaging, and engaged employees are more productive employees," as Joe Reynolds points out in his Inc. magazine article, "The Importance of Giving Back."
And finally, business giving is rewarding in itself, and this good feeling can provide a sense of purpose and motivation to any enterprise.
Are there negative consequences for charitable giving? According to one article published in The Guardian, there could be, and this is where entrepreneurs need to establish their company policies carefully. The Rockefeller Foundation celebrated its 100th birthday in 2013, and some critics argue that such huge endowments put too many strings on their gifts or overlook the neediest and most vulnerable. Granted, the effects of "catalytic philanthropy" can be truly transforming and positive. For example, Bill and Melinda Gates have pledged hundreds of millions to fight AIDS, tuberculosis and malaria around the globe. However, some large donors promote political agendas that may benefit only a select few. Should they be allowed massive tax exemptions for their think tanks and lobbying groups? There are also concerns about highly subjective valuations for artwork given to museums. Money not paid in taxes means fewer dollars available for education, health care, etc.
And lastly, are there charitable gifts that actually make recipients less self-reliant? In other words, are these donors encouraging people to fish or just filling their bellies for the short term?
Since my concerns are primarily addressed to emerging entrepreneurs whose giving will be understandably modest, let me offer a few suggestions to maximize the effects of these contributions:
1. Avoid making gifts that include political overtones. Focus on helping people directly.
2. Invest in the community where you do business.
3. Target your giving for a combination of both short term and long term benefits.
4. Don't overlook the importance of helping other new entrepreneurs. Investing in brains can yield a broad range of benefits to an entire community.
With the rise of social entrepreneurship, where charitable giving is often built-in to the actual business model, whether for-profit or non-profit, socially conscious individuals continue to prove that finding ways to give back can and should be a sustainable habit, with resounding benefits.
I can say from personal experience that nothing has given me greater satisfaction in life than my philanthropic endeavors. In recent years, my wife Julie and I have been strong supporters of a medical clinic and a hospice care program in our Santa Barbara community. Each day we feel rewarded by the knowledge that many people are getting help with the serious health issues they face.
And finally, another way I vowed to give back this year was to help 10,000 fellow veterans in their pursuit of a satisfying and financially sound civilian life. In my Gift for Veterans Program, I offer U.S. veterans interested in business a free copy of my latest book, The Evolution of an Entrepreneur, to help get them started. The book is a distillation of the insights I've gained from my seven decades as a global entrepreneur.
So, as you reflect on your 2014 business goals, be sure to consider the needs of your community and groups you can positively affect. You will never regret the contributions you make, or the relationships you build during the process of giving back, whatever form may be.
--
Jack Nadel is the author of the award-winning book, "The Evolution of an Entrepreneur: Featuring 50 of My Best Tips for Surviving and Thriving in Business." He is the founder and chairman emeritus of Jack Nadel International, a global leader in the specialty advertising and marketing industry. Jack, founder of more than a dozen companies worldwide, is also the author of other books, including, "There's No Business Like Your Bu$iness, How to Succeed in Business Without Lying, Cheating or Stealing," "Cracking the Global Market," and "My Enemy My Friend."
E-mail: Jack(at)JackNadel(dot)com.