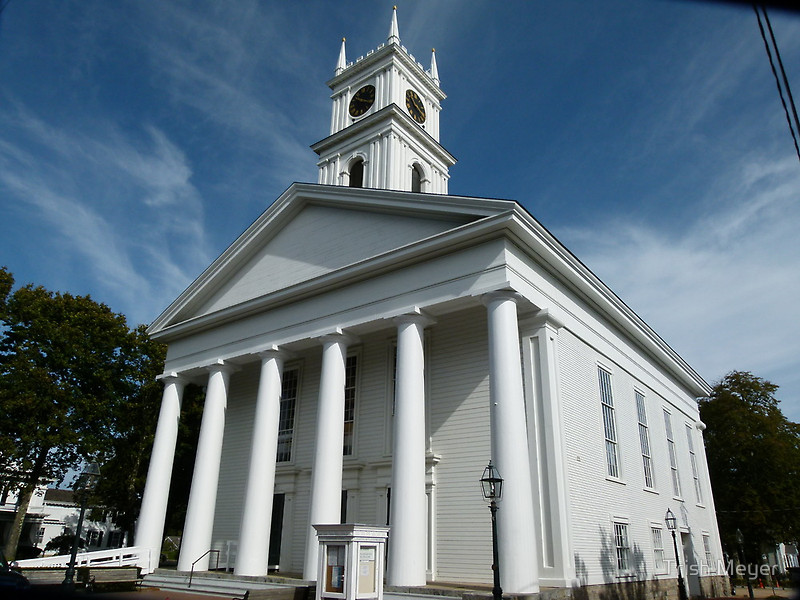 The Whaling Church of Edgartown, Massachusetts
Photo used by permission of Patricia ("Trish") Meyer
As autumn tenderly gives a reprieve from a week of icy overtures that have prophesized winter's entrance, a gentle community gathers in history's architecture. Autumn segues into her next residence. Christmas prepares. The Whaling Church on Martha's Vineyard once again hosts textured voices rising from the hearts of good citizens who wish to jubilantly sing of the approaching season of light and harmony. And so on this Sunday afternoon, sing they did as the denizens of this small island off the coast of New England inhale the eternal echoes of choirs that have merged into Edgartown's harmony.
Outside day dances with tides of evening, gradually giving up its territory. Light smiles through long Greek Revival windows to form halos over the heads of several chorus members. They are unaware of their temporary ascension. These circles of light happily situated at the close of the sun's travail will soon disappear as the music slowly raises the foundation and heart of each attentive soul.
Young old, healthy, infirmed -- they have all made their way to the great Whaling Church in the center of town.
Singing begins. We come to an uncommon arrangement of "Ave Maria," now a textured meditation on the divine mother as the 19th-century Simmons and Fisher pipe organ feeds the deep current that grounds the sweetness radiating from the stage.
As evening envelops Victorian architecture, white Christmas lights awaken on the fir trees growing across from the Whaling Church.
"Voces Lucis," a Latin incantation about light, pours from the sopranos, tenors, bass and lone cello setting down its deep, stylish line. How wonderful that such warmth fully embraces the listener.
The conductor oversees his delicate balance of voice, heart and tone, as he carefully plants an ember that grows within the collective soul attending this afternoon's performance. In between pieces he explains what comes next while we patiently wait for the next delicious serving. We wish his words would fly faster into the ether. We await choral music. Exquisite sound melodiously sails into space; a silk sheath graciously settles upon the breath of this elegant church. We inhale splendid colors, exhale the troubles of our day. Friend, neighbor perform, listen. We are transformed by this moment when we can relax under a cascade of loving, tender waves. We are bathed by our co-conspirators who have worked hard to be on the classic stage before us, rehearsed for months in order that we may touch their offering. We are thus able to suspend our building, fishing, teaching, caregiving, health struggles. And so much more. We merge with joy.
The earlier quotidian conflicts that entered the grand Whaling Church are waiting in the cloakroom in the fabric of lives now soothed by the musical souls resonating with all that is gracious and lovely. It is a celestial evening in an infinite moment echoing through the halls of history. Whaling chants are smiling. A captain's spirit dances in the aisle.
When the concert ends, we stand, we are happy, we cheer and yell, "Bravo!" The street is dark. A cinder of light fused carefully in each soul provides the tone needed to find our way home.