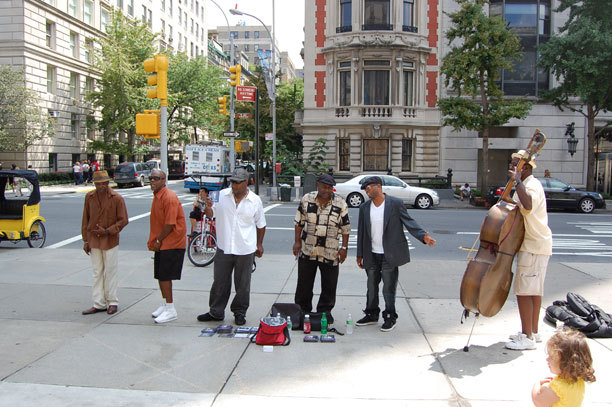 Acapella Soul Photo by Nick Broad
www.thebuskingproject.com
One mid-summer day, sun bestows his blessing upon New York City concrete and its denizens as harmonics sail through my soul while walking to the Metropolitan Museum of Art. I am to meet a friend who hasn't graced my presence for several weeks. I know that Picasso is residing within neoclassical forms that grace Fifth Avenue. His body is gone. His paintings sing eternal. Picasso opened the door to the 20th century.
I sense that Gertrude Stein is tapping her foot while dominating the room, the City of Light, Picasso's canvas. I open my ears to see afternoon sparks and come upon a group singing doo-wop songs, without amplification, with just a bass to keep them grounded. It is their harmony which flies and glistens in the gold light surrounding the Met. Duke of Earl is my introduction to this group of 5 men who call themselves Acapella Soul. Pablo P is visiting the scene, a cool cat snapping his fingers. Mr. P has changed since his passing. Less edge. His Three Bathers Reclining by the Shore have emerged from their sandy terrain to sit with me on the steps of the Met. It is a New York afternoon.
We all drape ourselves across the steps cascading from magnificent columns and at the root of rock and roll. It's enough to make me want to find the finest echo chamber in all of the five boroughs deep within the wells of our subway system and sing. Doo-wop started in the early 50's. Long before instant communication it was a spontaneous combustion; a national phenomenon. New York, Detroit, Philadelphia, Chicago, Los Angeles, to name a few, all drank from the same harmonic bowl; kids would rush from their schools to various caverns in order to vibrate sweet chords. Democracy blooms. You didn't need anything other than your soul to signal to humans of every shape, size and national origin. In New York a conflagration started on street corners in the Bronx, Brooklyn, Queens, Staten Island and Manhattan. That fire was doo-wop. In school, one would disappear and reappear in the best echo hall in the building, a boys or girls "rest" room, and wail. There were no garages in urban life, just toilets and subways in which to harmonize, synchronize, fly.
In a moment when our national pastime seems to be demonizing those who are "different" than "us," we might want to look to New York City, which inhales different. With each breath, a grand design beautifully unfolds. On those steps as Picasso waves his paint in a ghostly dance are people who embody our global village. We are young, old, happy, miserable, all citizens of doo-wop. We come from Asia, Africa, Europe, Australia, 7 seas and more. We are New Yorkers grooving to Acapella Soul. These five gentlemen sweeten our lives. They resonate our spirit on Fifth Avenue, in front of an art palace. Gertie Stein stands and asks Mr. P to come back inside to finish her portrait. Alice B. flies into view reaching out to Gertrude, her love, so they may twirl and swirl. With each revolution Alice slings her well-intentioned brownies throughout the giggling crowd waving to the sparse clouds that have stopped to lend contrast to this brilliantly lit soundtrack.
As Danny and the Juniors once sang, "Rock & Roll is here to stay, it will never die" and neither will Acapella Soul who endows New York with rhythm, blues and love.
My friend has arrived. We kiss, float down the street buoyed by a pure tone.
You may contact Acapella Soul at accadarryl@yahoo.com. To learn more about the group, you may go to Nick Broad's interview of Acapella Soul by clicking here.