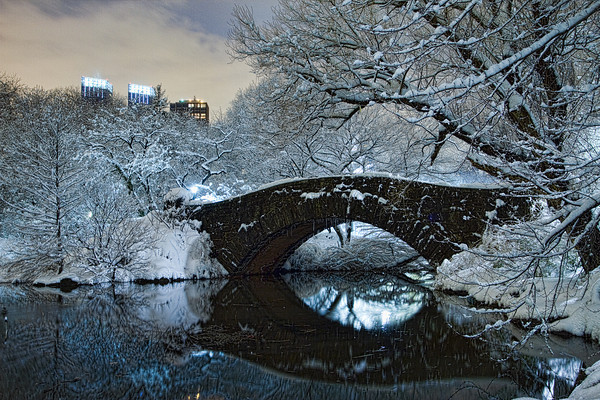 Gapstow Bridge by Cal Vornberger
(www.nycphotonews.com)
used by permission
Gold, red, green fade from the park central to our lives in New York City. Autumn has fallen revealing thin, naked, sculptured timber lines that grace the sky. As New York City shimmers with excitement; as orchestras are lit, theatres explode with spidermen and nannies; and as sugar plum fairies go wild in electric streets; Central Park contemplates quiet elegance arising from her frozen tundra. It is the solstice. The longest night has overtaken day ruling the air.
Throughout cityscapes merchant windows play to the crowds whose eyes and mouths remain agape, while within an oasis nature's denizens silently gather their proverbial acorns so they may confidently inhale the icy night air.
Winter majestically enters, making his presence known with oblique light bestowed upon a peaceful land set in the middle of sparkle. Silver linden, evergreen and spruce are the benevolent guardians in this season of soft shadow. Their cousins are brightly adorned in homes, grand plazas pretending to keep darkness at bay. On this solstice, however, Diana is fully engaged as she reveals her eternal glorious reflection so we may see every rock and crevice on her foreboding surface. Central Park's icy, snowy hills, ravines and meadows are illuminated.
Invited by Beethoven's commanding visage overlooking the mall, Handel wafts above Harlem's Meer tuning nature's conservatory on his way to Bethesda's angelic waters. Handel raises his baton, the angel clears her throat and Beethoven slowly turns to heaven. A chorus of Hallelujah imbues each leaf, blade of grass, creature far and near. A cornucopia of trees sway with Diana's breeze, their roots key into life. Angel's frozen waters join in the celebration, refracting snowy, swirling light.
Further south at the zoo, the night creatures' dreams take a decidedly joyous turn. Sea lions, pandas and bears, monkeys and goats alike clear their gaze as delight enters their realm. While New York City shops, the park stops to welcome winter's glacial night.
Diana smiles. She is weaving her curtain, dancing with celestial bodies. With each turn the fabric grows. And grows until a black, diaphanous divine curtain gently falls upon the breath of New York City - Central Park. Diana plays hide and seek with Apollo, moving behind Earth's modest profile. Her reflection is eclipsed. In the heart of the longest, darkest night of the year, the cloth softly wraps living contours. It is laced with black pearls. On nature's fringe stand giant dolmen lit from within. They are graceful witnesses on Avenues 5 and West, South and North.
Penumbra, umbra, mambo!
Into this landscape wanders Jack, now 28 years old. He seeks to regain his first love, Jill who he kissed on a boulder in Central Park during summer's final gasp on the Fall Equinox. He has not seen her since they both ran into the future, beginning their lives. In the distance he sees whom he believes to be his true love standing atop Belvedere Castle. As he draws near, Jill yearns. He climbs Vista Rock and finally stands before her. Jack and Jill, a silhouette underneath a red moon. Promises are sworn; devotion follows for better or worse.
After some time the black pearl curtain slowly ascends. In a time of great stress when many find it difficult to live, when disease and killing grounds reign, Diana, Apollo and our Earth bestow upon us a gift of profound silence this Winter solstice. Deep within that hush wrapped by a warm shadow nature creates a new plan; a future infused with light.