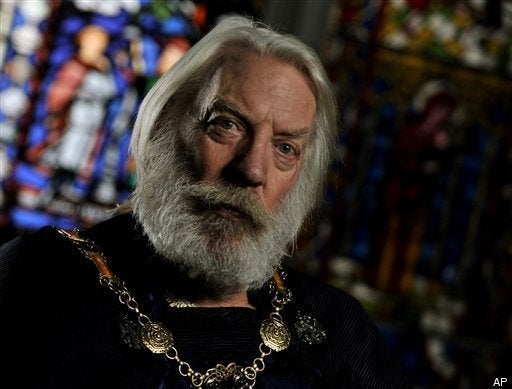 There hasn't been a quality mini-series in some time now. There have been shows like The Tudors but those have been series rather than valid mini-series. Starz' Pillars of the Earth is a true blue, full blown mini-series in every sense of the word. It is based on a popular novel, it has a limited running time (eight hours), and it has a cast of excellent actors with at least one breakout star -- Eddie Redmayne.
Ken Follett wrote Pillars of the Earth back in the eighties and it was an immediate success, though its length was daunting at over nine hundred pages. Still its cast of characters fascinated readers and made them long for a day when the book would be brought to the screen. Movie adaptations were discussed but nothing positive happened until now. Movie giants Tony Scott and Ridley Scott along with several others have produced a full telling of the story and it takes eight hours to get it all on the screen.
The story basically concerns a massive ambition by a priest to build a cathedral to honor God. Prior Phillip (Matthew MacFadyen) hires master builder Tom (Rufus Sewell) to create a distinctive cathedrall. The building of this cathedral takes years and years but Tom and his son Alfred (Liam Garrigan), along with a young man named Jack (Redmayne), are determined it will be finished.
Meanwhile there is a war in England caused by claims to the throne. Both Maud (Alison Pill) and Stephen (Tony Curran) claim the throne. Bartholomew, the Earl of Shiring (Donald Sutherland) sides with Maude which places his family in jeopardy. His daughter Aliena (Hayley Atwell) has already outraged the powerful Hamleigh family by turning down their son Richard (Sam Claflin) as a potential husband. His mother Regan (Sarah Parish) has high ambitions for her son and an alliance with Aliena would have added to his stature.
Over the course of the eight hours these people will intertwine their stories. It will be a mixture of romance, intrigue, church politics and family feuds. More than that, it will all be fascinating to watch. Follett wrote a complex and stirring novel and it has been turned into a complex and stirring TV drama.
Redmayne makes the biggest impression as the heroic Jack but he is given stiff competition by Ian McShane as Waleran Bigod, an official of the Church, and Parish as the power hungry Regan. McShane plays Waleran as half evil and half crazy while Parish makes her role as Regan a study in motherly obsession.
The characters, the turbulent times, and the battle between the citizenry and the church all combine to make this must see entertainment. The first two hours of the mini-series are playing this week on Starz, with new one hour episodes to be shown on July 30, August 6, August 13 and August 20. On August 27 there will be a two hour conclusion to the story. Since this is a cable show there is violence and nudity in the program.
Having watched all eight hours of the series I can assure you it is worth your time. When the last segment has been shown you will feel a sense of loss as to the continuation of the story. But cheer up, it has been rumored World Without End, Follet's sequel of sorts to this book, will be filmed as another mini-series next year. If it is as good as this adaptation then we truly do have a television event to look forward to in 2011.