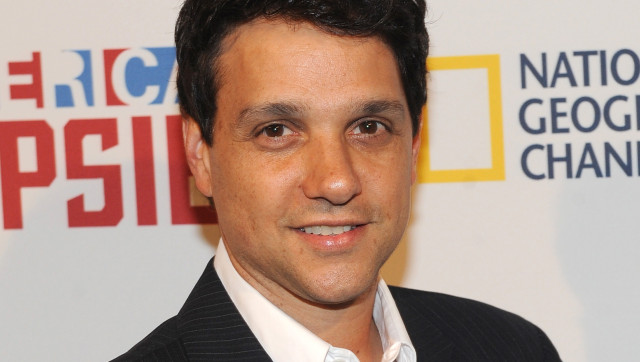 First it was David Hasselhoff and now it is Ralph Macchio. Lifetime is really bringing the golden oldies home for the holidays. Hasselhoff starred in The Christmas Consultant last week for Lifetime and this week Macchio stars in Holiday Spin, another family film for the holidays.
Macchio's movie plays more like a Disney Channel offering as it highlights young stars Garrett Clayton and Allie Bertram. Macchio and Karen Olivo have the "older" roles. The story centers on Blake (Clayton), a seventeen year old-young man who is interested in mixed martial arts fighting. His mother Roxy (Elena Eleniak) wishes he would spend more time with her at her dance studio.
Through a series of events Blake ends up having to spend the holidays with his estranged father Ruben (Macchio) who lives in Miami with his fiancé Emily (Olivo). Ruben deserted Blake and his mother when Blake was a little boy. Now he is trying to make amends and it just isn't working. Things are complicated by Pia (Bertram) also living with them. She is dance instructor Ruben's latest prodigy and his greatest hope for winning a dance contest called Holiday Spin.
All of this plays out likeDirty Dancing meets Dancing With the Stars. Clayton and Bertram are attractive young people who can really move. They also create a believable relationship. As long as the movie focuses on them it is more enjoyable. When it delves into the relationship between Blake and his father it is less so.
Clayton is a real find. If there are any young girls who watch this movie they will be more than thrilled with him and his performance. At times he seems to be a fish out of water in this slipshod production. He is much better than the material that he is offered. Bertram is a more talented dancer than actress still her scenes with Clayton have a believability about them.
Macchio appears on the verge of tears throughout the story. Maybe he is just shooting for sincerity but it comes off as maudlin. He does however show he learned a few good dance moves during his stint on Dancing With the Stars. Olivo's talent is wasted in a nothing role. Eleniak is so bright and appealing that viewers wish she had a bigger part.
Overall the film is just passable entertainment for the holiday season. Macchio is back but it is young Garrett Clayton who leaves the biggest impression.
Holiday Spin airs at 9 p.m., Sunday, November 18 on Lifetime.
Jackie K Cooper
www.jackiekcooper.com