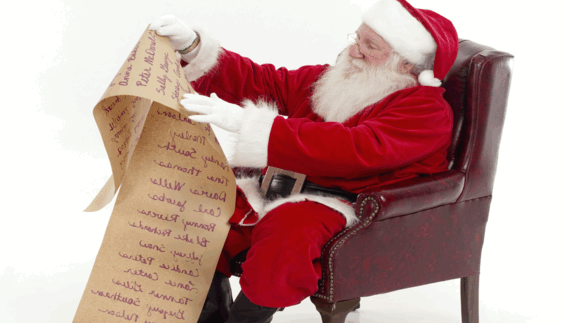 In the spirit of the holidays, we're making out our list, checking it twice, and finding out what is naughty and nice when it comes to growing your business. Our "naughty" list consists of a few things that hamper or stall business growth, where as our "nice" list contains ideas and concepts that encourage business growth. Are you ready to find out which list your business is on?

The Small Business Entrepreneur's Naughty List
It's a rare business owner that doesn't want to grow their business in some fashion. Unfortunately, most small business owners are so busy working "in" their business that it's difficult to identify indicators of diminished growth...until the lack of growth creates a major pain point in the business. Here are just a few items destined to create mischief in your business growth plans:
Lack of planning and, subsequently, clarity and direction
Absent strategic plan (and goals)
Doing the same thing as you did last year and expecting different results
Clients that don't fit your ideal client profile
Under earning
Lack of timely follow-up
Unclear brand
Outdated marketing collaterals
Multitasking
Desperation
Poor or absent billing practices which allow invoices to go unpaid
The Small Business Entrepreneur's Nice List
There's a cost each entrepreneur pays for doing business in today's marketplace. There is an emotional, physical, financial, and spiritually price paid for the success you achieve. To maximize the return on your valuable investment of time, money, and energy, make sure these items appear on your "nice" list:
Implement strategic planning
Transform the way you think (and conduct) your business
Take a quantum leap
Work ONLY with your ideal clients
Slow down in order to be thoughtful about your strategic execution
Eliminate 15% of your clients to allow for those who are a better fit to find you
Implement an Inbound Marketing strategy
Take time to rest and rejuvenate
Hire strategic service providers and staffing for the company you intend to become
Work your best hours
Provide the unexpected to your clients
Remain relevant
Demonstrate gratitude
Establish value-based goals
The Gift That Keeps Giving
What does every entrepreneur want to find under his or her Christmas tree more than anything else? Without exception, small business entrepreneurs want to open the gift of business growth that lasts through good times and bad. Rest assured! Business growth materializes when your "nice" list is longer than your "naughty"!
Our wish for you this holiday season? Increasingly greater amounts of "nice" in the upcoming year!
The Small Business Entrepreneur's Naughty and Nice List for Business Growth first appeared on Synnovatia.
Let's connect: Linkedin | Twitter | Facebook | Google +