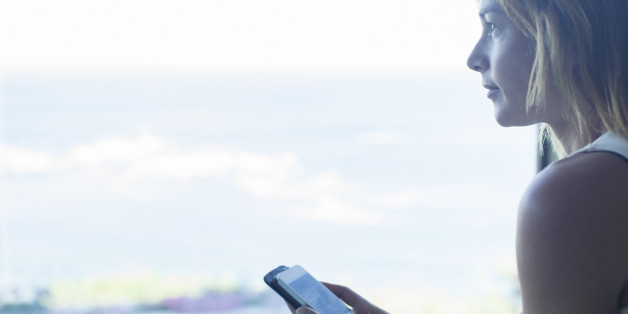 Amongst friends and family, I am considered one of those "phone people." My iPhone is often glued to my hand given my line of work -- online marketing and social media. These days, being a "phone" person is common. We have all either been -- or witnessed people -- ignoring the sights and sounds around them, mesmerized by a handheld, florescent 320 x 480 screen.
This past September, I vowed to stop being engulfed in my iPhone. However, I didn't realize this ability to instantly connect would become a blessing in disguise. Monday, September 1, 2014 I received a text from my best friend of 19 years, Darcie. "I am in the hospital, they are going to transport me to Fairfax, the doctors think I have Leukemia."
 
Weeks prior, Darcie had text messaged me a photo of her dream home located in a private neighborhood, enclosed by a huge backyard filled with tall trees. The dream home with the brick exterior, flower beds and a gourmet kitchen fit for a Food Network chef. The dream home that she and her husband had worked so hard for and just closed on. As a family of four with two small kids and dogs, they had outgrown their cramped townhouse and were excited to move. She hadn't even been living there a few weeks before entering the ER.
 
"Leukemia," I thought to myself. This is a mistake. I had just visited Darcie in July. How, in less than three months time, did Leukemia enter into this equation? That day, I was never so happy to have my iPhone near. To respond with words of assurance. To be that familiar, albeit distant, face for a friend on the other end of a fluorescent cell phone screen. 
I imagined how scared she must have felt processing the news. I needed to respond. My fingers took over and the following came up on the screen: "I love you and I promise -- I am only a phone call or text away."
 
Sure enough, the doctor's thoughts were confirmed. Darcie did have Leukemia, Acute Myeloid Leukemia at that.
 
A few days later, I began traveling yet morning, noon and night, Darcie and I exchanged calls, texts, emails. "I'm just so scared," she would say. She would confide in me her fears of dying and the sadness that came along with not being able to see her children. I didn't have the heart to tell her that I was scared, too. I often reminded her that, as fate would have it, I would be swinging by the east coast after my travels to Europe and would visit her in the hospital first thing. 
She started Chemotherapy on September 4th, the day she was officially diagnosed. And that's when it hit me. "My best friend has cancer." 
 
A few days of silence passed between our phones. I tried not to think the worst. Every time my iPhone buzzed, I would check my messages to see if it was her. But it wasn't. The chemotherapy hit her hard and she was bedridden and very ill.
 
On September 6th, I boarded a flight to Paris. Here I was, five days away from my 33rd birthday, about to go on the trip of a lifetime while my best friend, also 33, was in a hospital fighting for her life. That realization stung and for the first time since this started, I began to cry. I reached out to Darcie once more via text. And finally got a response.
As I stepped on the plane, I started to panic. I wouldn't have cell service while I was abroad. I didn't want to disconnect from Darcie.
Eight hours after flight took off, my reward was instant wifi in Charles De Gaulle Airport. While text messaging didn't work, iMessaging did, which meant we could stay connected -- even with the Atlantic Ocean spanning thousands of miles between us. "Just landed," I wrote. "FYI, my phone is working." 
 
And here's the funny thing about connection. It's not just our phones that allow us to remain in sync with another person. Every time I thought of Darcie while I was abroad, within minutes I would get an iMessage or email from her. In a day in age where technology can be so invasive, I welcomed the accessibility. In a day and age where technology can "connect us," nothing could trump the connection of being on the same wavelength as my best friend. 
 
The clock struck midnight on my birthday. And the first message I received was from Darcie. By this point, we had started using emojis of hearts, friends holding hands and smiley faces to give our messages a little flair. By this point, our connection lead to launching a fundraiser for Darcie's medical bills using social media which lead to reconnecting with people from our high school, some we hadn't talked to or seen in over 15 years which lead to my friends in Los Angeles donating and rallying for Darcie. Here I was in Europe, miles away from all of these people but 100 percent connected to them by way of iPhone. 
 
On September 17th, I walked into the hospital to see Darcie for the first time since her diagnosis. I was thankful to see her smile, to see her eyes light up and to see her iPhone, plugged in and charging next to her bedside. She didn't hesitate to tell me how texts, emails even messages from the fundraising site pulled her through some of her darkest hours.  
 
I never understood the true power and impact of technology and connectivity until my friend was alone in a hospital dealing with a life altering cancer diagnosis and I was all the way on the other side of the world helping her to cope. There, in her bed, isolated and quarantined from her loved ones, technology gave her comfort, it gave her hope.
Whether it's cancer or something else, technology ensures there is always someone on the other end of the line that we can reach out to.