Below is a collection of videos I have curated for December 21, 2012 inspiration. Very special thanks to the team at Unify, who will be streaming events live from all over the world at their website: www.unify.org.
Please don't forget that there is a world-wide synchronized meditation, prayer and moment of silence happening at 11:11am GMT and 8PM GMT, there is a map below to help you figure out what time that will be in your timezone.
It is beautiful to see such an outpouring of love. You can learn more about how these many separate events converged into this one global expression of hope by reading 26 Acts, Three Days of Love, Unify to Change The World.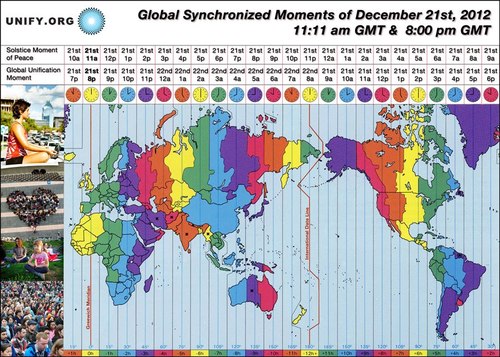 Unify Prophecy, created by The Unify Team with Adil Kassam, and Elizabeth Ray. If you'd like to read the article that accompanies this video, click here:

UNIFY Prophecy from Unify Media on Vimeo.
Unify Around the World December 21, 2012. This video accompanies Unify Jerusalem and Other Reasons to Celebrate 12-21-2012:

UNIFY from Unify Media on Vimeo.
Declaration of Interdependence, By Tiffany Shlain, Let it Ripple, and Moxie Institute:

A Declaration of Interdependence _ Heloptropic from Unify Media on Vimeo.
Neurons to Networks by Tiffany Shlain and Let it Ripple at The Moxie Institute. If you'd like to read the article that accompanies this video, click here:
Russel Simmons for Birth 2012 and Three Days of Love:
MC Yogi:
Sadhguru: