In this week's episode of The Future of Work podcast I talk with Pat Wadors, Senior Vice President of Global Talent Organization at LinkedIn. Pat runs all of talent and Human Resources (HR), and she is pretty much responsible for all of the cool things that you keep hearing about LinkedIn. It is no surprise that Pat was ranked as one of the 2015 top 50 women in technology by the National Diversity Council. And, I'm excited to say that Pat will be one of the speakers at our upcoming Future of Work Forum on April 29th in San Francisco. Pat and I talk about everything from Millenials and how HR is changing to what she is doing to leverage big data and analytics to drive HR decision-making. She also shares some great stories about vulnerability that I think will resonate with any senior leader. Considering that LinkedIn's workforce has almost doubled during her tenure, you have to assume that Pat is doing some really interesting things to make sure that culture can scale, employee engagement stays high, and that LinkedIn as an organization can succeed. Pat walks us through how LinkedIn is transforming and the challenges she's facing, and gives us a rare insight into some of the fascinating experiments she's done and the results she's seen. Pat shares her sagacious grasp of how to make corporate culture scale, how the role of HR is evolving, and how she sees her role, specifically. Tune in and listen to what has become one of my favorite episodes!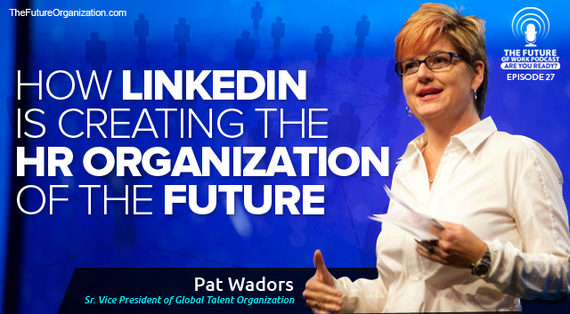 How LinkedIn is Creating the HR Organization of The Future
Jacob Morgan is a futurist, best-selling author and keynote speaker, learn more by visiting The Future Organization.com or check out his latest book,"The Future of Work: Attract New Talent, Build Better Leaders and Create a Competitive Organization," on Amazon.