The world as we know it is becoming more and more connected. But, what will a world look like when devices as small as your watch to as large as a jet engine are all connected to each other and to people? In this episode of the future of work podcast, I speak with Rich Carpenter who is the Chief of Strategy for GE in their Intelligent Platforms division. Rich shares fascinating insight around how connected machines (usually very large machines) and devices are going to impact our economy, our jobs, and our future. He shares several examples and provides some great advice for business leaders and employees alike. Rich also touches on the importance of creating more data scientist jobs at companies around the world. This is definitely an interesting look at what the "industrial internet" is going to look like, we even touch on the possibility of a Skynet-like scenario happening! Listen to learn more!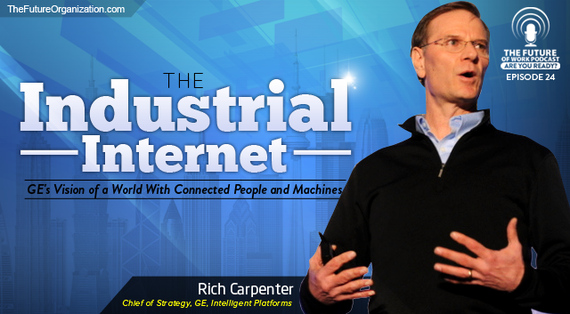 The Industrial Internet: GE's Vision of a World With Connected People And Machines
Jacob Morgan is a futurist, best-selling author and keynote speaker, learn more by visiting The Future Organization.com or check out his latest book,"The Future of Work: Attract New Talent, Build Better Leaders and Create a Competitive Organization," on Amazon.