In this episode of the Future of Work podcast my guest is Jeffrey Rodman, the co-founder of Polycom. Many of you are familiar with Polycom and, in fact, have used their products. They became famous for their speaker phones found in the conference rooms of most organizations. Jeff and I talk about the role of technology in collaboration. It's no secret that technology is obviously one of the biggest driving factors that is enabling collaboration today. It's a topic covered in my first book, The Collaborative Organization; and is also explored in my new book, The Future of Work. Collaboration is a huge theme ─ one that organizations are continuously spending more time and resources investing in. In this episode, Jeff and I explore many topics including differences in collaboration between smaller and larger organizations; and the concept of office space and do we still need offices. We cover Millennials, freelancers and the contingent workforce; and how collaboration plays a role in connecting these different types of employees. We also talk the about challenges associated with collaboration. And, Jeff takes us through some of the cool technologies that he's working on at Polycom. We conclude with Jeff's advice to organizations, managers and employees who are looking to improve collaboration within their organization. Tune in for a great discussion With Jeff Rodman on the role of technology in collaboration!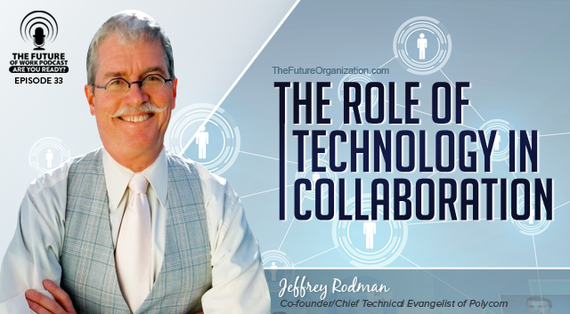 The Role of Technology in Collaboration
Jacob Morgan is a futurist, best-selling author and keynote speaker, learn more by visiting The Future Organization.com or check out his latest book,"The Future of Work: Attract New Talent, Build Better Leaders and Create a Competitive Organization," on Amazon.