This episode continues my interview with Bob Chapman, CEO of Barry-Wehmiller Companies, Inc., a manufacturing company with over 8,000 employees. In the last episode we became familiar with Barry-Wehmiller; and how Bob feels personally responsible for every employee that works at his company, how this perspective came about, the justifications and metrics. In this episode we talk about c leadership and management. In a very interesting discussion, Bob shares some of the creative and innovative things that he and his company are doing to really create a workplace where people feel fulfilled and engaged -- and where they actually want to show up. It is all about his idea of "truly human leadership." Tune in and listen to Part 2 of this lively discussion!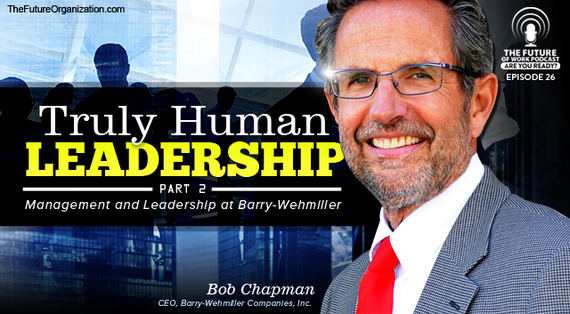 Truly Human Leadership-Part 2: Management and Leadership at Barry-Wehmiller
Jacob Morgan is a futurist, best-selling author and keynote speaker, learn more by visiting The Future Organization.com or check out his latest book,"The Future of Work: Attract New Talent, Build Better Leaders and Create a Competitive Organization," on Amazon.