More and more I've become fascinated with architects' alternative forms of creative expression, those lying outside the boundaries of their core work. Just a month ago, I wrote of a similar departure, Rafel Viñoly Takes The Stage, on Vinoly's passion for set design - further referencing the creative accomplishments of architects Le Corbusier, Rockwell, Calatrava and others.
More recently, I was privileged to spend some time with A. Eugene Kohn, Chairman of Kohn Pedersen Fox Associates (KPF), who proudly exhibited his watercolors at an exhibition in Hong Kong, ending on October 14. The proceeds from the works sold were donated to Memorial Sloan‐Kettering Cancer Center and Cancer Research at the University of Michigan.
I'll possibly receive criticism for stating this, but I suspect our greatest architects to date -- let's recall the exalted Michelangelo and da Vinci to provide historical examples -- are those that maintained other passions. Like most things in life, balance adds perspective. And I sense this may be true with Kohn, who represents a very special breed of architect.
Respectfully, age provides Kohn clarity. His legacy is incomparably far-reaching, a result of an outlook shaped by nearly fifty years of practice, following an education that includes studying under the likes of master architect Louis Kahn. Kohn has had a foot in modernism, post-modernism, and whatever we're currently living through now. He admits that Sir Norman Foster is one of the contemporary architects that he admires most, but his short-list is in fact quite extensive, with names of colleagues and professionals, many of whom he regards as close friends. He has a sharp, dry sense of humor and is genuinely interested in discourse and sharing his knowledge. After ninety minutes together, Kohn reached for the trace paper to sketch varying typologies of skyscrapers. I suppose this is a good time to emphasize that KPF is designing a handful of today's tallest buildings currently under construction, the most iconic of which is likely the Shanghai World Financial Center.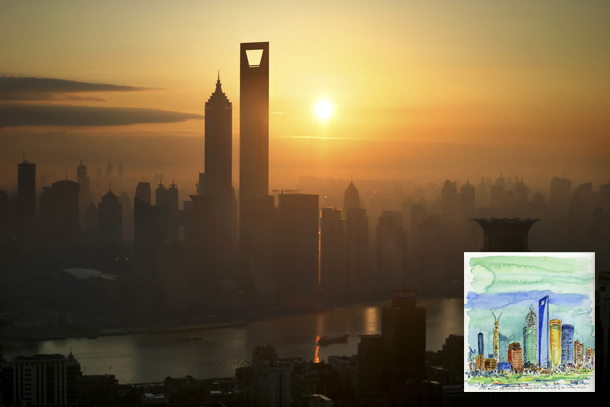 Shanghai World Financial Center. Photo courtesy of Mori Building.
Kohn's watercolours possess a similar charm and charisma to Kohn himself. He paints for the joy of painting rather than an interest in ever being classified as an artist. Perhaps it's this sense of liberty that attracts him to the canvas. Kohn emphasizes that he enjoys the spontaneity and immediate gratification of painting, whereas with buildings, the end-output is typically not completed for many years. Further, watercolour as a medium precludes the artist from re-tracing brush strokes, thus again accentuating the true findings of the artist within a precise stretch of time. In my opinion, for these reasons, there's a sense of authenticity that's captured in Kohn's watercolors. As one views his work, it's as if Kohn is sharing a tid-bit of information, sometimes simple observations, whereas other times more robust observations, both of which equally profound and true. I question whether his paintings may possibly put forward more substantial commentary than his buildings, which undergo greater scrutiny by colleagues and clients.
The watercolors Kohn paints are predominantly grouped into three themes: the city, the countryside, and the convergence of the city and countryside—the abstraction. Those that know Kohn would probably recognize that many of his own viewpoints about urbanism are implanted within all three groupings. Kohn is a true believer in the skyscraper as the future of the city and claims that as we continue to populate the globe and saturate the city, there's no choice but to build higher. Tall buildings, in Kohn's opinion, will facilitate the inclusion of green space in the city as well as increase the opportunity for "calm" amidst the countryside.
Please enjoy this four minute video in which Kohn discusses select pieces and helps convey his long-standing thesis that "super tall buildings" will serve as the necessary building archetype of the future.
-
Jacob Slevin is the CEO of DesignerPages.com and the Publisher of 3rings.