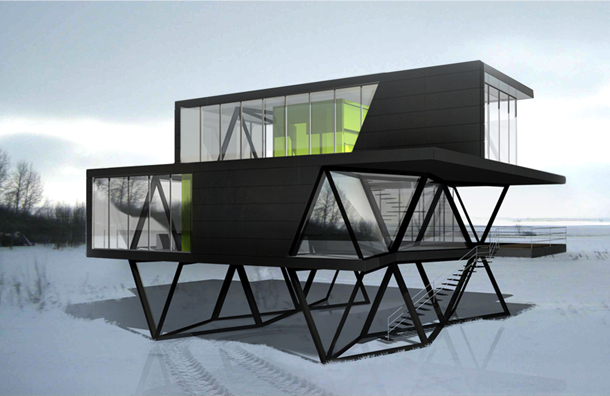 QuaDror Home - QD 01. Photo courtesy of Dror.
A better world through creativity. Sounds good. Right? I didn't write that, but rather it's the tagline for Design Indaba, currently underway In Cape Town, South Africa. One of the major highlights will be the global unveiling of QuaDror by Dror Benshetrit, Principal of Dror, based in New York City.
I spent some time with the ever so likable Dror - his Israeli accent is quite charming - and here's what he had to share with readers.
Jacob Slevin: Please describe QuaDror in 140 characters or fewer.
Dror Benshetrit: QuaDror is a new space truss geometry that can adapt to various conditions and configurations.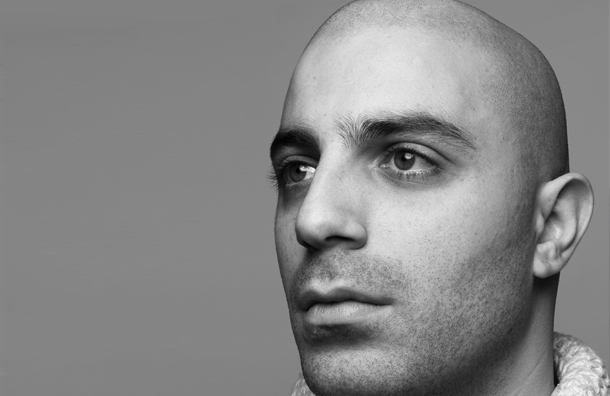 Dror Benshetrit. Photo courtesy of Dror.
Jacob Slevin: Very few designers have a portfolio of work quite as diverse as you. What do you think accounts for this?
Dror Benshetrit: Prior to Design, Art was the main medium through which I would communicate conceptual ideas and emotions. But I was always fascinated by Physics. I started doing Art and taking Art classes at a young age. My father was a mechanic and my mom was a midwife and a make-up artist. We were living in Israel, in the late 70's - early 80's. This childhood environment and my parents influenced my desire to understand and utilize the essential. As a kid, I was inspired by Paul Gauguin and Rodin. Later on I was very interested in the school of Abstract geometry with Malevich and Mondrian. When I started to explore Design, I discovered the work of Noguchi, Achille Castiglioni and Buckminster Fuller, which deeply influenced my work and perspective of it.
I have always been interested in innovation but I was never able to find innovation inside of disciplinary boundaries. To me thinking outside the box means; crossing disciplines and pulling in expertise and perspective from outside of the standard boundaries. Sometimes I find myself exploring very different and new fields but I have a very clear vision of what I would like to do and the questions I would like to raise.
Jacob Slevin: How did QuaDror first emerge? When did the light bulb go off, how, and why?
Dror Benshetrit: The Story of QuaDror started in 2006. When experimenting in the workshop, I discovered a serendipitous geometry. Initially inspired by the aesthetic and flexibility of its versatile form, I soon realized the structural integrity of the interlocking members. The space truss geometry (that I then named QuaDror) is made from the assembly of four identical L-shaped pieces, either thin resulting in a trestle structure, or thick resulting in a solid panel. The collapsible system allows for rapid assembly and a transition from closed and flat to open and self-standing.
Little did I know this day that I was embarking on four years of inspired and diligent investigations, working in a collaborative and experimental environment. A wonderful team of collaborators and consultants gathered around the research and development work of QuaDror, including Metalab, Structural Engineer at Arup, Stuart Brodie from Inneall Technology Limited.
Together, we were able to develop a unique structure that can adapt to various conditions and configurations. The applications range from product design, trestle structures, dwellings, dividing walls, sound barriers, and more. Some applications take advantage of the load-bearing capabilities of the structural support system, while others capitalize on its acoustic properties, ease of manufacturing, collapsibility and energy performance. The studio conducted inter-disciplinary research and analysis with experts of various fields. We soon discovered the overwhelming strength of the geometry coming from the most simplistic physical force. The geometry revealed five development direction for applications (each with endless possibilities); dividing, dwelling, trestle, fenestration and artistic installation. I find these enabled designs so reflective of an ever-changing world where contextual factors and technological resources are shifting definitions of architecture, design, and the traditional boundaries between disciplines.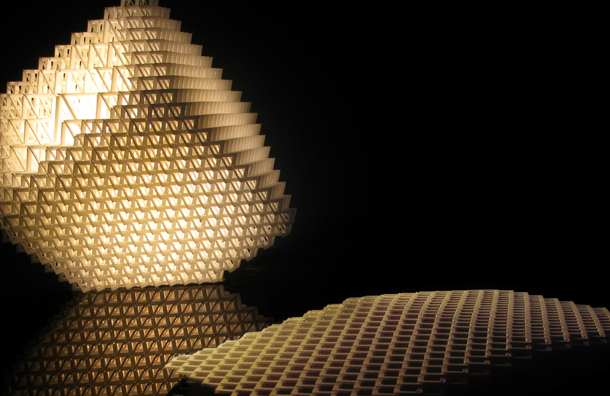 QuaDror Volume .MGX. Photo courtesy of Dror.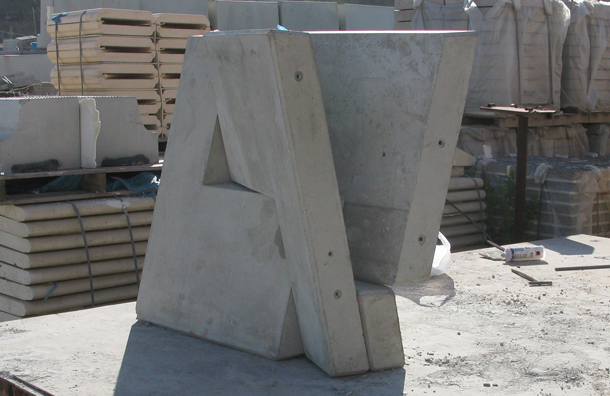 QuaDror Concrete Block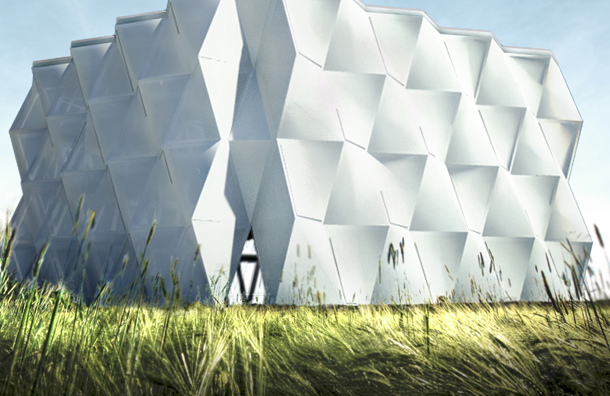 QuaDror PopUp Building
Jacob Slevin: QuaDror appears to be absent of any dependency on scale, but what application excites you most?
Dror Benshetrit: Our latest discovery is why I have chosen to share the geometry and make our study transparent; with the tremendous contribution of our collaborators and experts from various fields, we found that the strength of the geometry and the ease of construction can help millions of people to improve the structural strength of their dwelling. This made us want to share it with the world, rather than keep the geometry as a secretive experimentation at the studio. Ultimately, we could explore and study the possibilities and qualities of this geometry forever. We would like to pursue our research indeed, with help of not just those that we reach out to, but to others who may find it beneficial to their needs.
Jacob Slevin: Intellectual property in design is always a sensitive issue. What precisely are you protecting and why? Who do you intend using this system? What has the overall experience been like?
Dror Benshetrit: Over the last decade I have seen so many ideas getting no where. We have in one way followed the traditional idea protection path; we currently have several provisional patents. Simultaneously, we are taking a very proactive and technological approach by sharing a lot of ideas that are not in production yet. We trust that companies or philanthropic organizations will reach out to us and that we will work together to utilize this intellectual property.
Jacob Slevin: What's next for Dror?
Dror Benshetrit: The team and I are working on quit a lot, from luggage and bag collection to packaging projects, and furniture. We also have a few building commissions, not all of which use the QuaDror system. We are preparing for the Milan furniture fair in April and ICFF in May, but Quadror is our big focus.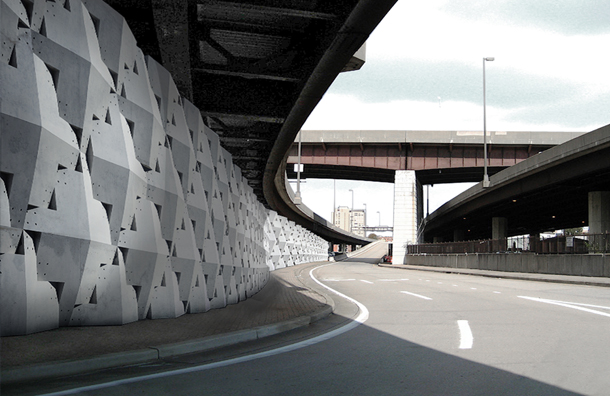 QuaDror Highway Barriers. Photo courtesy of Dror.
--
Jacob Slevin is the CEO of DesignerPages.com and the Publisher of 3rings.