It's that time of year again, when the commercial furnishings industry launches its newest products at the design expo, NeoCon. Last year, I assembled an article summarizing my favorite brands and products and included a first-ever blooper reel at the end of my summary. See NeoCon 2011 Unplugged. This year, I'm back with a vengeance to share highlights from 2012, but I'd like to change the order: fun first with this never-before seen NeoCon 2012 blooper reel.
Thank you Keilhauer, Camira Fabrics, Guilford of Maine, Chilewich, Mechoshade, DARRAN, Wieland, Davis Furniture, CF Group, Humanscale, KI, Allermuir, OFS Brands, Arcadia Contract, ergoErgo, and Interface.

Facts and Trends
After viewing these outtakes, it's probably difficult to believe that the 40,000+ NeoCon attendees include the world's most sophisticated architects and designers, specifically those that focus on commercial interiors. But it's the truth!
For this reason, it's a fabulous opportunity to analyze trending behavior in the industry, which often serves as a proxy for the economy at large and other leading vertical markets. Here are some findings I feel are particularly interesting.
Market Segments

22% of NeoCon attendees are currently working on a GSA project, 21% of are working on an Office project, 12% are working on an Education project, 11% on a Hospitality project, 10% on a Healthcare project, and 8% on a Retail project.
Magazines

Of the 28,000 attendees to participate in this survey, 39% read Interior Design Magazine, 26% read Contract Magazine, and 14% read Metropolis Magazine.
Media Consumption

Of the 15,000 attendees to participate in this survey, 46% consume content predominantly in a browser, 22% in print, 20% on a mobile phone, and 12% on a tablet.
Mobile Devices

Of the 31,000 attendees to participate in this survey, 47% use an iPhone, 20% use an Android, 16% use a Blackberry, and .04% use a Windows device.
I'm not an analyst nor economist, but my observations are as follows:
1. Private-sector construction as a percentage of total construction appears robust considering the state of our economy.

2. Without question, digital content consumption is no longer the future, but rather the present. More interesting, there are nearly more architects and designers consuming content on their mobile devices than in magazines.
3. Apple wins in just about every market it competes in. Keep in mind that the majority of design professionals are committed to Windows PCs because the industry's computer drafting standard, AutoDesk, was only available for Windows until very recently. And even that being the case, nearly 1 of every 2 architects or designers is using an iPhone. That's really quite profound.
Favorite Showroom
Stepping away from data for a moment, my favorite showroom goes to Teknion, photographed below. The newly expanded Michael Vanderbyl designed Teknion showroom reflected a thoughtfully clean aesthetic, or a "neutral envelope to display product", in Michael's own words. Vanderbyl talked to us about how this year's showroom expansion, and how the additional 2,800 square feet changed the space dramatically, helping it to become one of the most light filled spaces in the Mart.
The 2012 scheme makes use of a very large, louvered feature wall to conceal the unattractive light well at the center of the showroom (resulting in a donut-like space), while still letting light in. This feature wall serves as a backdrop for products in the showroom, and the white color palette puts the product design at the forefront, enabling products to exist in smaller installations without competing with one another (or with loud patterns). The inviting curves of the walls contrasted elegantly with the minimal, straight lines of Teknion's furniture, creating a visually dynamic respite from the bustling halls of the Merchandise Mart.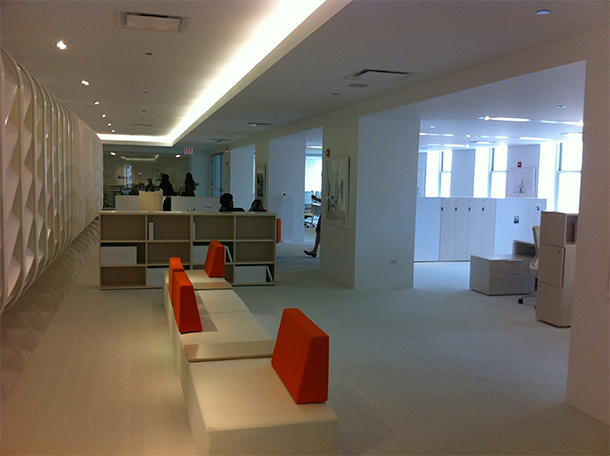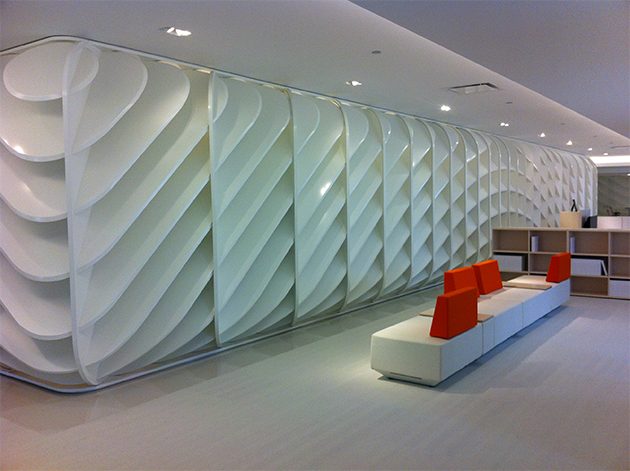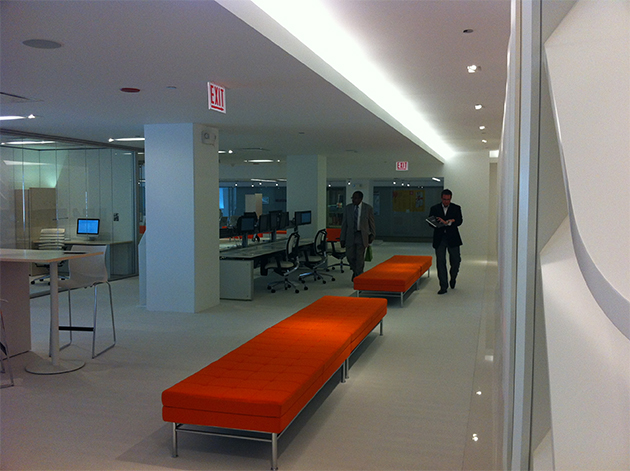 Favorite Products
And finally, below, I'd like to share my favorite product launches from 2012. Very special and out of the ordinary for the likes of NeoCon, I was inspired by ergoErgo. Barbara Bluestone, President at ergoErgo, describes the patented seating solution in this short video.
The Mohawk Group, one of the industry's leading commercial carpeting manufacturers, introduced State of Mind (inspired by D.I.Y. trends), an energetic, beautiful, gradient carpeting tile system. Chris Stulpin, Design and Development Director at The Mohawk Group, describes this new carpeting collection in this short video.
Canadian-based manufacturer, Keilhauer, showcased their new lounge seating collection, Talk. Martin Bergmann and Gernot Bohmann of EOOS, describe Talk in this short video.
Keilhauer: Martin Bergmann and Gernot Bohmann @ NeoCon 2012 from NeoCon.
And last, but certainly not least, Arcadia Contract sprinkled some West Coast fairy-dust with the new Domo Collection. Fun, bright, charged are just a few words that come to mind. David Logsdon, Director of Sales at Arcadia, describes how Domo gets work done.
Goodbye NeoCon 2012. See you next year.
-
Jacob Slevin is the CEO of DesignerPages.com and the Publisher of 3rings.