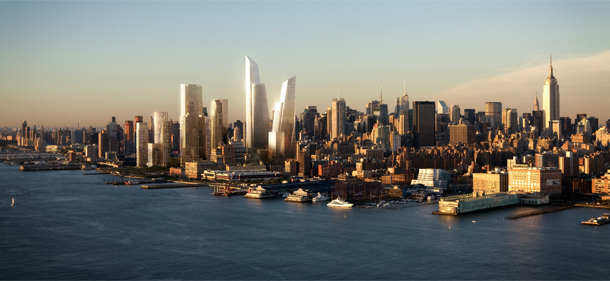 Hudson Yards. Image courtesy of Kohn Pedersen Fox.
The Huffington Post Arts page recently celebrated Design Thursdays with a special presentation from William Pedersen, Senior Design Partner at Kohn Pedersen Fox architects. Pedersen spoke about the Hudson Yards redevelopment project, which will transform Manhattan's western skyline.
It was a three prong evening. Kimberly Brooks, Kathleen Massara, Chris Vroom, and myself, along with artists Sanford Biggers, Todd Eberle, Mickalene Thomas, and Dustin Yellin hosted 60-80 special guests in the Sky Room of the New Museum, which overlooked downtown New York City. A series of photos were on view, courtesy of Artspace, whose mission is "to help collectors and aspiring collectors discover, learn about and collect fine art." All of the artists included in the evening have prints available through the site.
A couple looks at an Artspace work on view at the Sky Room.
Later on in the evening, Pedersen discussed his design for the Master Plan and first two towers for Hudson Yards in front of guests of the monthly IDNY event series. Kimberly Brooks moderated a Q&A session together with help from the audience, which consisted of fine artists, journalists, bloggers, and design fans eager to hear more from the esteemed architect. Below, enjoy video excerpts from Bill's fabulous presentation, which includes many visuals from the project.
IDNY @ New Museum: KPF Presents Hudson Yards from Designer Pages.
I managed to corner Bill for a short Q&A session of my own following his presentation, and wish to share his responses with readers.
Jacob Slevin: Briefly describe Hudson Yards.
William Pedersen: The rezoning of the Manhattan's Westside, from 42nd Street to 30th Street, brings about a new era in the urbanistic fulfillment of Manhattan. Looked at from a global perspective, it can be seen as New York's response to the dynamic urban transformations taking place around the world. It announces that New York still intends to be a leader in global urbanism. The heart of this future development occurs in Manhattan's most difficult place to build, directly over the MTA controlled train yards between 33rd Street and 31st Street. This vast wasteland, fronting on the Hudson River, will be transformed into a vibrant city within a city but not before an enormous platform is built above the trains which will enable their continued operation forever after.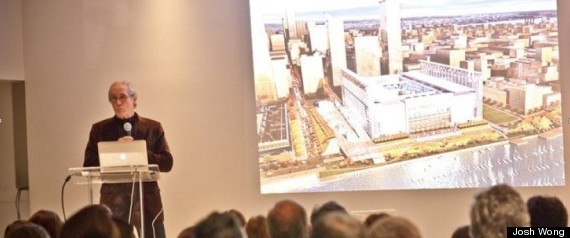 William Pedersen presents renderings of the Hudson Yards project.
Jacob Slevin: Given your long history studying the Hudson Yards and the West Side Highway, what architectural moment are you most excited to see realized in your scheme?
William Pedersen: The portion of Hudson Yards, which we are presently designing is analogous to Rockefeller Center around the skating rink. It is Hudson Yards' center of gravity. Two great buildings engage to heighten the urban vitality created by their interaction. Rather than confronting each other in a static, formal composition, they create a type of dance. From every perspective this dance appears to be in motion. The urban moment I most greatly anticipate is the energy of their interaction viewed from Manhattan's varied perspectives.
Jacob Slevin: Is there an urban environment or skyline that has influenced your approach and process with Hudson Yards?

William Pedersen: The world's cities offer an amazing diversity of skylines. Each has a picturesque relationship to the place and culture they identify. I have lived in New York City for over forty years. Familiarity sometimes obscures virtue. New York City has a remarkable skyline punctuated by intense moments in midtown and downtown. Each of these urban punctuations is unique in character. So too will be the third at Hudson Yards. While unlike anything in Manhattan presently, the vitality this new urban eruption at Hudson Yards is very much born of the city it will be a part of.
PHOTO GALLERY
NYC Celebrates HuffPost Arts' Design Thursdays at New Museum, March 2012
Beginning at 9:00pm, over 550 guests hit the dance floor of the New Museum Lobby with DJ Xenia Ghali mixing at the table.
Slideshow photos courtesy of Josh Wong.
Lecture sponsored by InterfaceFLOR.
---
Jacob Slevin is the CEO of DesignerPages.com and the Publisher of 3rings.