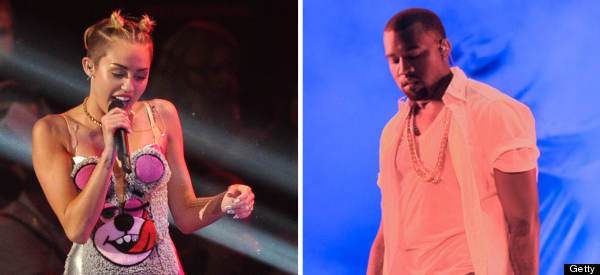 A common adage tells us to keep personal and professional separate. Celebrities are somehow deemed exempt from this dictum, however, as evidenced by the 2013 music scene. Kanye West and Miley Cyrus -- easily the year's most headline-grabbing pop stars -- both had No. 1 albums while dominating the entertainment news cycle thanks to the eager devotees who loved to watch them run their mouths. We always knew the 411 on their personal lives to a T: a new co-Kardashian baby and engagement for West, a high-profile breakup and highly transparent coming-of-age for Cyrus. But, while we often absolve stars of the personal transgressions we so ravenously love to hate, we're seeing an indication that award-show voters -- the theoretical arbiters of annual quality -- do not. Case in point: West and Cyrus both came up short when the 2014 Grammy nominations were announced on Friday.
West, whose album's many supporters were some of the year's most vociferous, failed to score a coveted Album of the Year nod -- something he's racked up three times already. (Those noms came for "The College Dropout," "Late Registration" and "Graduation," but, shockingly, not for "My Beautiful Dark Twisted Fantasy," his most celebrated album. Did voters actually cast him aside two years ago?) None of the "Yeezus" tracks made a dent in the top-tier Song and Record of the Year categories West is also accustomed to being a part of ("Jesus Walks," "Gold Digger" and "All Of The Lights" were all up for one or the other in past years, and it should be noted that each of those was more commercially successful than this year's "Black Skinhead," "Bound 2" and "New Slaves.") West landed spots in Best Rap Album and Best Rap Song ("New Slaves"), which is nothing to scoff at, but the rapper is quick to tout his 21 previous Grammy Awards, meaning he's done a bang-up job at making it seem inevitable that many more would follow.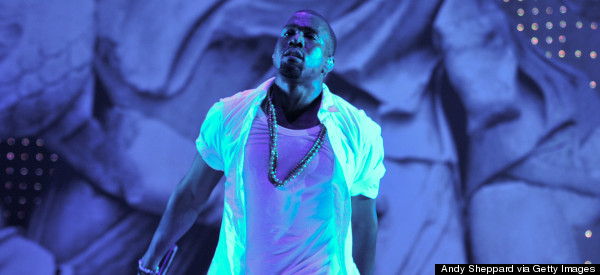 Cyrus came up empty handed, nabbing zero nominations despite easily seeming like the artist of the year, at least in terms of general pop-culture sovereignty. Her album, "Bangerz," wasn't released in time for the eligibility cutoff date of Sept. 30, but her two massive summer hits -- "We Can't Stop" and "Wrecking Ball," also the year's most popular music videos -- were forgotten. Cyrus' musical prowess was overshadowed by her nonstop twerking and too-buzzy MTV Video Music Awards raunch-fest, so it's unsurprising she failed to earn Song of the Year, which honors songwriting quality. But no Record of the Year for either of her No. 1 singles? No Best Pop Solo Performance? She couldn't even get a shout-out for Best Music Video, which is where Cyrus' star shined brightest this year.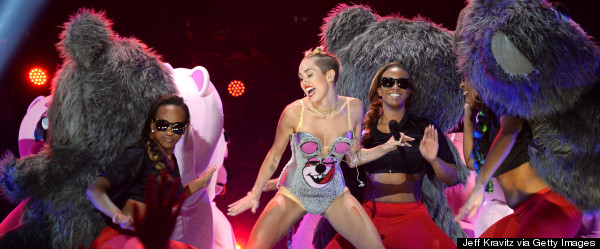 What happened? What fate met West and Cyrus, told them they weren't as imperious as they'd imagined and then left the naysayers to collectively chuckle? It seems Grammy voters may have soured on the overexposed pair, one of whom cemented his reputation for haughty interviews ("It's only led me to complete awesomeness at all times"; "I am the nucleus") and the other as a fan of spanking dwarves on television. When pop stars' uppity personalities overshadow what they do onstage and in the recording studio -- brilliant or otherwise -- we take notice. It turns out Grammy voters, whom the National Academy of Recording Arts and Sciences says are "all involved in the creative and technical processes of recording," do, too.
After all, this year's top nominees -- Jay Z, Macklemore & Ryan Lewis, Kendrick Lamar, Pharrell Williams and Justin Timberlake -- all enjoyed (mostly) beloved years. Jay Z's album, "Magna Carta...Holy Grail," wasn't even that acclaimed, but his successful tour with Timberlake, second Made in America venture and never-ending love-fest with wife Beyonce and daughter Blue Ivy bolstered the rapper's persona, even while Lamar and Drake were being heralded as the new generation of hip-hop superstars. Lamar angered plenty of insiders with his controversial verse on Big Sean's "Control," but no matter: GQ still crowned him Rapper of the Year, and he rose above the Molly-induced noise to take a stance against the drug in his video for "B--, Don't Kill My Vibe." Macklemore may be the golden child of both hip-hop and pop, from the catchy smashes "Thrift Shop" and "Can't Hold Us" to the pro-LGBT anthem "Same Love," along with a cheery demeanor that has done nothing to attenuate his esteem. Williams' and Timberlake's success speak for themselves -- they're charming, talented performers with longevity who can find acclaim for collaborations across all genres as well as within their own solo work.
And, lo and behold, none of them come off as antic-ridden, capital-letter Celebrities.
It's not that West and Cyrus should tame their personalities for the sake of awards recognition. No one adores a dull pop star. But each -- West with his words and Cyrus with her bawdiness -- presents him- or herself as though the all-eyes-on-me exuberance of celebritydom is reserved for the select few. (In West's eyes, that brief list includes the likes of Henry Ford, Walt Disney, Steve Jobs and, of course, himself.) That's lovely for entertainment journalists and bloggers who pine for the zaniness of pop heavyweights. Where would Madonna, who also saw a surprising dearth of Grammy nods during the earlier, more controversial parts of her career, have been without insatiable coverage? But without a better balancing act from West and Cyrus, Grammy voters appear to have sent them a message about their behavior over the past year, and it isn't the worship they've expected.
The same goes for Rihanna and Lady Gaga, both of whom are riddled with bad press no matter how popular or acclaimed their music can be. Perhaps these artists should look to, say, Katy Perry, who's emerged as a victor in both realms. Her "Roar" garnered Song of the Year and Best Pop Solo Performance nominations, and we've seen further evidence that she's the consummate manager of her personal image. Controversy can be lucrative, but it's as though West and Cyrus took such a dive off the deep end that they decided they were too far in to swim back up to the top. Neither was ever as egotistical or overexposed as they were this year, and although conventions may chalk that up to popularity, the Grammys have decided otherwise.
We can make all the arguments we want that the Grammys aren't relevant anymore. It's true, at least to a degree, that in today's music landscape, the awards don't buoy next-day sales like they used to, especially with genres expanding so rapidly. It's a given for most of the music scene: What mattered 15 years ago can be depended on for diddly-squat now. But we still pay attention to awards, as least peripherally, and we still hear the qualifier "Grammy winner" plopped in front of artists' names as if synonymous with royalty. Now it seems -- more so for the Grammys than the Oscars or Emmys, both of which elicit more campaigning -- that our dogged news coverage of the zeitgeist may weigh more heavily on critics and awards voters than ever before. In turn, perhaps the reactionary nature of our pop-culture criticism has become, in a sort of rebellion, more centered on virtue. When we track their every move, we don't want our pop figureheads to be pompous blowhards or vampy self-aggrandizers, no matter how talented they are. The coveted television interviews and magazine cover stories that a performer like Madonna generated 20 years ago aren't pivotal anymore, and when we're able to know what West and Cyrus are up to nearly every day of their lives, our critical lenses kick into high gear and, it would seem, overshadow the artistry these musicians offer.
Relevancy debates aside, props to the Grammy voters for recognizing that exposure does not equal popularity does not equal quality. I'll be the first to say that "We Can't Stop" is one of the year's best songs and that "Yeezus" is a musical masterpiece, but Cyrus' and West's actions have clearly been held accountable by the Grammy voters, and maybe that's not such a bad thing. We should probably all be more like Katy Perry anyway.
PHOTO GALLERY
Grammy Awards 2013