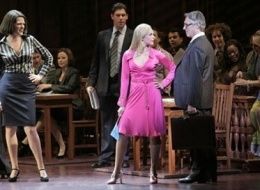 A couple of Sundays ago, I sat down with Tony nominee, Laura Bell Bundy in her Pepto-Bismal colored dressing room, just after her performance as Elle Woods in the hit musical Legally Blonde. As her humidifier buzzed in the background, Bundy talked about her bag collection, Schmancy Purses, her country music career and why she didn't care that Star Magazine voted her one of the "worst dressed of the week". A booby prize that Bundy found to be so hilarious that she proudly pasted the article onto the front of her dressing-room door. "We were doing the MTV taping and I thought [my dress] looked fine and festive. It really doesn't matter," she laughs.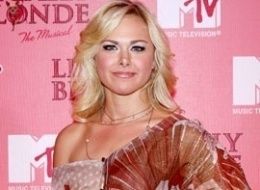 The MTV taping of Legally Blonde: The Musical that Bundy was referring to was broadcast on the network the weekend of October 13, 2007. It has been recently revealed that MTV's attachment to Legally Blonde will continue with a reality show to cast the next actress to replace Laura Bell Bundy as Elle Woods. The nationwide search for MTV's Legally Blonde started January 24 with open auditions in New York scheduled for February 4 at New World Stages.
In the meantime, read below about what the fair-haired actress-cum-musical legist had to say about Hilary Clinton and Britney Spears.

Do you think the country is ready for a female president?
I do. I think people are ready for someone different. I think that we are ready for someone who is a woman or for someone who is black. We should have an opportunity to have a difference from the same, stiff, Southern, I-don't-feel-like-I'm-hearing-the-truth kind of person. Even though there was so much discussion about her crying--I mean, I saw the clip--I didn't think it was contrived. I think that they asked her a question--she answered it and happened to get a little emotional. She was probably exhausted--but I didn't feel like it was calculated. It felt very real. She believes that she can do it. And I would rather have someone who believes that they can do it and feels passionate about the fact that they believe that they can do it.

If you could write a country song about Hilary's tears, how would it go?
It might have to be something with Tammy Wynette because of that other quote--"I'm no Tammy Wynette standing by my man". [she laughs] But for her---I just wrote a song called 'I Just Want to be Me' [which] talks about the media and about wanting to be yourself--I think it would apply to her too in that situation.
Or Britney.
Oh Britney--that poor girl. You know, I lost a lot of respect in Dr. Phil, actually, because I didn't think that he had any place [getting involved] and I think that he was just trying to get publicity for himself. And the last thing that a person needs who has been exploited since they were sixteen is to be exploited--that's the issue that needs to be addressed. Not someone telling her that she has psychological problems and then exploiting her again--that's the reason for the psychological problems. That just drove me crazy! The poor girl needs to go to a different country--where there are no cameras, phones or anything and just find herself and be away from the madness.
[Britney Spears] was my understudy in [the musical] Ruthless. You know, I find myself a little defensive of her because I had known her when she was a kid. I didn't know her really well and we weren't good friends but when you know anybody and when you know their family and when you know that they were really good people...people don't change that much, do you know what I mean? I can't imagine how difficult it would be if you were sixteen years old and you were famous, and everything you did was watched closely. You don't have enough time to grow up without being watched. And the truth is, nobody knows about [Britney and Kevin Federline's] relationship or what's really going on. It would just be so nice if these things were kept private.
I'll tell you, I've been only of public interest in the last year or so and I have been misquoted so many times and there have been so many things that were like 'well, I heard that she was at...' Oh! Last week in the New Yorker, I apparently ate at some restaurant I'VE NEVER EVEN HEARD OF. So we hear all these things all but we don't always know if half of them are true. If it makes an interesting headline, it really doesn't matter if it is or isn't.