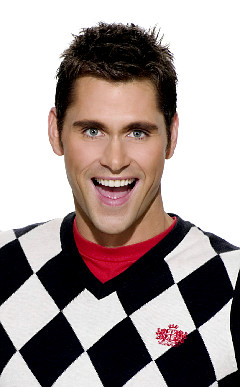 Before you run out to see Carrie and Co. in the upcoming
Sex and the City movie, find out more about "Hot Guy #17"--the handsome
man who turns the SATC ladies' heads on the street, only to
walk into the arms of his boyfriend. That strapping young
male is none other than Season 4 contestant, Jack Mackenroth
of Bravo's Project Runway, making a
surprise cameo in the
film.
Mackenroth also made a cameo at Paper Magazine's
Beautiful People event at Hiro last month, which is where
I met the affable designer. In between my stalking Andre J
and Joanna Newsom, Mackenroth took the time to answer these
questions.
In Project Runway Season 4, you fell sick with a Staph
infection and had to bow out early. How has your life changed since
leaving the show?
The visibility on TV is the best PR anyone can ever hope for. Although I didn't leave in the manner I wanted to, I had a good showing and I won a challenge so the public response has been amazing. I get all kinds of crazy offers like appearing in music videos to designing ball gowns for drag queens. I just played a dead body on Law and Order SVU
just for fun! I love viewers coming up to me on the street. Everyone was genuinely concerned for me so that was touching. I was never voted off so hopefully you will see me back next season so maybe it was a blessing in disguise.
Any dos and don'ts advice to dating a fellow Bravo TV
reality contestant?
HAHAHA! Dale Levitski [From Top Chef Season 3] and I are just friends now but I would suggest you date someone who lives in your home city. It's much easier.
Imagine it's sometime in the far future; New York City
is deserted and you're stranded with only the cast
of Project Runway Season 4. Which contestant would you eat,
which one would you f*ck and which one would you kill?
I would eat Carmen because I love dark meat and she's hella tall, I
would f*ck Rami cuz he's hot and I would kill myself because I
couldn't deal with that
scenario.