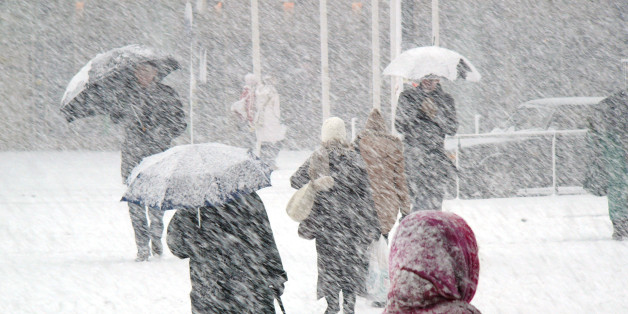 As I sit outside today enjoying my lunch in the warm Florida sunshine, I can't help but think of those around the country who are less fortunate.
A historic snowstorm blasted its way through the Northeast a few weeks ago, wreaking havoc in several states. Heavy snowfall and blizzard-like conditions affected millions of people. Thousands of flights were cancelled, schools were closed and many people stayed home from work because roads were too hazardous and public transportation was suspended.
A snowstorm can bring out the best and worst in people. Whenever Mother Nature rears her ugly head and makes life challenging, it's even more important to keep your cool and mind your manners.
Here are my top six snowstorm etiquette tips.
Be a good neighbor. If you have a neighbor who is elderly or needs some extra assistance during this difficult time, offer to help shovel their walkway, take over some food, or just check in with them from time to time to make sure they're safe and warm.
Return what you borrow. If a neighbor lends you his snow blower or any other tool, be sure to return it as soon as possible. Always say, "thank you," and reciprocate the favor when you can.
Don't be a delinquent shoveler. When you shovel snow, keep it on your own property or put it where it doesn't block anyone's car or sidewalk.
Stay positive. Use this downtime to enjoy the peace and solitude or accomplish tasks you've been putting off. Make a pot of soup or bake some brownies. Watch a movie, read a good book, get some extra sleep. Do something you've always wanted to do. Keep in mind that others may be worse off than you.
Be a gracious guest. If you're invited to stay in someone's home, always ask permission before you bring your pets, friends, family or anyone else for that matter.
Put safety first. When it snows, it's best not to make any plans. If you've been instructed to stay inside, follow the rules. Hunker down for the day. Don't overreact, listen to the news, and don't attempt to go outside for any reason other than to make snow angels in your backyard.
For more etiquette tips, visit Jacqueline Whitmore's blog or "like" her Facebook page.