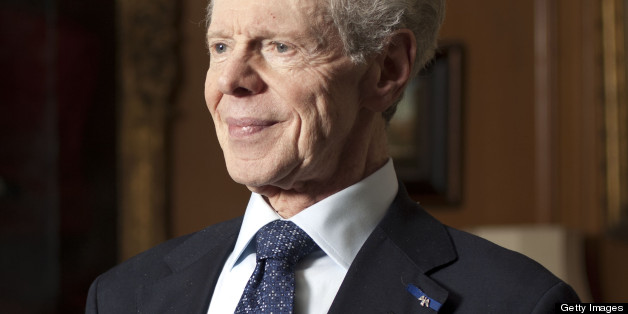 Even in my considerable heels, it still seemed that he loomed large overhead. A glorious shock of still wavy white hair and those gargantuan hands, he wrung them in nervousness. Surely, he wasn't worried about going on camera. I'd seem him hold court and by all accounts he was always mesmerizing. In fact, upon hearing at the last minute that we'd landed him for the interview, I'd decided to simply introduce the man who needed no introduction and then basically hand over the mic. Together, we watched the last few nail biting moments of one of the most difficult piano concerti ever written and he smiled. Van Cliburn smiled warmly as the eventual gold medalist humbly got up from the piano to raucous applause, the wringing of Van's spidery hands had stopped.
He was wonderful on camera, of course. We at the webcast for the 13th Van Cliburn International Piano Competition were happy to have him with us. As great as he was in public he was mindful of not wanting the spotlight to shift too greatly towards him. He spoke compellingly of the role he genuinely believed Classical music served in the world, talked humbly about the otherworldly experience of winning the Tchaikovsky and seriously about the plight of the young musician. He was well aware that long gone were the days of ticker tape parades greeting gold medalists for their musical exploits. He knew the chances of the pianists here having the sort of meteoric rise he'd experienced was slim, but he rooted for all of them passionately nonetheless. He was wonderful on camera indeed, but it was when the camera switched off that I learned the most about Van Cliburn the man.
He was accommodating. When I dared to ask him to measure his hands against mine, he generously obliged. My eyes popped wide open as we stood palm to palm, his fingers rising eons above mine. Oh, the glory of being able to play Rachmaninoff with those hands! He was a stern believer in the artist being in service to the music. When the young man I previously mentioned ended his performance, he'd said, "Now see. That's how it should be done. Piano playing shouldn't look so hard." Of course, this is coming from one of the most elegant performers of our time, straight-backed and stoic but still pleasant to watch, a showman in only the mildest, most natural of senses. But what I remember the most was how he started wringing those hands again at my next off-camera question. Innocently, I'd asked if he would return to the hall for the next performance. He told me candidly that he wouldn't. And in that admission wasn't the suggestion that he found these young musicians immature and unbearable in their Beethoven, or too flashy in their Liszt. It wasn't that he couldn't stomach watching a bunch of wannabe Van Cliburns take the stage.
He was compassionate. With a pained look on his face he told me about how difficult it was for him to watch these young, gifted artists suffer so. While the audience heard beautiful music, he saw internal suffering. The kind that comes when you feel as if your life is on the line with every turn of phrase, that every missed note amounts to the demolition of your musical future and memory slips made you feel suicidal. All of these were heightened, exaggerated emotions that nevertheless felt painfully realistic to the pianist having them in the midst of the cadenza they were seemingly ripping through with ease. As much as he wanted to be able to snap his fingers and grant them all the career they were competing for, Van Cliburn knew he couldn't. It pained him that they even had to compete in the first place, though he was proud to offer them the opportunity to do so. He understood that all they wanted to do was make music, that all they wanted to do was win gold. He also understood the career the eventual winners would step into overnight. He knew what it would be like to be praised so loudly by fans, yet watched like a hawk and shredded by shrewd ornery critics who might have had a bad lunch before they wrote their review; salivating at putting a popular young whipper snapper in their place. The compassion in Van Cliburn's heart for these young pianists vying to follow in his footsteps was tangible, even excruciating. And because of that, no, he wouldn't be staying, but he sincerely wished them the best.
Harvey Lavan "Van" Cliburn, Jr (July 12, 1934 - February 27, 2013)
Jade Simmons will host the webcast of the Fourteenth Van Cliburn International Piano Competition May 24-June 9, 2013. Watch the live webcast at Cliburn.org. Visit Jademedia.org to find out about the unprecedented behind-the-scenes footage and social media extras she'll be offering with the #JadeAtCliburn experience.