We were sitting around a table drinking tea and interviewing clerics at a mosque outside of Tehran on the first night of Passover. I wondered if my yet-to-be disclosed Judaism would be revealed before the identity of my government-required minder, the son of a famous IRGC commander and relative of some of the most famously anti-American government and religious figures in Iran -- and, which would be considered more scandalous.
My last moments in Iran were spent anxiously awaiting an exit stamp in my U.S. passport, unsure if it would be granted after weeks of moments like this, suspended somewhere between incredible and outrageous. Written and photo evidence suggested two run-ins with the secret police, many new Iranian friends, a trip inside the U.S. Den of Espionage, and visits to the nuclear sites in Natanz, which wouldn't be easily explained by a warped sense of vacation. It also didn't help that the itinerary was finalized concomitant -- and somewhat auspiciously -- with the agreement on the nuclear framework, Passover, and Nowruz, giving my minder plenty of opportunities to jokingly assign my activities and research questions on a scale of one to permanent detention at Evin Prison.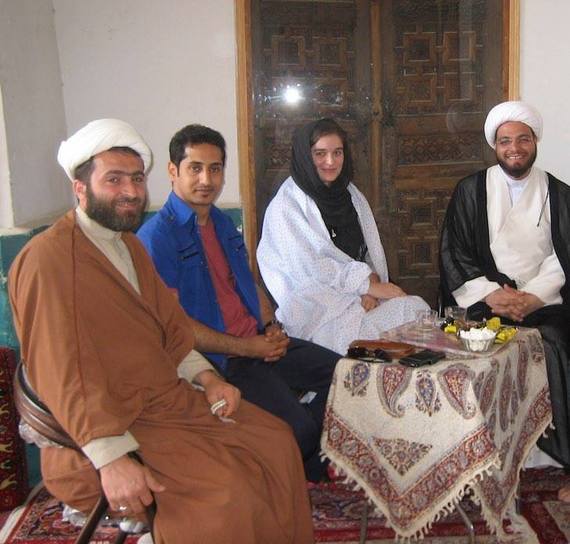 After six years of study, Iran was at once everything I had hoped and not at all what I expected -- and the entire trip was filled with these incongruities. On my connecting flight between Dubai and Tehran, Iranian women had their hijab off right up until the wheels touched the tarmac; everyone around me passed the two hours watching Two and a Half Men and other American favorites; and the minute we landed, the entire flight was on Facebook despite its blocking by the government. Following customs, which consisted of 30 minutes of fingerprinting, questioning, and jokes, I began discovering one of the most unknowable, perplexing, and misperceived countries on earth, populated by an incredibly inviting, informed, proud, and curious people.
Everyone I met, including my minder, wanted to know about American perceptions of Iran, the desire to travel to their country considering the West's portrayal of it, our understanding and conflation of terrorism with Islam, what the future of Iran-US relations might look like, generational differences in knowledge of the Middle East, and surely equally significant, about Western social customs, particularly what parties are like, how girls and boys meet each other and where they hang out, and about our freedoms off and online.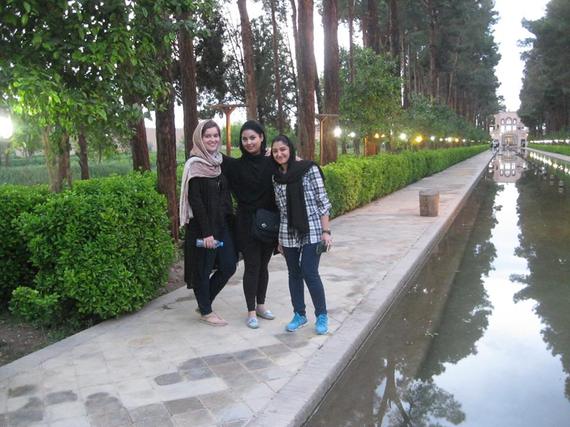 I probed young people on Rouhani, Ahmadinejad, and Khatami; life in an Islamic theocratic republic and how their parents spoke about Iran before the revolution; their thoughts on Israel, the United States, and the Islamic State; other geopolitical priorities including their opinions of Iran's nuclear aspirations and the nuclear/sanctions deal (reinforced by fireworks and street celebrations upon the initial framework agreement!); if they wanted to communicate with their peers in the West; and their tech savvy considering expansive media censorship and how that affected the information they received or sought out.
Their ability to speak with incredible nuance about the division and divergence between governments, cultures, and peoples was particularly striking: the young Iranians I spoke with insisted on separating Americans from the opinions and actions of our government, Jews from the State of Israel, Islamic extremism from at least Shia Islam, and Iranians from the Islamic Republic. We were equally frustrated by the way our media have reduced us to data points and products of our governments' foreign policies; we were similarly excited by a future of improved connectivity and access following adoption of the nuclear/sanctions agreement.
A lack of choice in all aspects of their public lives -- from fashion to the ability to travel -- is their primary frustration with the post-1979 regime, but they insist neither the sanctions nor clerics have affected their ability to live freely in their private lives. This was never more clear than at a birthday party I was invited to where they showed me iPhones with VPNs to prove they could friend or follow me or Hillary Clinton on social media, sipped Coca-Colas mixed with smuggled or bathtub-brewed alcohol, and wore recognizably branded miniskirts with tight tops -- though all of these activities are illegal.
Other moments suggested a delicate push to live their private existences in public- sometimes. A few of my favorite experiences revolved around learning about dating in a country where it is forbidden. Dor dor, drive-by dating, is a favorite method whereby 20-something males pull up in burned out Peugeots next to girls batting their eyelashes, exchange contacts, and meet at Si-o-Seh Pol in Esfahan, Eram Garden in Shiraz, Milad Tower in Tehran, or a more private spot. To understand this concept more, some friends brought me to a concert beneath a bridge where young couples were enjoying each other's company, just barely out of sight from the Disciplinary Force of the Islamic Republic.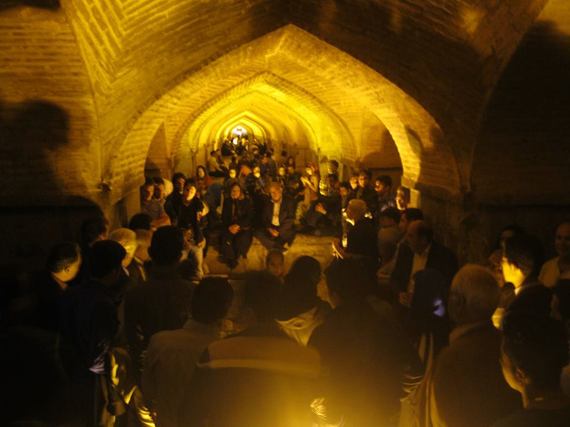 The activities and views of the under-30s, which make up more than half of Iran's nearly 80 million population, were fascinating and contextualized by conversations with adults -- those who had lived through the 1979 Islamic Revolution and could offer a fuller perspective. Although many I spoke to were not ready for another revolution and could not imagine another 'failed' attempt at transformation like the 2009 Green Movement, they were concerned about the sustainability of Iran's isolation from the West, the hard-liners' loudspeaker, and limited space for civil society.
Similarly, but more shockingly, the clerics I spoke to in Kashan could not see how the current balance of religion, politics, and society could be maintained, and foresaw upcoming dissonance and pressure for increased liberalization as relations between the West and Iran began to thaw. The Jews I met with in Esfahan also recognized society hanging in the balance of a severe regional politicization of religion, particularly in Israel and Iran, but did not consider this personally concerning, reminding me of the important delineation between Jewish and Israeli. After discussing Palestine, the treatment of Jews in Iran before and after the revolution, as well as during Ahmadinejad's regime versus today, and how incredible it would be if more Jewish Americans traveled to Iran, one young Jewish woman said almost too sardonically, "l'shanah haba'ah b'yerushalayim," -- next year in Jerusalem.
The Iran we read about exists: Dissent often leads to arrest, prosecution, or imprisonment, many civil and political rights are neither valued nor protected, and violations of certain laws even yield punishment by hanging; the former U.S. Embassy is a monument to the "Down with USA and Israel" minority, and despite a reformist president, the clerical establishment retains profuse control and high visibility. But, there is also an Iran that we don't read about -- a reality that requires more attention and caution when we haphazardly define the majority of Iranians in terms of domestic and multilateral policies or by the projected opinions of the Ayatollahs.
Despite more than 30 years of seclusion and censorship, the majority of Iranians seem to be curious, open-minded, and eagerly seeking connection with Americans. The last words out of the border guard's mouth as he stamped my passport -- like almost every other Iranian I met -- was to please share my experience in Iran as honestly as Iranians had shared their country with me.