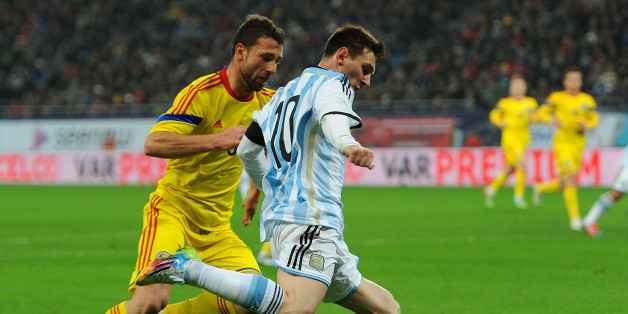 Since he exploded onto the world's association football scene a little less than 10 years ago, Argentine Lionel Messi has been impressing soccer enthusiasts all around the planet, enamoring them with his way of playing the game. It all began in the summer of 2005, with his participation in the 2005 Youth World Cup celebrated in the Netherlands.
Messi started the tournament as a substitute, but scored the team's first goal two minutes into the second half of its second game, and never looked back, starting in the remaining games and scoring six goals to lead Argentina to the world title.
Since then it has been a steady rise to the top for Messi, who became a steady first-team player for F.C. Barcelona in September 2005. With Barcelona, the only club team he has played for, he has built an already remarkable career for himself, becoming the team's all-time leading goal scorer in all competitions, and winning an assortment of over 20 titles, including three of the club's four total UEFA Champions League.
While the people of Barcelona may be eternally grateful and in debt to Messi for all he has done for them, there is a different group of people to whom he belongs just as much and who believe it is he who owes them. That is, of course, the 40 million hopefuls in his native Argentina.
There are few countries on Earth that live association football the way the Argentine people do. For them, it is more than a game. They eat, breathe, and dream about it. It is their religion, and its God? The legendary Diego Armando Maradona, who almost single-handedly took them to the top of the world in the 1986 World Cup.
Since the early days of his career, comparisons between Messi and Maradona have abounded. Truth to be told, if there is one player since that can be justifiably compared to Maradona, especially coming from Argentina, it is Messi. His accomplishments, both individual and with teams, speak for themselves. There is one thing, however, that Maradona still holds over Messi, and for which he will be considered the greater of the two for the foreseeable future in the hearts of Argentines all over the world: a world championship.
Entering the 2014 FIFA World Cup, which starts in a little under three weeks, Messi faces the greatest challenge of his career, but if he were to be successful, winning the World Cup would be the crowning achievement in an already stellar career at the age of 27.
While it is true that Messi already has an Olympic gold medal at the 2008 Beijing games in his résumé, Argentina's senior team has not won a trophy of any type since the 1993 Copa América. 21 years is too long a time for a nation as passionate and proud of its team and sport as Argentina, and now, with the greatest player to come out of their land since Maradona this next month is a true golden opportunity.
The road to the final Sunday on July 13 will be anything but easy, however. While it is true that Argentina landed in a relatively easy group and should have no trouble getting through it, the following rounds could prove tricky and there is also the fact that Argentina has not made it past the quarterfinals since a finals appearance in 1990.
The knockout stages could include a meeting with Portugal in the quarterfinals, Spain in the semifinals and a championship game meeting with hated rival Brazil or recent tormentor Germany.
This upcoming World Cup is Messi's best chance at forever cementing his status as one of the greatest of all time. It would also allow him to add to his curriculum the one detail that his deniers bring up against him in the discussion against Pele and Maradona for greatest of all time. Argentina's greatest rival is Brazil, so if he were to raise the planet's most important trophy on his archrival's own turf, he would be forever immortalized.