I spent this weekend bouncing breathlessly to every moment of Band From TV's three concerts at Niagara Falls' Fallsview Resort and Casino. Nestled among a bevy of international hardcore fans -- Americans, Canadians, Brits, Danes, and Czechs -- I realized that BFTV shows are actually an exercise in universal love.
Heroes alum Greg Grunberg founded the juggernaut group of television actors-cum-musicians in 2006, combining his passion for music and desire to fundraise for epilepsy (a condition that affects his son Jake). Today BFTV includes fellow Hero Adrian Pasdar, Desperate Housewives' James Denton, American Dad!'s Scott Grimes, The Bachelor's Bob Guiney, Chicago Fire's Jesse Spencer, and newest members Stephen Collins (7th Heaven) and Eddie Matos (All My Children). Each member represents a particular charity, ranging from children's hospitals to environmental conservation and beyond. All BFTV proceeds go to benefit these worthy causes.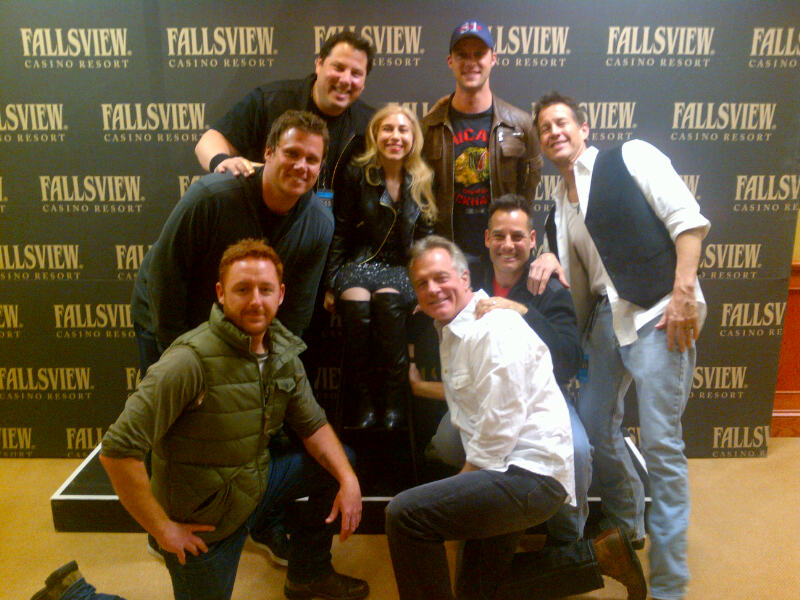 How do they choose their charities? "Sometimes they choose us," Bob replies.

"It finds you," Greg adds. "[Though] I hope no one does have to have a personal reason to give. That's the worst."
What is personal is BFTV's commitment to helping others through music, although surprisingly some members were initially reluctant to take up the rock star mantle. "The only time I was ever nervous was in this band," James admits. "I never had stage fright -- I'm an old theatre guy from way back -- but getting onstage trying to play music, I almost wet my pants. 'Cause you're out of your comfort zone. At least I was, at the beginning." Stephen also confesses to being scared, "but you go on, hopefully you get better and better."
Jesse says solemnly, "I'd never played the fiddle for anyone, I mean in front of an audience. [But] what's the point of playing and not being able to play for someone? Giving music to someone else is a whole other world."
In the middle of snowy February, Niagara Falls is dreamlike and ethereally beautiful enough to evoke a perfect background for that other world. This year marked BFTV's fourth series at Fallsview; since 2010 they have trekked annually to the cavernous 1500-seat Avalon Ballroom, securing enough funds for their charities to set the course for the year and quite simply rocking their hearts out. "They treat us amazingly well here," Bob grins. "Fallsview is the most professional place we get to play. It makes us feel like we're real rock stars."
Rest assured they are real rock stars; only the genuine article could move a crowd to the transcendent bliss I witnessed. Through an eclectic mix of covers - preferred over original tunes for the communal appeal - the guys riffed gorgeously off each other and the fans, calling people up from their seats to sing, dance, and join in the fun onstage.
As BFTV's creator, it's fitting that Greg supplies the literal "heartbeat" of the band, striking percussive rhythms on his drums like nobody's business. But when he took the lead vocals on "Katie," belting out a delightful rasp á la James Brown while grooving with girls from the audience, it suddenly exposed the secret to the band's seven years of success -- the man has infinite energy and no inhibitions. Naturally he brought down the house every time.
Meanwhile, the gentlemanly James unleashed a wellspring of Southern soul on Bruce Springsteen's "Pink Cadillac" and "Mary's Place." As his lovely wife, "five feet of twisted steel" Erin O'Brien, sings backup for the group, it's clear that BFTV keeps the Dentons' marriage harmonious. (You groaning yet?)
More Southern sizzle arrived from an unexpected source when the Australian Jesse joined James for a guitar-and-fiddle battle in "The Devil Went Down to Georgia." Later the Thunder from Down Under channeled his inner Paul McCartney for a winning rendition of "Maybe I'm Amazed." Beneath the sassy charm and puppy-dog eyes hides a bona fide crooner.
Although Adrian's biceps were the main attraction for several women in the crowd, he's an incredibly skilled musician and delightfully irreverent performer, injecting an Irish flavor into the proceedings with the upbeat jig "John O'Reilly." (That sharp sense of humor yielded a weekend's worth of zingers, including the "real" reason for returning to Fallsview: "We lost a lot of money here a few years back.")
Newcomers Stephen and Eddie found their footing right away. While the latter gleefully poured his heart into pounding the drums alongside Greg, the former Reverend Camden preached the classic rock gospel with swinging versions of "Back in the USSR" and "I Saw Her Standing There." Both gents are, like all their musical compatriots, among the nicest fellows you could ever hope to meet.
Amid BFTV's whirlwind of exhilaration and joyful noise, one need look no further than Bob Guiney and Scott Grimes for the source of its Dionysian spirit. Their infectious enthusiasm, blended with a crackling chemistry and powerhouse voices, lovingly ushered the audience through favorites like "Walking in Memphis," "Try a Little Tenderness," "Locked Out of Heaven," "Don't Stop Me Now," and a rousing Bryan Adams/Boston medley so hot it's a wonder the snow didn't melt. Talk about breathlessness.
Don't expect these guys to quit the small screen anytime soon, but they all agree live performance is an unrivaled thrill. "On TV, you play a character," Scott says. "But when you're out there it's like, this is you. And you can't hide from being you up there." Nor would they want to, according to Greg's epic summation: "Live's always best."
For those who can't catch BFTV live, alternatives may soon be available. Plans for another group album are in the works (their first, Hoggin' All the Covers, came out in 2008), and Greg and Bob hope to book the band for some late-night TV appearances. Of course, finding the time between all their busy schedules makes large-scale planning difficult, and as Greg says, "That's not what this is about for us. It's about spending time for charities. We do it just for them."
In the end, saving the wider world is what it's all about. "To be able to have fun and support charities, it's good for everybody," Adrian says. And when music, that intangible yet omnipotent force of human connection, provides the draw, nothing can keep BFTV or their fans from having the time of their lives. Personally, to jam with these Renaissance men, I'll take sore knees and a fainting spell any day.