There's something undeniably timeless about Royal Young. Perhaps it's the author's piercing blue eyes, already filled with worldly wisdom at 28 or maybe it's the actual wisdom that comes from living as a celebrity-seeking "hustler," and finding the strength to break free from that dark abyss. In his debut memoir Fame Shark, Young frees every skeleton from his closet with self-deprecating humor and breathtaking, unfailing honesty.
Born Hazak Brozgold to a deeply Jewish family on New York's Lower East Side, Young recounts his lifelong struggle to claim a personal spotlight. Despite the disapproval of a psychiatrist mother and feeling keen competition from a temperamental artist-turned-social-worker father, Hazak stops at nothing to achieve even the semblance of fame. His enormous efforts result in some tantalizing brushes with the popular culture's elite: Mel Gibson, Yoko Ono, and Boy George make cameos in Fame Shark's pages, although certainly more as ideas than as people. But the book is no pretty story about a meteoric rise; instead it's a tale of redemption, love, and forging a meaningful identity for oneself against all odds.
Eloquently evocative of the period in which it's set, Fame Shark transports readers back to an era when downtown New York saw prostitutes on every street corner, and when the seeds of global communication had just begun to sprout. Young brings the rich contrast of the 90s' idealistic fantasies and cynical realities into descriptive splendor as he gathers needles in Washington Square Park with his father while dreaming of being a movie star. As Hazak grows older, he explores the burgeoning social media scene with interest, escaping from the burglaries and disappointments around him into MySpace relationships and the company of addicts masquerading as artists.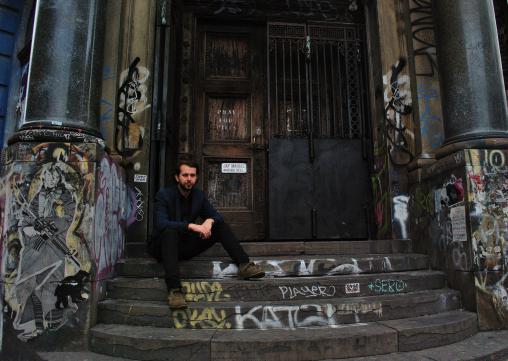 (The author in his natural Lower East Side habitat. Photo credit: Amanda Segur)
"A fame shark," Young says, "is someone so lonely he mistakes fame or success for love. The book is about coming to terms with identity in general. It's Judaism, it's sexuality, it's addiction. It's about figuring out who you love and how to love yourself."
It's also about the pain inherent in that journey. A fast-paced, consuming read, Fame Shark is courageously confessional; Young's keen observations about the nature of celebrity ring true on so many levels it's almost like shock therapy for the entertainment-obsessed. The teenaged Hazak (Young changed his name at age twenty during an alcohol-fueled affair with a 14-year-old girl, an anecdote featured in the memoir) bluffs and parties his way into situations that expose the falsities behind the glamour -- nightclubs hazy with drugs, hangers-on desperate for their fifteen minutes, people willing to sell their bodies and others' for a shot at that fatal fame.
Young notes:
"That external adulation or validation, once you start down that road, it's never going to be enough. It's a hungry ghost, insatiable. I wrote Fame Shark for kids like me [who crave recognition], who are in the throes of this stuff themselves. We as a culture are becoming so much more aware of how damaging our celebrity obsessions can be, how destructive for young kids."
Yet Fame Shark serves as more than just a cautionary tale. Anyone who has ever been lonely in a sea of seemingly well-adjusted peers, or felt negatively marked by differences (Young comments that using his birth name, which means strong, "was like walking around wrapped in a verbal Israeli flag"), or yearned for genuine love, will find startling truth in this book. Royal Young's searing emotions burst through the page, cutting to the heart of the reader's own experience. At times I read Fame Shark through tears.
In the memoir Young writes candidly about his sexual development, from a forced encounter with a female classmate in kindergarten to reluctantly accepting the advances of gay college friends ("if someone famous had done it, I wanted to do it too"). What distinguishes the book from being just another explicit tell-all, however, is his commitment to the romantic side of attraction. It's rare to encounter a straight male author so willing to discuss his fear of rejection or the desire for a woman who actually cares about his feelings, but this peculiar openness -- completely free of any shame or self-pity -- is one of Young's tremendous gifts as an author.
There are so many aspects of sexuality and it's not really talked about. Men don't share that stuff very much. [But] I've gotten my heart broken, and I've learned that all love is dangerous, and you have to let go of that fear. It resonates with me as 'We accept the love we think we deserve.'
Much of that saving love turns out to be familial, as Young reserves his sharpest analysis and most powerful story arc for his connection to his parents and younger brother. Dad is larger than life, eternally preoccupied with sex and fame in his own way through erotic penis sculptures; Mom attempts to maintain stability in various ways, sometimes by gently tuning into others, other times by plying her boys with food instead of attention; brother Yuvi, aka Fury, sticks loyally by his wild-child sibling but chides him for placing such great emphasis on fame. How they hurt and ultimately heal each other is a raw, beautiful fable for the new millennium, one that makes Fame Shark an indispensable piece of literature.
It all goes back to Young's own peculiar timelessness. He possesses all the hallmarks of the 1930s Hollywood actor -- the name change, ancestors from the shtetl, a certain androgynous swagger -- yet remains incredibly plugged into the here and now, a ubiquitous presence on Twitter, Instagram, and Facebook. It's the sort of conscientious duality, as well as his considerable talent, that will ensure Young's staying power as an artist and public personality.
Naomi Rosenblatt,
Fame Shark
's publisher, says that
the whole online requisite for writers now is a double-edged sword. It's very helpful to the book promotion, but we might lose the more crotchety, inward writers like J.D. Salinger along the way. What I have with Royal is the best of both worlds. He knows how to play the media game, but he's a heavyweight writer.
(For his part, Young loves working with Rosenblatt because "she has that rebellious spirit and energy that I have. Heliotrope is
the
downtown indie press -- it's such a perfect fit.")
What's next for Young? There's potentially another book in the works, and many possibilities for Fame Shark adaptations. But for now Young is content with life's necessities. He advises people going through crises "to seek out wholesome, soul-searching things - family, therapy, empathy, sympathy, learning about other people's lives - that are going to make you question yourself. Once you decide you have nothing left to learn, that's when you die."
Clearly there's much more Royal Young wants to learn, and to teach. But he's well on his way. If we must pull one idea from Fame Shark, it's the old adage everyone knows but bears repeating again and again until we get it right: Love yourself, then love others. The best is sure to follow.
Fame Shark is now available from Heliotrope Books in paperback and as an E-book on Kindle.