"I'll always help my hometown," vows actor Scott Grimes. The ER and American Dad! star is talking about his childhood stomping ground of Dracut, Massachusetts, where this weekend he and partner-in-crime Bob Guiney (The Bachelor) returned for another magic carpet ride of goodwill. Billed as Guiney and Grimes, the duo -- an offshoot of celebrity charity group Band From TV -- travels around the country raising money for causes such as underfunded arts programs in public schools.
On Saturday night Scott and Bob turned their fundraising focus on Down Syndrome, giving a benefit performance at the Back to the Boathouse Bar with all proceeds going to the Dracut schools' Special Education department. Presided over by the town fire marshal Mark Morowski and entrepreneur and blogger Christi Guthrie (herself a mother of a Down Syndrome child), the event proved yet again the benevolent spirit that sustains hometown pride -- a potent resource for this gorgeous little locale.
The fall foliage of Dracut provides a welcome tonic to weary New York eyes, but it absolutely pales in comparison to the town's warm, colorful, fun-loving population. That's what prompts Scott and Bob to spend their spare time drawing countless crowds Pied Piper-style to the Lowell suburb for a little nostalgia, uplifting music, and the chance to give back.
Saturday's benefit kicked off with a photographic meet-and-greet, followed by a rocking concert and capped by an auction to ensure successful fundraising (items sold were full of Massachusetts flavor, like Boston Celtics tickets and boxing gloves signed by prizefighter Micky Ward). Bob and Scott, who had just performed with Moley O'Suilleabhain and Krystin Pellerin at New York's Prohibition club the night before, might have been exhausted but for the indefatigable energy of the people of Dracut.
It's traditional for Guiney and Grimes to open their shows with Scott's song "The Sinner," but this particular rendition was like none I'd heard before, a liberating undercurrent echoing in every note -- a feeling of being washed clean and then wholeheartedly embraced. Immediately the night's tone was established: we were here to love and be loved in equal measure.
Dracut's inhabitants are by nature some of the friendliest folks around, but the town's homey Elysian atmosphere merged with Scott and Bob's charisma to create an otherworldly space where past, present, and future seemed to unify. The group in the Boathouse, comprised of adults as giddy as children, included Scott's childhood chums, family friends who had been affected by the Boston Marathon bombings, and one of New England's most notorious lotharios (the latter a powerfully good dancer in my humble opinion).
That sense of time colluding was even reflected in the setlist, as the Messrs. G bounded back and forth between older pop standards ("Purple Rain," "Cuts Like a Knife," "Walking in Memphis" with Derek Dispensa on keyboard) and original songs infused with special meaning, like the poignant tribute "I'm Goin' Home." A particular highlight of the evening occurred when veteran music teacher Robin Mallory joined her former student Scott for the song "Good Night," during which Ms. Mallory played hauntingly beautiful violin.
Watch the performance of "Good Night" here (video courtesy of Heather Skene):
Guiney and Grimes concerts have always been marked by an effervescent joy, an enveloping warmth that flows directly from artists to audience and back again. But somehow Dracut's palpable force of good nature manages to blow everything else out of the water. Putting these musicians together with this community results in a truly beautiful phenomenon -- the guys are so relaxed and natural you forget they're celebrities. You forget they're even performing. As Scott likes to say, "It's all spontaneous."
What's definitely spontaneous, and frequently the best part of the show, is Scott and Bob's running banter between numbers. Letting loose with Dracut citizens, memorable moments from the benefit included Scott taking his first taste of Boathouse moonshine and a steady invective against Bob for supporting the Detroit Tigers while in Red Sox territory (in the guy's defense, he does hail from Motor City). If laughter, like music, expands the heart, it's no wonder that such charity events are wildly successful in this town.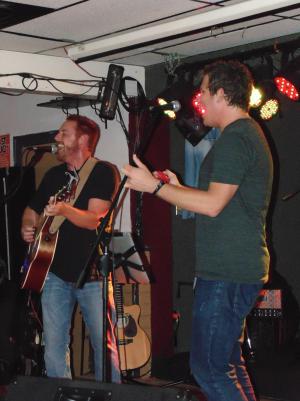 (Scott Grimes, left, and Bob Guiney, right, doing what they do best in their favorite place in New England; photo courtesy of Heather Skene)
While Michael Guthrie, literal poster child for the International Down Syndrome Coalition, couldn't attend the concert (being several years away from drinking age), his parents Ryan and Christi are perfect examples of the Dracut emphasis on helping others. The Guthries' businesses, including Lily Mack Farm, My Little Black Box, and The Guthrie Group, sponsored the benefit along with associates like Re/Max Prestige (a Re/Max banner on the stage read, "Celebrating those who rock that extra chromosome!") Glancing at the items in the event's souvenir bags, one sees evidence of the myriad local companies that agreed to support the cause. From restaurants to hair salons and all that's in between, it's clear Dracut business owners love nothing more than to support their fellow man.
It's also clear why Guiney and Grimes reserve a distinct place in their hearts for this Rockwellian burg. True, "there's no place like home," but even complete strangers would be instantly put at ease when wrapped in the community's welcoming arms. Full of life's little essentials, visits there encompass everything I've always prayed for: good food and drink, grand company, and soul-stirring music. It's a match made in heaven.
I leave my readers to judge whether this sounds like a fairytale. But I do ask you to remember that there are intangible wonders of the world, there are princes among men, there are hearts of gold and spirits to match. Scott and Bob learned long ago how to make the world better by giving of themselves -- they learned it from places like this. As a favorite song goes, "Good people aren't hard to find." You'll find the mother lode in Dracut.