Oh, so you're a comedian now, hah? A real funny boy, hah?
Art on the streets is not always neatly folded into archetypes. Street artists and graffiti writers are not all anti-social miscreants intent on running afoul of the law, although that is a satisfying and simple characterization some critics default to.
In truth, these days there are a variety of voices in the conversation on the street. Some are social commentators, others are anarchists, showmen, activists, nihilists, narcissists, dreamers, storytellers, poets.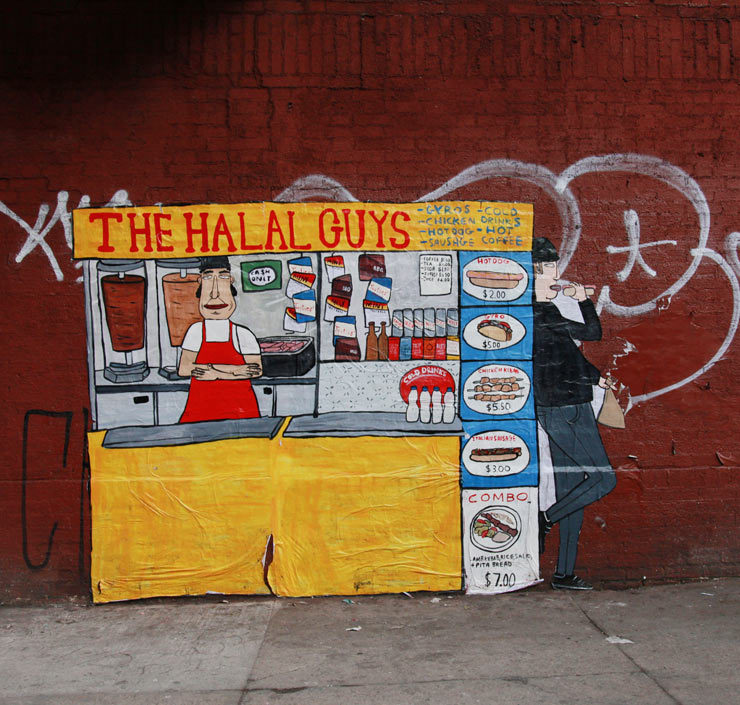 Don't Fret (photo © Jaime Rojo)
Then there are the comedians. We've noticed that a surprising number of them come from Chicago. Possibly the harsh winters in that windy city turn people silly on the street. Among the funniest Chi-town hoodlums we've seen are Left-Handed Wave, Nice One, and of course the incorrigible Goons.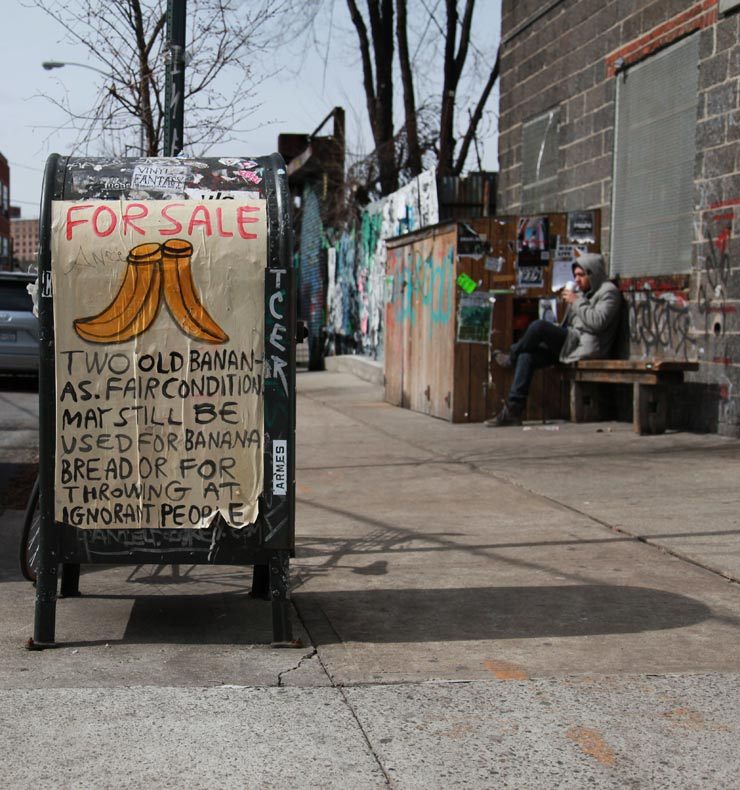 Don't Fret (photo © Jaime Rojo)
Add to this list the humorist human Don't Fret, who knows how to depict us in all our eclectic and imperfect wonder without passing judgment but causing a cryptic cackle of recognition when you run into him. It's a sophisticated comedian who knows how to pull off common scenes with an insider wink. It's not that you know his people personally -- wait, that is exactly what it is like. Even when he is just using text to describe a person, you know the people he's referring to because they live in your neighborhood, cook your Halal street meats, coach little league, cook your books, attend your family barbecue.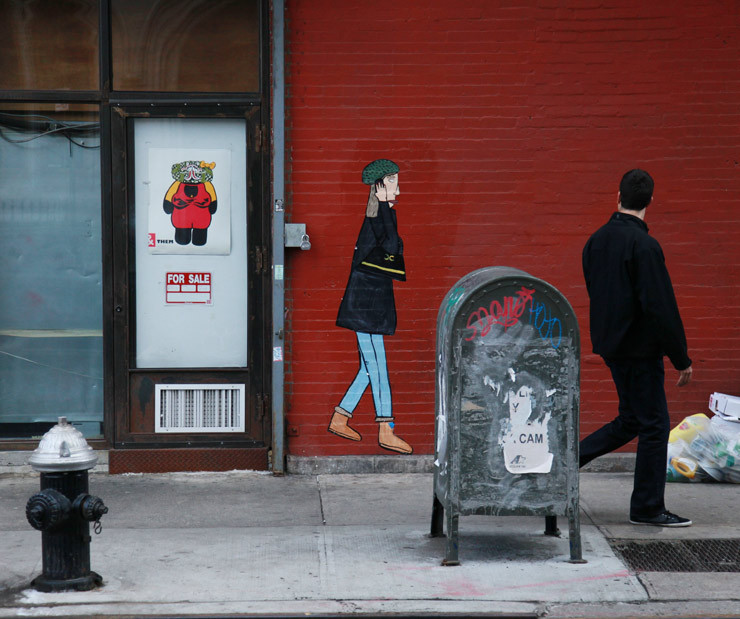 Don't Fret (photo © Jaime Rojo)
To quote ourselves when we talked about Don't Fret last year, "His acute eyes and poignant observations as an artist enable him to put everyday pedestrians on the wall for everyday pedestrians to look at. He captures what he sees and transfers his musings into wittily drawn characters that are hand colored and wheat pasted."
More acute than ever, Don't Fret was recently in New York and we caught the jokes he was pitching. Ready?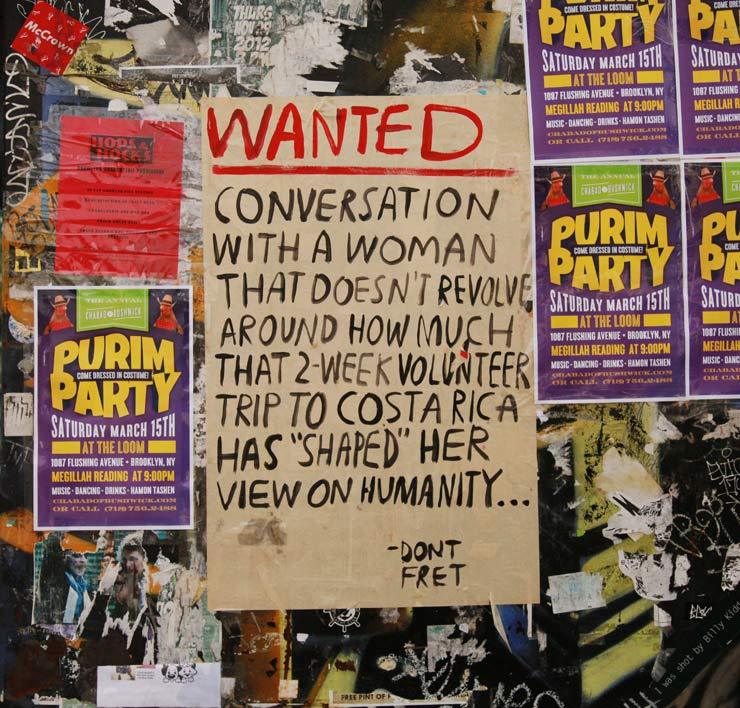 Don't Fret (photo © Jaime Rojo)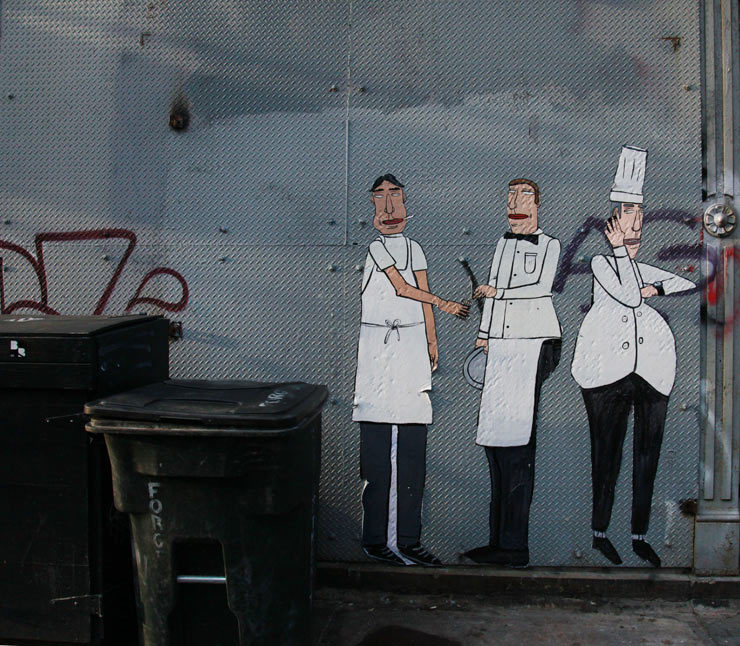 Don't Fret (photo © Jaime Rojo)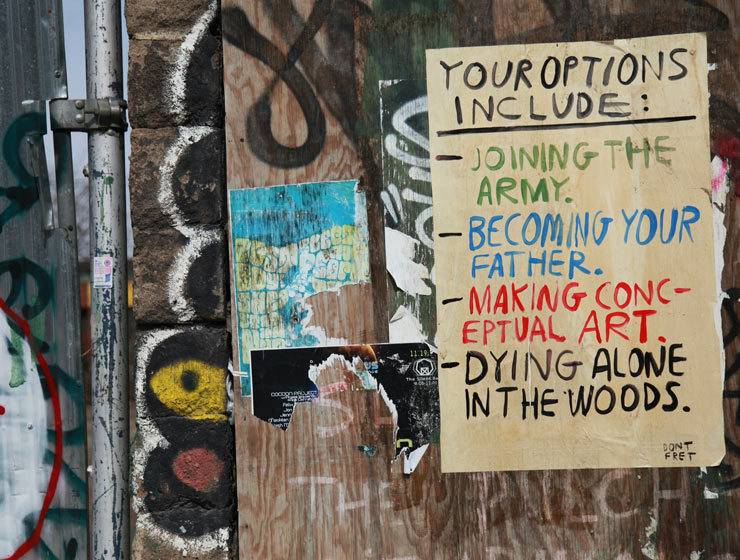 Don't Fret (photo © Jaime Rojo)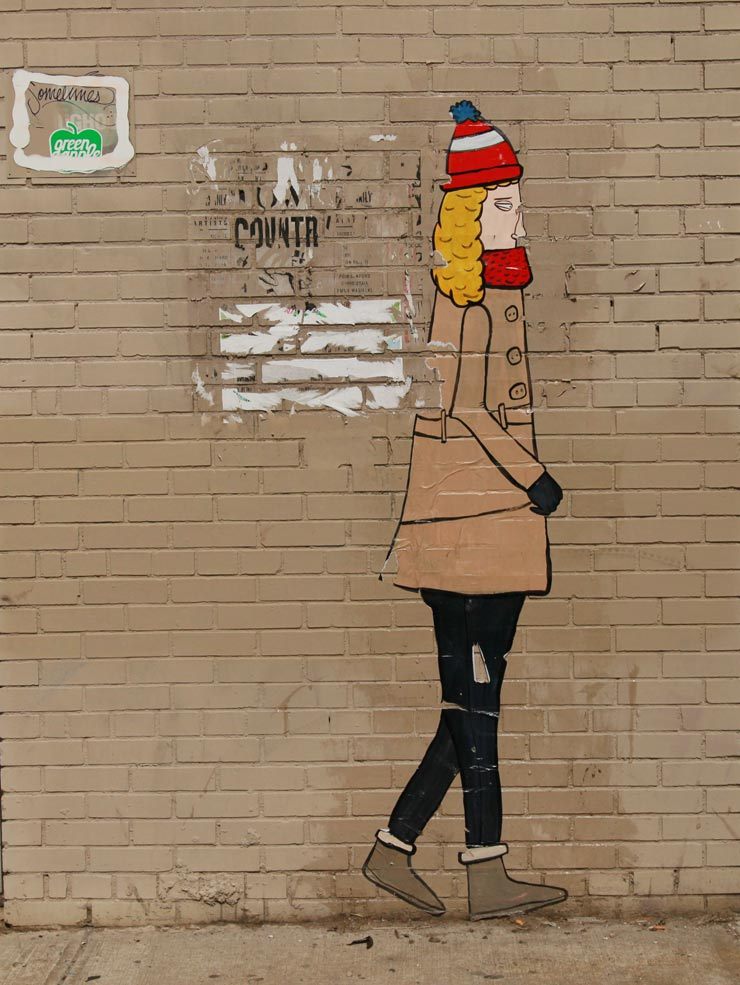 Don't Fret (photo © Jaime Rojo)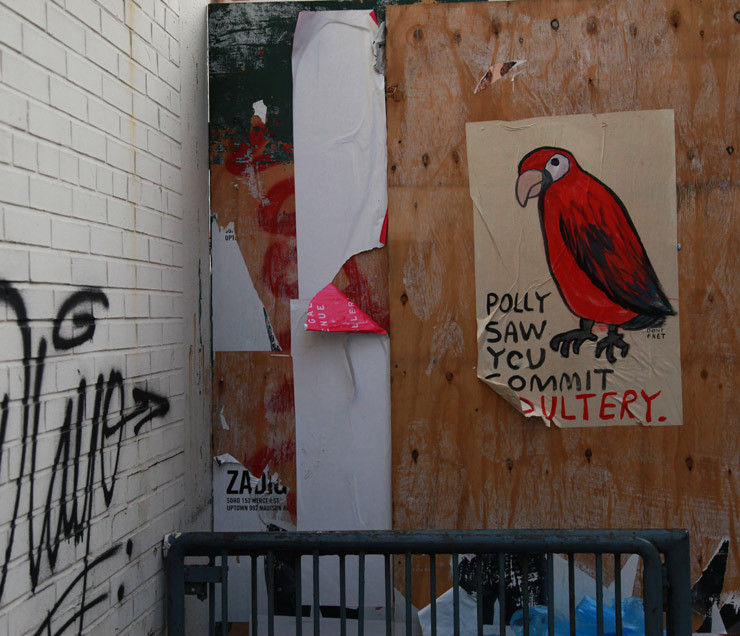 Don't Fret (photo © Jaime Rojo)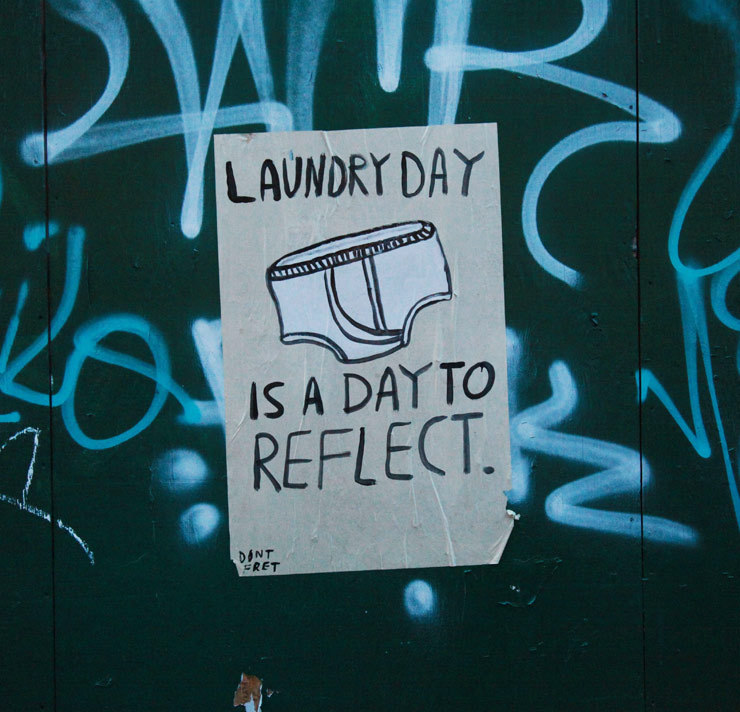 Don't Fret (photo © Jaime Rojo)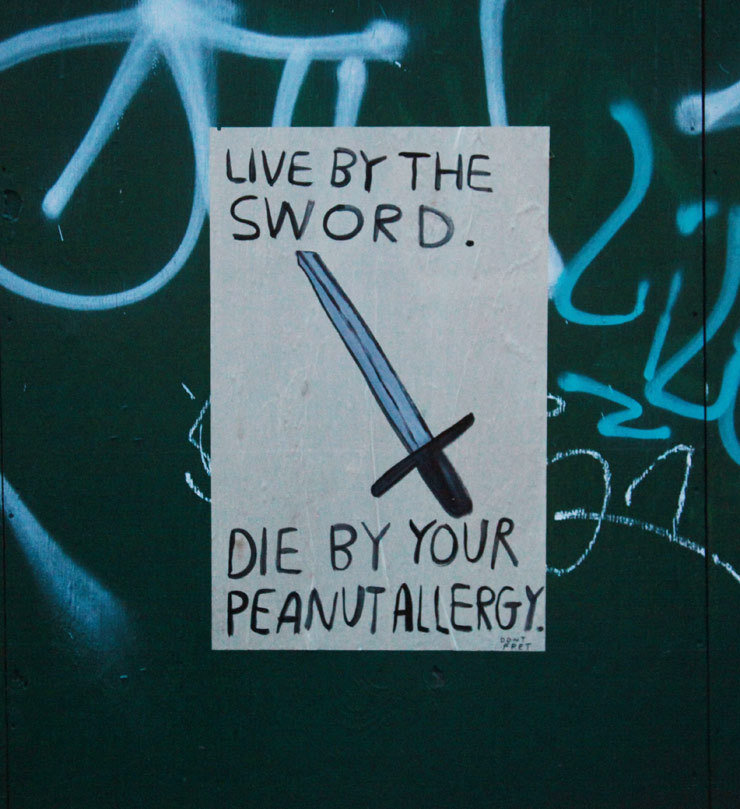 Don't Fret (photo © Jaime Rojo)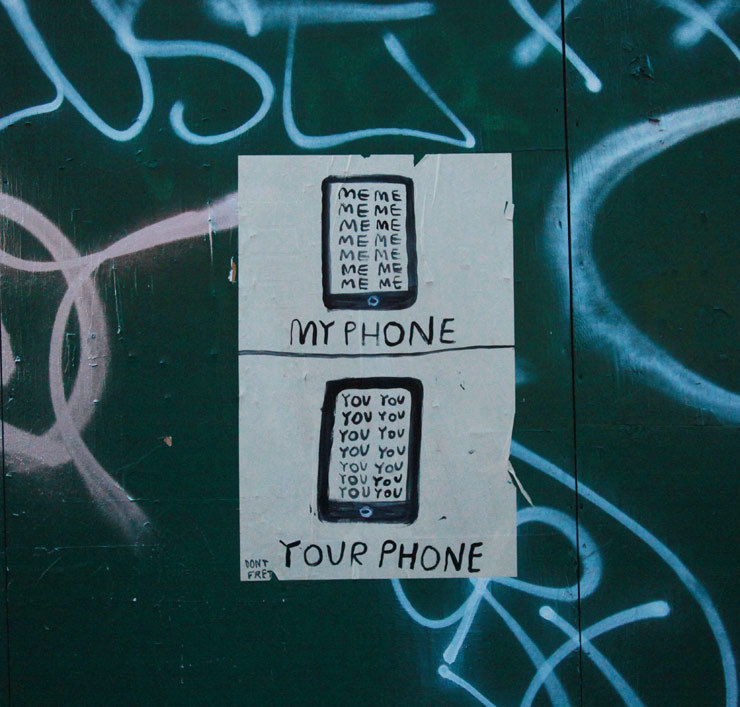 Don't Fret (photo © Jaime Rojo)
<<>>><><<>BSA<<>>><<<>><>>><><<>BSA<<>>><<<>><>
Please note: All content including images and text are © BrooklynStreetArt.com, unless otherwise noted. We like sharing BSA content for non-commercial purposes as long as you credit the photographer(s) and BSA, include a link to the original article URL and do not remove the photographer's name from the .jpg file. Otherwise, please refrain from re-posting. Thanks!

<<>>><><<>BSA<<>>><<<>><>>><><<>BSA<<>>><<<>><>

This article is also posted on Brooklyn Street Art.

Read all posts by Steven P. Harrington and Jaime Rojo on The Huffington Post HERE.

See new photos and read scintillating interviews every day on BrooklynStreetArt.com

Follow us on Instagram @bkstreetart

See our TUMBLR page

Follow us on TWITTER @bkstreetart