With New York's hallowed graffiti hotspot 5 Pointz buffed and freshly hit up with GILF! and BAMN's yellow gentrification tape installation, we've been thinking about the disappearing quantity of ratty real estate in the Go-Go 20-teens.
Not only does the cycle of industry abandonment-artists discovery-developer revival now occur so quickly for some neighborhoods when it comes to gentrification, it seems like sometimes the bong smoke doesn't even have time to clear before the wrecking ball swings, the latte quotient doubles, and a woman in a sports bra runs you over with a stroller.
So today we're heading to Jersey!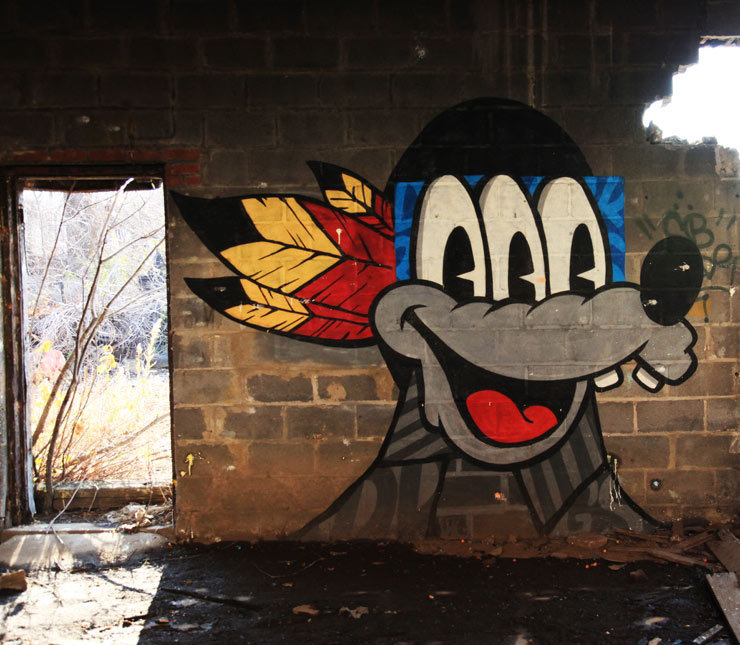 Numskull (photo © Jaime Rojo)
Yes, the Garden state has become a punch line lately - what with the unfolding scandals around the George Washington Bridge and the once-hopeful-now-doubtful presidential governor. So the bridge is closed, you got a problem with that?
But you know what? Jersey has some of the best graffiti-covered abandoned and neglected real estate west of the Hudson River and unlike NYC, which likes to knock down perfectly good buildings long before their expiration date, Jersey knows how to let them decay. These buildings have a patina, have character, and can even feel haunted and full of adventure to your average urban explorer.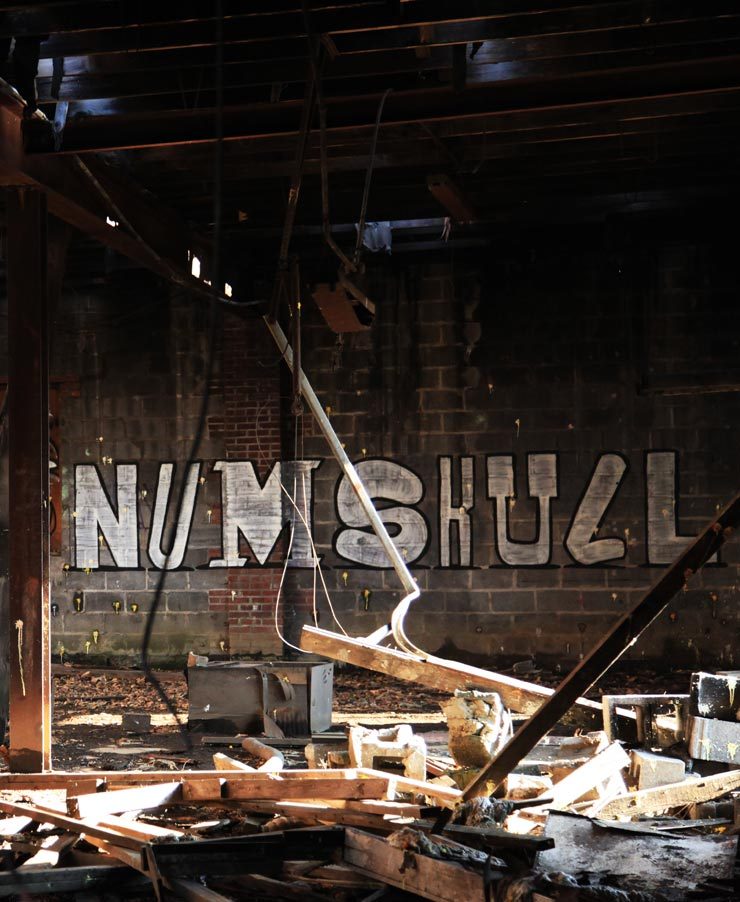 Numskull (photo © Jaime Rojo)
We know Street Art and graffiti is ephemeral, transitory, a moment in time. Here is one of those moments; somewhere between the 20th century industrial world and the hoisting of new I-beams toward a fabulous glass and steel future - we find the aerosol tags, pieces, fill-ins, bubble letters, and characters whose bended boobs spell out your name.
In this interstice of time between abandonment and development these artists will entertain, confuse, disgust and possibly entreat you to wander further along. These galleries are not advertised and you should be careful since safe building codes don't apply here and a falling block could clock you, but the admission price is right and gentrification is still up the street a distance. Hurry, before the artists move in and start squatting.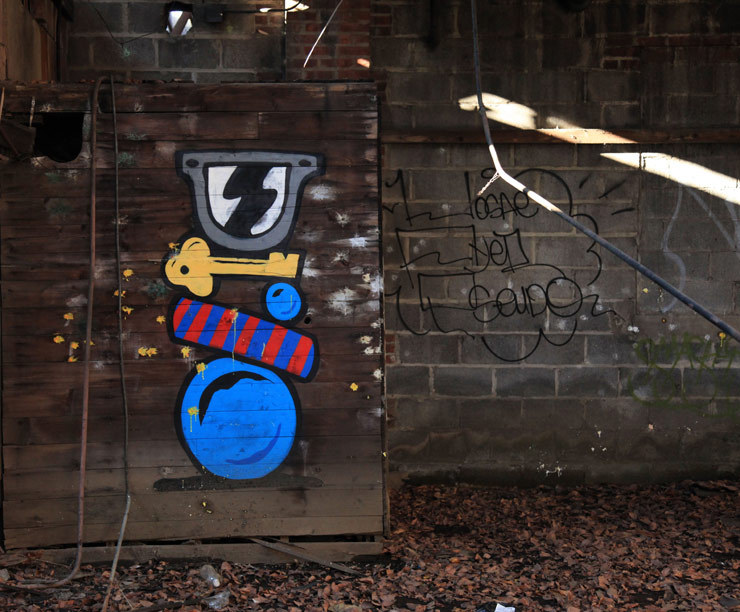 Numskull (photo © Jaime Rojo)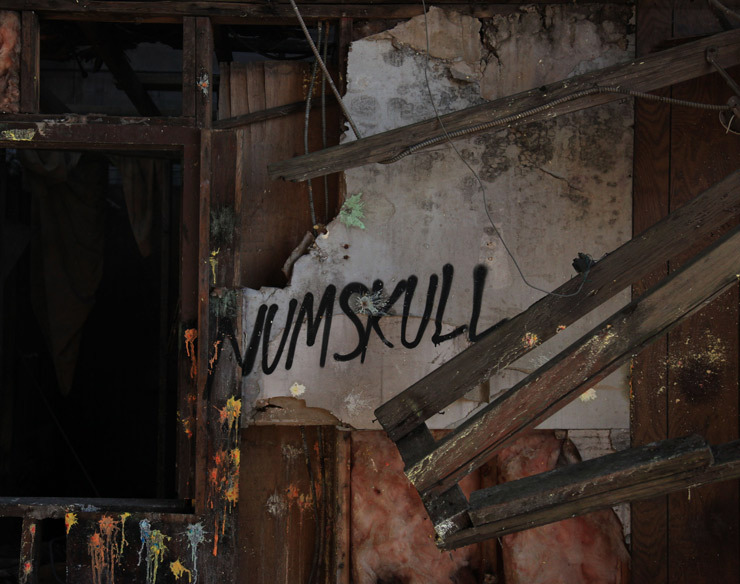 Numskull (photo © Jaime Rojo)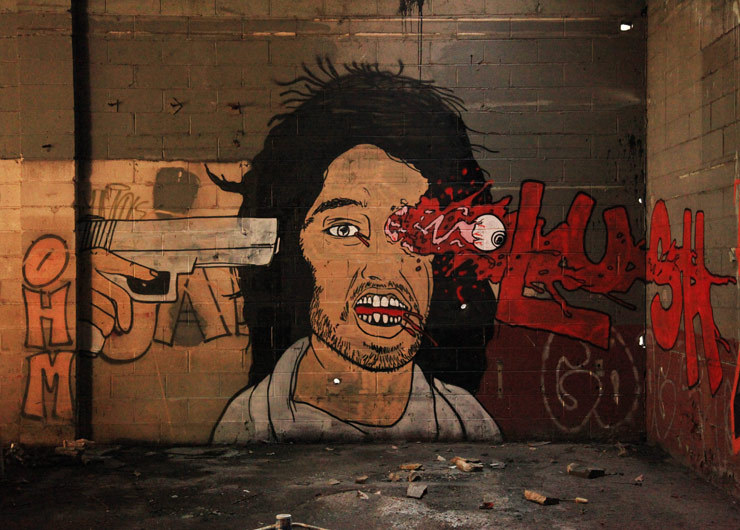 Lush (photo © Jaime Rojo)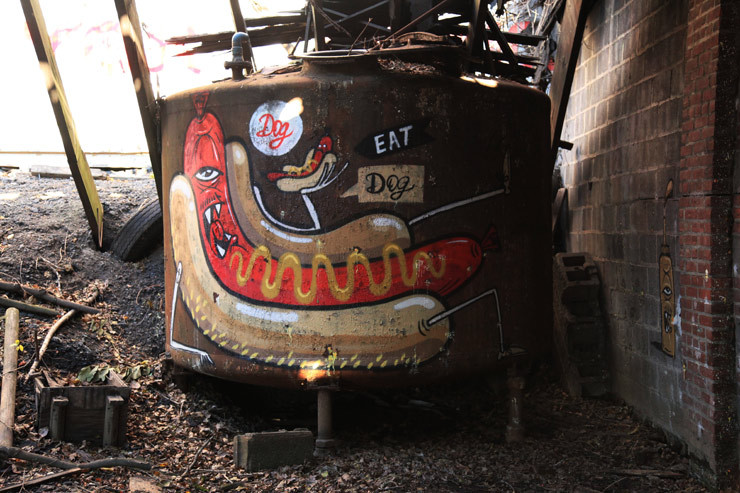 Lush (photo © Jaime Rojo)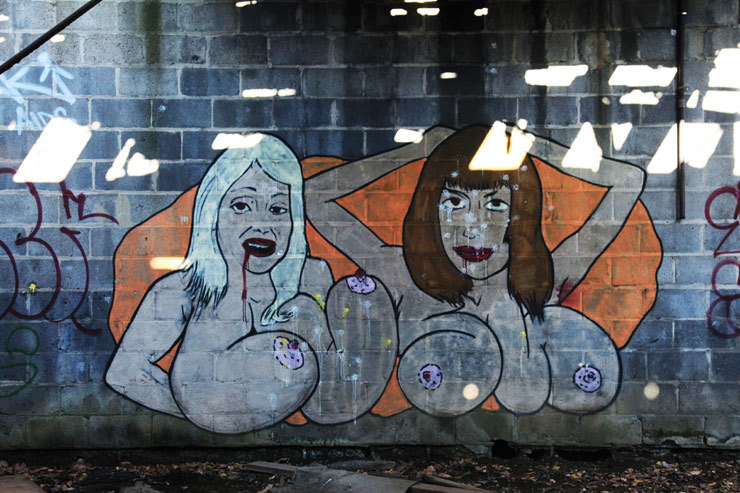 Lush (photo © Jaime Rojo)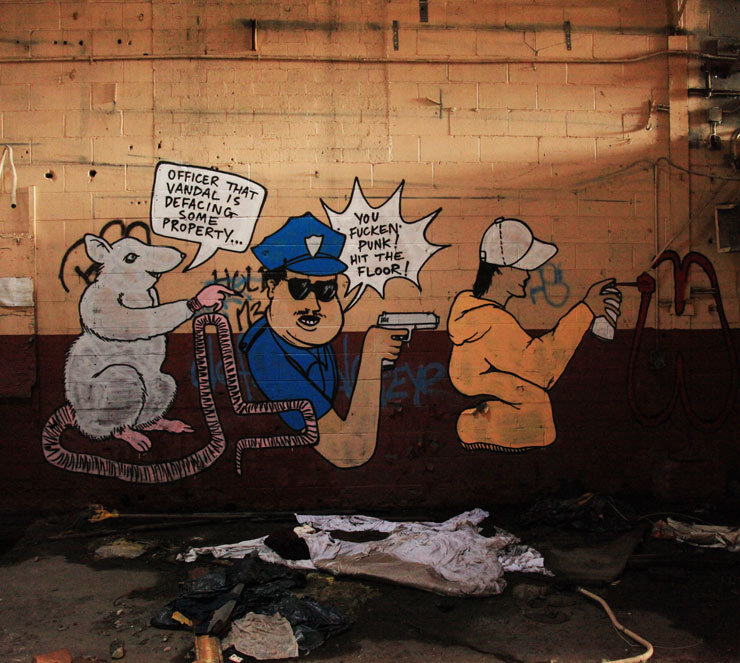 Lush (photo © Jaime Rojo)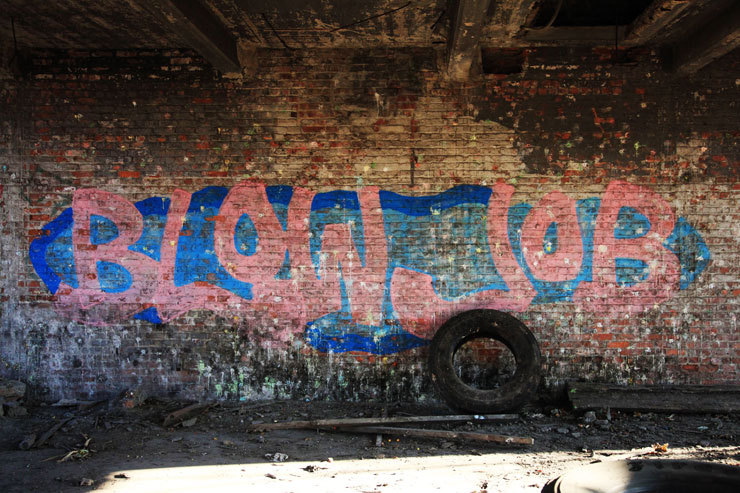 Lush (photo © Jaime Rojo)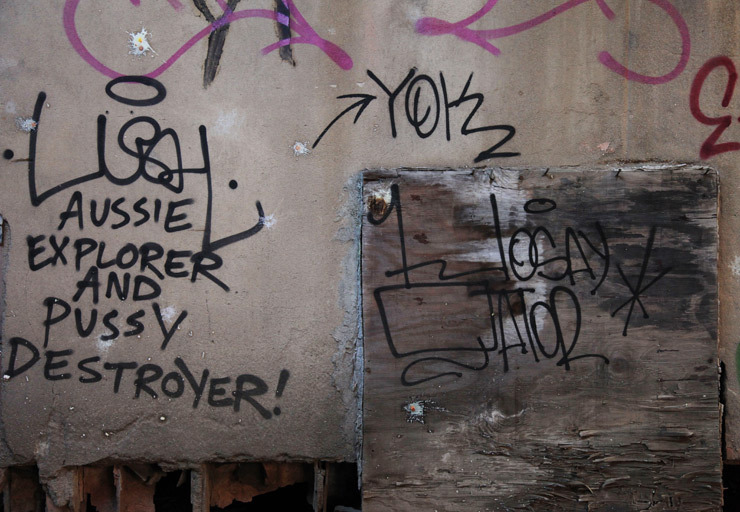 Lush and friends. (photo © Jaime Rojo)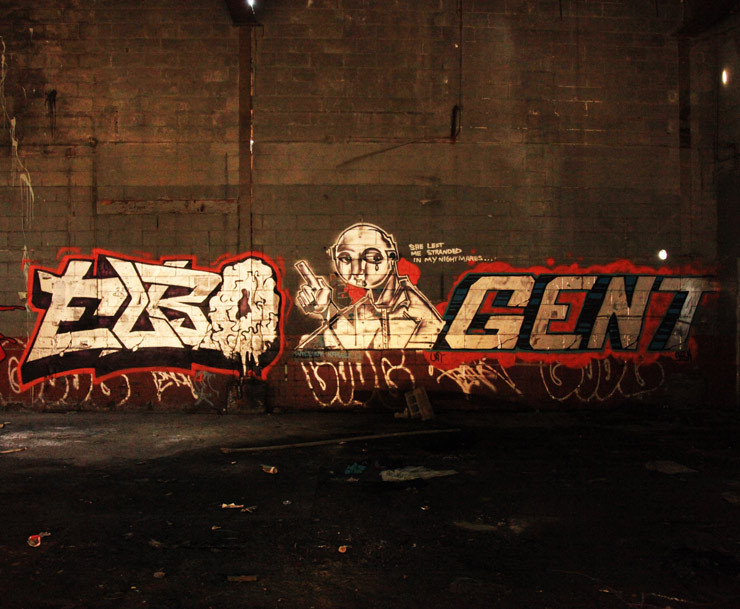 Elbo, Gent, William Kasso. (photo © Jaime Rojo)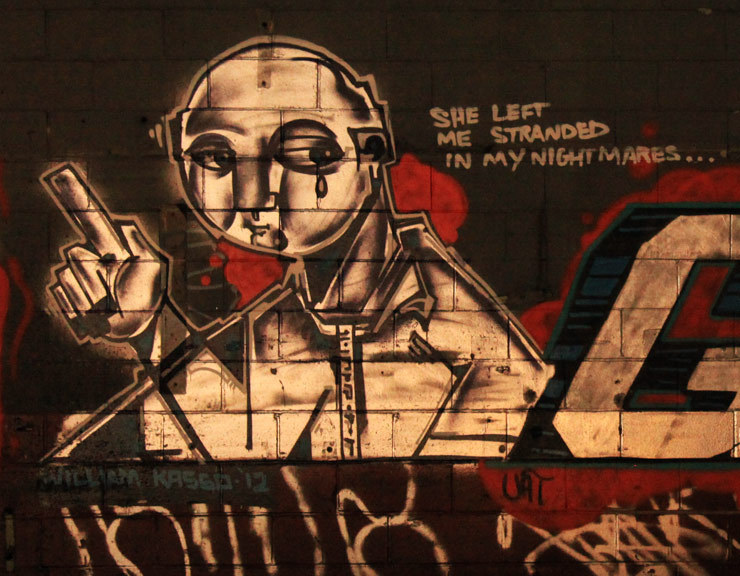 Elbo, Gent, William Kasso. Detail. (photo © Jaime Rojo)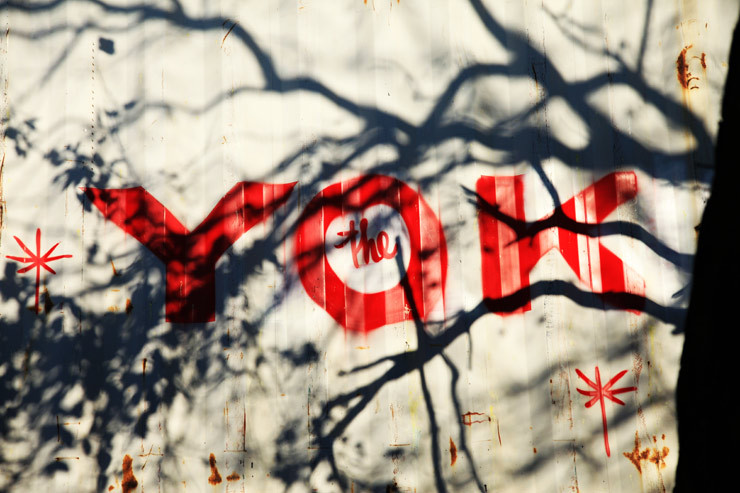 The Yok (photo © Jaime Rojo)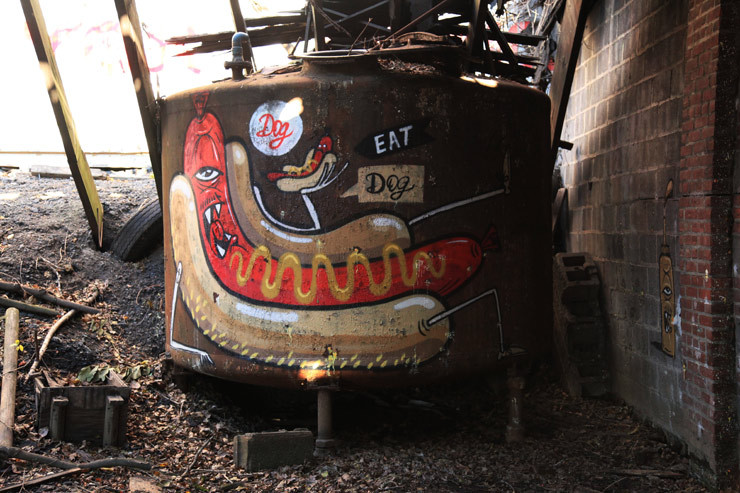 The Yok (photo © Jaime Rojo)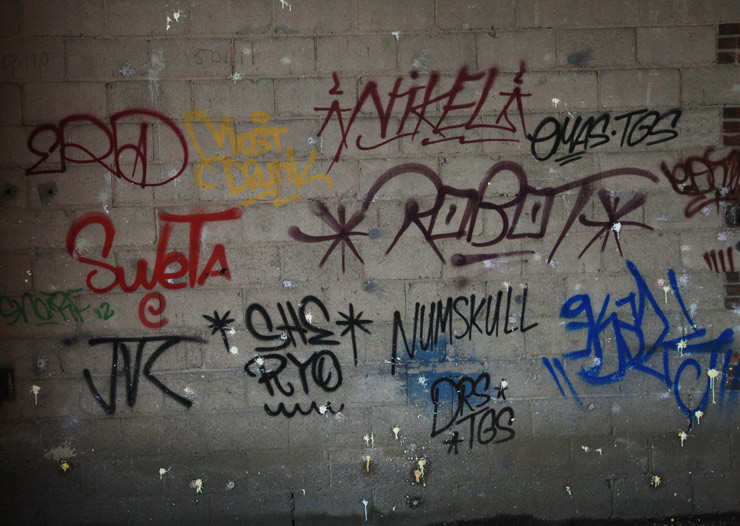 The Tags Wall of Fame (photo © Jaime Rojo)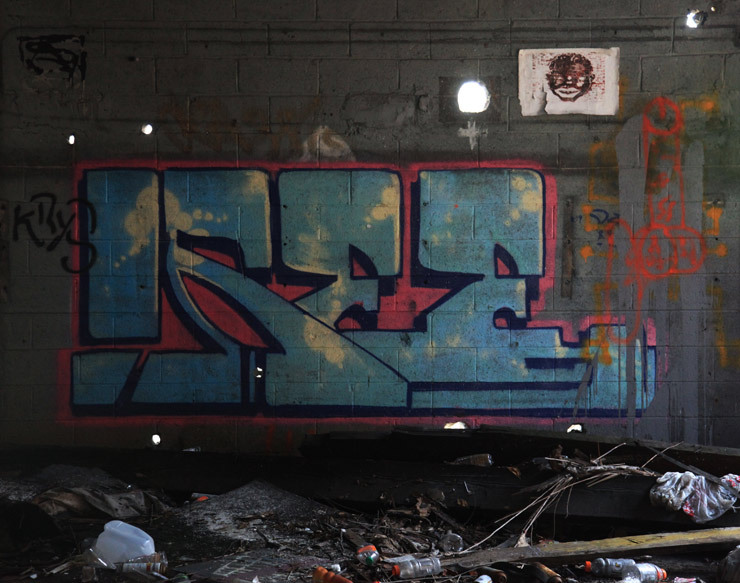 Ree (photo © Jaime Rojo)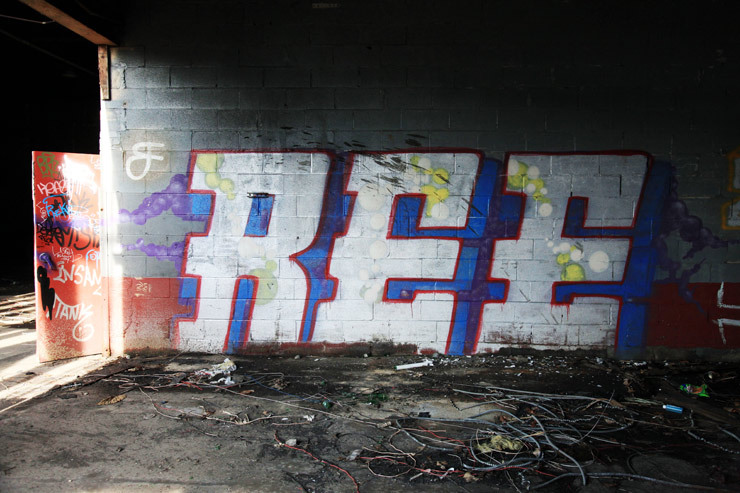 Ree (photo © Jaime Rojo)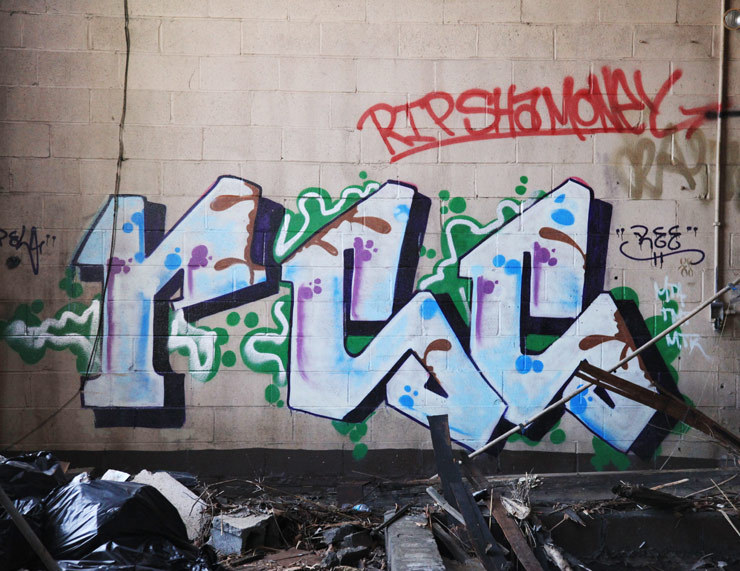 Ree (photo © Jaime Rojo)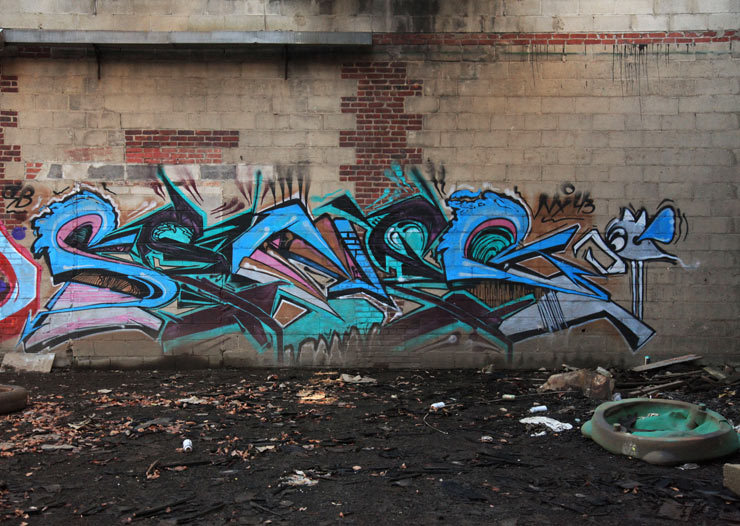 Senic (photo © Jaime Rojo)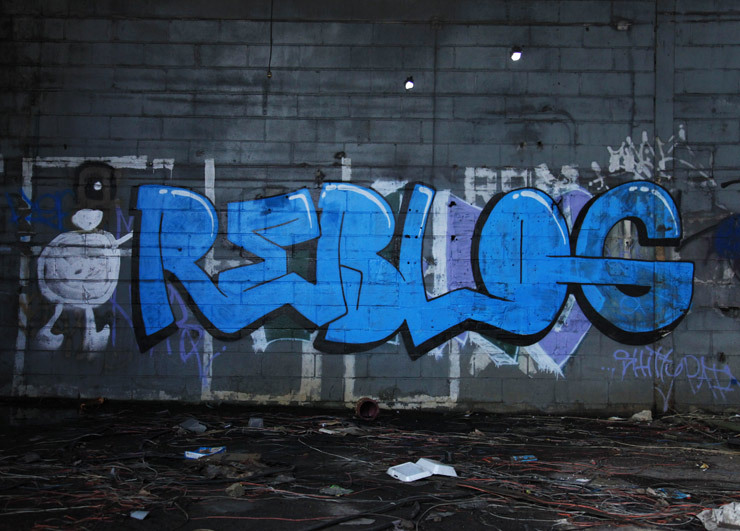 Yes, you may reblog this if you like. Reblog (photo © Jaime Rojo)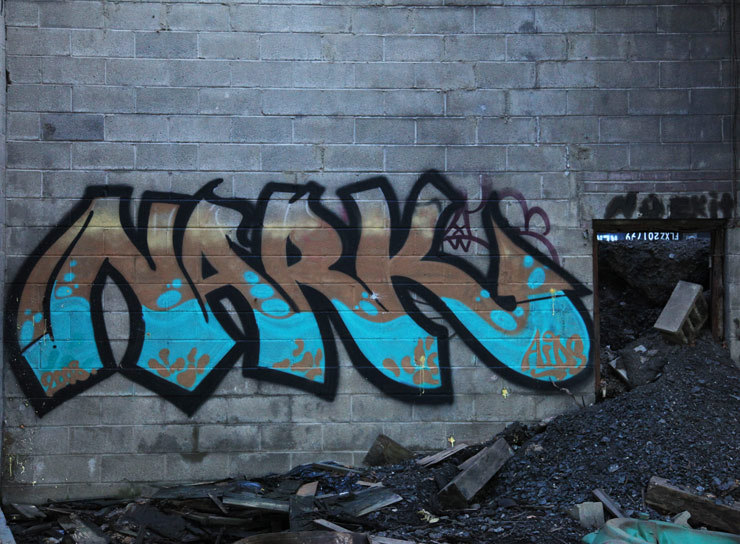 Nark (photo © Jaime Rojo)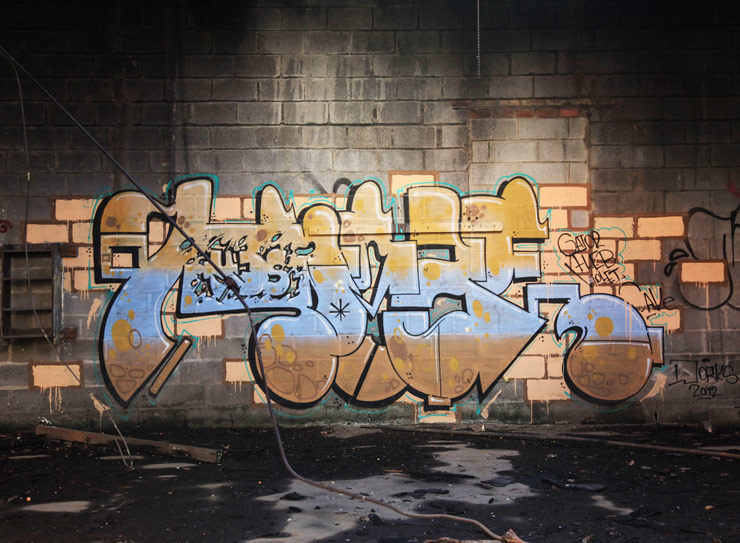 Hosae (photo © Jaime Rojo)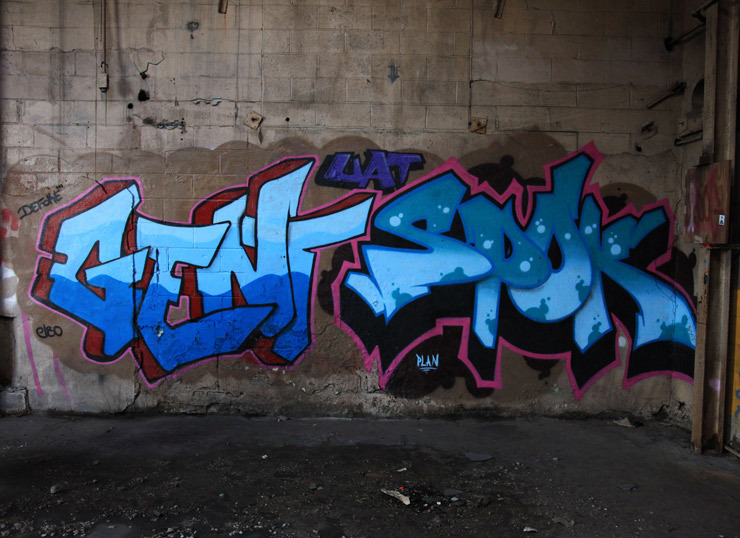 Gent. Spok (photo © Jaime Rojo)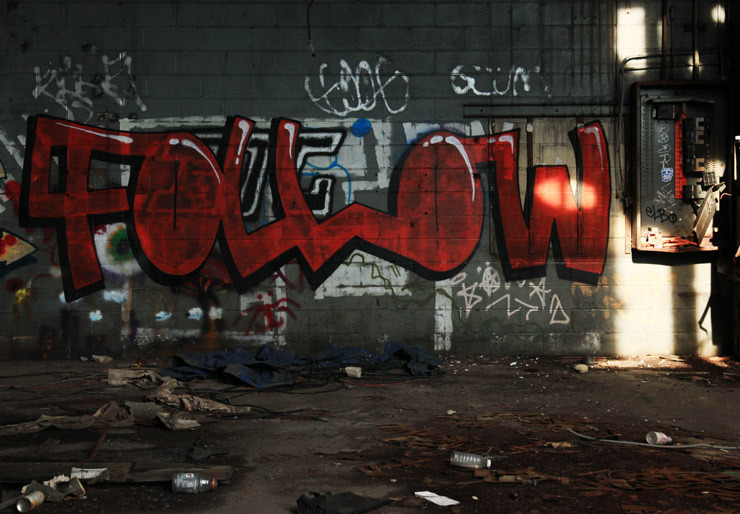 Follow (photo © Jaime Rojo)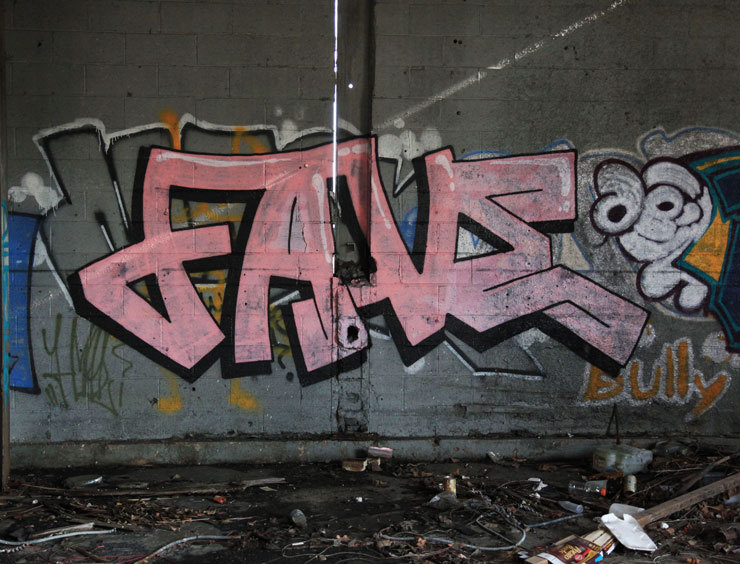 Fave (photo © Jaime Rojo)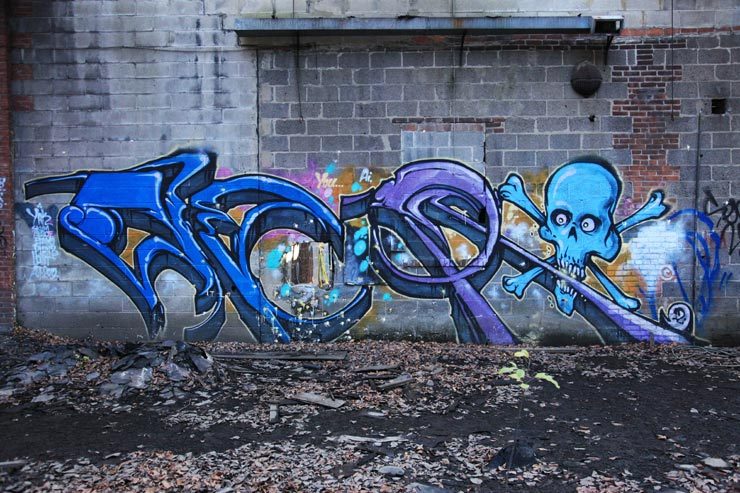 Acroe (photo © Jaime Rojo)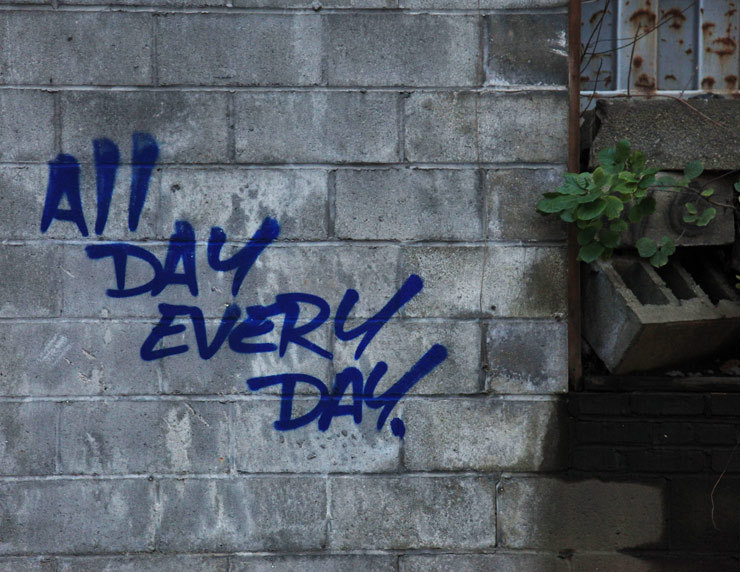 Artist Unknown. Please help ID the tag. (photo © Jaime Rojo)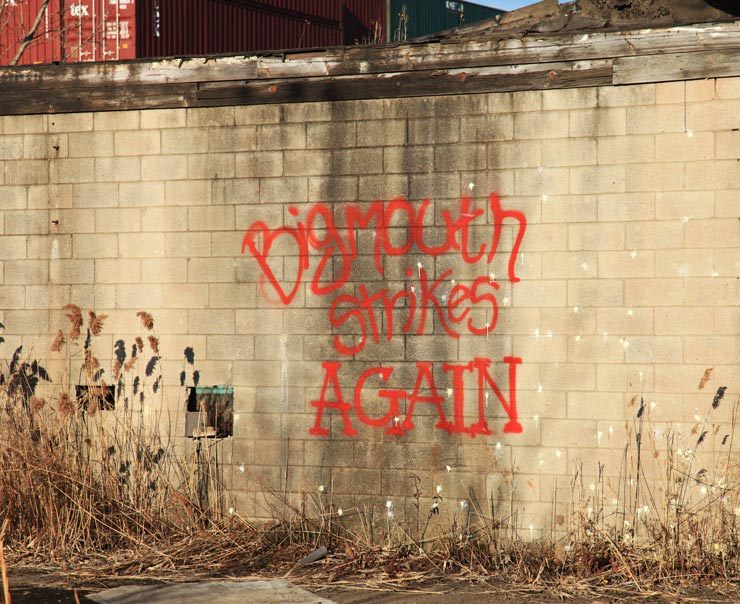 Artist Unknown. Please help ID the tag. (photo © Jaime Rojo)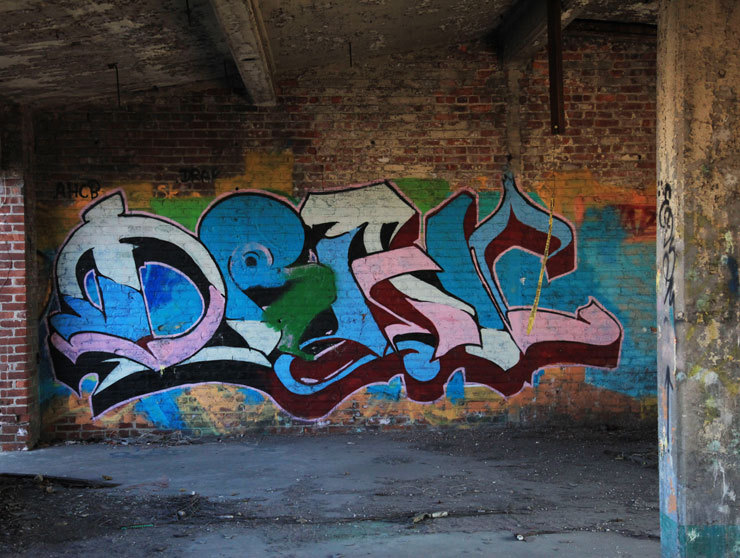 Drastic (photo © Jaime Rojo)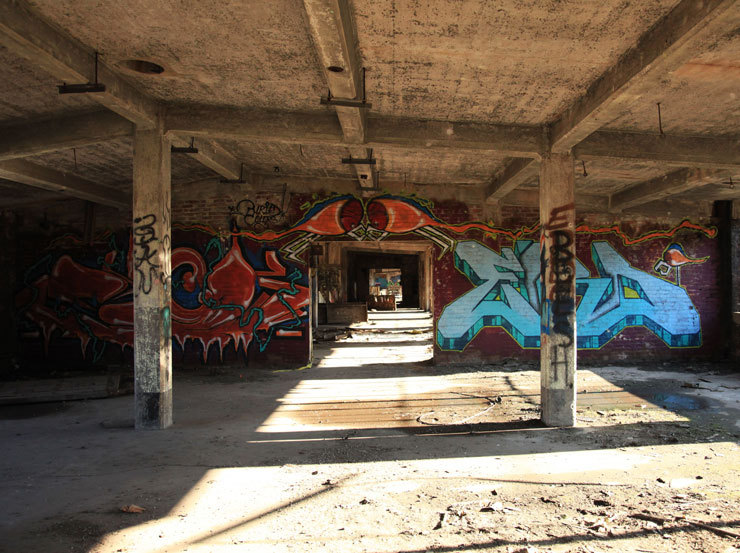 Artist Unknown. Please help ID the tag. (photo © Jaime Rojo)

<<>>><><<>BSA<<>>><<<>><>>><><<>BSA<<>>><<<>><>
Please note: All content including images and text are © BrooklynStreetArt.com, unless otherwise noted. We like sharing BSA content for non-commercial purposes as long as you credit the photographer(s) and BSA, include a link to the original article URL and do not remove the photographer's name from the .jpg file. Otherwise, please refrain from re-posting. Thanks!

<<>>><><<>BSA<<>>><<<>><>>><><<>BSA<<>>><<<>><>

This article is also posted on Brooklyn Street Art.

Read all posts by Steven P. Harrington and Jaime Rojo on The Huffington Post HERE.

See new photos and read scintillating interviews every day on BrooklynStreetArt.com

Follow us on Instagram @bkstreetart

See our TUMBLR page

Follow us on TWITTER @bkstreetart