Five years into it, The Brooklyn Artists Ball has become a glittering spectacle that speaks to the traditional, the contemporary and the beat on the street. This year's greatest hits collection features new, elaborate installations by three of Brooklyn's celebrated Street Artists of this century: Swoon, Olek and Faile. It also presents the custom created environments from equally charged modern thinkers like Jennifer Catron & Paul Outlaw, Fernando Mastrangelo, Duke Riley, SITU Studio, Dustin Yellin and Pioneer Works, all of which speak to the undeniable emergence of the Brooklyn influence on the contemporary art scene.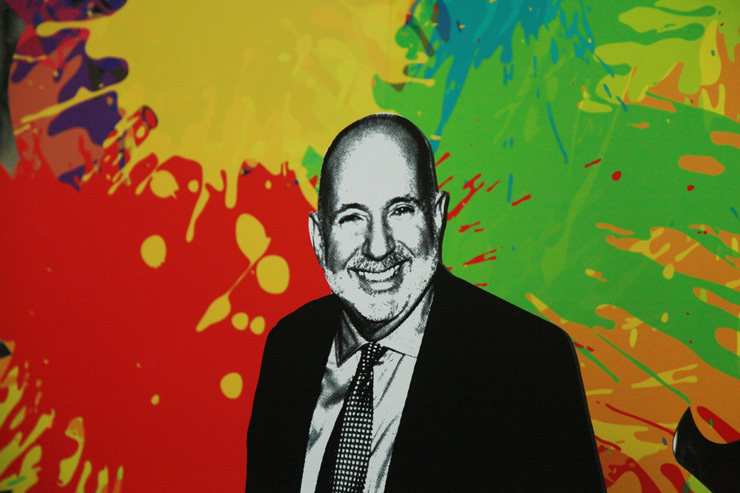 Man of the hour amidst an explosion of color; This Dr. Arnold Lehman cut-out from the museum's photo archive will be displayed in multiples and will probably be the visual element that generates the highest number of selfies. (photo © Jaime Rojo)
The sky-lit Beaux-Arts Court hosts the dinner that serves as fundraiser, exhibition and aesthetic theme park, with each artist or collective given tables to adorn and transform. With the guests touring the tables, meeting the artists, watching the awards ceremony and placing bids on the live auction, some guests may forget to eat. This crescendo, of course, is a celebratory tribute to the museums' retiring director Arnold Lehman, who effectively has opened the doors to wider audiences and welcomed participation and collaboration during his nearly 20-year tenure -- boldly taking risks and diplomatically shepherding the enormous institution into a contemporary relevance envied by some and which now routinely makes guests and patrons enthusiastic, engaged and dare we say it, proud.
Here are some behind the scenes preparations for the dinner that will honor Lehman and artists Jean-Michel Basquiat, Takashi Murakami and Kiki Smith. In addition to the dinner there is a temporary exhibition of 125 exceptional works of art collected during Lehman's tenure and a full-on dance party with more installations, curated by Fool's Gold, the independent record label based in Brooklyn. We visited the museum early in the week to catch up with the artists as they were creating their tables - below are shots of the works in progress. None of the tables were completed yet so the images reflect the tables in process.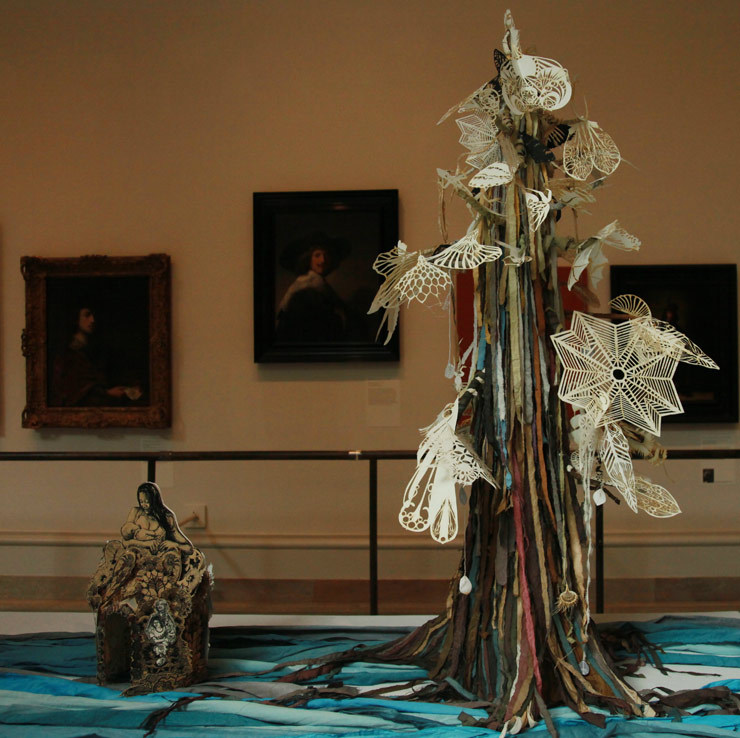 Swoon's display includes the original models used for many of her projects, including these two for her Submerged Motherlands exhibit last year at The Brooklyn Museum (photo © Jaime Rojo)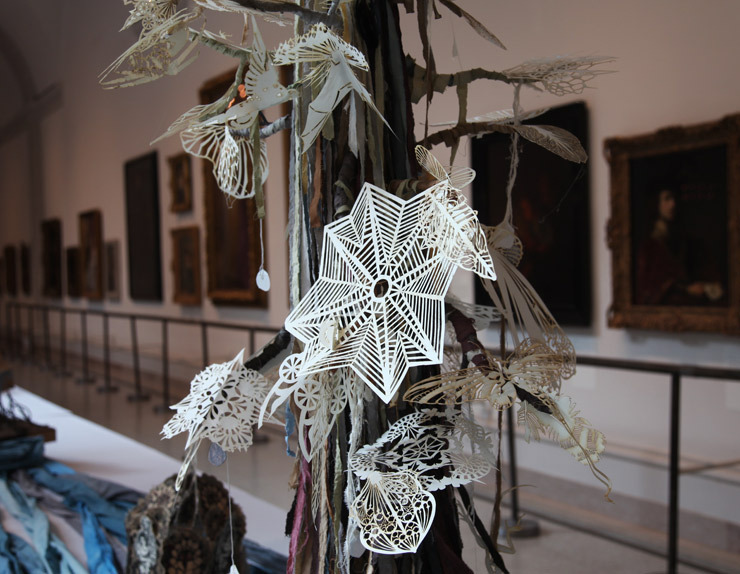 Swoon (photo © Jaime Rojo)
People dining at this Swoon table people will see maquettes of the three boats she sailed with merry Brooklyn anarchists across the Adriatic to triumphantly arrive at the 2009 Venice Biennale.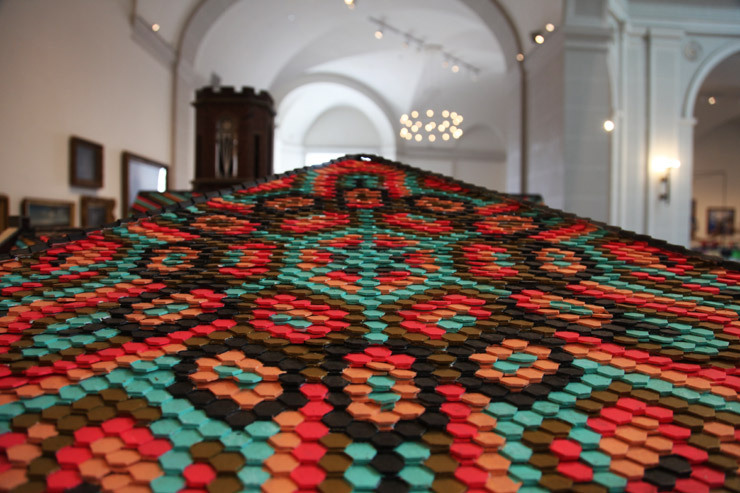 A view of the Braddock Tiles model from Swoon and her project in Braddock, PA. (photo © Jaime Rojo)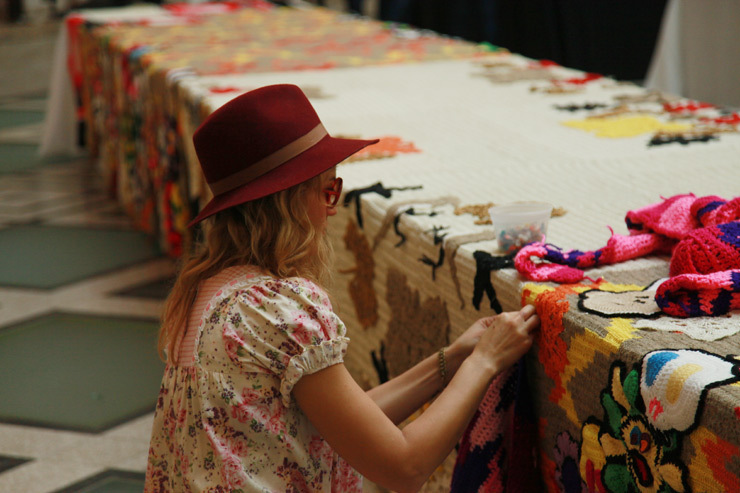 Olek (photo © Jaime Rojo)
Brooklyn's Olek is transforming two tables with her signature crochet vocabulary to incorporate elements paying homage to honorees Jean-Michel Basquiat, Kiki Smith and Takashi Murakami.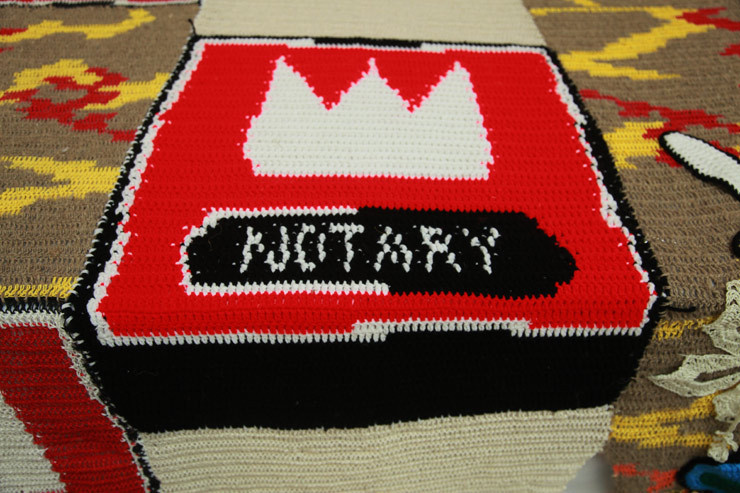 Olek and Basquiat, whose notebooks are currently on exhibit here. (photo © Jaime Rojo)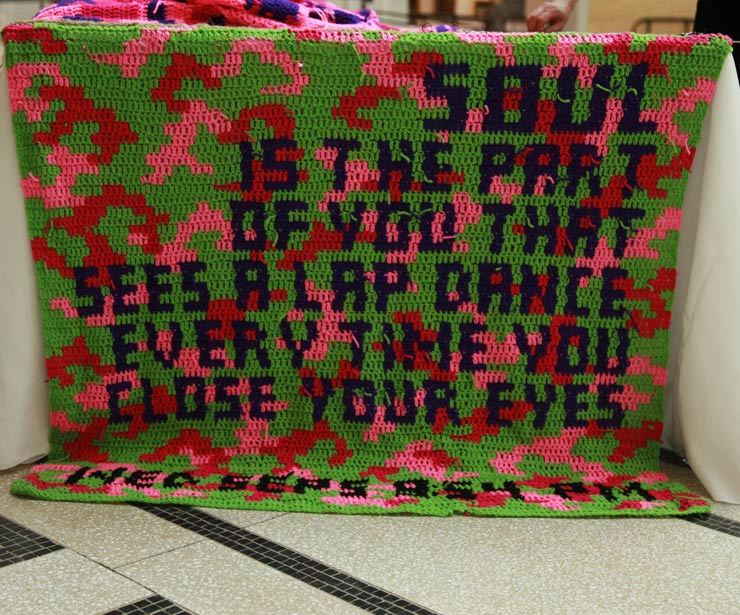 Oh, they're calling that a soul now? Olek (photo © Jaime Rojo)
Brooklyn's Faile illuminate: Patrick McNeil and Patrick Miller have a concept for their tables that includes turning them into giant light boxes where patrons are going to dine while looking at iconic film from their silk screen work. Street art followers will recognize many of these images from their work on the street.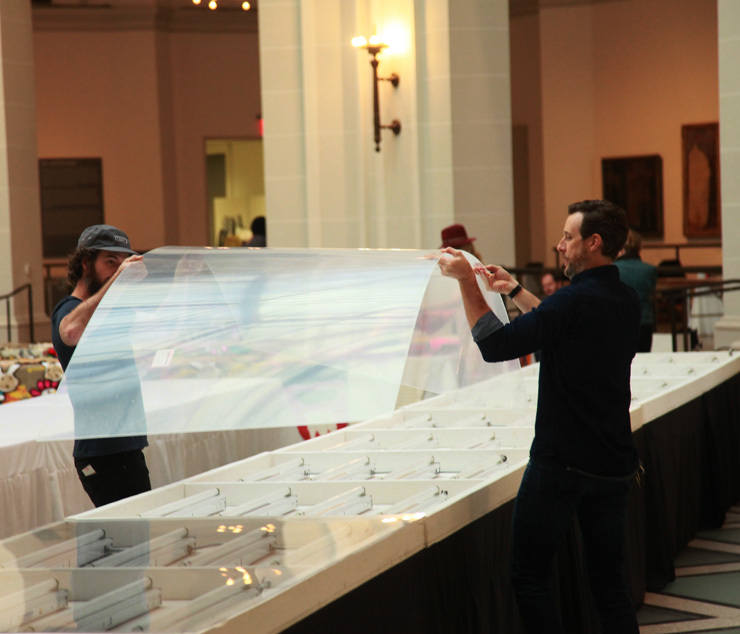 Patrick and Patrick constructing their light table (photo © Jaime Rojo)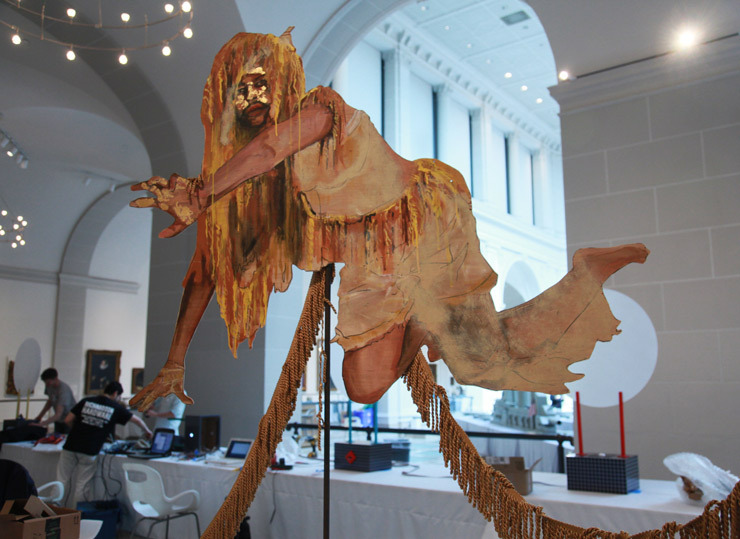 Z Behl's table is a multi-part female trickster and her chariot - is one of three tables being presented by Pioneer Works/Dustin Yellin. (photo © Jaime Rojo)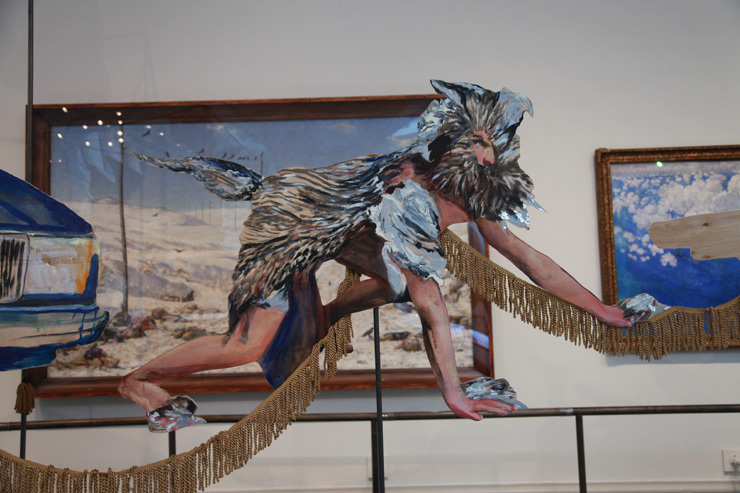 Z Behl (photo © Jaime Rojo)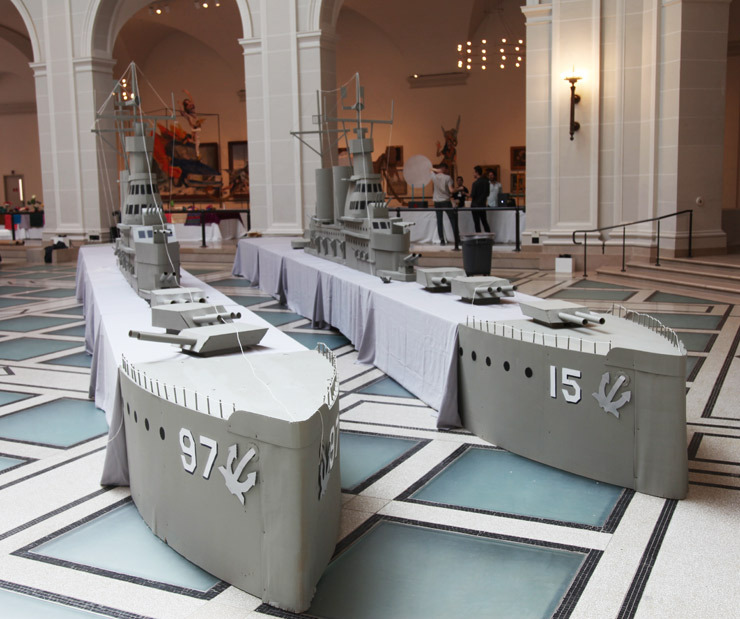 Brooklyn's Duke Riley, whose waterborne performance projects around New York have frequently landed him in trouble with the authorities, will send some guests out to sea. (photo © Jaime Rojo)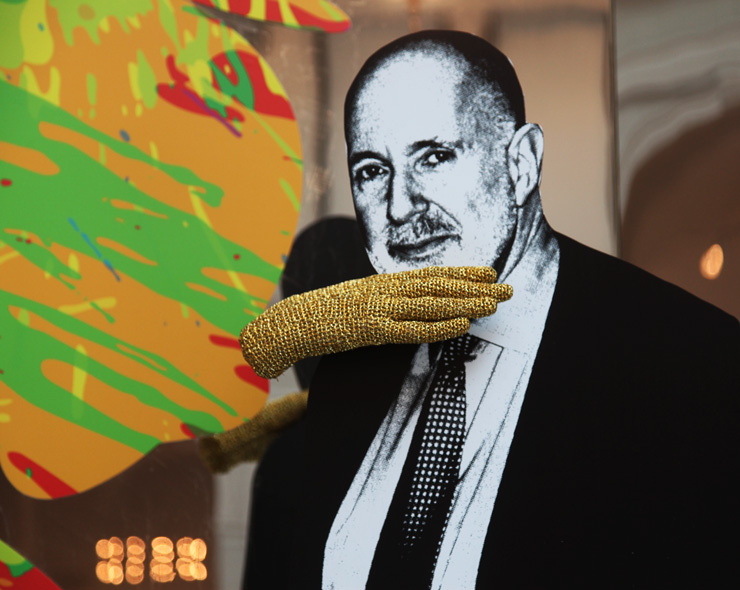 A surrealistic "collaboration" between a reflective Arnold and the gilded Olek. (photo © Jaime Rojo)


Tickets for the Ball are sold out. There are still tickets available for the Dance Party.


<<>>><><<>BSA<<>>><<<>><>>><><<>BSA<<>>><<<>><>

Please note: All content including images and text are © BrooklynStreetArt.com, unless otherwise noted. We like sharing BSA content for non-commercial purposes as long as you credit the photographer(s) and BSA, include a link to the original article URL and do not remove the photographer's name from the .jpg file. Otherwise, please refrain from re-posting. Thanks!

<<>>><><<>BSA<<>>><<<>><>>><><<>BSA<<>>><<<>><>

This article is also posted on Brooklyn Street Art.

Read all posts by Steven P. Harrington and Jaime Rojo on The Huffington Post HERE.

See new photos and read scintillating interviews every day on BrooklynStreetArt.com

Follow us on Instagram @bkstreetart

See our TUMBLR page

Follow us on TWITTER @bkstreetart