Either it will have proved to be a master class or an exhibition in hubris, says Pictures on Walls in their framing of the empty-framed show in progress by Dran in London's Soho. Public Execution was on display while it was in development before you as the largely anonymous French artist continued to intermittently work on new illustrations directly on the walls.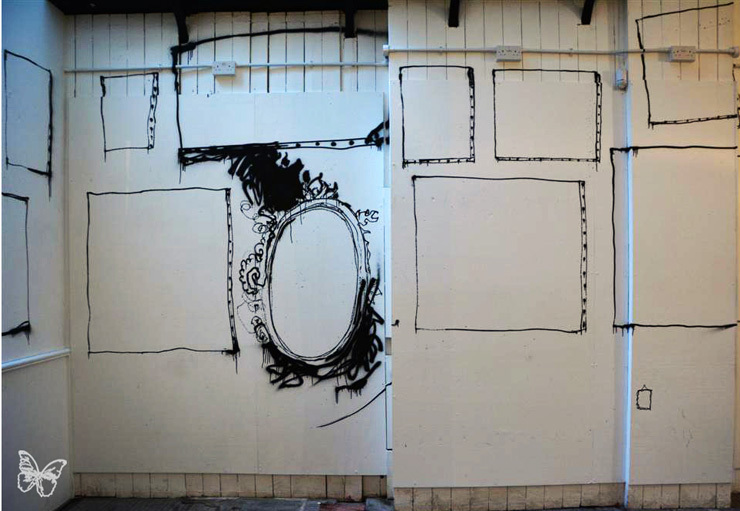 Dran (Photo © Butterfly)
The final stroke was applied as the endpoint of gradually culminating art show that began as a reception two weeks earlier with cheese and wine and a primarily empty white box gallery, save the hand-painted frames serving as place-holders on walls and ceilings. Even so, the frames turned out to be only suggested locations for Dran's cartooning, as he proceeded to paint inside and outside their confines, eventually covering every surface.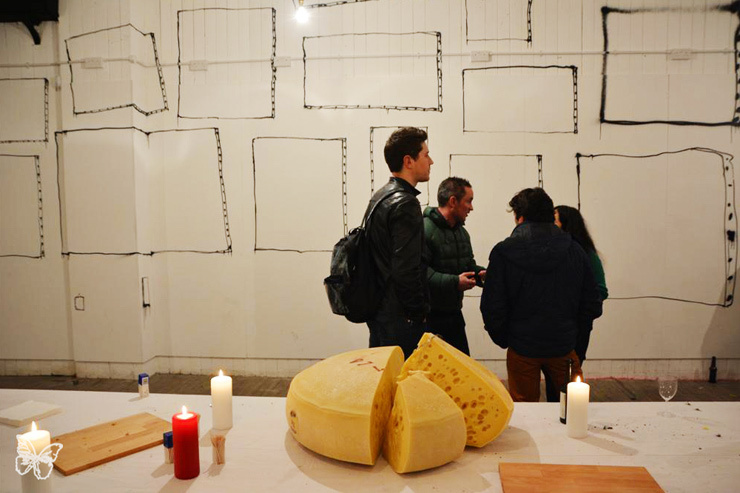 Dran (Photo © Butterfly)
While the concept is possibly new to the gallery setting, it is analogous to the work of street artists creating outside the gallery doors, where any passerby may observe and frequently will offer an opinion or pose a question while the artist is painting. Regardless of whether he is present when you stop in, the artist has helpfully painted a suitably sour gallery assistant to stare you down if her eyes happen to divert from her Macbook for a second.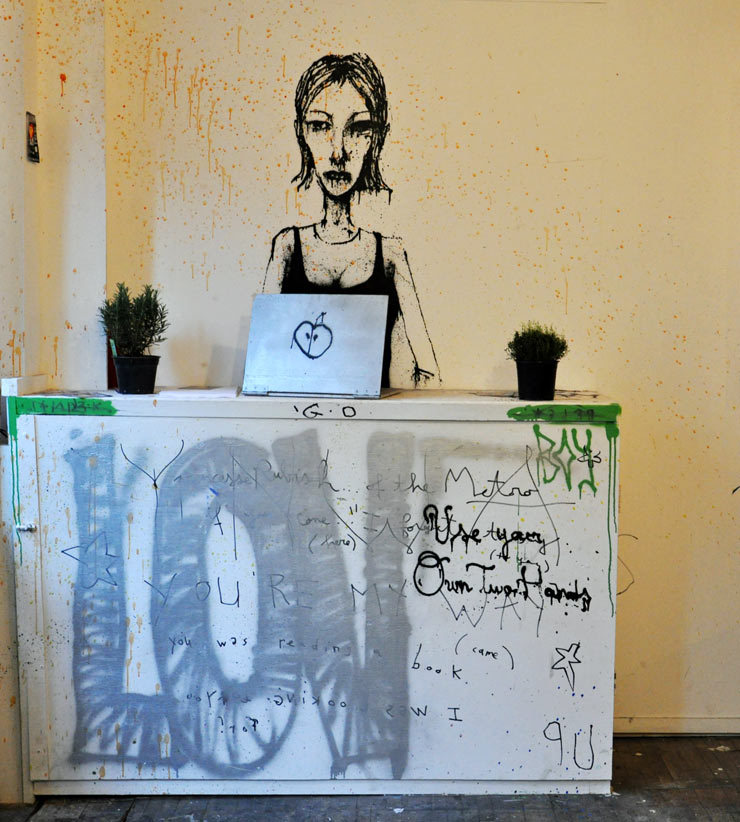 Dran (Photo © Julie A)
"Ideally located in Soho between a sex shop, a pub and a primary school, the show is evolving on a daily basis," said photographer and street art culture observer Sandra AKA Butterfly as she made near daily drop-bys. By the time the show closed on Saturday, Public Execution was complete and the gallery was filled with new art works. "It's actually a 'reversed' show," says Butterfly, who brings these exclusive images of the humorous scenes that continued to spout from Dran's imagination.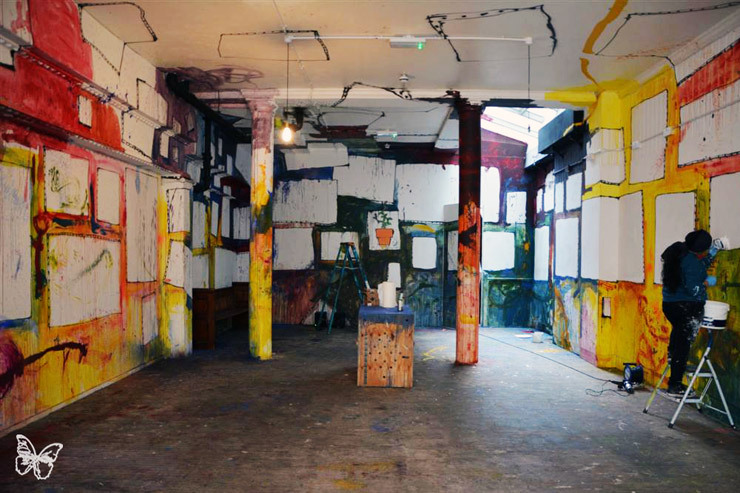 Dran (Photo © Butterfly)
Catching the elusive artist at work was not so easy, as he was purportedly arriving unannounced and at odd hours -- a draw for a certain contingent of fans in itself. Creating fully "in the moment," he said he came up with most of his ideas on the spot, so even he was sometimes surprised by his work apparently. "I don't want to prepare," he told the London Evening Standard last week. "Here I'm free, I paint what I want to," explains the artist.
And now the Execution is over, and the show has closed its doors as well. Along with Butterfly's images here, we have great shots of the show as it progressed by photographer Julie A.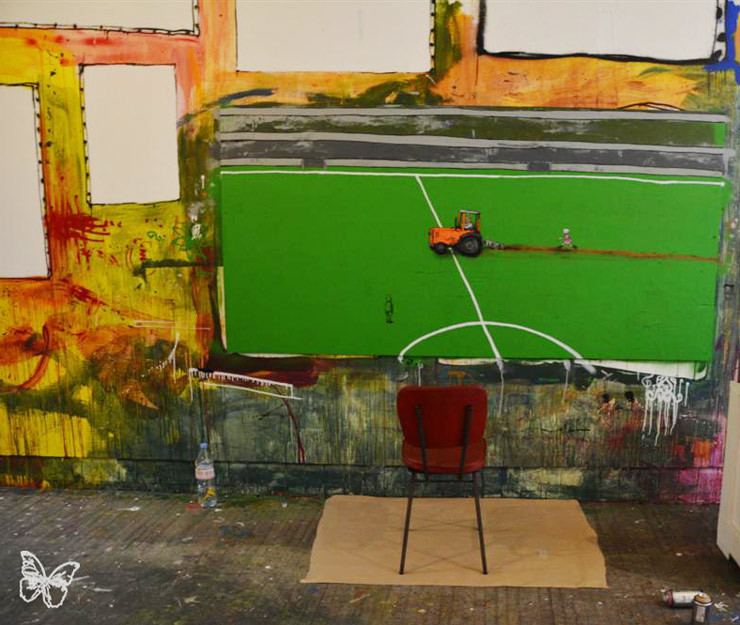 Dran (Photo © Butterfly)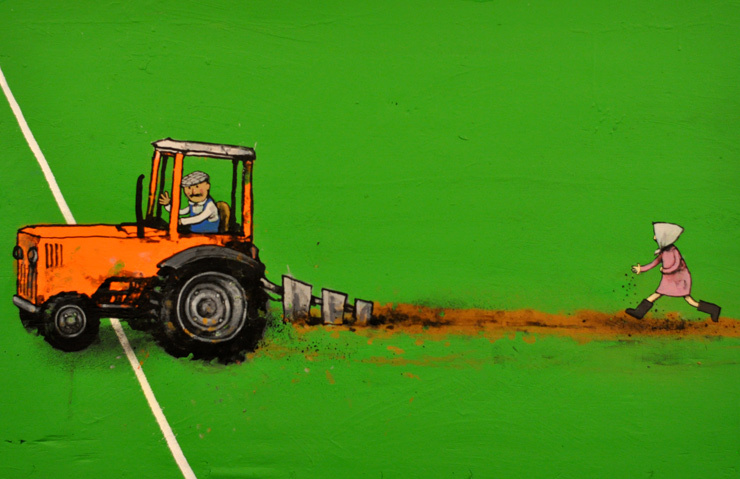 Dran (Photo © Julie A)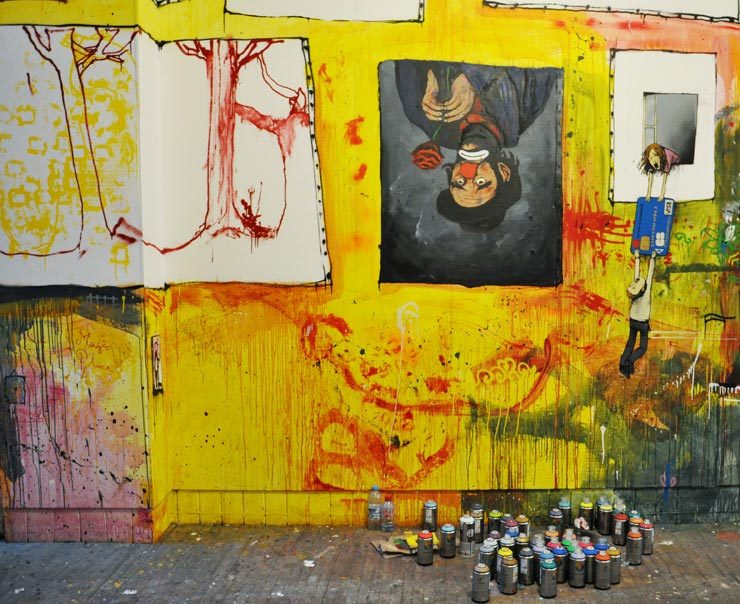 Dran (Photo © Julie A)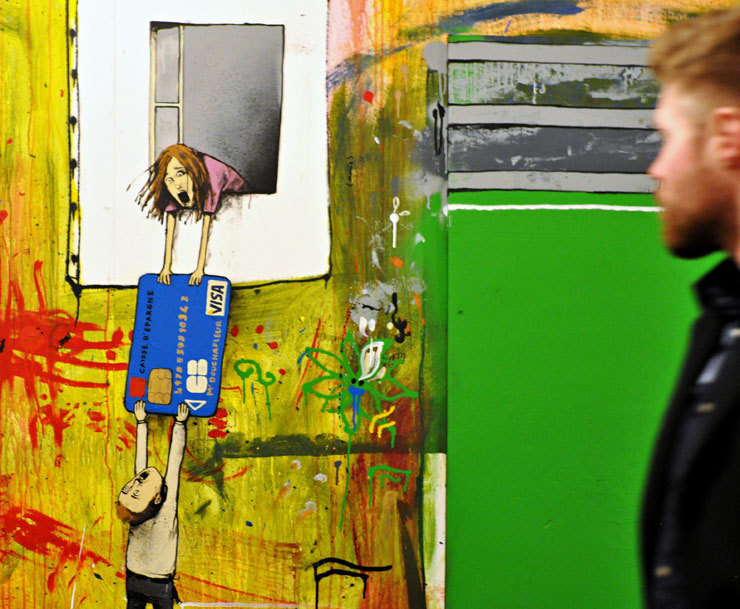 Dran (Photo © Julie A)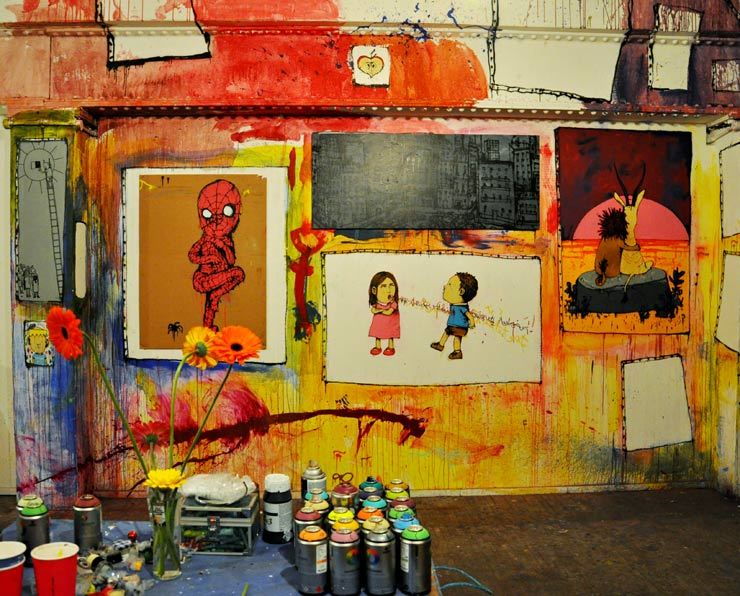 Dran (Photo © Julie A)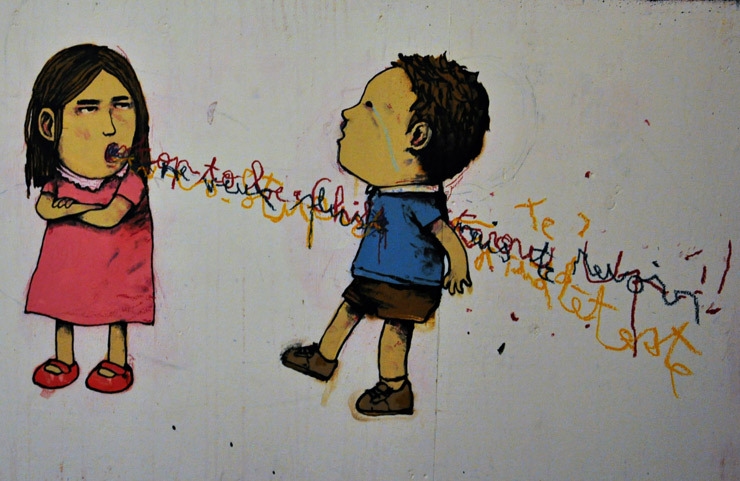 Dran (Photo © Julie A)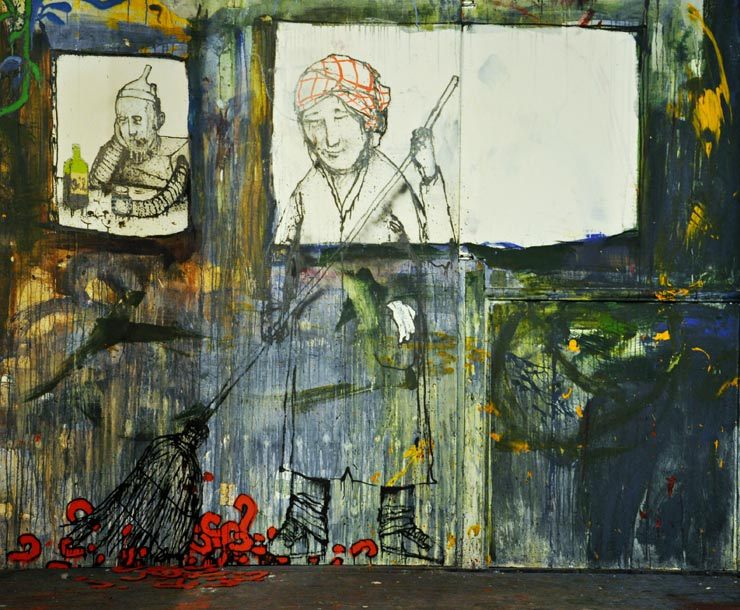 Dran (Photo © Julie A)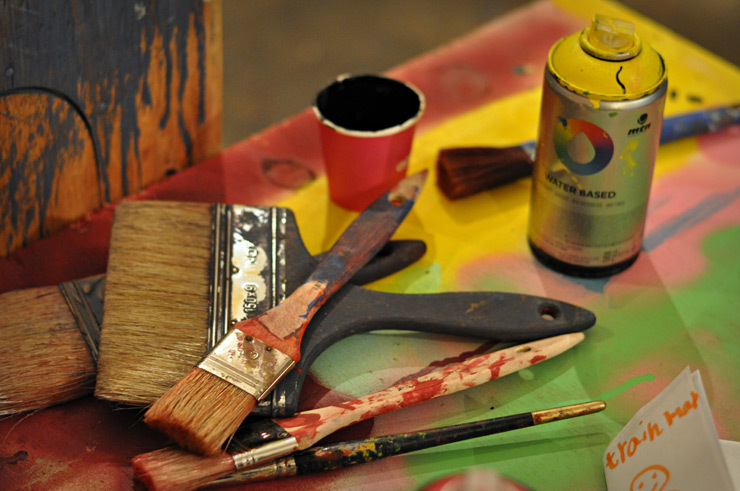 Dran (Photo © Julie A)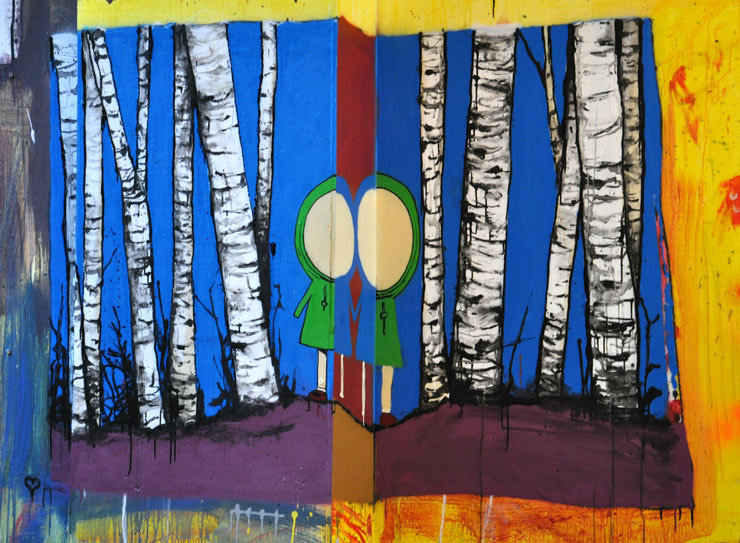 Dran (Photo © Julie A)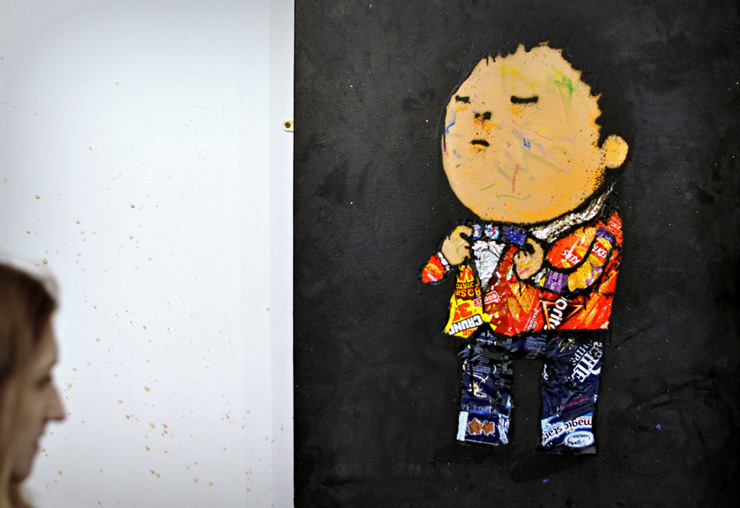 We wish to thank Julie A and Butterfly for sharing their exclusive images and observations with BSA readers.
Read more about this show at Butterfly's site HERE.
<<>>><><<>BSA<<>>><<<>><>>><><<>BSA<<>>><<<>><>

Please note: All content including images and text are © BrooklynStreetArt.com, unless otherwise noted. We like sharing BSA content for non-commercial purposes as long as you credit the photographer(s) and BSA, include a link to the original article URL and do not remove the photographer's name from the .jpg file. Otherwise, please refrain from re-posting. Thanks!

<<>>><><<>BSA<<>>><<<>><>>><><<>BSA<<>>><<<>><>

This article is also posted on Brooklyn Street Art.

Read all posts by Steven P. Harrington and Jaime Rojo on The Huffington Post HERE.

See new photos and read scintillating interviews every day on BrooklynStreetArt.com

Follow us on Instagram @bkstreetart

See our TUMBLR page

Follow us on TWITTER @bkstreetart