Exploring Fort Tilden
National monuments are typically solemn places for reflection and remembrance. In the case of many decommissioned military installations across the world, the hidden parts of forts and bunkers are also serpentine galleries of freewill art shows. You may call it graffiti or you may call it a colossal explosion of creativity and unscripted free speech, but in all likelihood you will be moved by the clandestine display it in one way or another.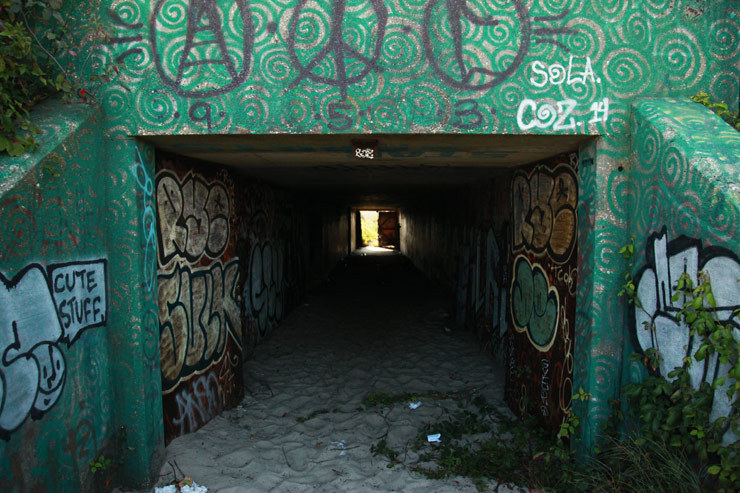 The entrance... (photo © Jaime Rojo)
The site of New York's abandoned WWI-era military base (and site of the first Trans-Atlantic flight departure), Fort Tilden, is also conveniently a beach for many of its creative types and related mismatched, fun-loving miscreants. While there are snide asides about this being a hipster spot, it is much more than a place for one-dimensional posers -- if only because it is sort of hard to get to.
But it is also a little utopia for the grimy, self-powered, soot-covered bicycling city-set who gravitate to the margins and outskirts for a day at the beach. There are art shows and ad hoc performances, long days of reading and snacking, splashing, Backgammon, and nudity. Sometimes all at once.
Additionally the entire site can be a hidden, yet open, art gallery.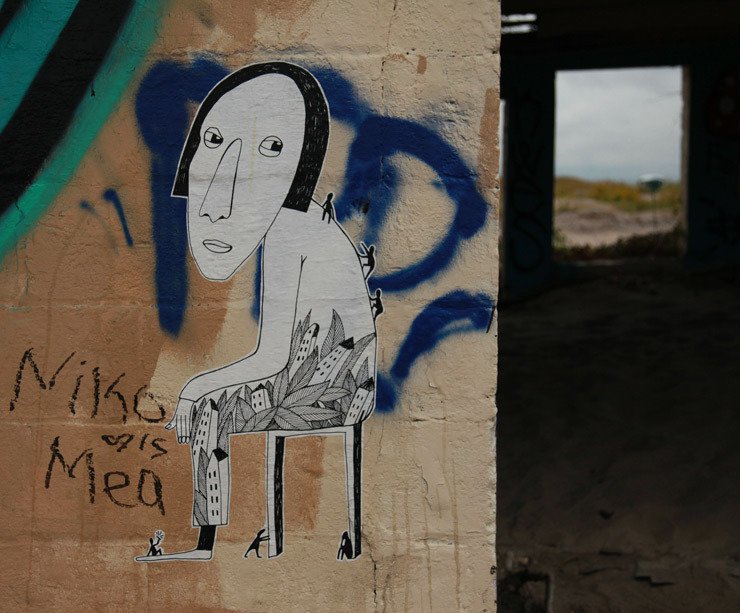 Artist Unknown. Also, Mika loves Mea. (photo © Jaime Rojo)
Perched atop the bunker you can have a 360 degree view of the ocean and most of New York City, including the cluster of skyscrapers in yonder Manhattan. Inside it's labyrinthine spaces below with a flashlight you will discover a 360 degree view of most all of the graffiti and street art techniques that are freely experimented with in these mid twenty teens.
On a recent overcast/sunny day at the end of the summer season we took a tour of the darkened spaces that are open to the public to find what kind of art gallery is on display and to discover hidden gems, furtive artists, discarded liquor bottles and the occasional condom. Are these the aesthetic meanderings of mad minds, the seeds of tomorrow's art stars, or simply the unfiltered mark-making of youth on a summer day's spraycation?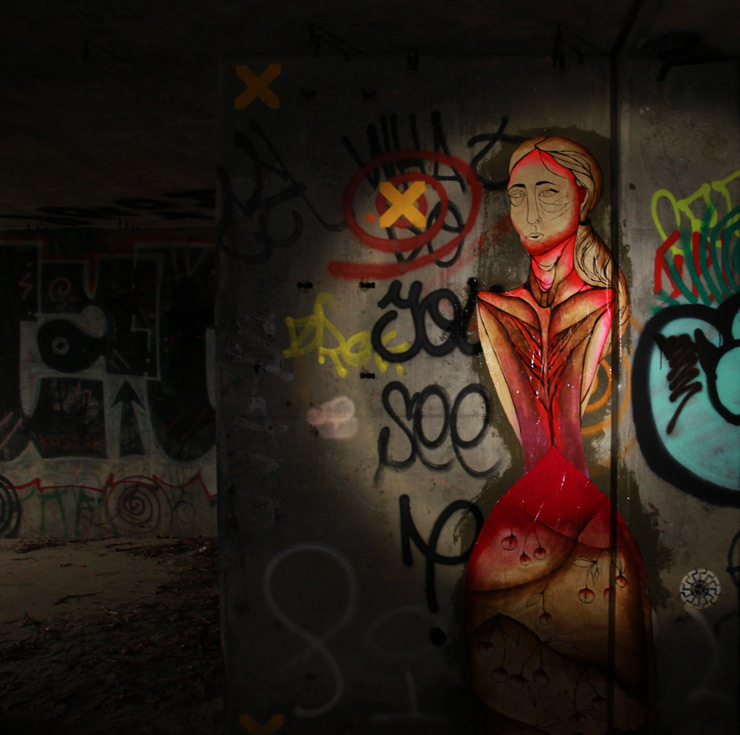 Cake (photo © Jaime Rojo)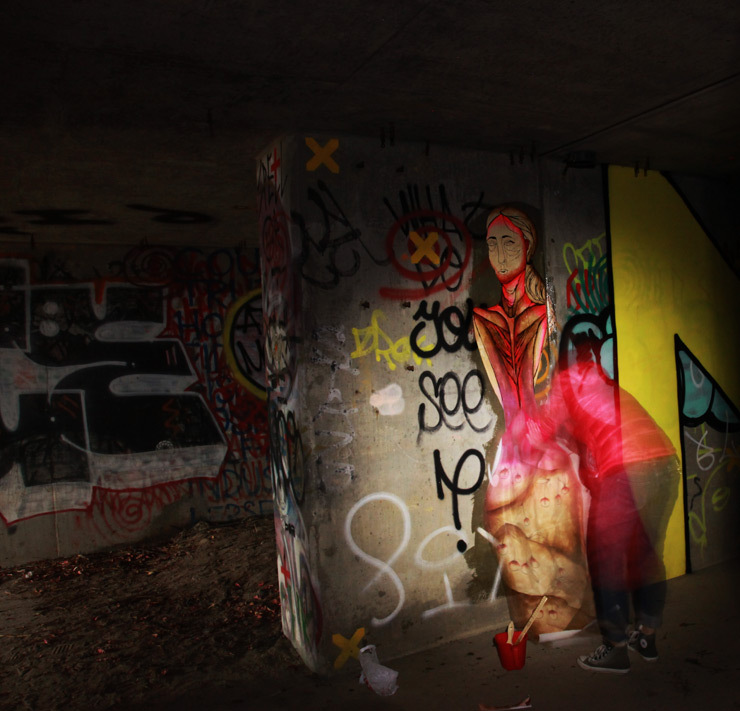 Cake (photo © Jaime Rojo)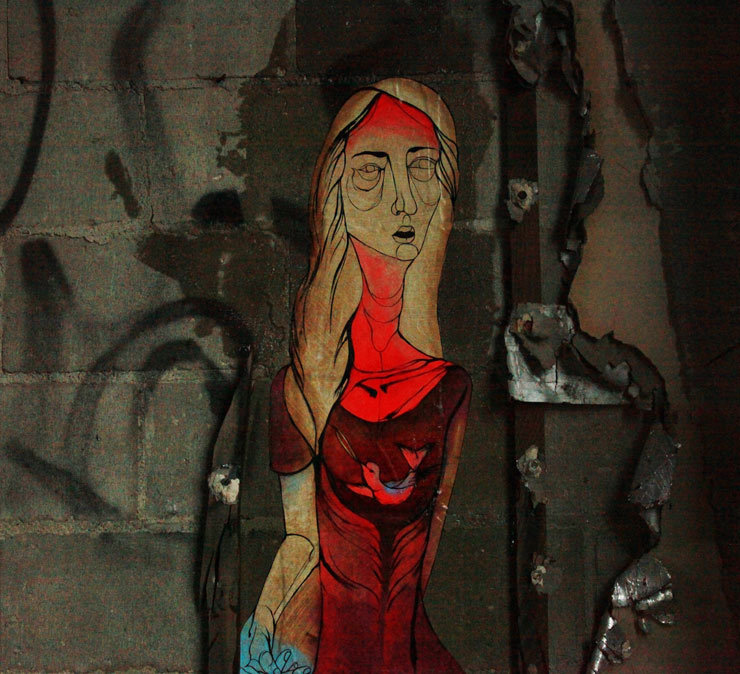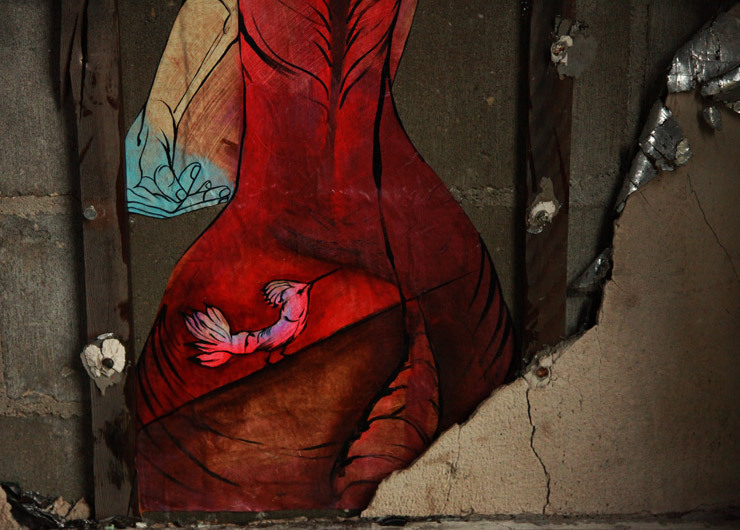 Cake (photo © Jaime Rojo)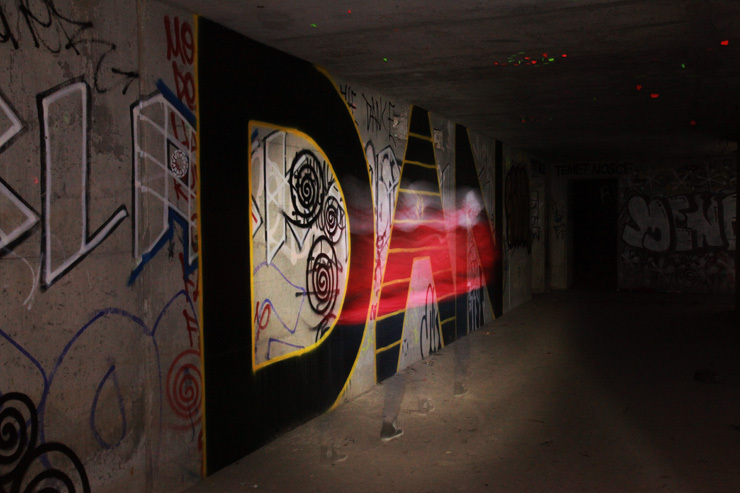 DAN (photo © Jaime Rojo)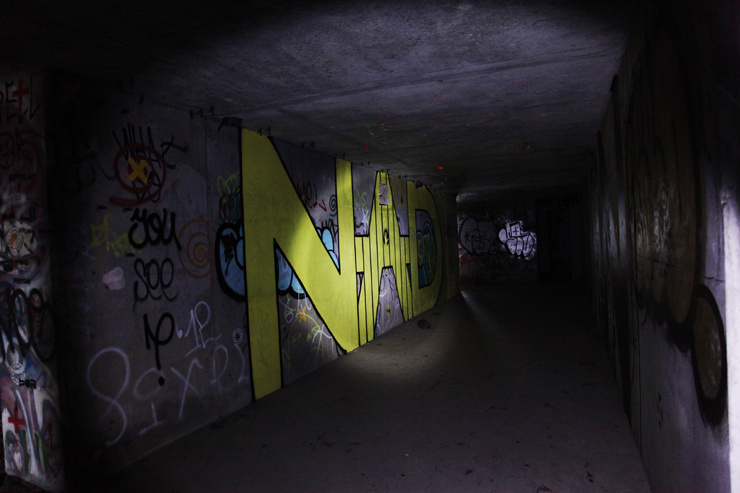 NAD (photo © Jaime Rojo)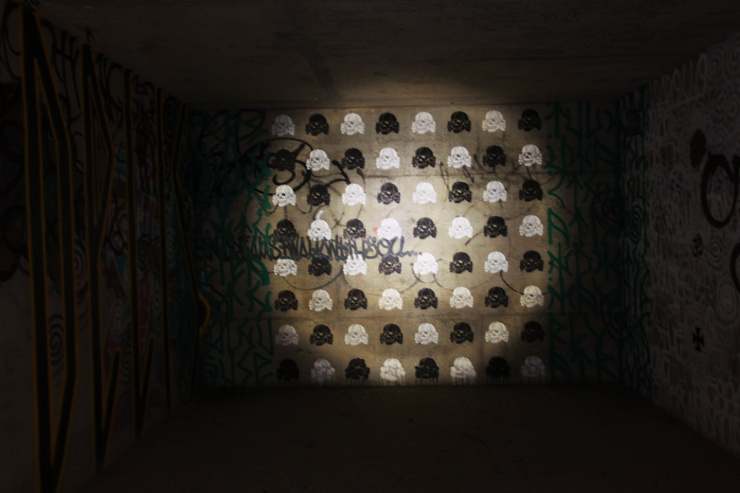 Artist Unknown (photo © Jaime Rojo)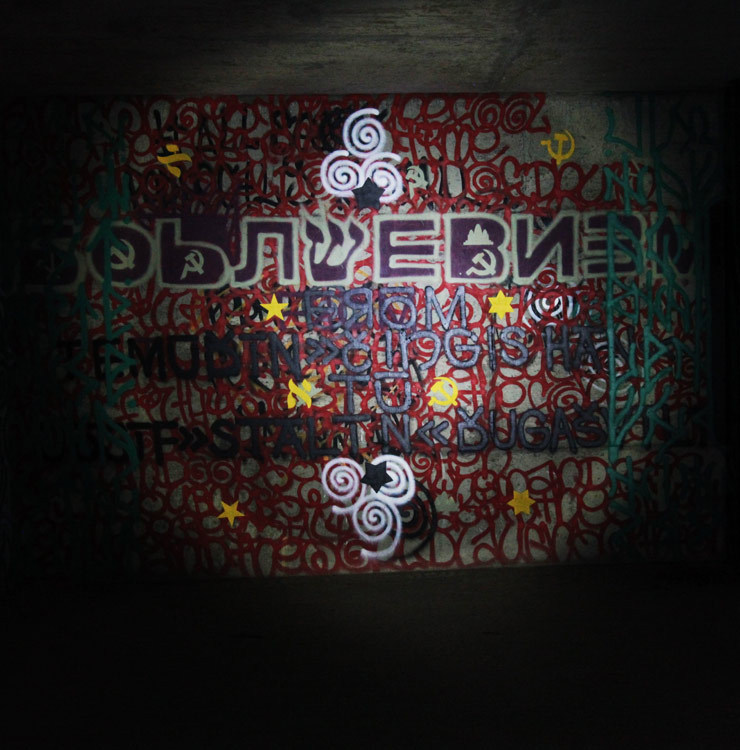 Artist Unknown (photo © Jaime Rojo)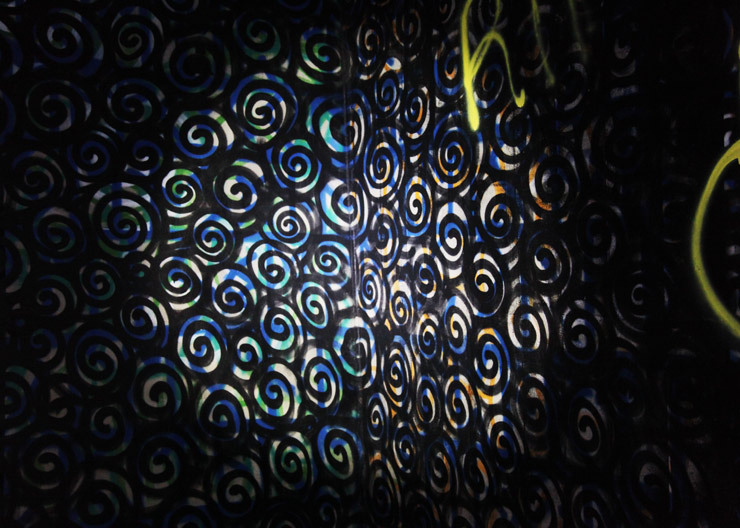 Artist Unknown (photo © Jaime Rojo)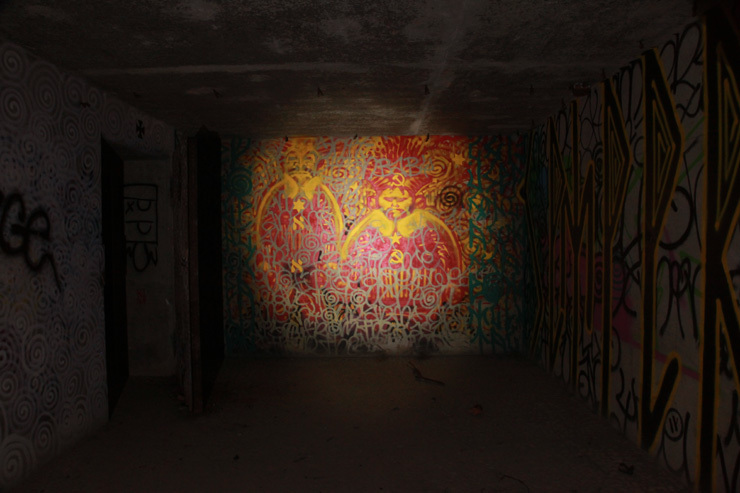 Artist Unknown (photo © Jaime Rojo)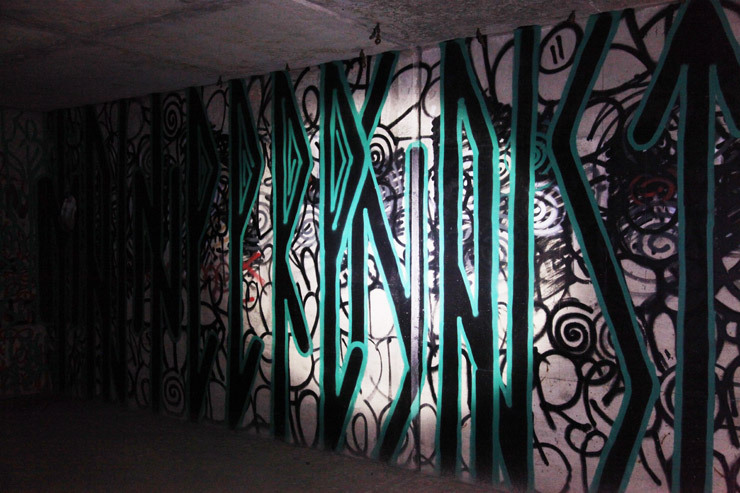 Artist Unknown (photo © Jaime Rojo)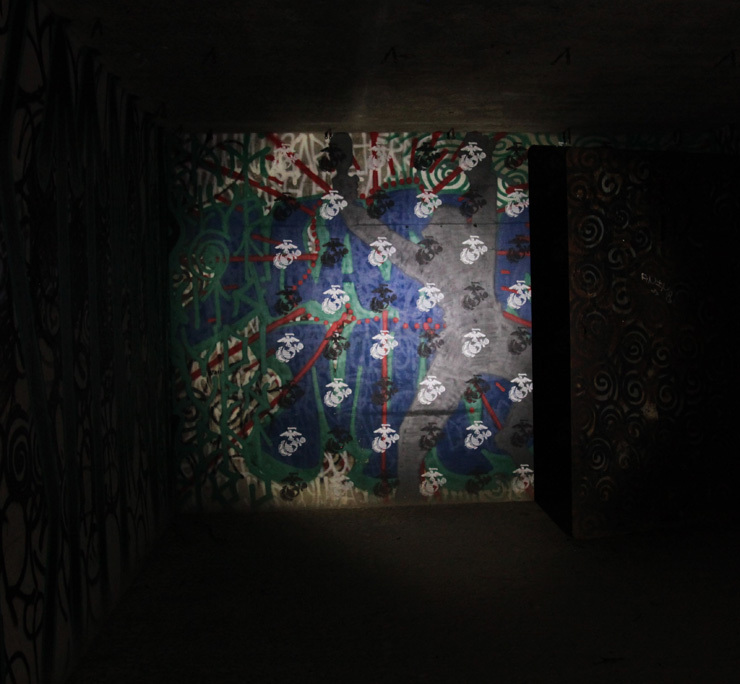 Artist Unknown (photo © Jaime Rojo)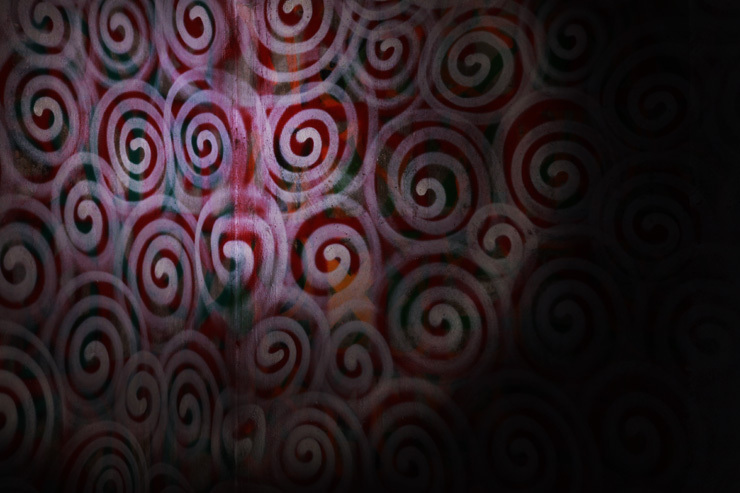 Artist Unknown (photo © Jaime Rojo)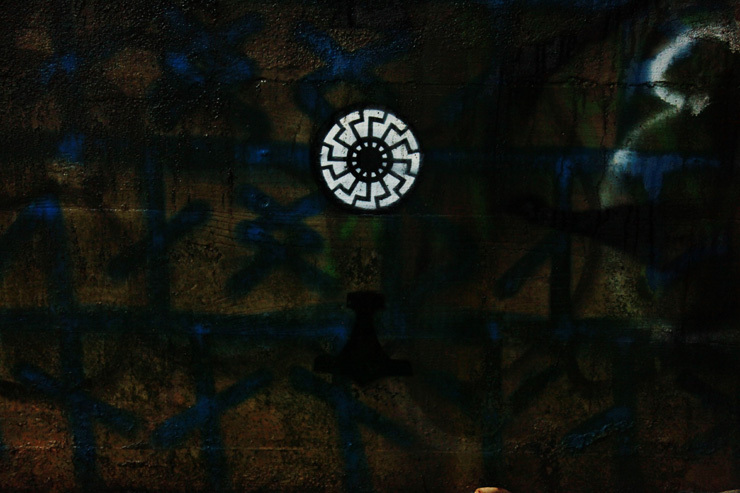 Artist Unknown (photo © Jaime Rojo)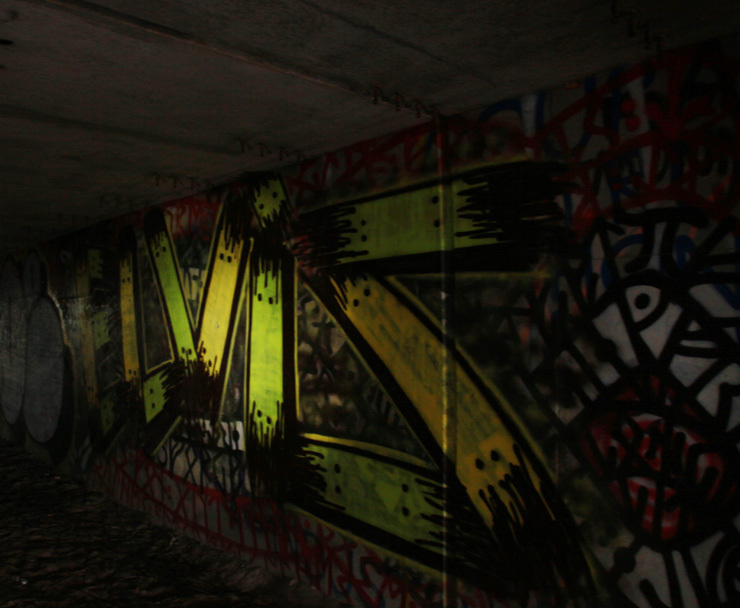 Elvis (photo © Jaime Rojo)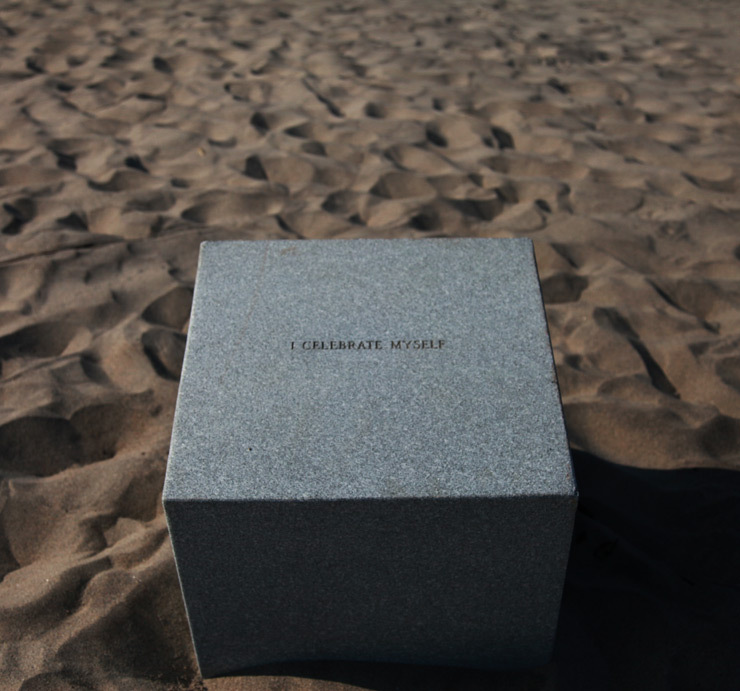 A monument to Walt Whitman by artist Patty Smith is one of many placed here during this summers "Rockaway!" art show here, organized by PS1′s Klaus Biesenbach. Whitman's masterpiece "Leaves Of Grass" begins with the words carved on the stone above. (photo © Jaime Rojo)
"I Celebrate Myself. And what I assume you shall assume. For every atom belonging to me as good belongs to you." ~ Walt Whitman. July 4th 1855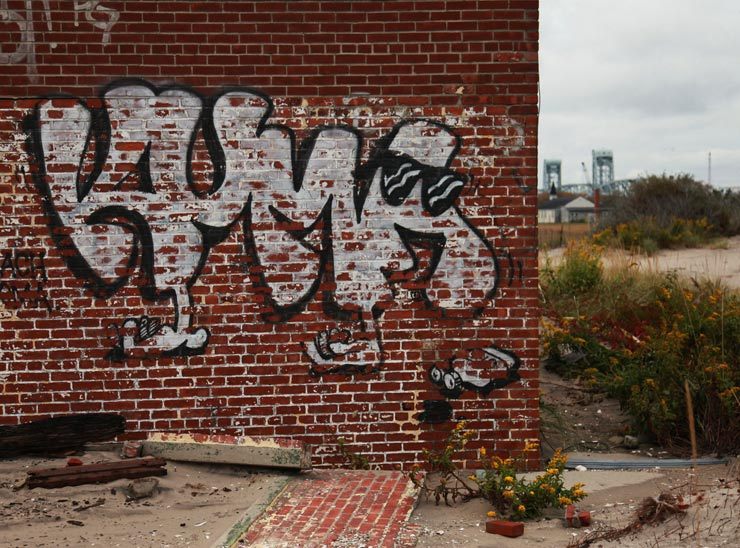 KUMA (photo © Jaime Rojo)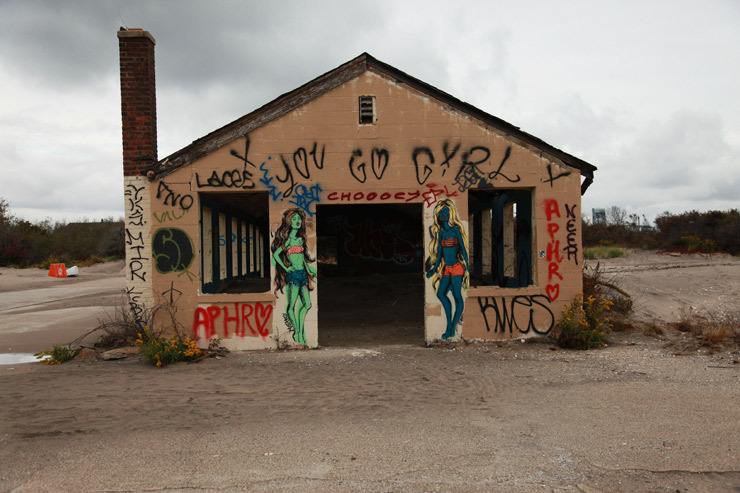 You Go Girl. Mistakoy (photo © Jaime Rojo)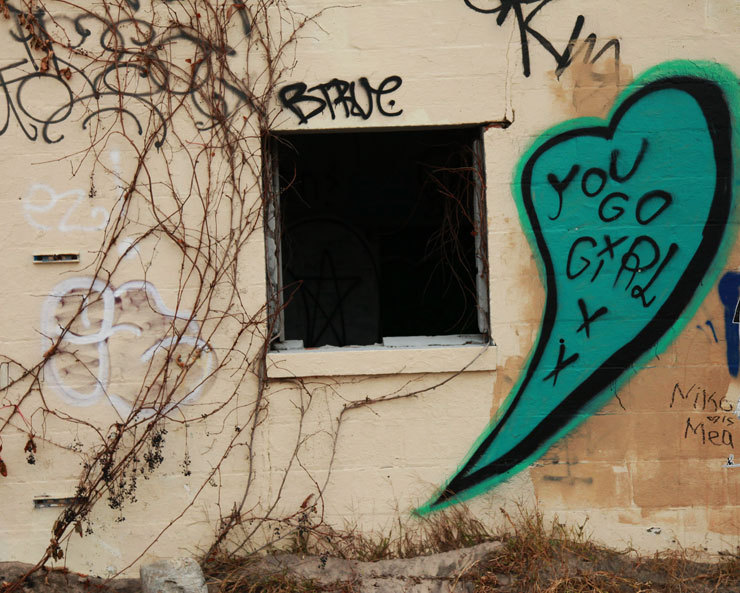 You Go Girl (photo © Jaime Rojo)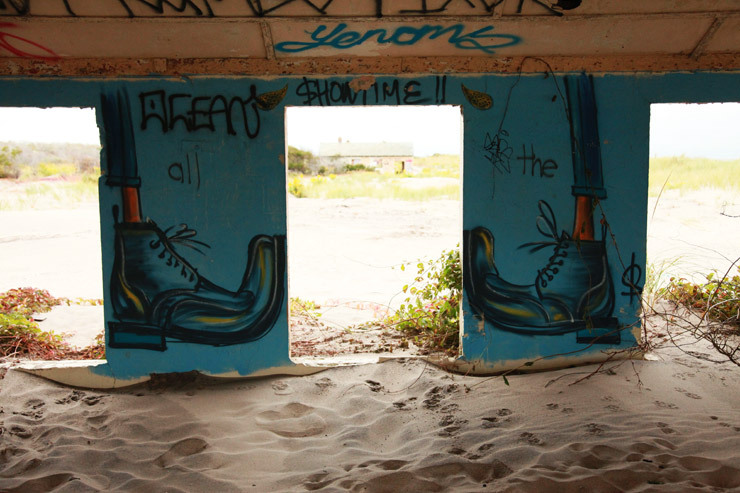 $howta (photo © Jaime Rojo)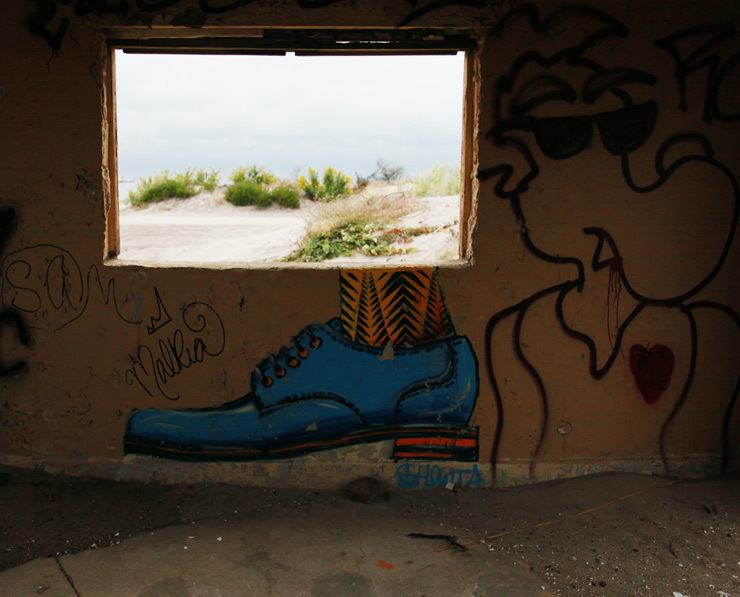 $howta (photo © Jaime Rojo)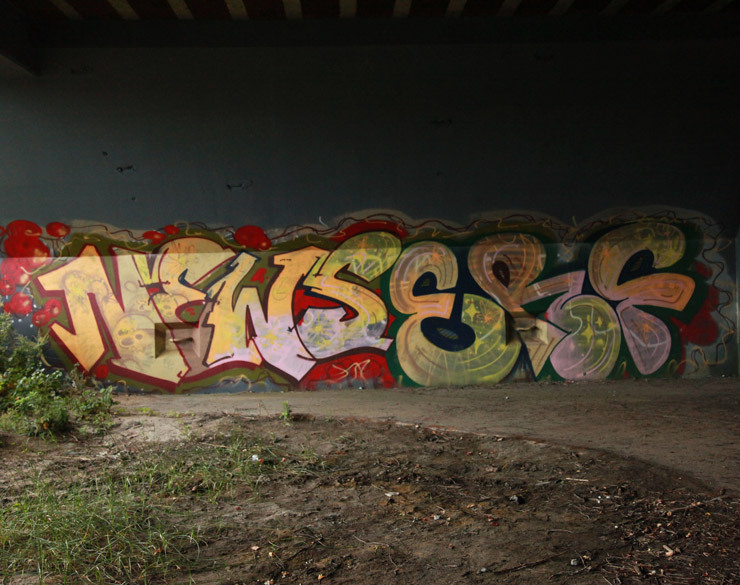 Newserf/Collaboration between News & Serf (photo © Jaime Rojo)
Never (photo © Jaime Rojo)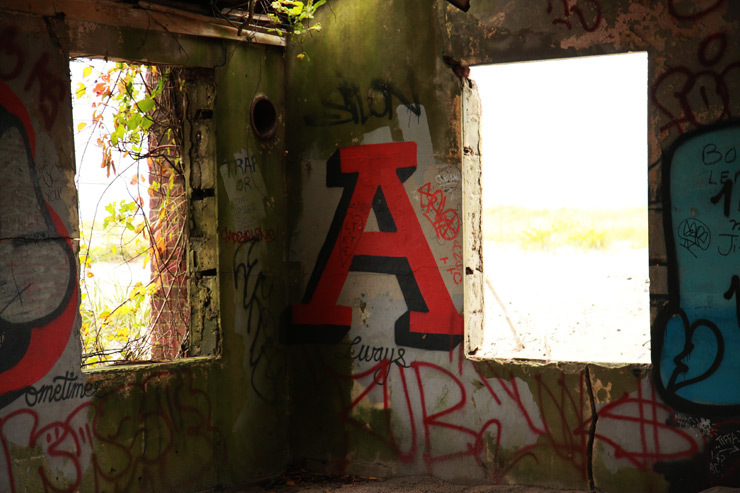 Overunder (photo © Jaime Rojo)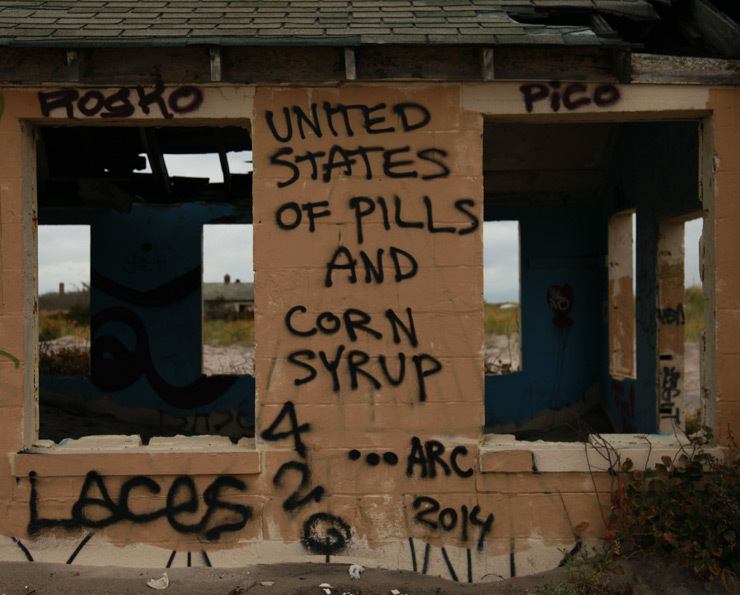 "United States of pills and corn syrup", says ARC as he washes down an Oxycontin with Coke. (photo © Jaime Rojo)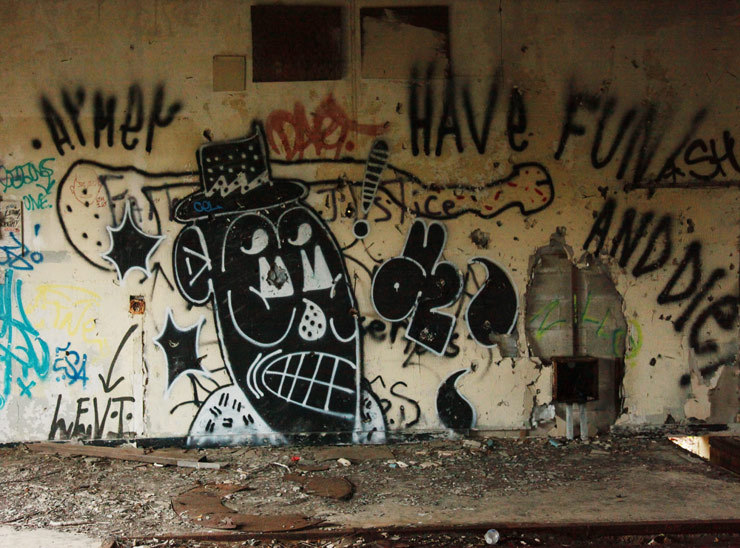 Armer (photo © Jaime Rojo)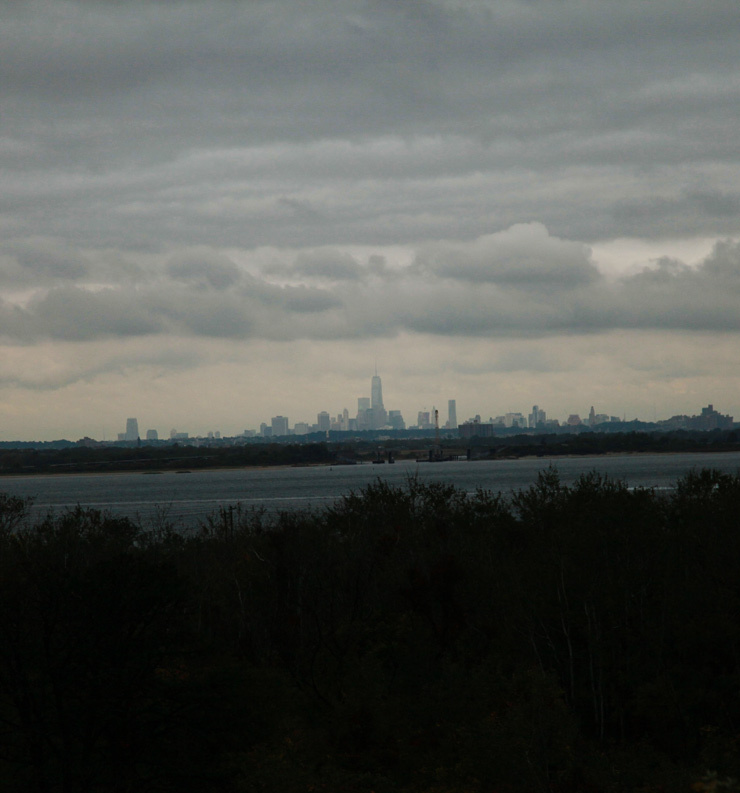 The New York Skyline from the top of the bunkers. (photo © Jaime Rojo)

<<>>><><<>BSA<<>>><<<>><>>><><<>BSA<<>>><<<>><>
Please note: All content including images and text are © BrooklynStreetArt.com, unless otherwise noted. We like sharing BSA content for non-commercial purposes as long as you credit the photographer(s) and BSA, include a link to the original article URL and do not remove the photographer's name from the .jpg file. Otherwise, please refrain from re-posting. Thanks!

<<>>><><<>BSA<<>>><<<>><>>><><<>BSA<<>>><<<>><>

This article is also posted on Brooklyn Street Art.

Read all posts by Steven P. Harrington and Jaime Rojo on The Huffington Post HERE.

See new photos and read scintillating interviews every day on BrooklynStreetArt.com

Follow us on Instagram @bkstreetart

See our TUMBLR page

Follow us on TWITTER @bkstreetart