The fog rolls in and your city gently disappears into it.
A young man tenderly clings to his lover under a bridge, or is he strangling her?
You are studying the secret and slow language of moving construction cranes traversing and bobbing backward and forward when suddenly a passenger plane cuts silently across the geometry in motion.
These are moments to witness, here and now gone.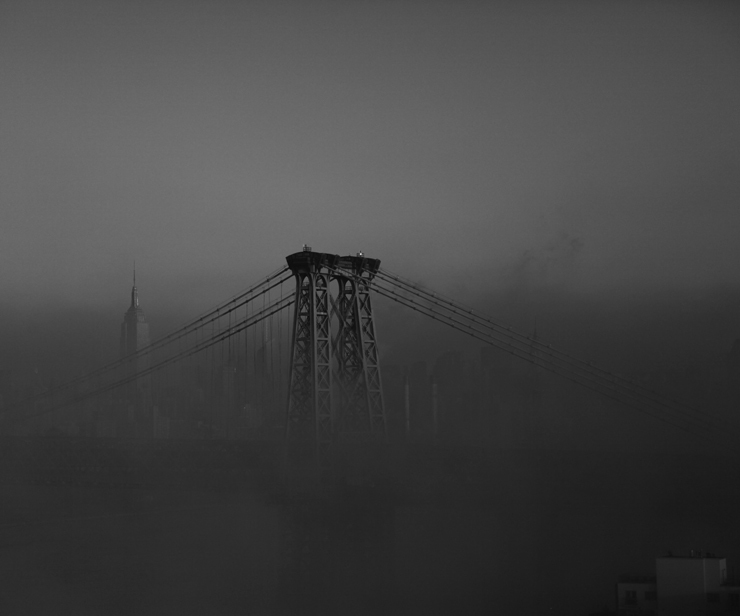 Untitled. Williamsburg Bridge and the stately Empire. Brooklyn, NY. January, 2014. (photo © Jaime Rojo)
Capricious.
Magical.
Flowing.
Jaime Rojo describes his photography in the city with those adjectives that evoke movement and something more ethereal than concrete, steel, and glass.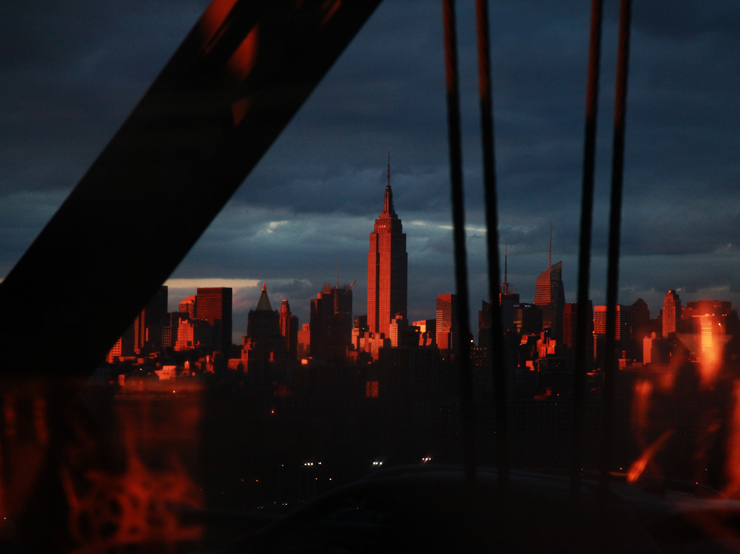 Untitled. Midtown, Manhattan from the L Train on the Williamsburg Bridge. Brooklyn, NY. January, 2014. (photo © Jaime Rojo)
Known for his images of art in the streets, his photos of street art appear once a week in a parade on BSA called "Images of the Week." But he always tacks one more at the end -- one last picture.
It is always something unrelated to street art. That is, unless you think the city itself is art.
"NYC is compelling whether you are approaching from an airplane or driving in from the outer boroughs or on the train crossing a bridge. It's just amazing how much industry, how much invention and design has gone into building this city," explains Rojo about an environment continuously in flux.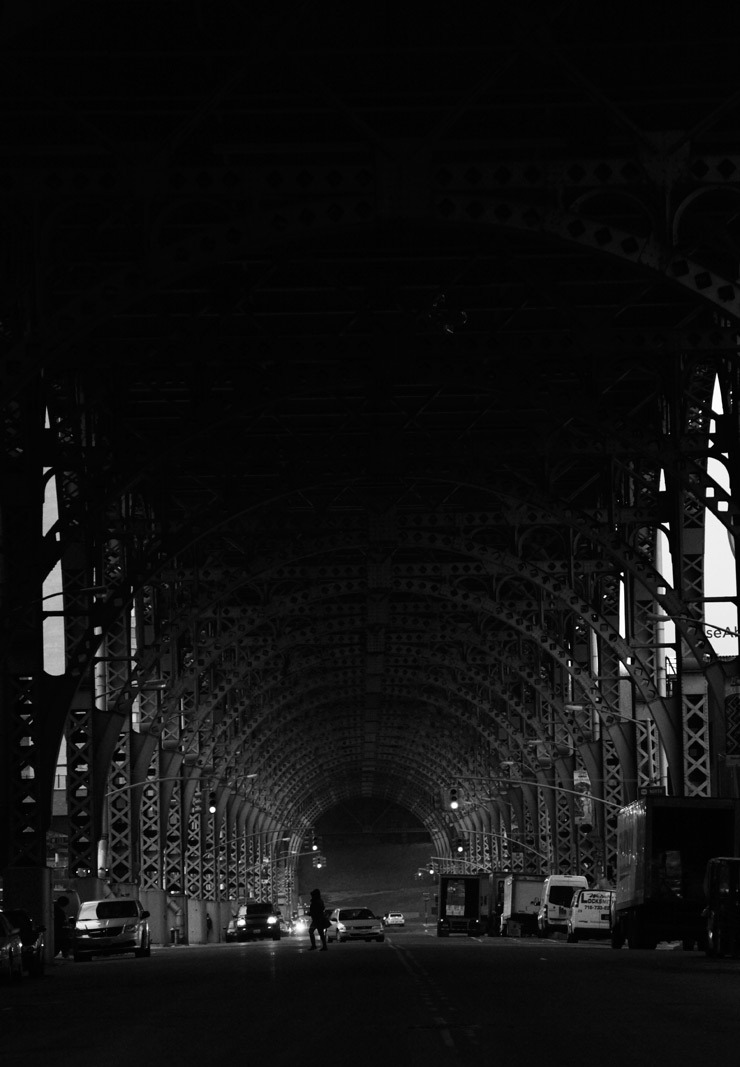 Untitled. Manhattan, NYC. February 2013. (photo © Jaime Rojo)
"At the same time it is surrounded by water that provides it with an amazing atmosphere that keeps evolving, depending on the climate. Even though the buildings don't move it feels like the buildings are constantly changing because of the light, the season, or even the intense fog -- it's like a dream sequence in a movie because you know the buildings aren't moving but it seems like they are," he says.
Siting photographers like Wolfgang Tillmans and Richard Avedon as artists whose work inspires him, Rojo hopes to capture a singular poignant moment in a moving scene. "New York is very dense -- It's kind of magical for me to be able to capture an individual in the middle of the street in a city that is so crowded that invariably we are smelling the breath of each other at some juncture. So when I see the opportunity of an individual who is standing or doing something by himself or herself, I have to capture it as one New York minute."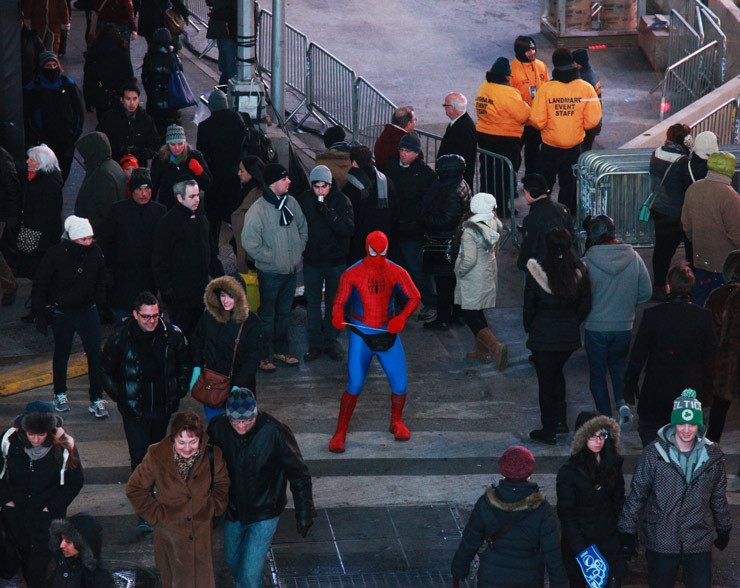 Untitled. Times Square, NYC. February, 2014. (photo © Jaime Rojo)
"This is a busy intersection in Times Square. People are always going by. It is a cold night. People are hyped up with the Super Bowl. They are wearing, for the most part, monochromatic dark colors. And there is this guy who is trying to make a dollar playing Spiderman. And no one is paying attention to him. He's doing every single thing possible to get attention and no one cares. I have a series of frames of this but this is the one I wanted to capture. There he is in the middle of this crowd in the intersection with that bright outfit and no one is paying attention."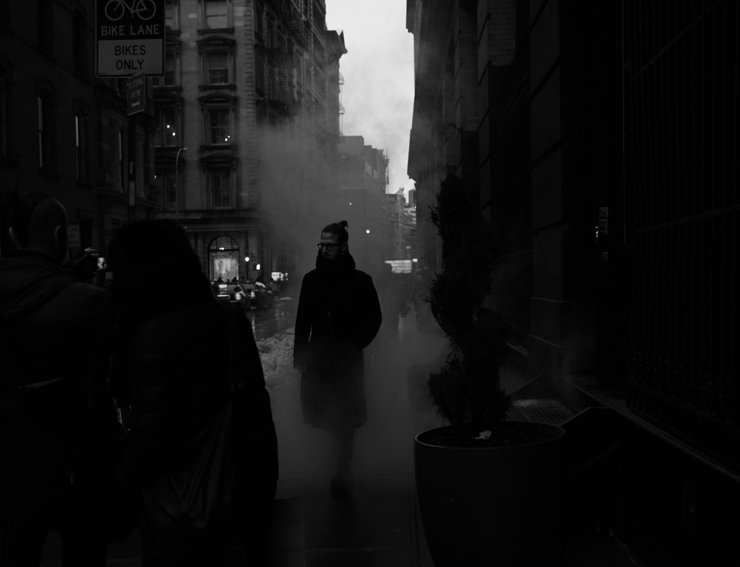 Untitled. SOHO, NYC. February, 2014. (photo © Jaime Rojo)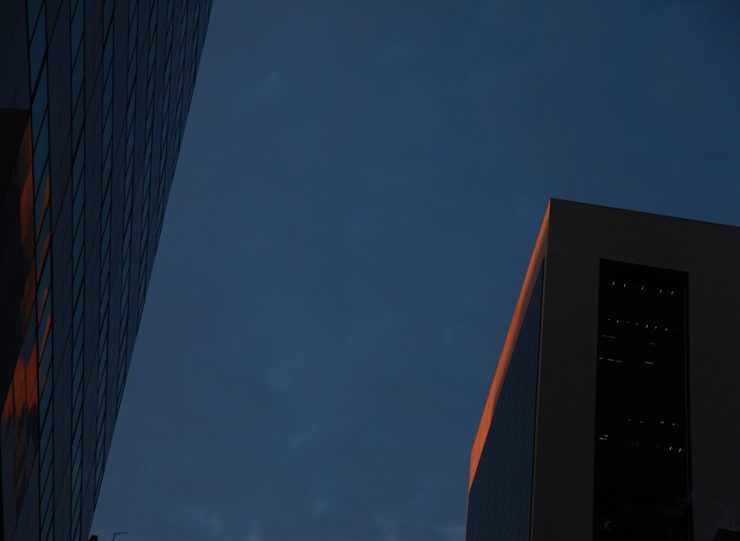 Untitled. Manhattan, NYC. January, 2014. (photo © Jaime Rojo)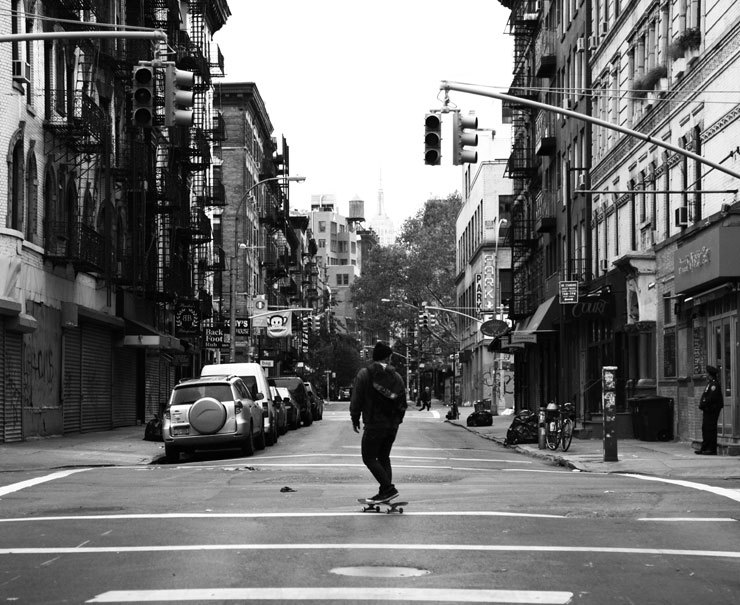 Untitled. Lower East Side, NYC. October, 2012. (photo © Jaime Rojo)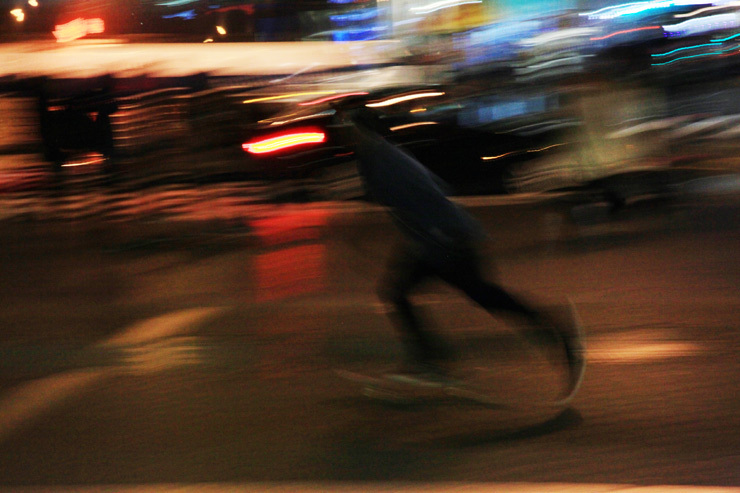 Untitled. Union Square, NYC. July, 2013. (photo © Jaime Rojo)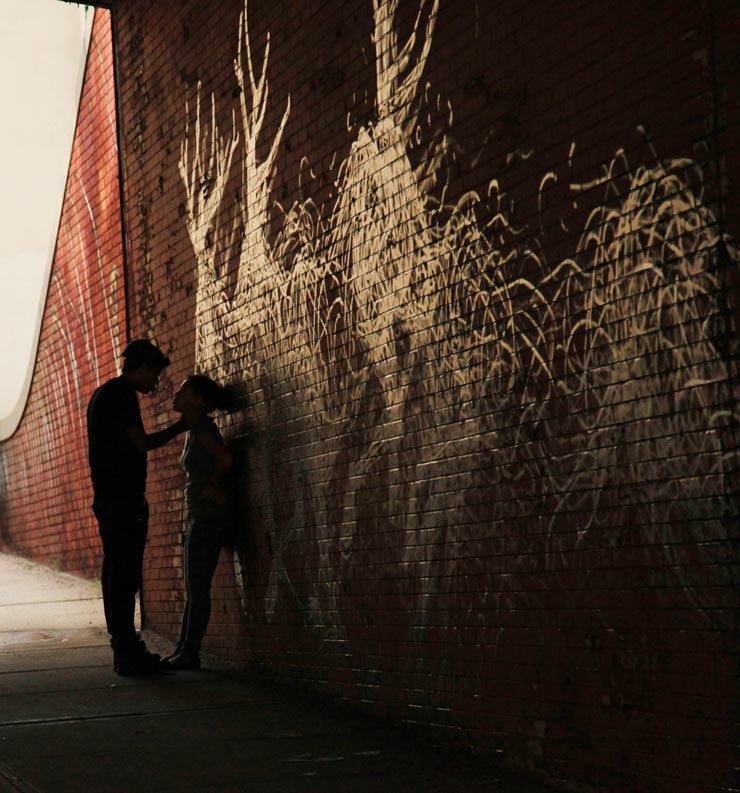 Untitled. DUMBO, Brooklyn. August, 2013. (photo © Jaime Rojo)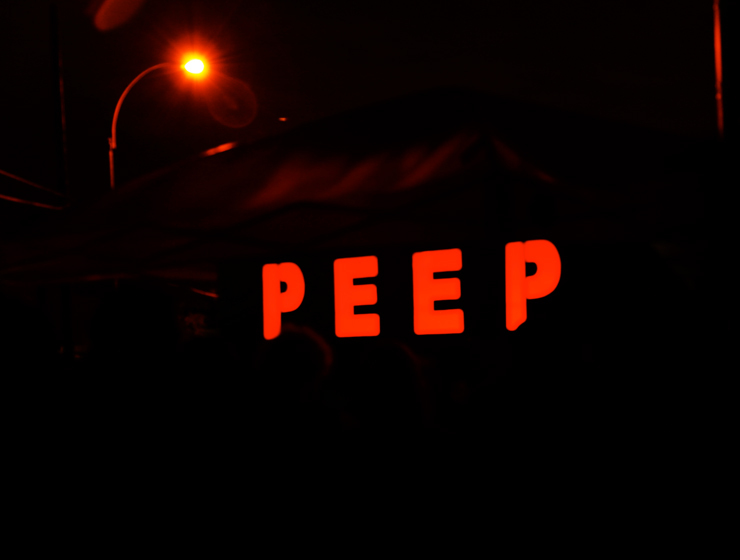 Untitled. Greenpoint, Brooklyn. October, 2012. (photo © Jaime Rojo)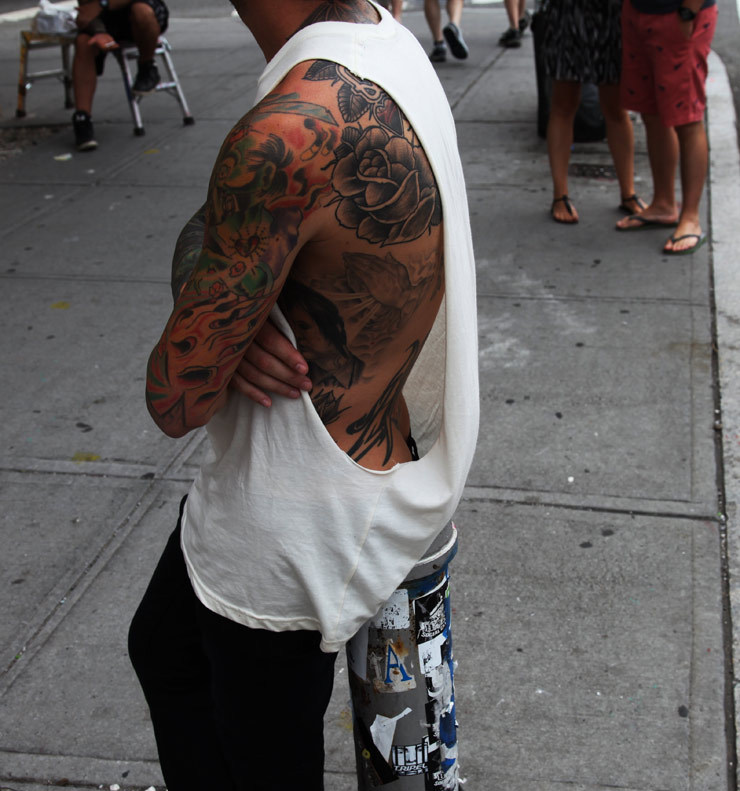 Untitled. Houston Street, NYC. July, 2013. (photo © Jaime Rojo)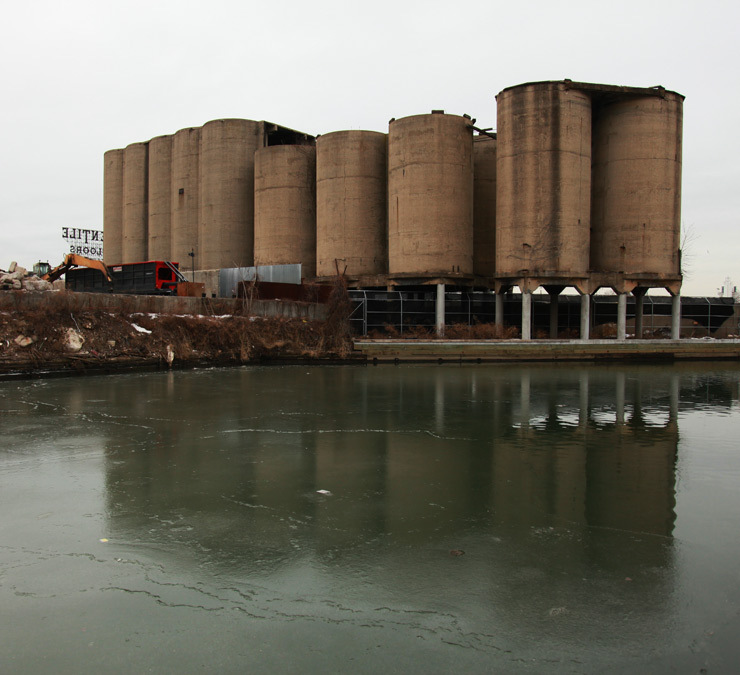 Untitled. Gowanus Canal, Brooklyn. March, 2014. (photo © Jaime Rojo)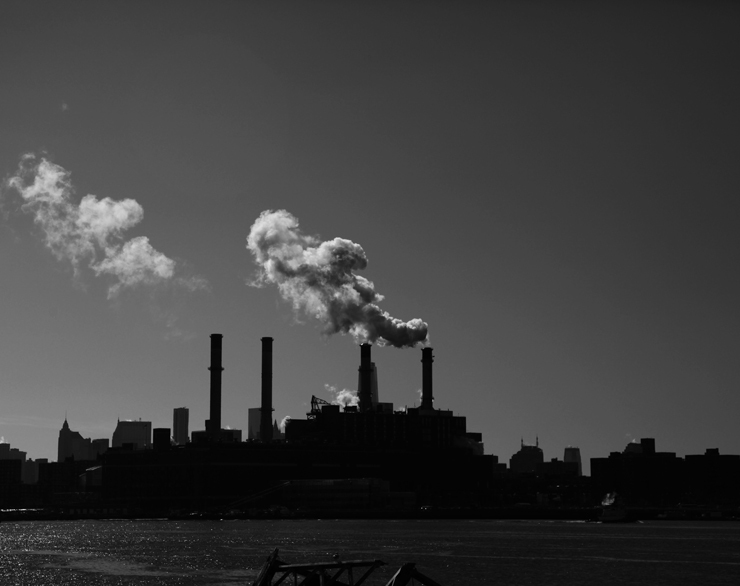 Untitled. East River from Brooklyn, NYC. March, 2014. (photo © Jaime Rojo)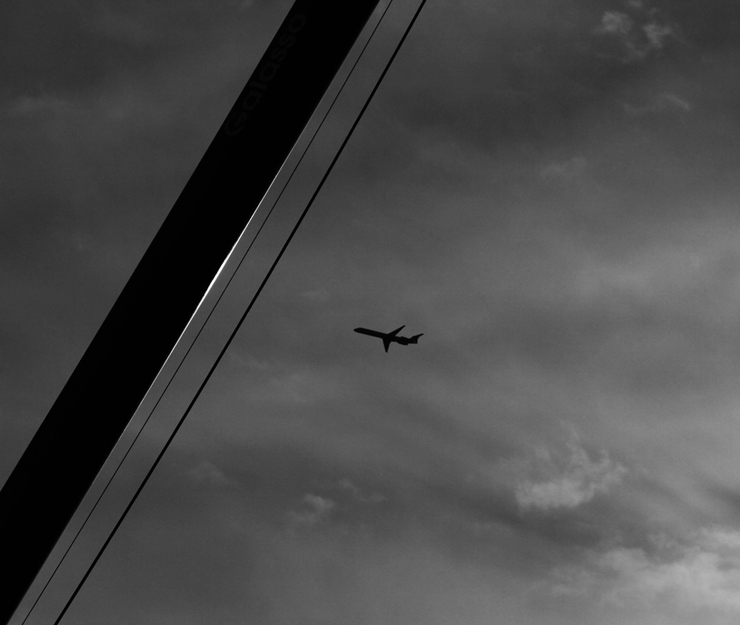 Untitled. Manhattan sky landscape. January, 2013. (photo © Jaime Rojo)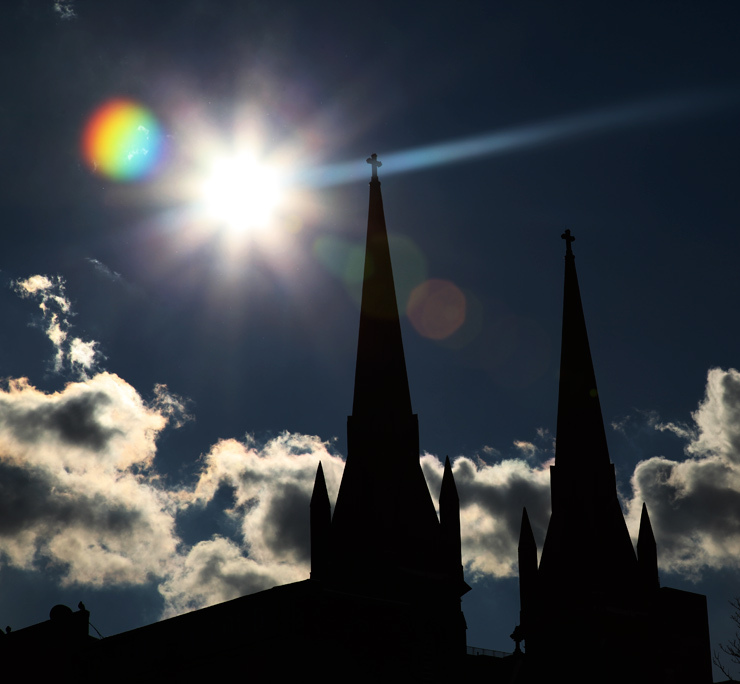 Untitled. Williamsburg, Brooklyn. February, 2012. (photo © Jaime Rojo)
<<>>><><<>BSA<<>>><<<>><>>><><<>BSA<<>>><<<>><>

Please note: All content including images and text are © BrooklynStreetArt.com, unless otherwise noted. We like sharing BSA content for non-commercial purposes as long as you credit the photographer(s) and BSA, include a link to the original article URL and do not remove the photographer's name from the .jpg file. Otherwise, please refrain from re-posting. Thanks!

<<>>><><<>BSA<<>>><<<>><>>><><<>BSA<<>>><<<>><>

This article is also posted on Brooklyn Street Art.

Read all posts by Steven P. Harrington and Jaime Rojo on The Huffington Post HERE.

See new photos and read scintillating interviews every day on BrooklynStreetArt.com

Follow us on Instagram @bkstreetart

See our TUMBLR page

Follow us on TWITTER @bkstreetart