Street artist Overunder has discovered the warmth of the Mexican people and the character of the painting, sculpture and everyday architecture of Mexico City, and he shares with us his first impressions on the street making art with his friend Joins. One of the new magicians in the current street art movement, it is no surprise that Overunder easily assimilates and reinterprets this culture characterized by its respect for tradition, for folk art, and for a love of magical realism.
"Mexico City is still amazing with each new day," he enthuses while recounting his study of the cultural touchstones and icons when making selections of subject matter. "So far my trip has consisted of embedded anthropology that comes with some of the most unique and beautiful experiences had from painting here."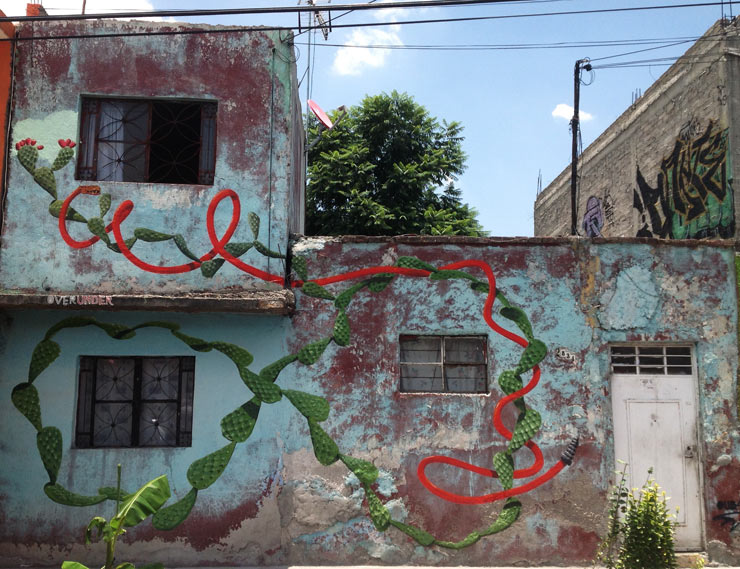 Overunder. Mexico City. July 2013. (photo © Overunder)
He says he had the goal of exploring institutions, parks and galleries but usually found that meeting people was a great way to learn and to get walls. "The mentality is beautiful here," he says of the new friends with whom he's had dinners and caguama (slang for 40 oz. sized beer) and the families with whom he's relaxed "I've had house after house offered up as an experimental canvas -- which seems unheard of back in the states," he says with a sort of befuddled amusement. "Mi casa es su casa y mi pintura es su pintura."
As you look at the images of new pieces Overunder has been creating, fans of his work will notice some are distinctly in the style and family of references that he typically works in. Others, like the swinging strands of the local bougainvillas and prickly pear fully mimic his flying bird/plane line tag that hit many a city wall over the last few years; instead of being accompanied by text or passages, the poetry is in the motion of the line as blossoms and leaves wend their way along the wall. "And with the amazing backdrop of these houses it's unnecessary to paint my usual architectural features because they already have remarkable features," he explains, "They are Duchampian readymades."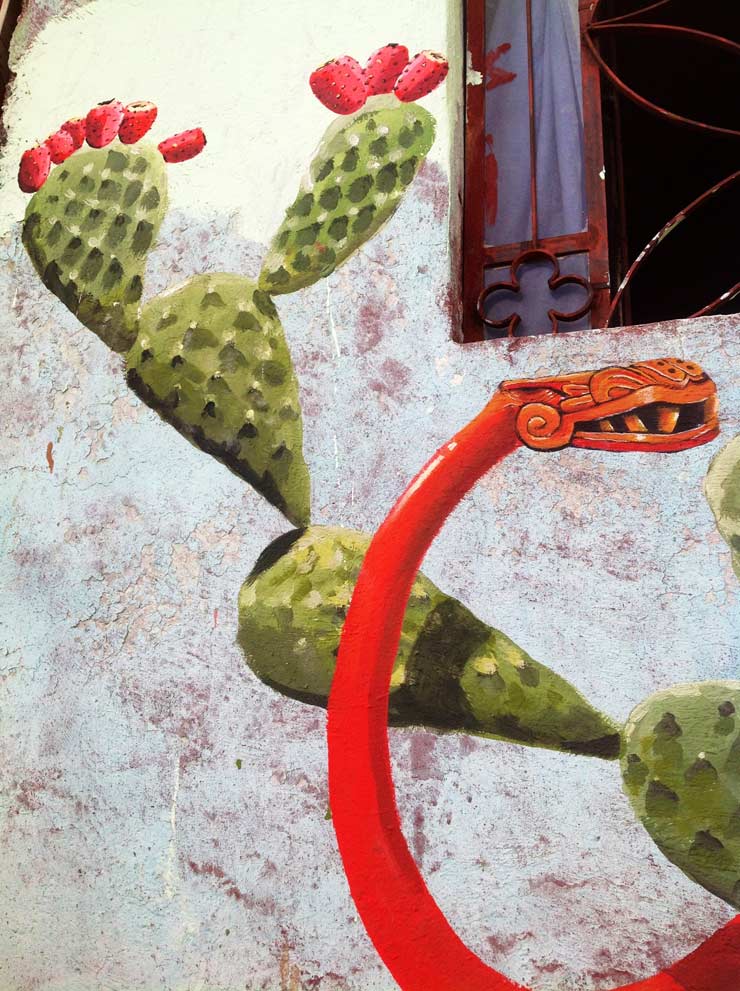 Overunder. Detail. Mexico City. July 2013. (photo © Overunder)
It's sort of unusual to see Overunder delving into work that may be considered more decorative, but as usual with this thinking artist, the intellectual machinations are many. "The paintings of flora and fauna are a departure but the work fell into place naturally," he says as he recounts his process for selection. "I started using the imagery as a way to connect and speak the native tongue visually. I already feel like a foreigner when I attempt to speak Spanish and the idea of painting foreign imagery feels wrong. So reintroducing a familiar and indigenous sight in an unorthodox way felt natural."
His wall work on this trip also includes more localized influences, as the street artist was inspired by the Mexican mural tradition as well 20th century sculptors like Mexican Luis Ortiz Monasterio and currently active Columbian Fernando Botero, all with the considered weight of the Mayans and Aztecs forming the figures. Naturally Overunder takes his own approach to these more formal masters, remixing and matching symbols and meanings with the ease of any modern digital denizen, weaving his own biography to provide structure.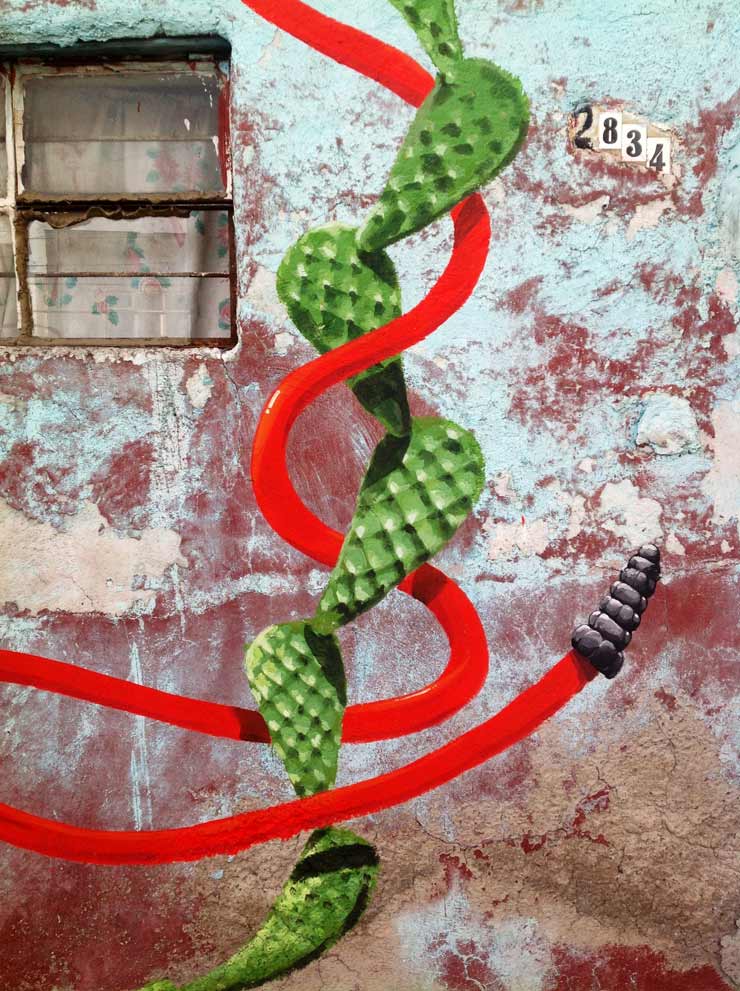 Overunder. Detail. Mexico City. July 2013. (photo © Overunder)
Speaking about the largest piece featuring the cowboy flanked by two figures, Overunder tells us that it is a reinterpretation of the figures flanking the center figure in 'Monumento a la Madre' by Monasterio. "I came across the statues while exploring the San Rafael neighborhood and I was enamored by their bulky Botero-like look."
Of the 1949 figures that separates San Rafael from Colonia Cuauhtémoc, he says, "Secondly and even more so, I've never seen a statue that was performing an action while seeming to be completely distracted by something else going on in their periphery. So when my friend Joins started painting the faceless vaquero in the center I thought it was a perfect opportunity to remix these images with their focus on his cowboy."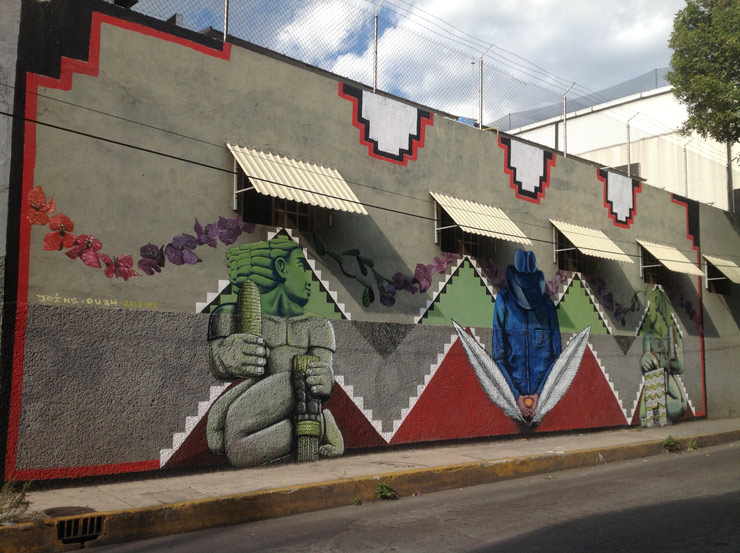 Overunder collaboration with Joins. Mexico City. July 2013. (photo © Overunder)
But why not leave the central figure as a tribute to motherhood, as the original? The answer lies in the biographies of the two street artists. "The gender shift lends itself to more of a monument to Father, which seems very suiting since I lost my father several years ago and Joins has just met his father after 33 years.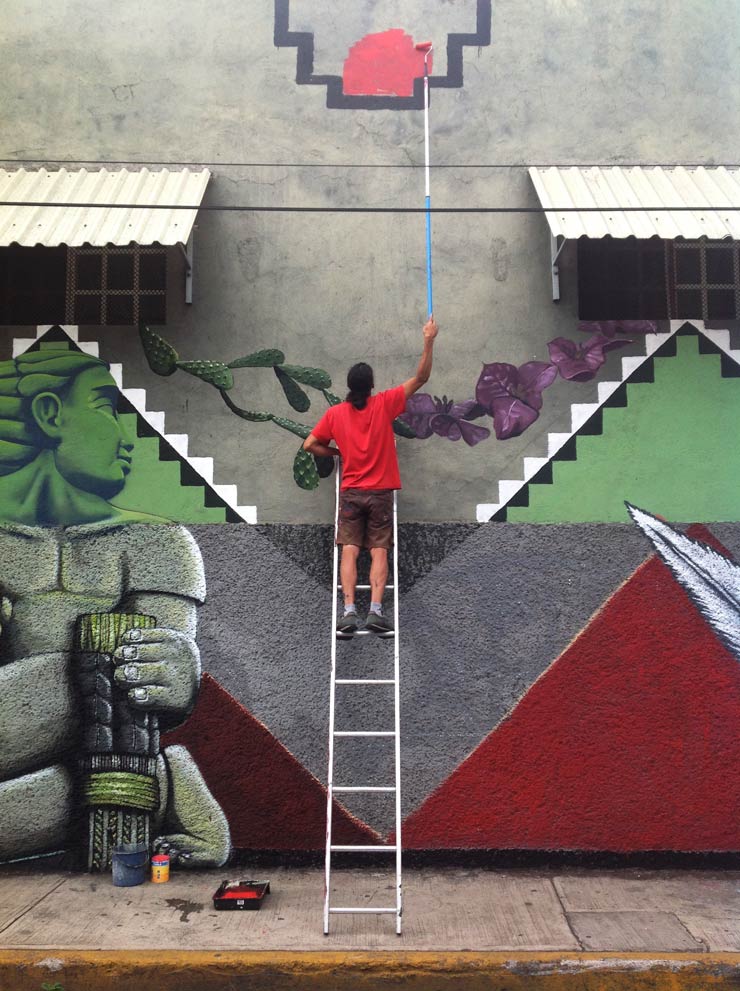 Joins at work on his collaboration with Overunder. Mexico City. July 2013. (photo © Overunder)
In a way typical for the experimenting and adventuring street artist traveling abroad, much of the work is made of spur of the moment inspiration, and functions as much as sketch as finished piece; part public, part diary entry. Finally, the "Cauce Ciudano" mural is another collaboration between Overunder and Joins that expresses more of their personal styles. Joins has the feather page of the book while Overunder produces one of his portraits that features patterning across the countenance. Like the lines that trace our faces as time progresses, these include impressions of his time visiting what he regards a country at once proud in tradition and somewhat magical in imagination.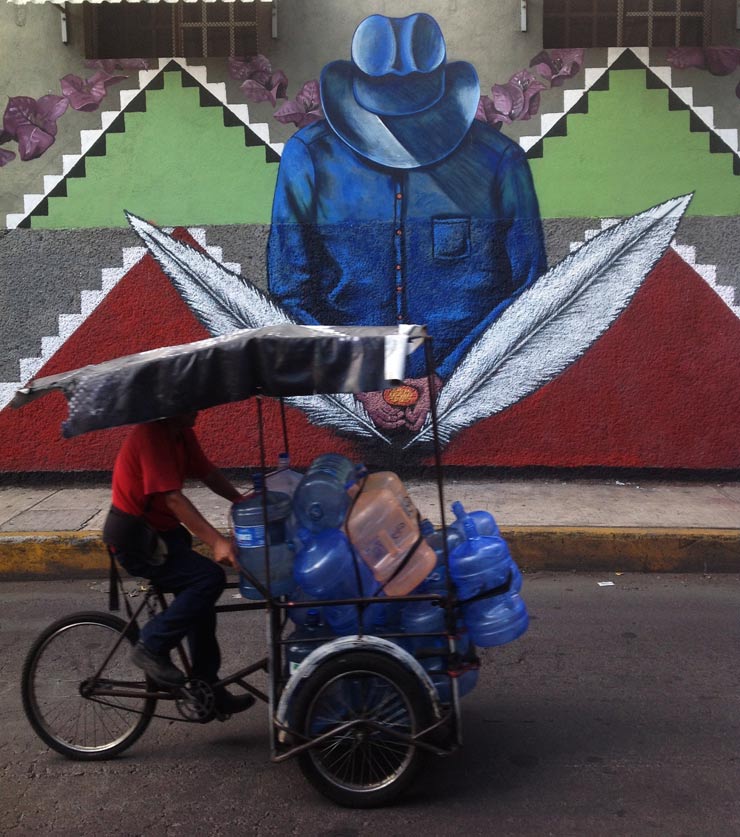 Overunder . Joins. Detail. Mexico City. July 2013. (photo © Overunder)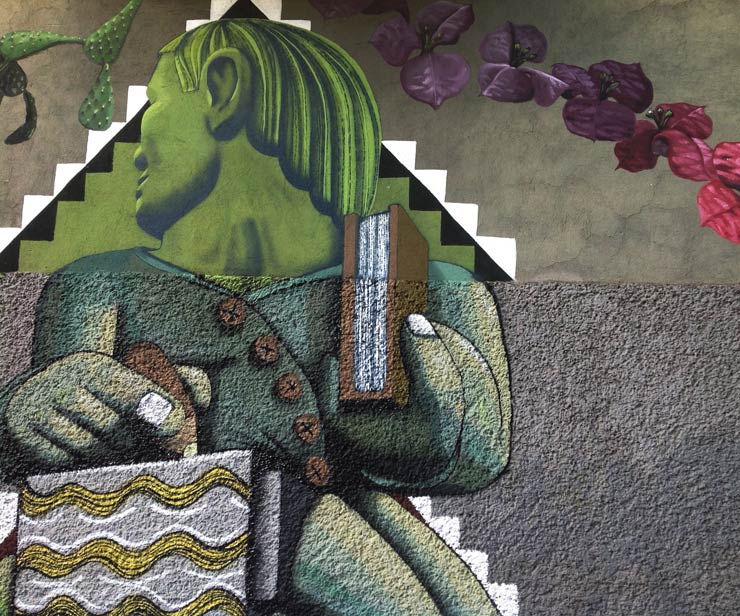 Overunder . Joins. Detail. Mexico City. July 2013. (photo © Overunder)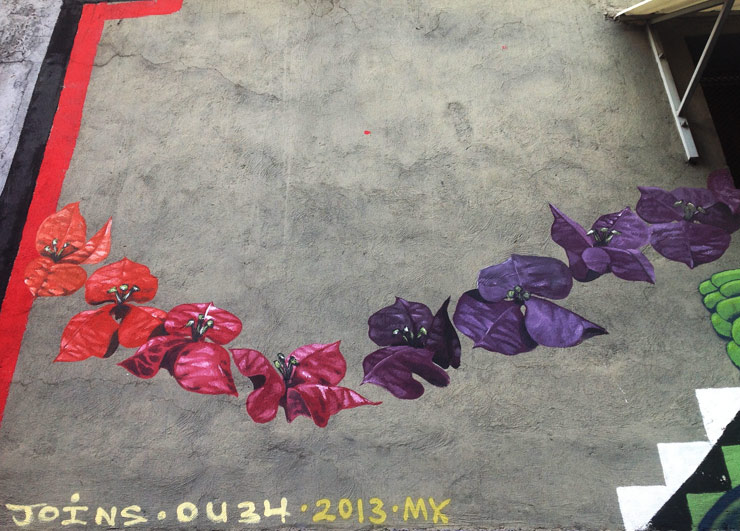 Overunder . Joins. Detail. Mexico City. July 2013. (photo © Overunder)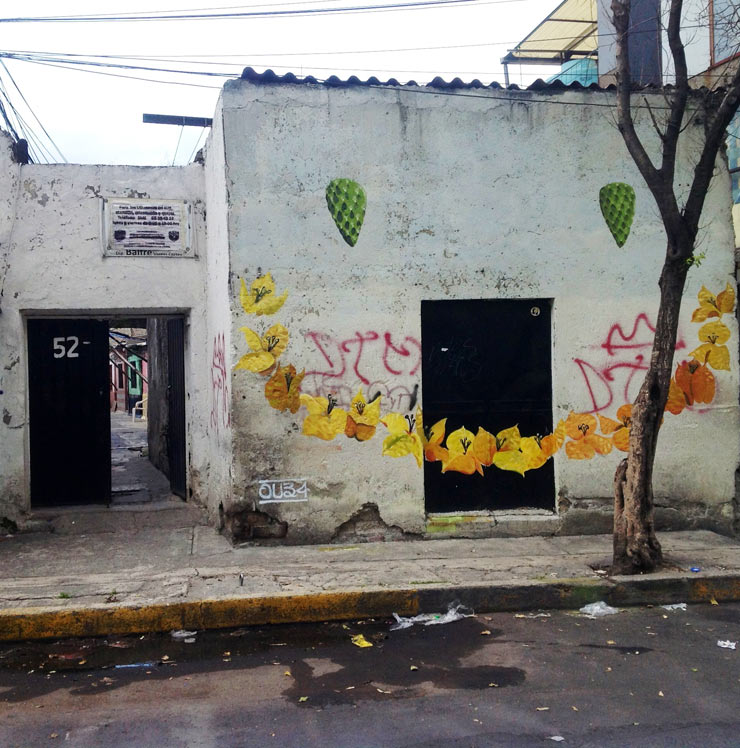 Overunder. Mexico City. July 2013. (photo © Overunder)
"The smiley face flower wall was a quick painting I made in exchange for a dinner date from a wonderful grandmother." -OU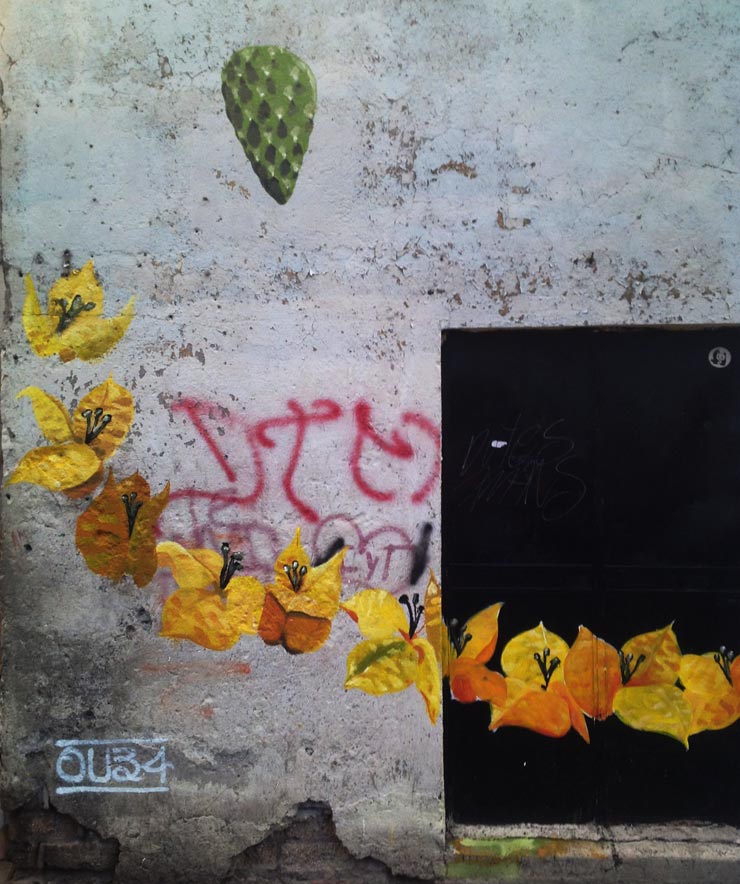 Overunder. Detail. Mexico City. July 2013. (photo © Overunder)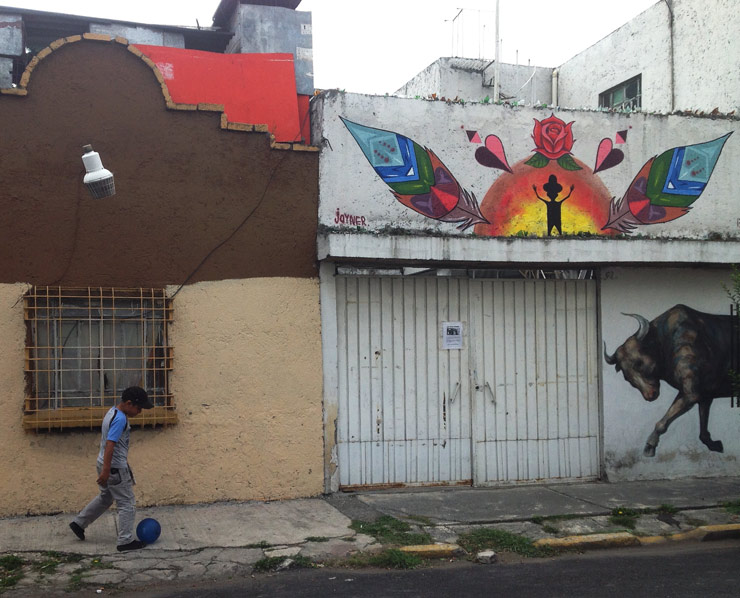 Little bull plays futbol with big bull. Joins. Mexico City. July 2013. (photo © Overunder)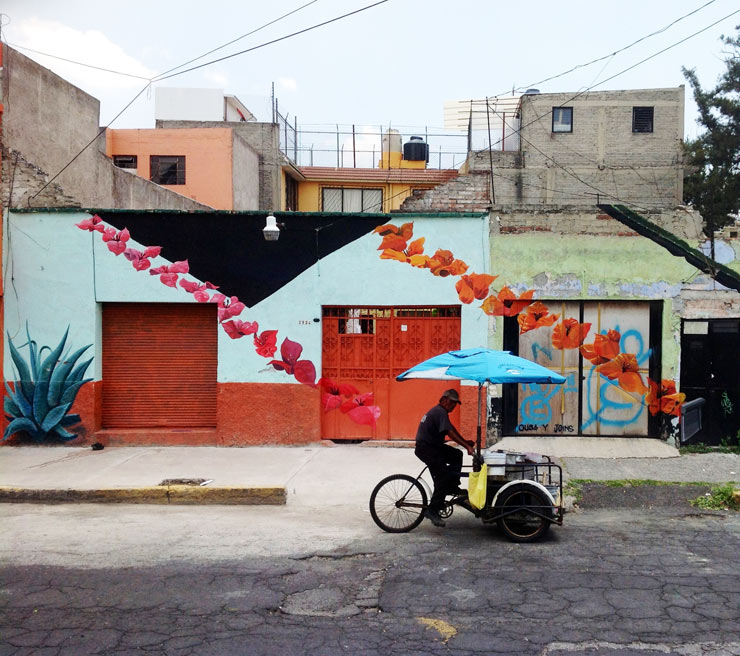 Overunder . Joins. Mexico City. July 2013. (photo © Overunder)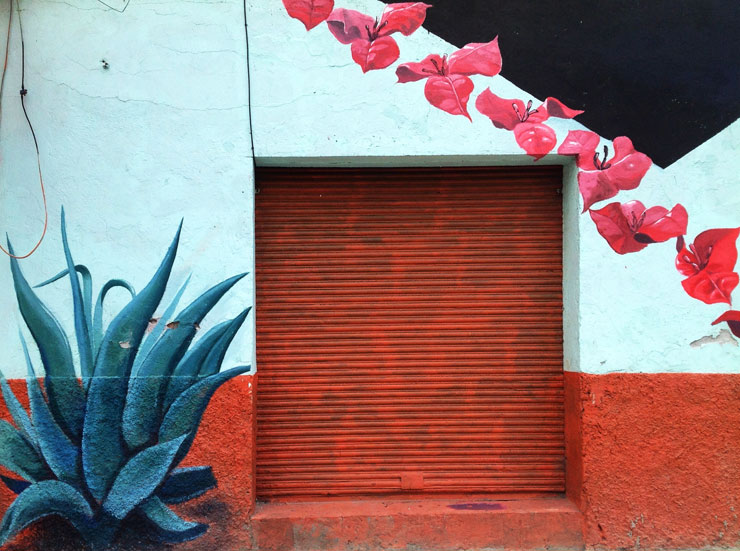 Overunder . Joins. Detail. Mexico City. July 2013. (photo © Overunder)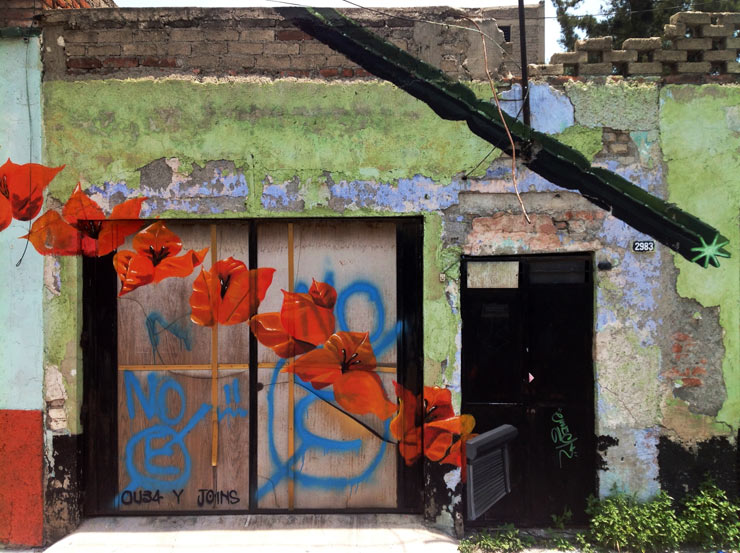 Overunder . Joins. Detail. Mexico City. July 2013. (photo © Overunder)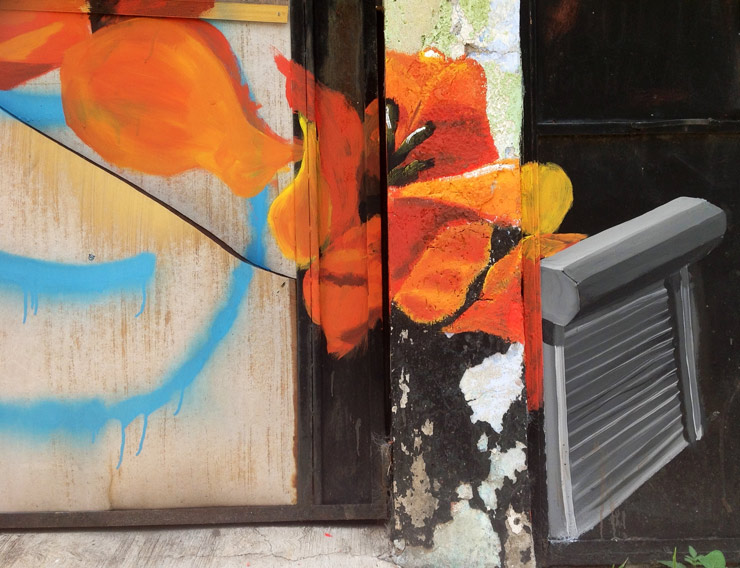 Overunder . Joins. Detail. Mexico City. July 2013. (photo © Overunder)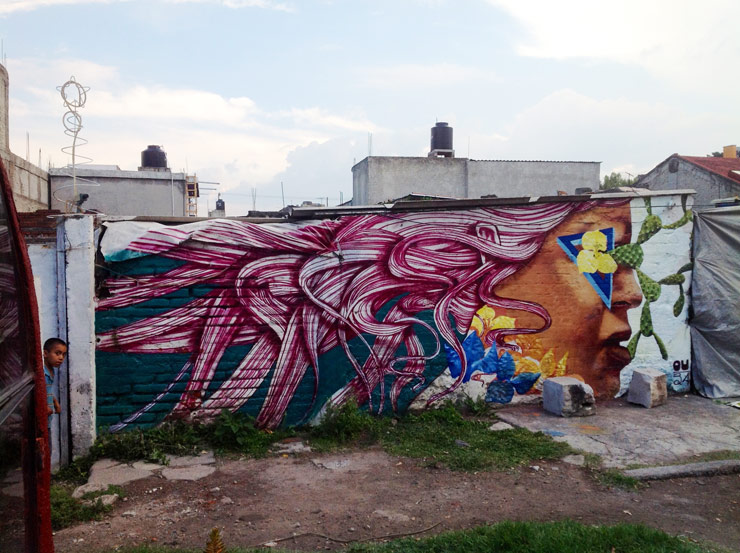 Overunder . A portrait of the Mother of the house. Mexico City. July 2013. (photo © Overunder)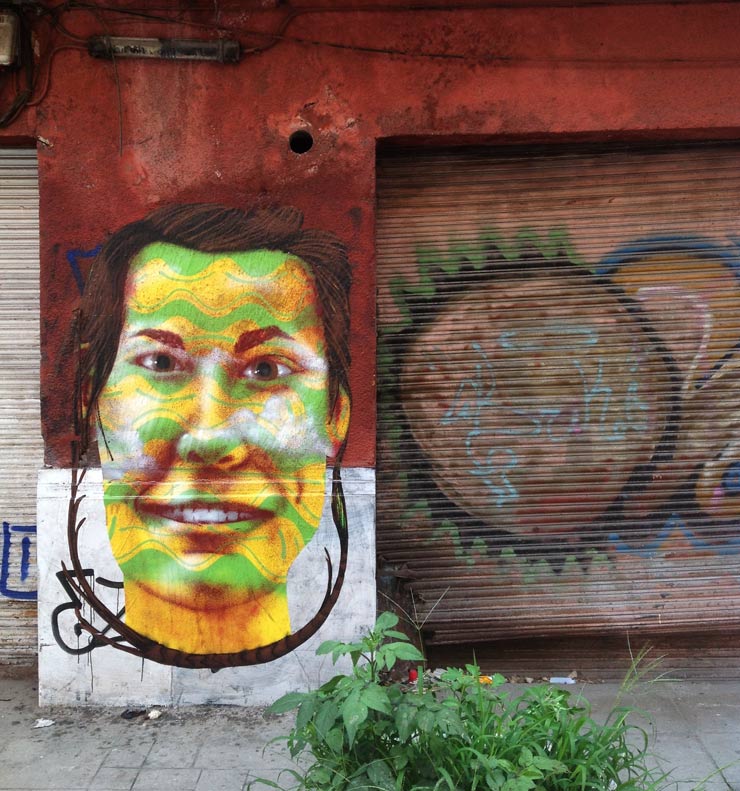 Overunder. Mexico City. July 2013. (photo © Overunder)
A shout out to Gonzalo of Mamutt Creatividad, who helped line up the large wall and the Cauce Ciudadano wall. Check him out on Facebook
<<>>><><<>BSA<<>>><<<>><>>><><<>BSA<<>>><<<>><>

Please note: All content including images and text are © BrooklynStreetArt.com, unless otherwise noted. We like sharing BSA content for non-commercial purposes as long as you credit the photographer(s) and BSA, include a link to the original article URL and do not remove the photographer's name from the .jpg file. Otherwise, please refrain from re-posting. Thanks!

<<>>><><<>BSA<<>>><<<>><>>><><<>BSA<<>>><<<>><>

A version of this article was also posted on Brooklyn Street Art.

Read all posts by Steven P. Harrington and Jaime Rojo on The Huffington Post HERE.

See new photos and read scintillating interviews every day on BrooklynStreetArt.com

Follow us on INSTAGRAM http://instagram.com/bkstreetart#

See our TUMBLR page

Follow us on TWITTER @bkstreetart