The pale wan institutional hues of the Stavanger International Airport now are punctuated by the brilliant blues and stencil patterning wrapping around the control tower.
Small multi-layered stencil portraits pop from post-boxes, primary color-clad children hang off of stoop stairs and balance on stacked chairs and a graffiti slathered Michaelango stands on the corner next to the eye doctor's office. Turn up another street and an aerosoled sultry geisha rises, wrapped in boisterous brocade on a typically white wall in this rather monochromatic sea town.
With these new wall works by M-City, C215, Ernest Zacharevic, Martin Whatson, and Hush (respectively) and a number of others, Nuart 2013 brought a lot of color to the streets this year as it celebrated what founder Martyn Reed called "one of, if not thee, finest Nuart events yet".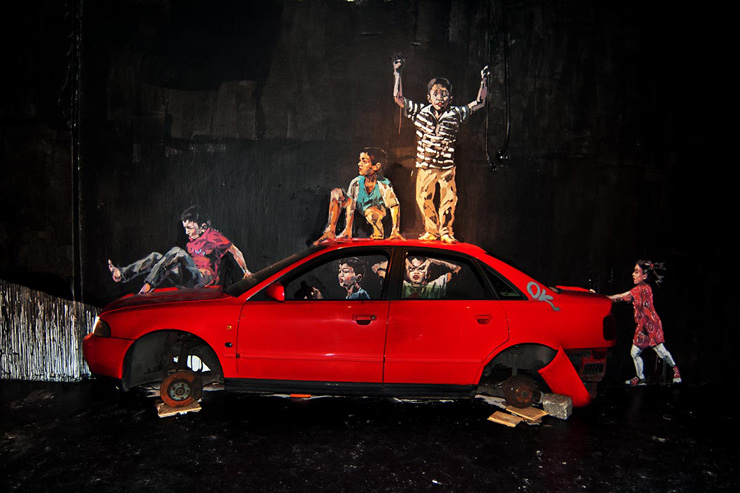 Ernest Zacharevic (photo © Martha Cooper)
"Best Wishes from cold and rainy Stavanger!" says Ernest's friend Gabija in her note to us as she talks about the cool grey storms that held up many of the visiting artists waiting to paint. It didn't delay the pieces going up on tunnel walls of the venue where the opening party crowds teamed Saturday night. The special installations by C215, David Choe, and Aiko among others also included a 1,300 slide show at the end of one tunnel that showed 50 years of graffiti, Street Art, and street life photography by Martha Cooper, who was invited as an artist.
Even the minister of culture stopped by for a tour on Thursday, which shows how far graffiti and Street Art have grown, or strayed, in the years since public service commercials equated aerosol art with illicit drug use, truancy, terror, and illegal firearms. Today we give tours in the streets to appreciative people who snap photos and pose with friends in front of the spray painted walls.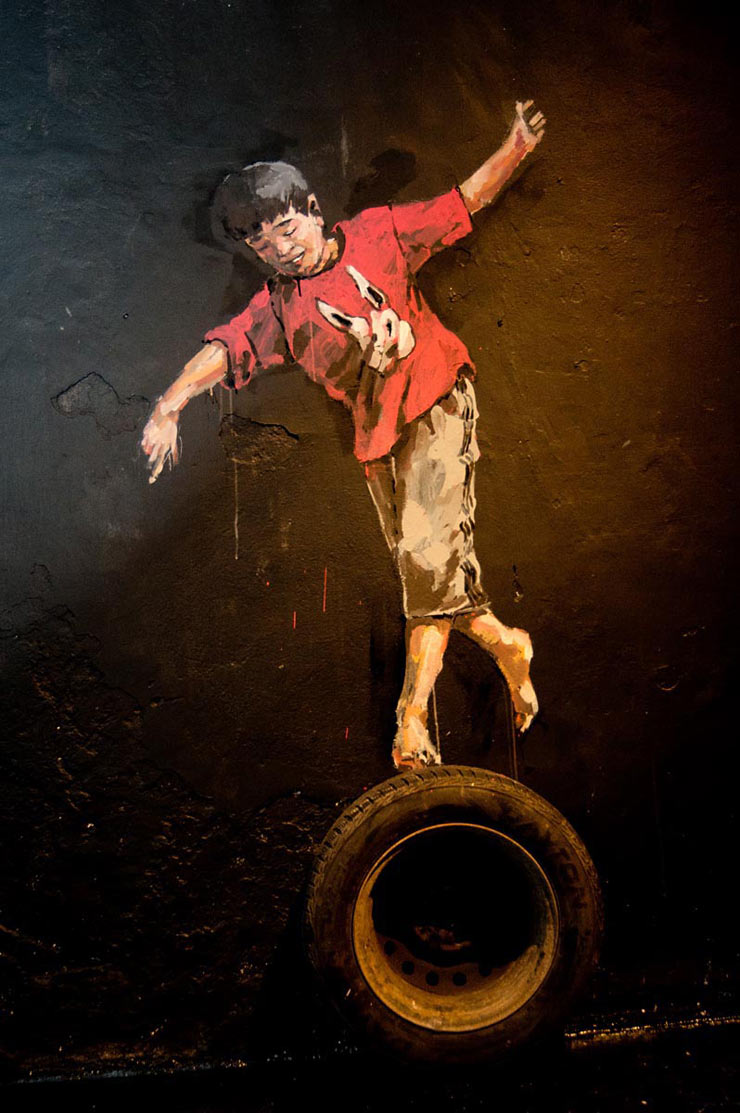 Ernest Zacharevic (photo © Martha Cooper)
Of course this is an international mural festival, and much of the work is done by more accomplished artists who may have once sprayed their stuff illegally (or still do). The themes may need to pass some review process, but the opportunities that come from taking your time are appreciable also. One of the newest talents showing this year was the Lithuanian twenty-something Ernest Zacharevic, who photographs and paints kids interacting and playing on a variety of wheeled machines, usually the self propelled kind.
Ably steering clear of cute, Zacharevic uses props with his wall paintings to "tap into the original instincts of adult viewers who may have lost their ability to access their playful nature," or so we said in our interview with him. He also merges 2D with 3D quite seemlessly. For his tunnel installation on opening night, Zacharevic sawed a car in half so his kids could dance on the roof, cram inside, and push it from the back like it was out of gas. More than likely it was the missing wheels that kept the car stationary. But no harm in playing.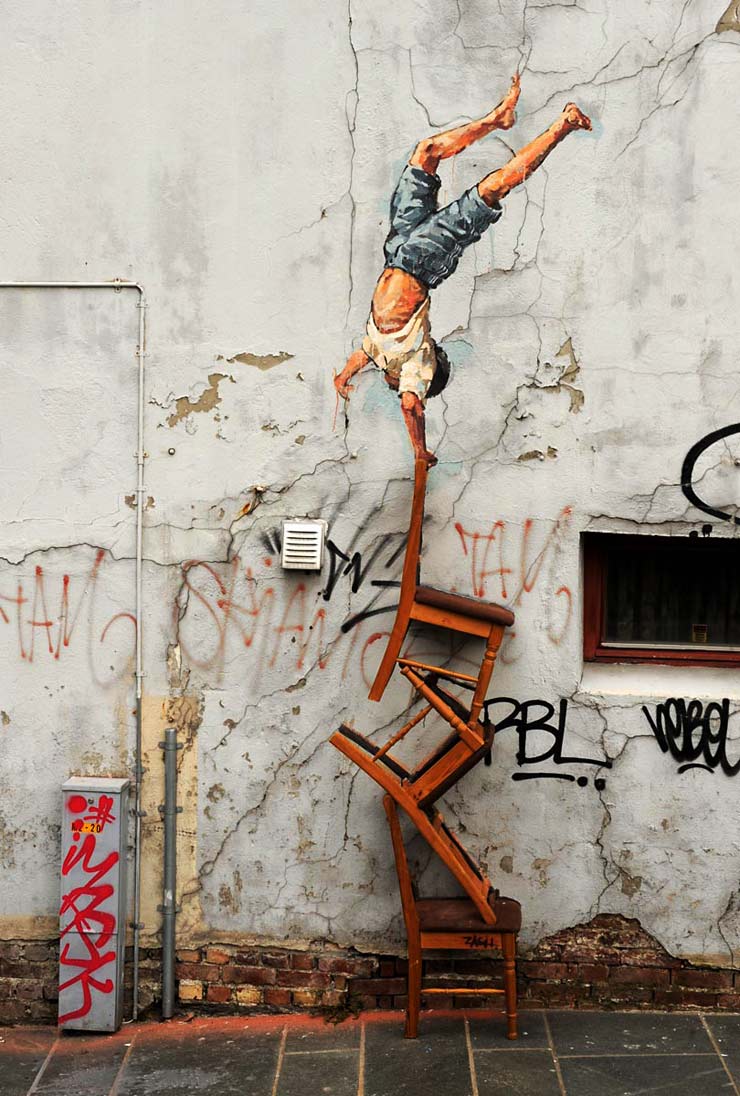 Ernest Zacharevic (photo © Martha Cooper)
But of the 16 artists invited this year, each can say they brought life and their A-game to this jewel of an outdoor art show in Norway. Nuart 2013 included MARTHA COOPER (US), DAL EAST (CN), ROA (BE), M-CITY (PL), FAITH47 (ZA), HUSH (UK), VHILS (PT), ERNEST ZACHAREVIC (LT), C215 (FR), DOT DOT DOT (NO), DOTMASTER (UK), STRØK (NO), MARTIN WHATSON (NO), DAVID CHOE (US) AIKO (JP).
With very special thanks to photographer Martha Cooper for sharing these images with BSA readers.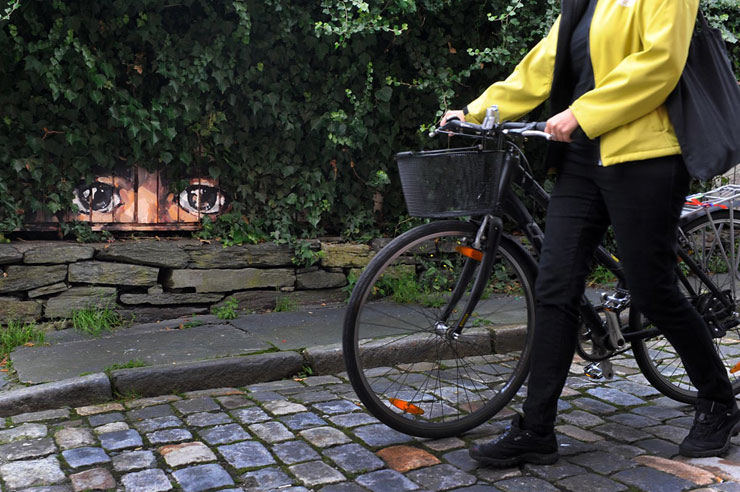 Ernest Zacharevic (photo © Martha Cooper)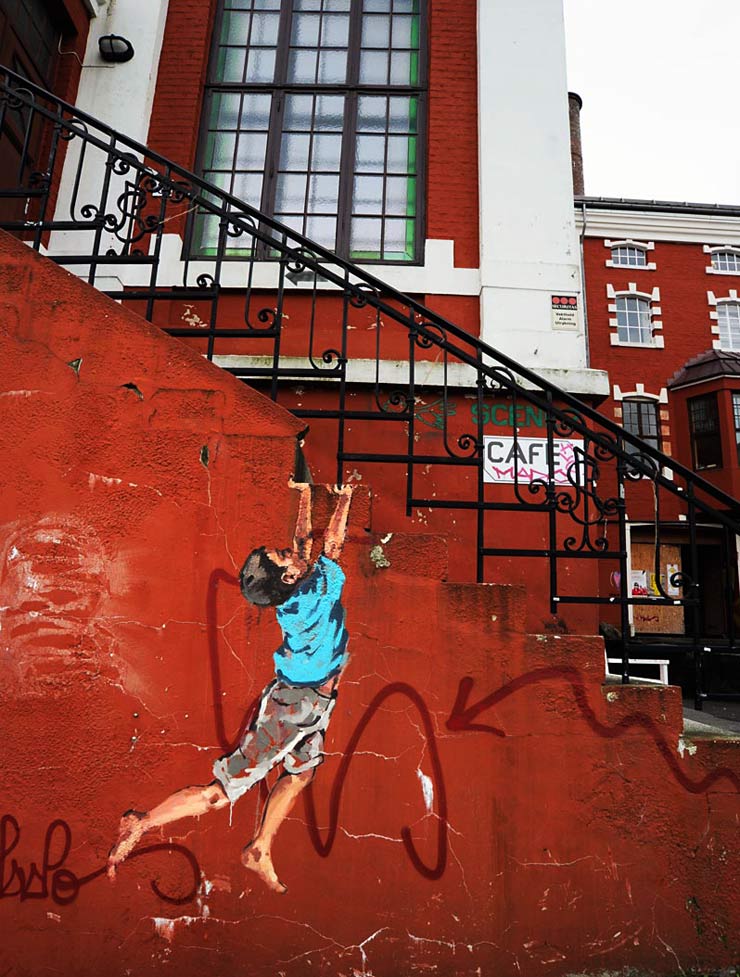 Ernest Zacharevic (photo © Martha Cooper)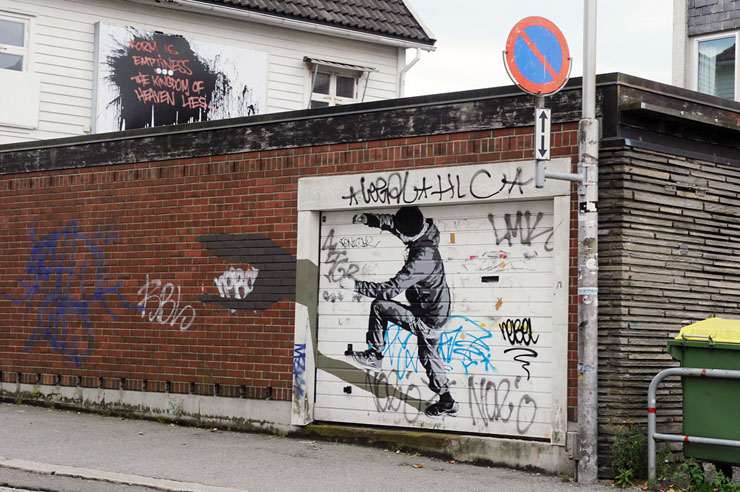 Stroek casts a shadow. (photo © Martha Cooper)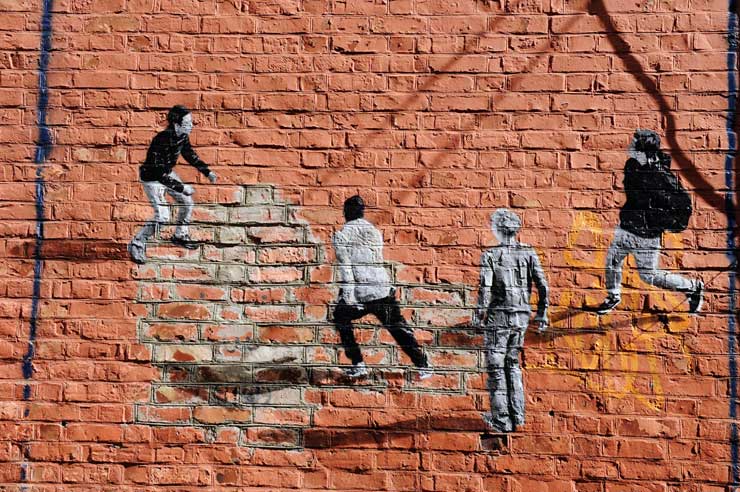 Stroek and a street scene. (photo © Martha Cooper) (photo © Martha Cooper)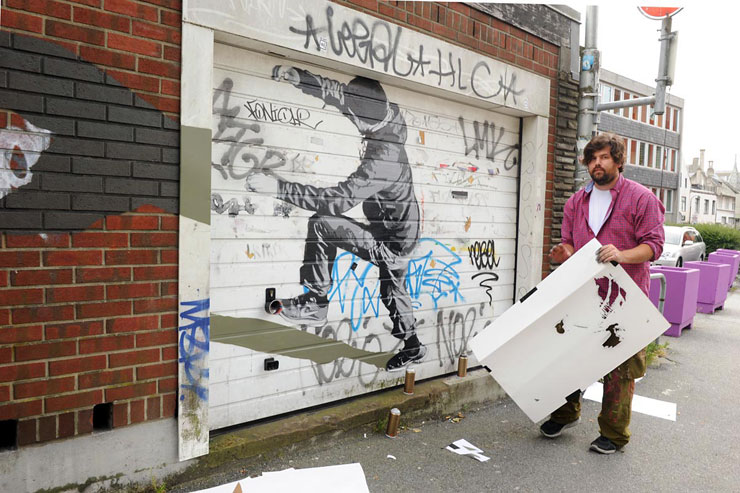 Stroek finishing up his piece. (photo © Martha Cooper)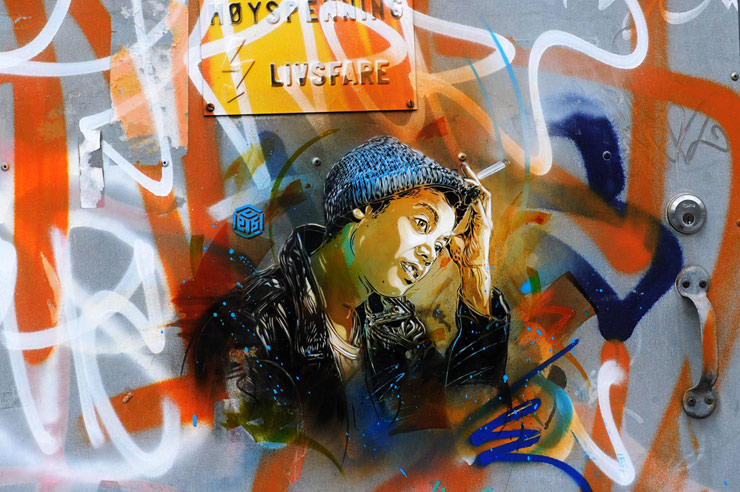 C215 does this portrait of fellow Street Artist Indi. (photo © Martha Cooper)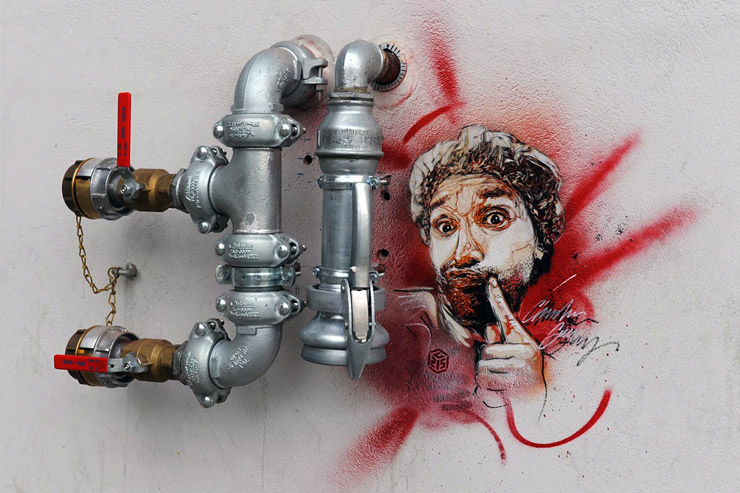 C215 self portrait looking perplexed, perhaps. (photo © Martha Cooper)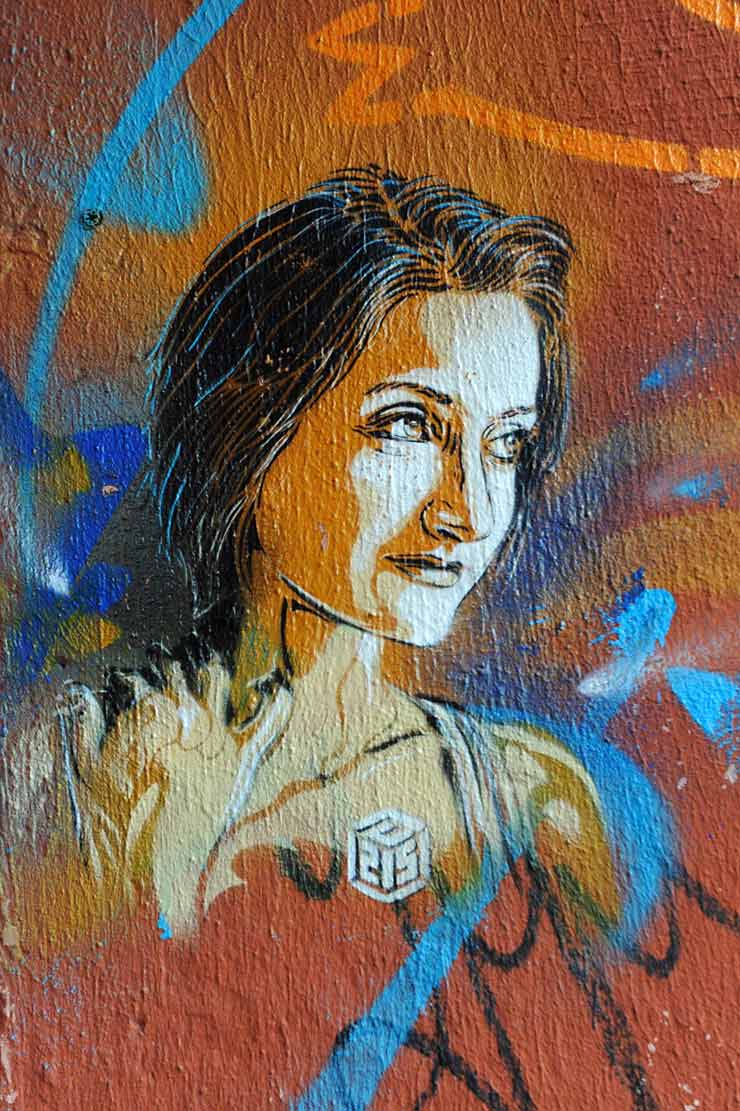 C215 (photo © Martha Cooper)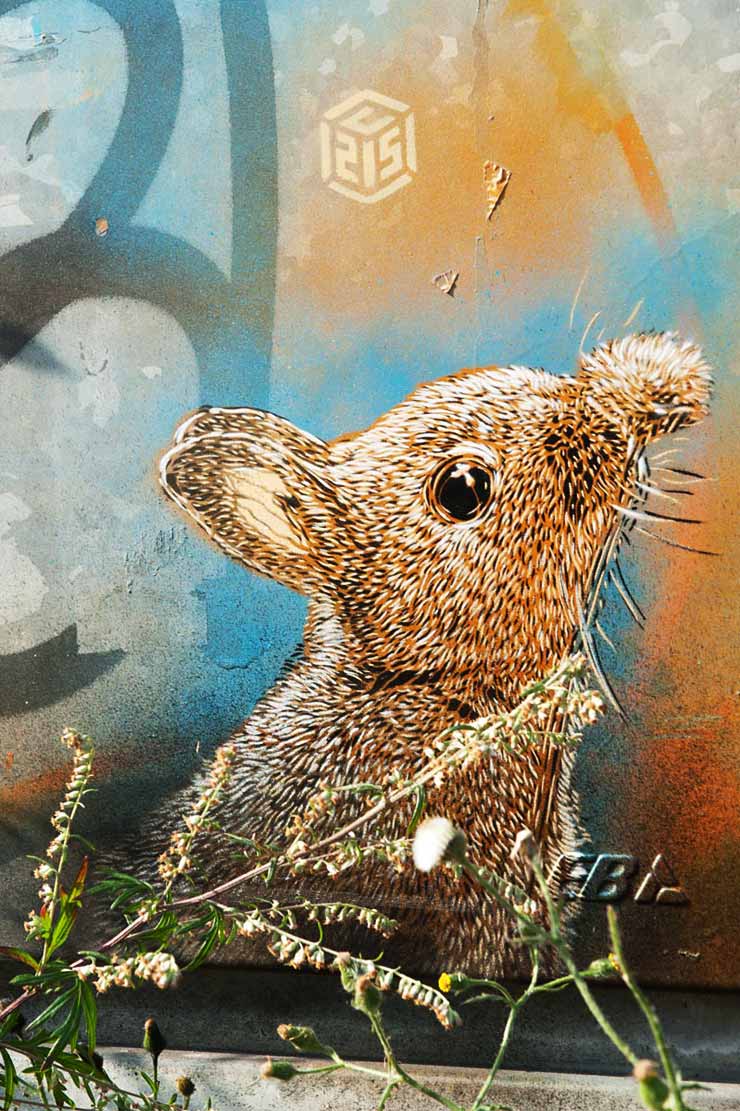 C215 (photo © Martha Cooper)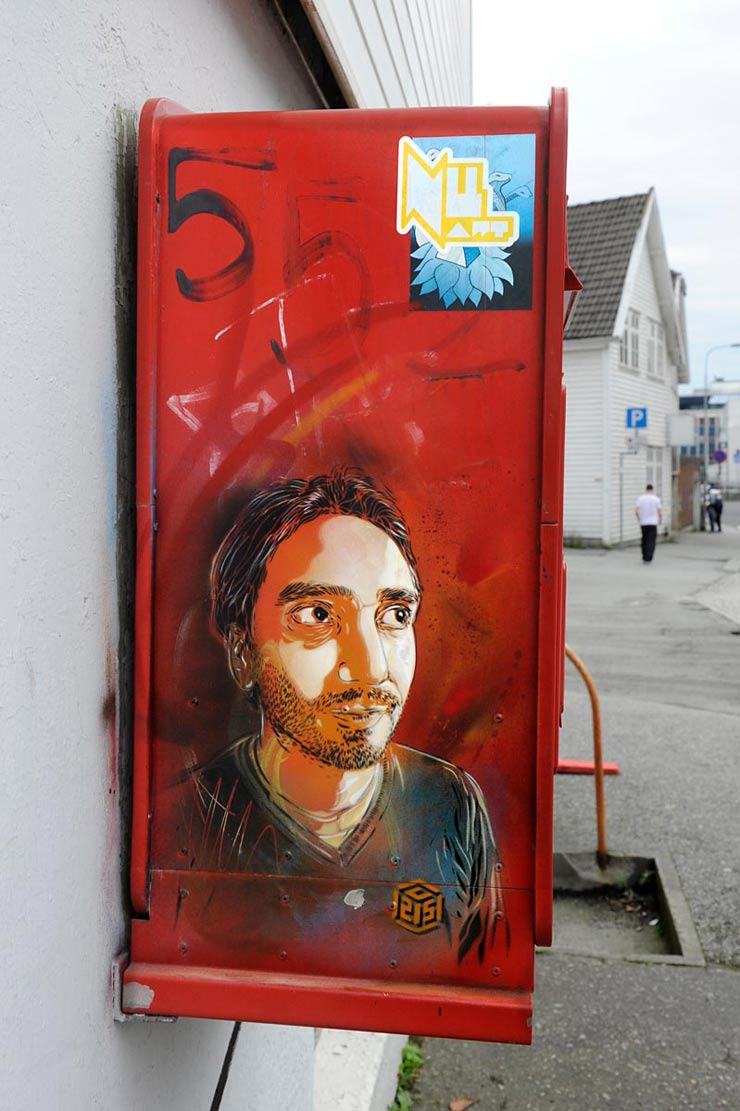 C215 on a post box in Stavanger. (photo © Martha Cooper)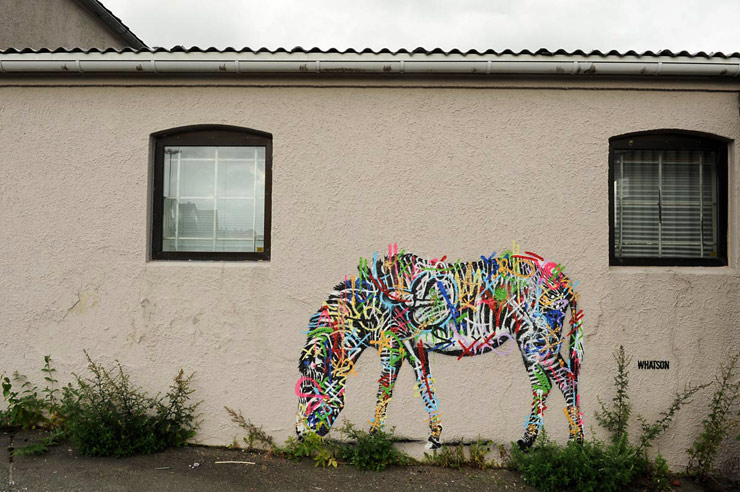 Martin Whatson (photo © Martha Cooper)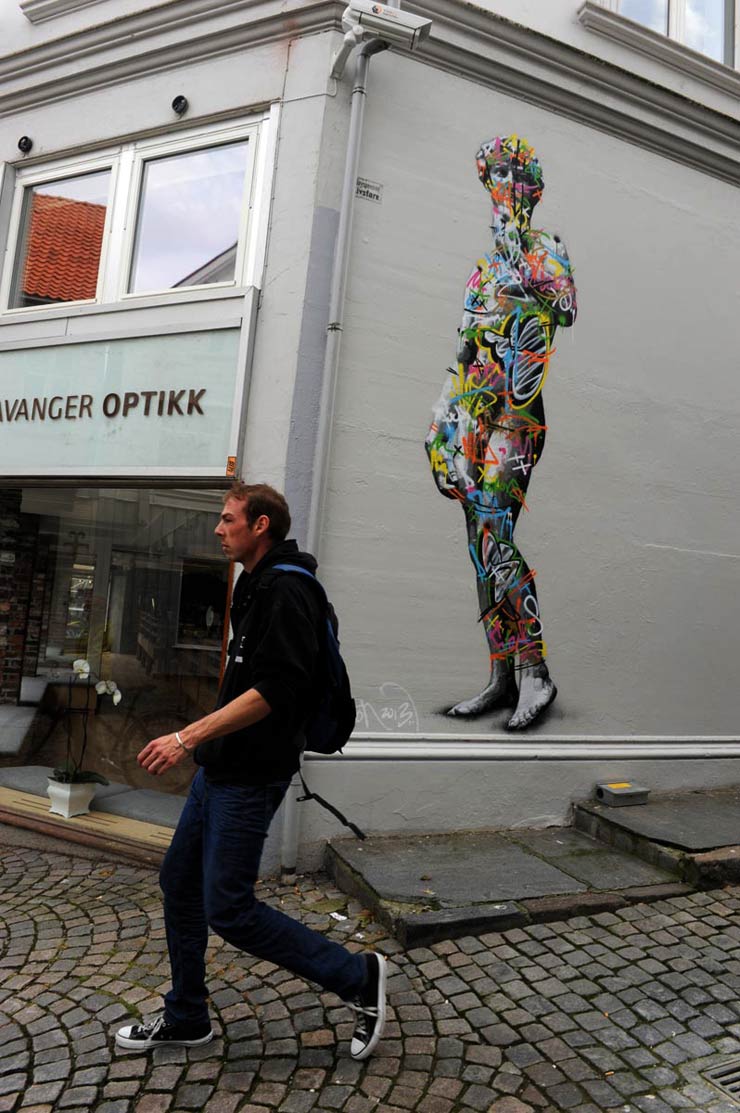 Martin Whatson (photo © Martha Cooper)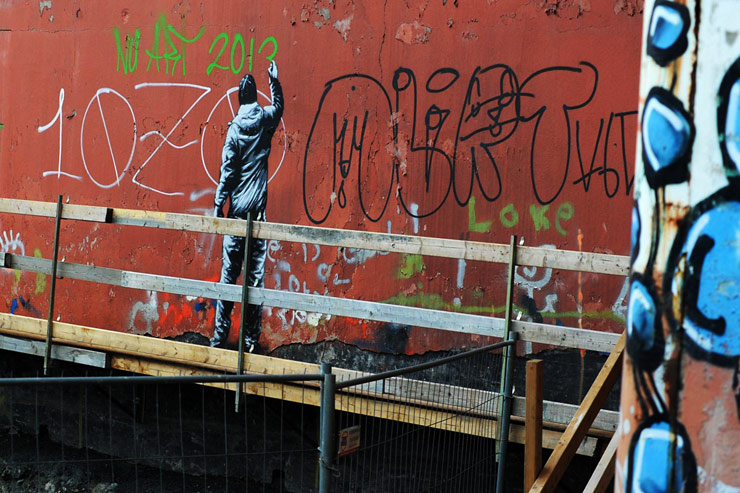 Martin Whatson (photo © Martha Cooper)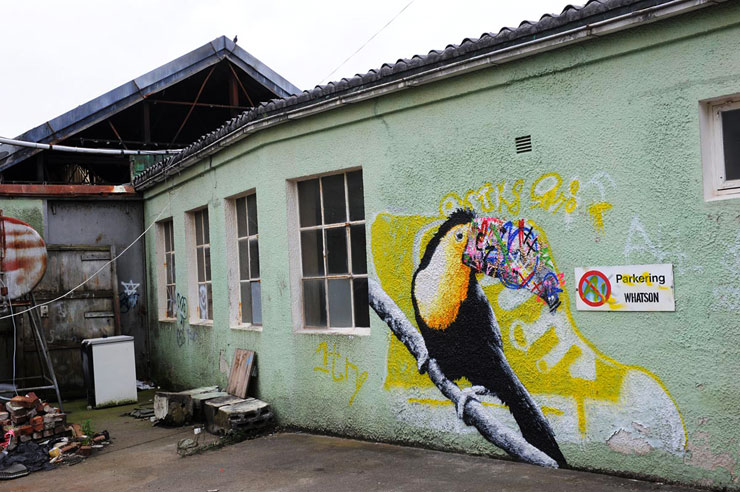 Martin Whatson (photo © Martha Cooper)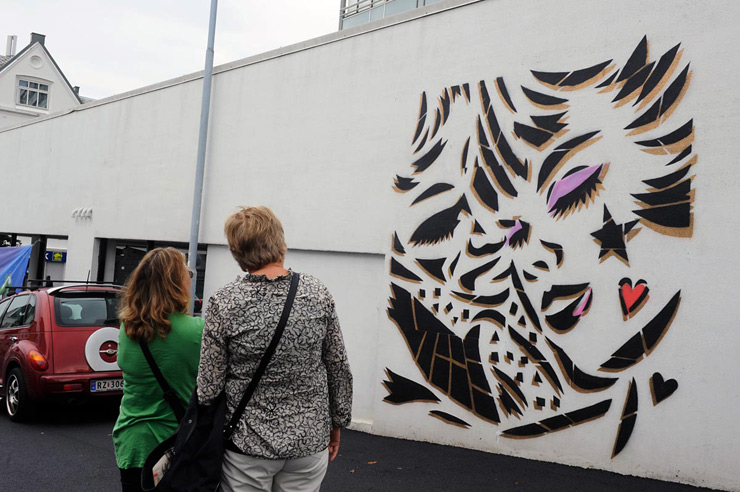 AIKO (photo © Martha Cooper)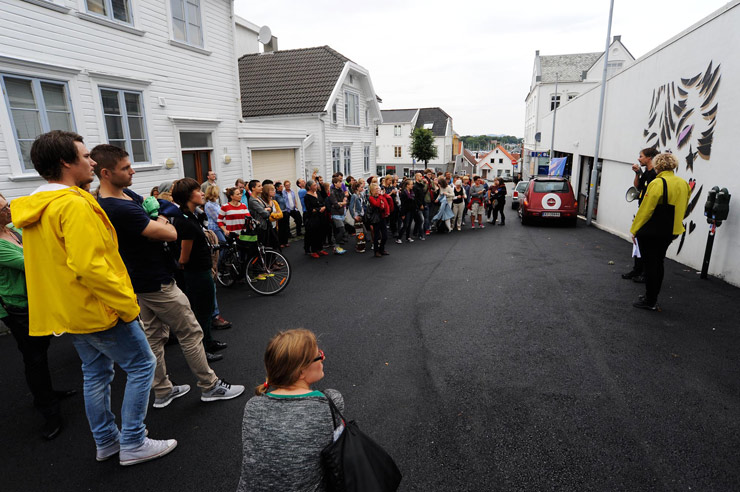 A tour of the walls in Stavanger with AIKO's piece on the background. (photo © Martha Cooper)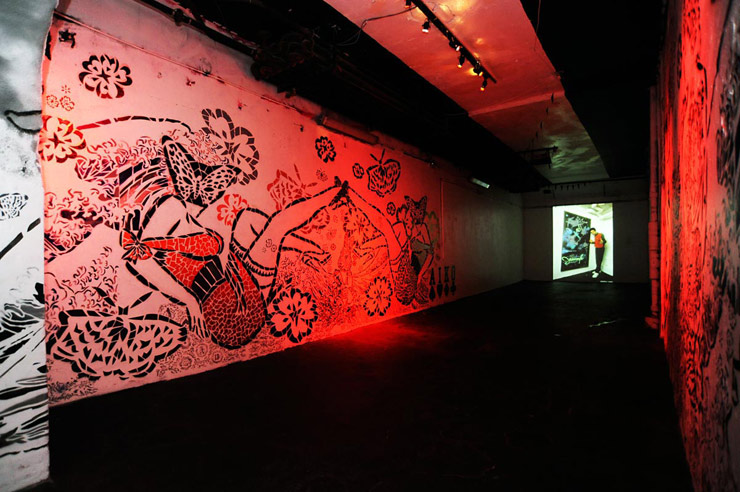 AIKO and Martha Cooper's collaborative tunnel, with Aiko's stencils on both sides and a slide show at the end. This slide is of New York graffiti writer and fine artist Futura as a young buck at the tunnels' end. (photo © Martha Cooper)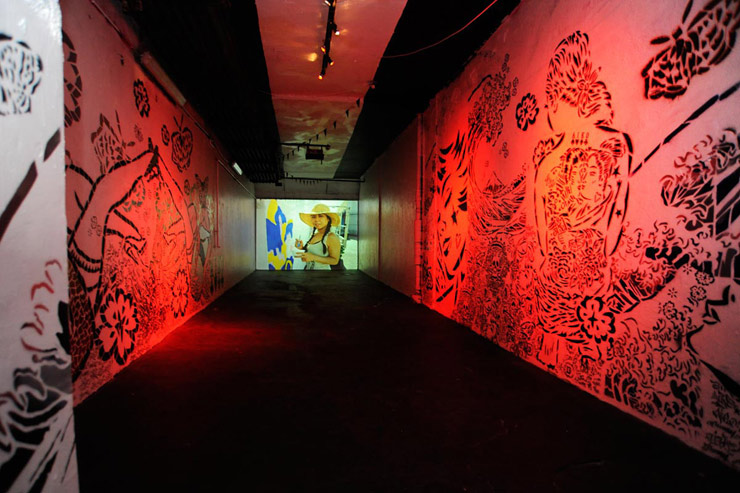 AIKO's walls and Martha Cooper's portrait of her in a perfect collaboration. (photo © Martha Cooper)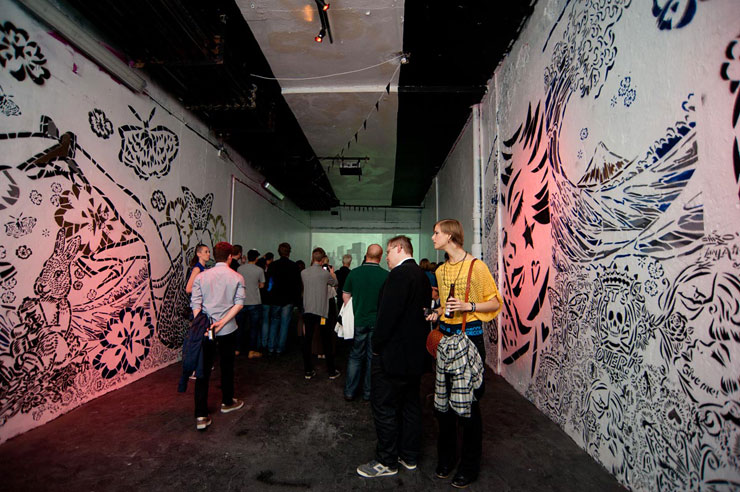 AIKO and Martha Cooper' slide show on the background. (photo © Martha Cooper)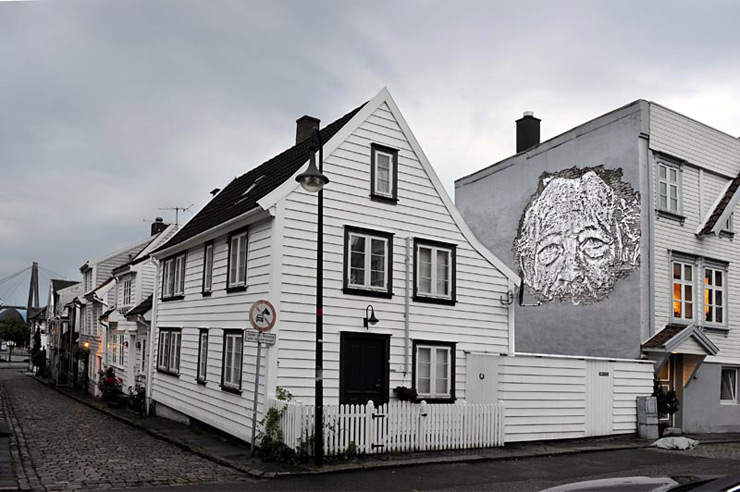 VHILS (photo © Martha Cooper)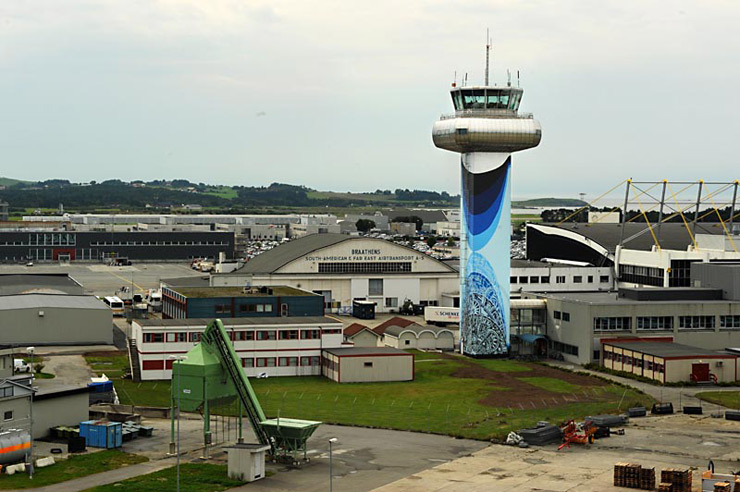 M-City (photo © Martha Cooper)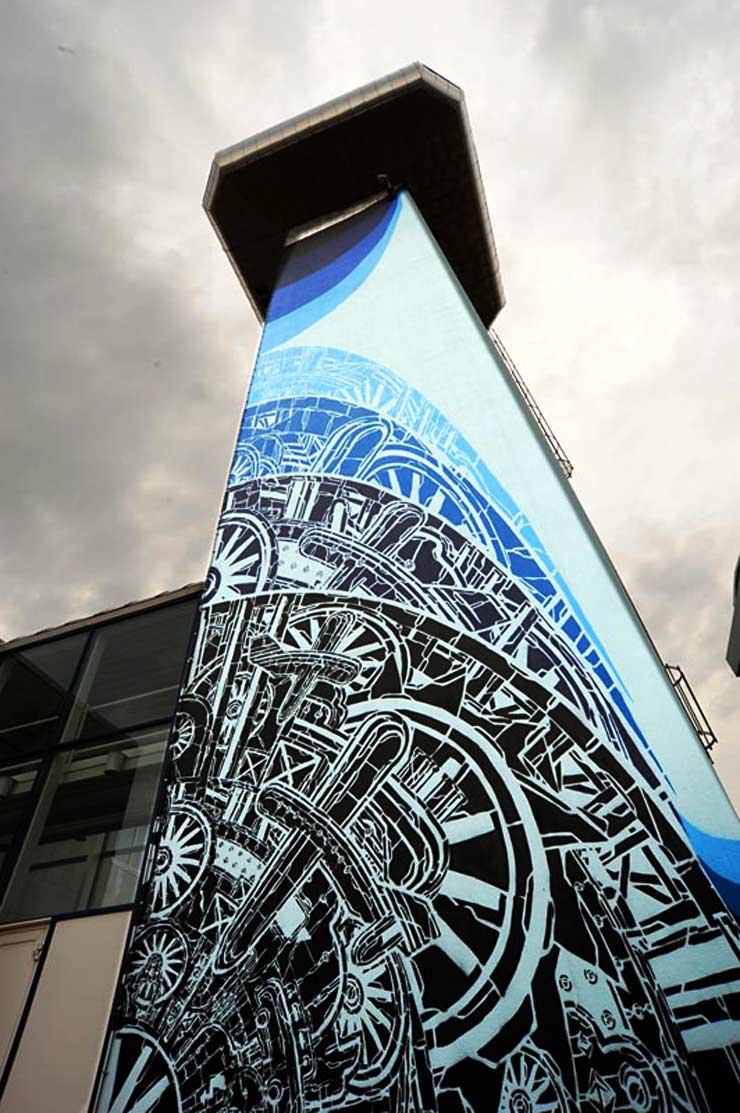 M-City. Detail. (photo © Martha Cooper)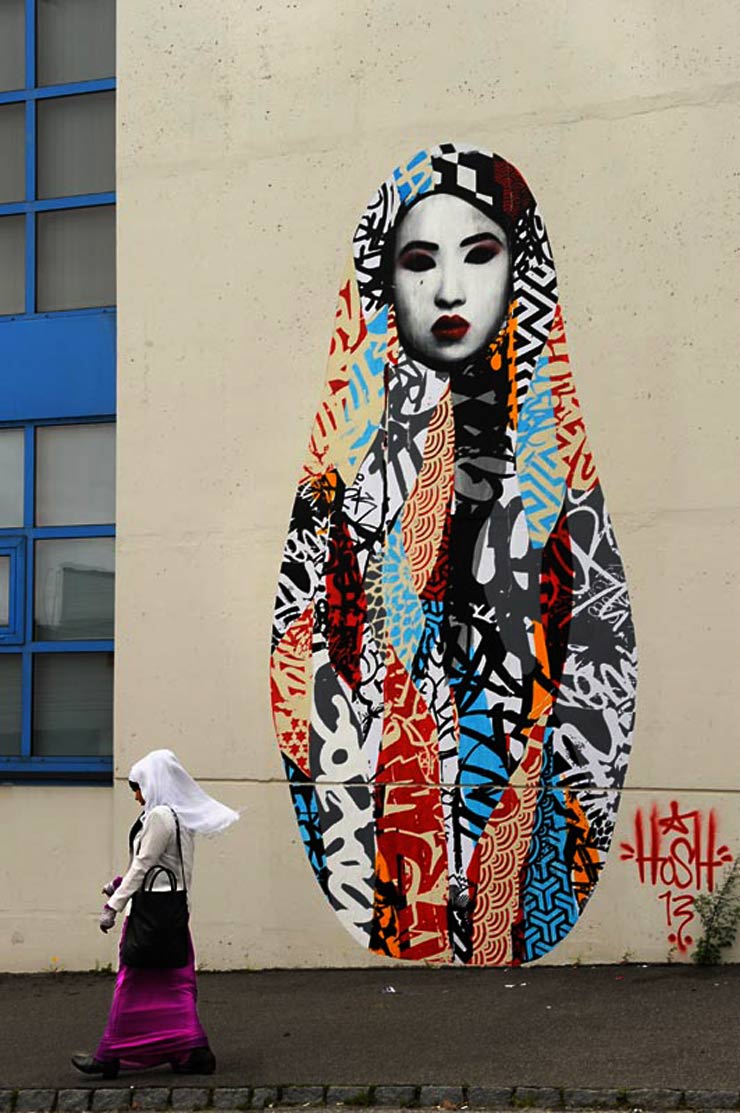 HUSH in a stunning shot by Ms. Cooper, who caught a woman in a hijab walking past at just the right moment. (photo © Martha Cooper)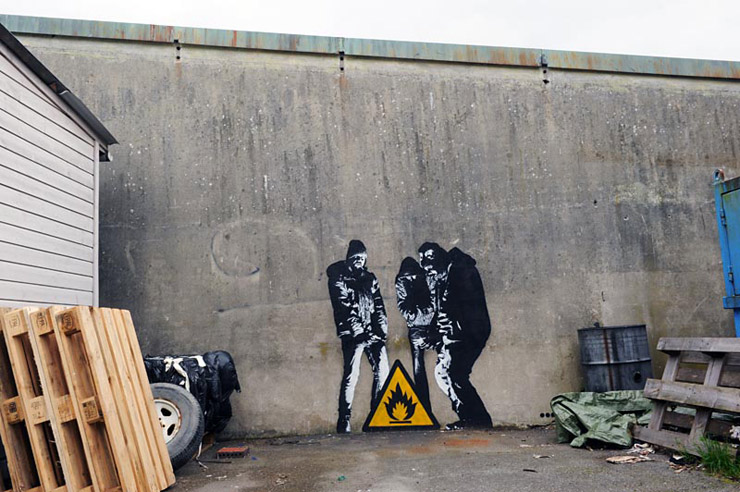 DOT DOT DOT keeping warmed by the fire. (photo © Martha Cooper)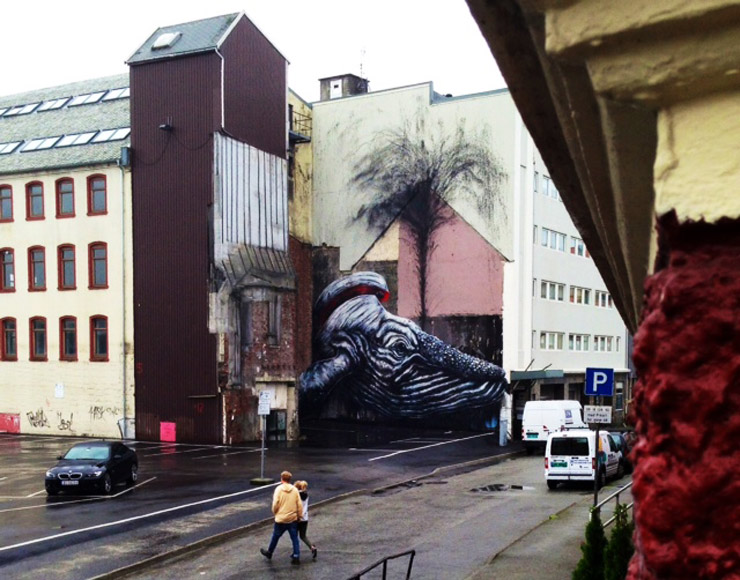 ROA's whale is spouting oil, a reference to the driving force behind the local economy perhaps. (photo © Martha Cooper)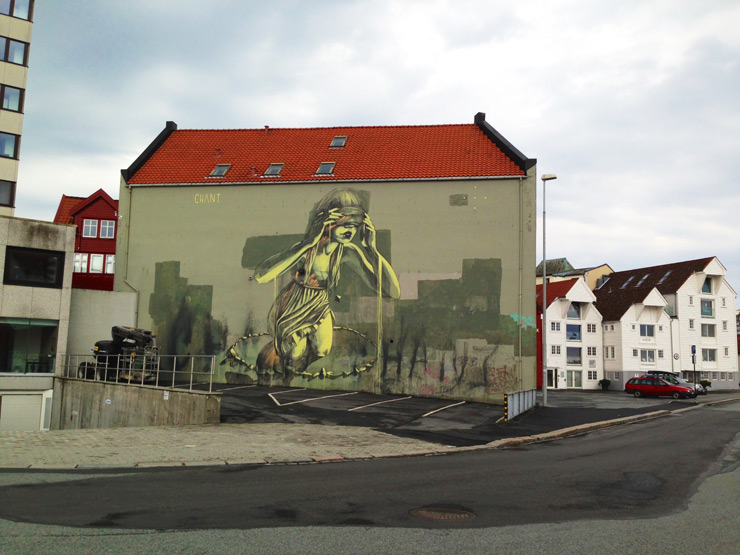 FAITH 47 (photo © Martha Cooper)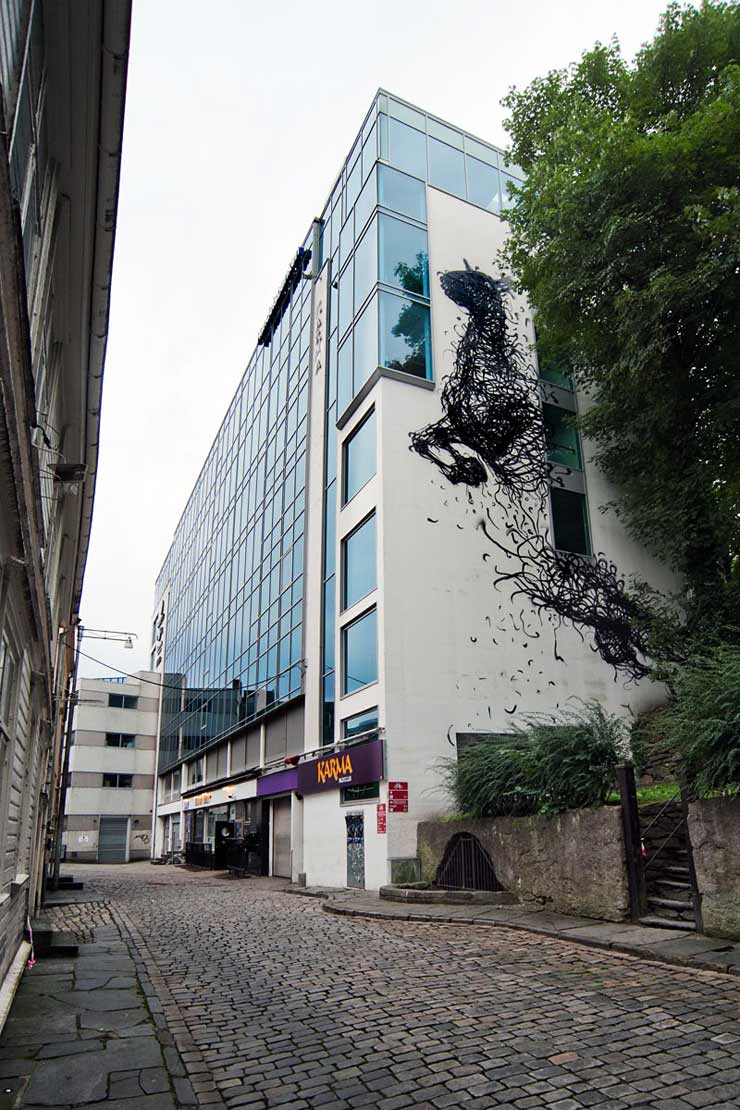 Dal East (photo © Martha Cooper)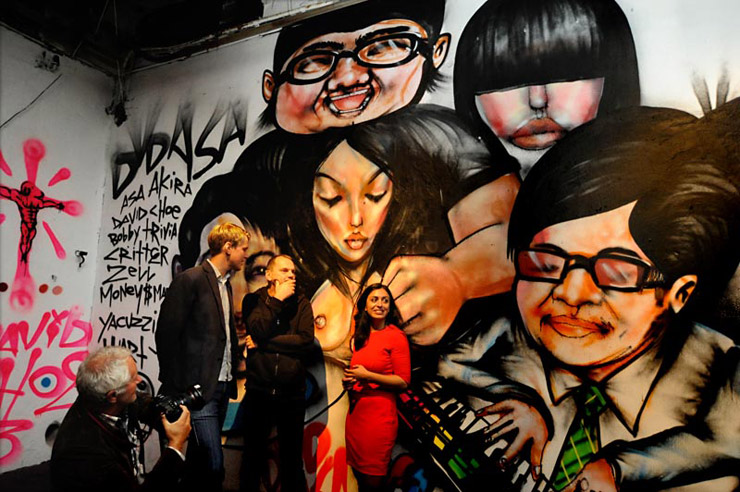 Founder of NUART Festival Martyn Reed, standing in front of David Choe's piece while giving a tour of the art to Norway's Minister of Culture Hadia Tajik. (photo © Martha Cooper)
See Also:
NUART UPDATE: Talk with Ernest Zacharevic and Images of C215, Hush, STROEK
NUART 2013 Update - David Choe, C215, Aiko, Vhils, Ernest Zacharevic, Dot Dot Dot, Hush, and M-City
<<>>><><<>BSA<<>>><<<>><>>><><<>BSA<<>>><<<>><>

Please note: All content including images and text are © BrooklynStreetArt.com, unless otherwise noted. We like sharing BSA content for non-commercial purposes as long as you credit the photographer(s) and BSA, include a link to the original article URL and do not remove the photographer's name from the .jpg file. Otherwise, please refrain from re-posting. Thanks!

<<>>><><<>BSA<<>>><<<>><>>><><<>BSA<<>>><<<>><>

Read all posts by Steven P. Harrington and Jaime Rojo on The Huffington Post HERE.

See new photos and read scintillating interviews every day on BrooklynStreetArt.com

Follow us on INSTAGRAM http://instagram.com/bkstreetart#

See our TUMBLR page

Follow us on TWITTER @bkstreetart