In a New York minute, the Curtain Opens and Closes on "Inside Out"
The daily snaking lines of now famous fans occupying a slice of the Times Square footprint had their last chance at the Big Time in NYC as last weeks show rolled to a close, and the large eyeball van rolled away. For days this limited engagement Broadway hit and circus-like attraction helped people in and out of the photo studio to have their portrait captured and possibly plastered directly as Street Art. The Parisian photographer and Street Artist JR, well known for creating large scale black and white installations that engage and celebrate everyday people knew that this high profile image-centric hub would be a draw, but the near-continuous lines must have been a surprise.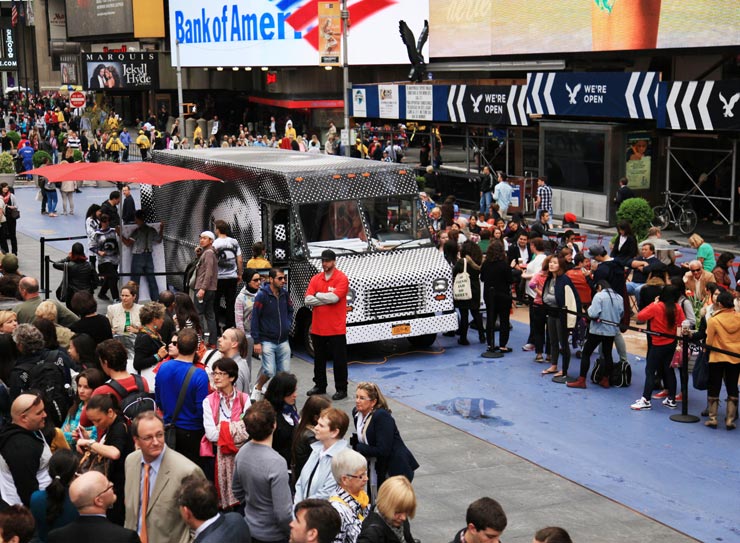 JR Inside Out Project. Times Square, NYC. May 2013. (photo © Jaime Rojo)
Here where Broadway crosses Seventh for five blocks and slow-moving upward-looking people swim in a sea of logos and interactive screens, where actual New Yorkers are outnumbered by tourists, there was something reassuring about the black and white polka dotted nostalgia of an old-timey mobile photo booth that gave Times Square a nostalgic "Guys and Dolls" revival feeling, even as electronic eyes from corporations, federal, state, and city agencies, and your neighbors phone all surveilled every smile, every preen in 2013.
For this multi-day installation, many lucky pedestrians were invited to engage in public art and became the star, sometimes with the director of this production walking among them, helping plaster posters and posing for pictures himself.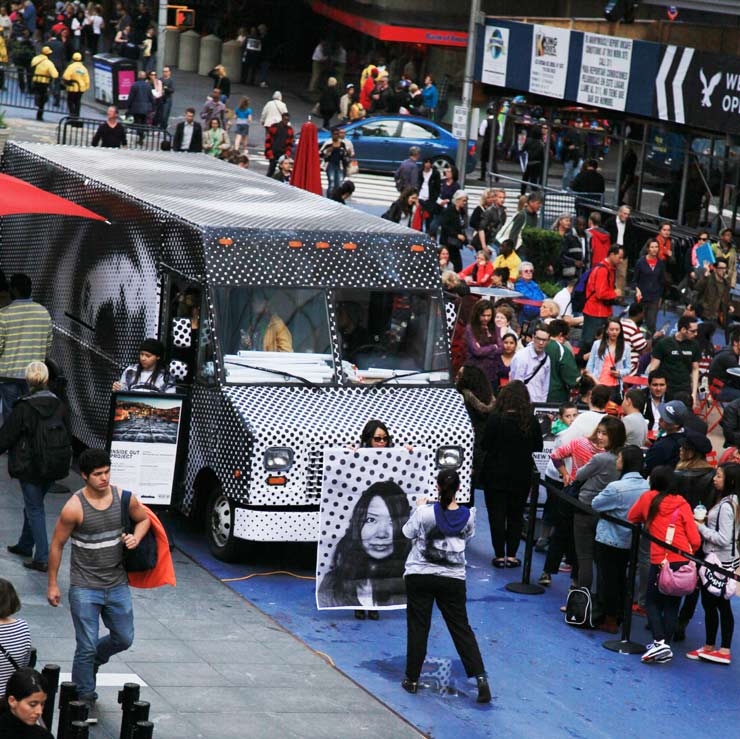 JR Inside Out Project. Times Square, NYC. May 2013. (photo © Jaime Rojo)
Pulling themselves away from bright furry full-sized cartoon characters and the Naked Cowboy, multitudes of photo-friendly Millenials lined up for their fifteen minutes and pulled along mom and dad and maybe grandma for a chance to be on the billboards of the Great Broad Way.
And then, in a New York minute, it was gone - another ethereal Street Art moment captured before it disappeared.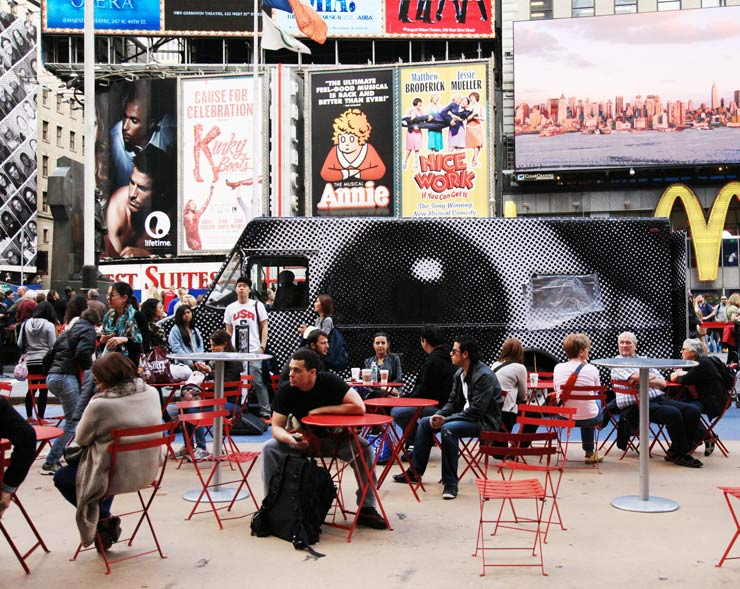 JR Inside Out Project. Times Square, NYC. May 2013. (photo © Jaime Rojo)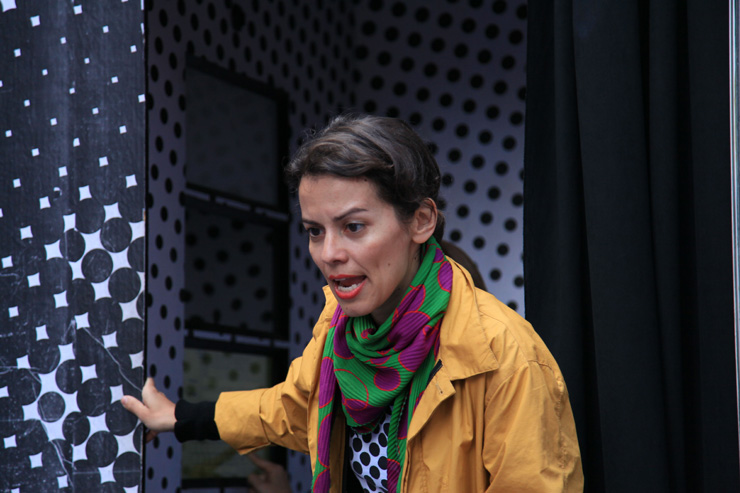 JR Inside Out Project. Times Square, NYC. May 2013. A team member helps with the photo booth. (photo © Jaime Rojo)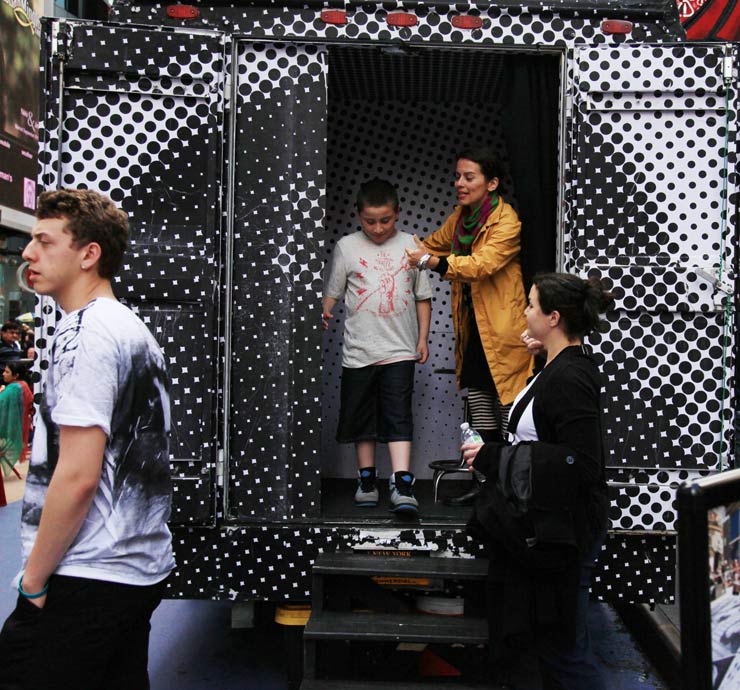 A newly minted star descends the stairs. JR Inside Out Project. Times Square, NYC. May 2013. (photo © Jaime Rojo)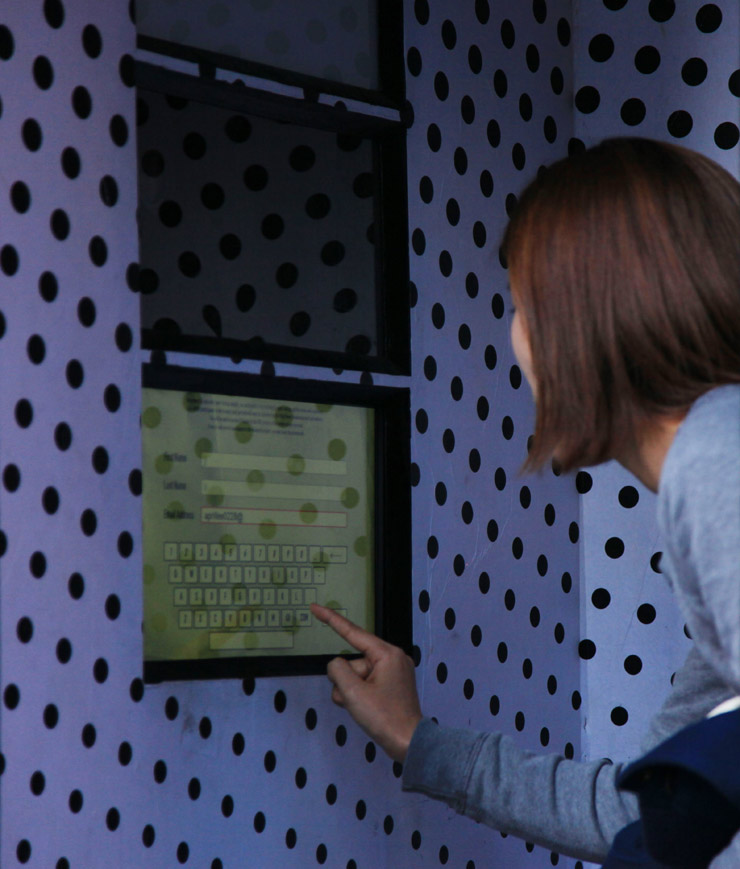 JR Inside Out Project. Times Square, NYC. May 2013. After a long time waiting in line the time for her close-up finally arrives. (photo © Jaime Rojo)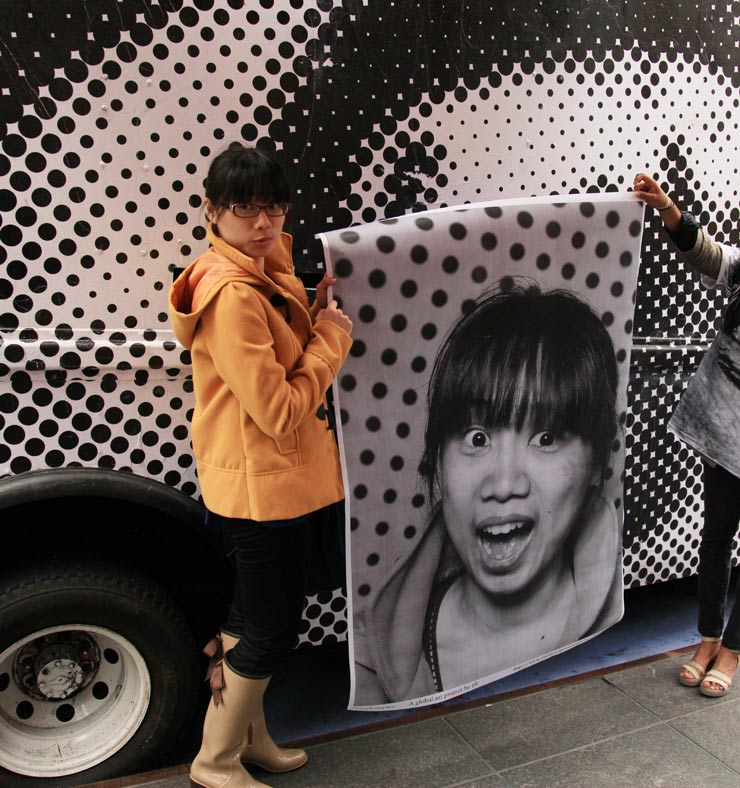 JR Inside Out Project. Times Square, NYC. May 2013. (photo © Jaime Rojo)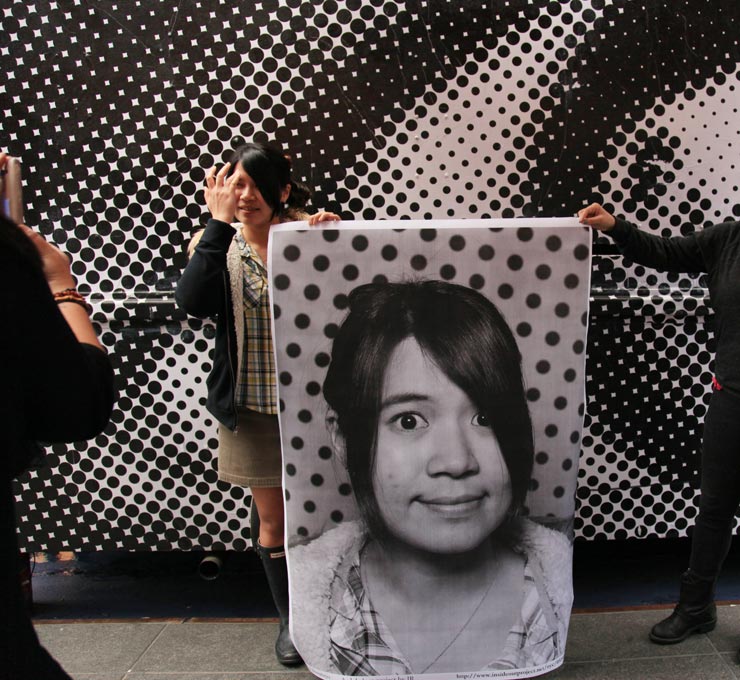 JR Inside Out Project. Times Square, NYC. May 2013. (photo © Jaime Rojo)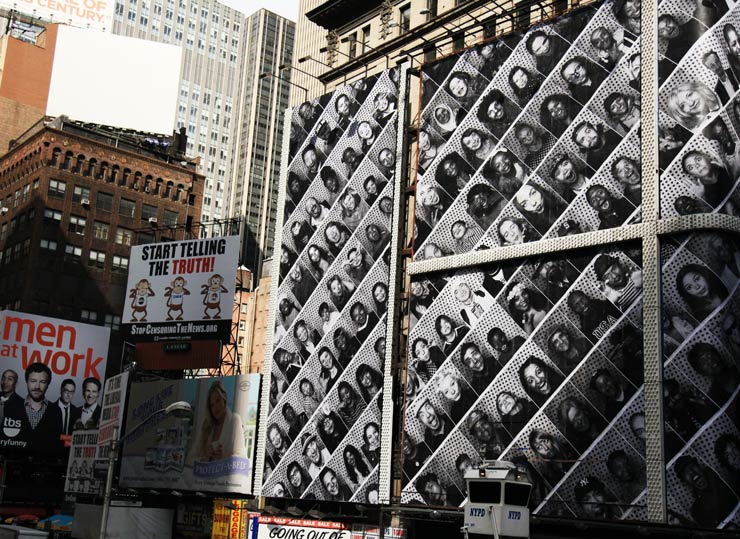 JR Inside Out Project. Times Square, NYC. May 2013. (photo © Jaime Rojo)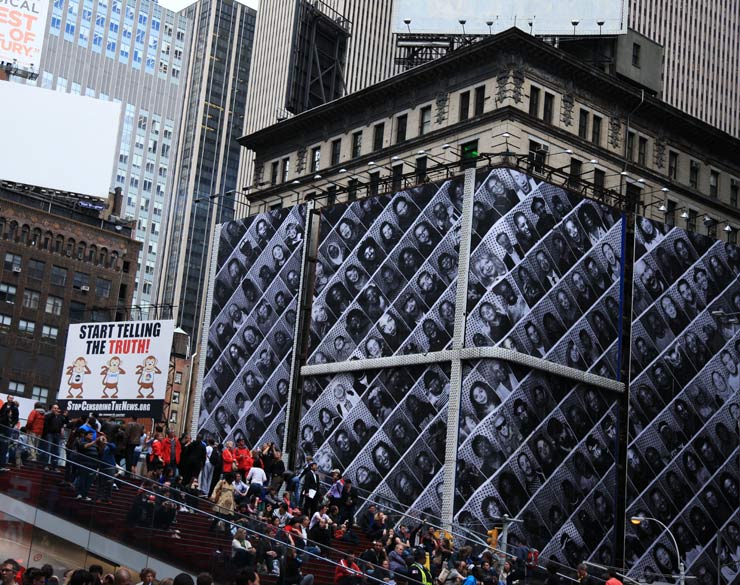 JR Inside Out Project. Times Square, NYC. May 2013. (photo © Jaime Rojo)
<<>>><><<>BSA<<>>><<<>><>>><><<>BSA<<>>><<<>><>

Please note: All content including images and text are © BrooklynStreetArt.com, unless otherwise noted. We like sharing BSA content for non-commercial purposes as long as you credit the photographer(s) and BSA, include a link to the original article URL and do not remove the photographer's name from the .jpg file. Otherwise, please refrain from re-posting. Thanks!

<<>>><><<>BSA<<>>><<<>><>>><><<>BSA<<>>><<<>><>

This article was also posted on Brooklyn Street Art.

Read all posts by Steven P. Harrington and Jaime Rojo on The Huffington Post HERE.

See new photos and read scintillating interviews every day on BrooklynStreetArt.com

Follow us on INSTAGRAM http://instagram.com/bkstreetart#

See our TUMBLR page

Follow us on TWITTER @bkstreetart