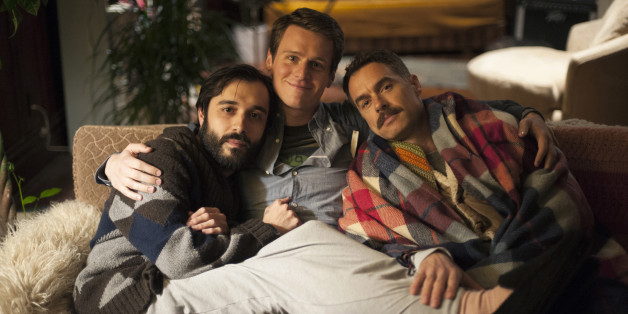 Last week, a day after the series premiere of True Detective, HBO trumpeted that the show, starring Matthew McConaughey and Woody Harrelson, was the biggest debut since Boardwalk Empire in 2010, having pulled in 2.3 million viewers. Girls also did spectacularly with its third-season premiere, drawing in 1.1 million viewers -- a series high. 
It was weird, then, that this week, with the series premiere of Looking, the much-talked-about show about three gay men in San Francisco, HBO was quiet. Partly it was because of the Martin Luther King Jr. holiday on Monday, but there was also a sneaking suspicion that the show didn't do very well. This was compounded by HBO spontaneously throwing the pilot up on YouTube for free (although, to be fair, the network did the same thing for Girls when it launched). 
Now with the ratings up, it appears that the buzz around Looking didn't translate into viewership. The highly praised show didn't make the top 100 cable shows for Sunday in the coveted 25-to-54 age demographic, a fact that is made worse considering that Looking should appeal to precisely that demographic. While the actual rating for Looking isn't out, given that Girls scored just 799,000 viewers (a 27-percent drop from last week) and is near the bottom of the chart, things aren't, er, looking good. (Sorry.)
It isn't all bad news. Both True Detective and Girls were down around 30 percent, so it ostensibly made it harder for Looking to launch with big numbers. And, as of writing, over 62,000 people have checked out the show on YouTube since it went live two days ago, an OK figure. (But, for comparison, the Girls season three premiere has over 229,000 viewers in over a week's time.) Finally, HBO tends to be patient with shows, especially those that appear zeitgeist-y: Girls debuted back in 2012 with just 870,000 viewers and has dipped down to under 500,000 viewers and just got renewed for a fourth season.
We'll have to wait for more details on how Looking did on Sunday, but -- to use hookup parlance -- while it didn't score, it hasn't been blocked yet.
UPDATE: Ouch! The rating is even worse than expected: just 338,000 viewers. HBO tends to give its higher-profile shows a full season, but this is around the level of where the critically acclaimed Enlightened was in its season-two debut, and now that show is up in television heaven.